The digital space is ever increasing. But with most of this space occupied by competing brands, some claim it is becoming saturated. How, you may then ask, is it possible to stand out from the crowd and be successful? We say: by using an intelligent digital marketing strategy that interprets a target audience's preferences and tendencies before they do. But what is digital marketing?
CONTENTS:
1. What is digital marketing defined as?
2. What is digital marketing? Common misconceptions
- They disregard the 'digital marketing funnel'
- They believe digital marketing means online
3. What are the different types of digital marketing?
- Social Media Marketing (SMM)
4. What is the most important advice to take away?
---
1. What is digital marketing defined as?
The term 'digital marketing' means something different to everyone. Due to its increasing visibility and central position within discussions, its definition has become a confused amalgamation. Reboot believe that it's not as confusing as it may seem. We define digital marketing as:
Using digital tools and strategies to communicate value to a target audience. This will acquire loyal customers that will continue to invest in the company, ensuring the success of a brand.
2. What is digital marketing? Common misconceptions
This definition sounds simple enough, right? So why are so many brands failing to hold on to customers?
They disregard the 'digital marketing funnel'
Smart Insights claim that most brands focus on the parts of the digital marketing that hails them a one-time customer and money intake. They say that focus is only towards the products/services provided instead of "a more holistic definition covering customer experiences." Simply put, to ensure long-term success, every step of the process that a prospective buyer will take must be understood and targeted.
This process is also known as the 'digital marketing funnel' and is very important to consider when discovering "what is digital marketing?".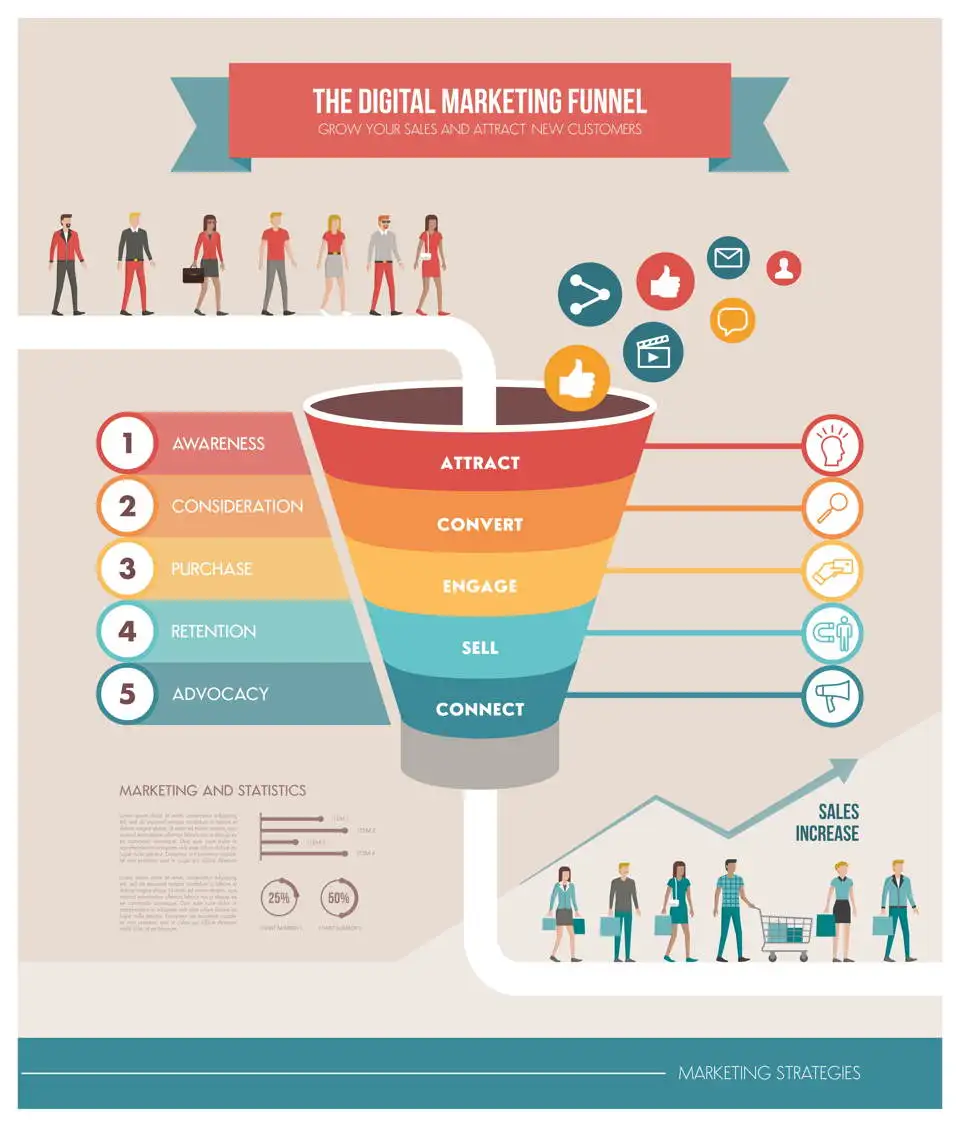 Photo credit: elenabsl / Shutterstock
Putting yourself into a potential buyer's shoes (no pun intended) will allow the digital marketer to begin to understand their preferences and tendencies. This way, they can more carefully plan a technique or advertisement that will consistently satisfy the customer's intent, and hopefully increase the number of people at the final stage of the funnel. The resulting effect is an established connection between the customer and the company, securing their loyalty.
They believe digital marketing means online
The shrouding of 'digital marketing' within confusing definitions has led to the general consensus that digital = online. This is not necessarily true. Neil Patel states that "digital marketing is any form of marketing products or services that involves electronic devices".
Consider your TV. In the UK in 2017, the average person was exposed to 43 adverts a day. The TV does not use the internet to market to an audience. Neither does radio. Neither does a text message on your phone informing you of a new deal at Dominos.
Whilst we can debate the relevance of TV, radio, and text marketing in the current space, we cannot deny their prominence to date. In fact, it is argued that for us to fully understand the question "what is digital marketing?", we must consider and use both online and offline/traditional methods. This 'multichannel marketing communications' is successful in that it has wider scope with who it reaches. It also provides more choice and freedom for the consumer, as they can decide the platform through which they want to pay for your services.
3. What are the different types of digital marketing?
Search Marketing
Search marketing is gaining audiences ('traffic') and visibility for a brand via paid and unpaid techniques. Unpaid normally refers to Search Engine Optimisation (SEO), and paid is Search Engine Marketing (SEM).

Photo credit: Eames bot / Shutterstock
SEO
'Search Engine Optimisation' is the process of being ranked as highly as possible in a search engine's results page (SERP). Also considered a website's set of best practices, it is a way of gaining traffic naturally through technical tactics and know-hows. Search engines use complex algorithms to crawl through webpages, deciding which are the most relevant and useful to a customer's query. To rank highly, SEO is the implementation of the techniques that search engines look for.
Some of the features essential to good SEO include:
Keyword optimisation - ensuring the search phrase is included throughout the content.
Link-building - linking to external sites, to pages within your website, and to have other sites link to you improves your potential ranking.
Good content. This includes:

Relevant/useful content that answers queries.
Well-structured content that proves your company is an expert on a topic. An example of this is the pillar content strategy.
A variety of forms, including writing, images, videos and infographics

Intelligent website architecture. This includes:

Accurate HTML coding and technical website structure.
Improving website speed.
According to the Search Engine Journal, 65% of clicks go to the top 5 results on a SERP. So, SEO techniques are very important in helping your company to understand "what is digital marketing". They can also be beneficial to non-commercial projects, for instance if you want to make your blog reach a larger audience.
SEM/Paid advertising
SEM, a.k.a. 'Search Engine Marketing', used to sit alongside SEO under the umbrella term of 'search marketing'. But as time has progressed, it is now considered as the paid version of attracting traffic. The most common form of paid advertising is the Pay-per-click (PPC) method.
PPC
There are two ways in which PPC can be used:
To appear in the SERPs - a company will bid for a particular phrase they would like to advertise for. If they win, their advertisement will be shown at the top of the search results for that phrase, and they will pay for the number of times it is clicked on.
To appear on websites themselves - their ads will be shown in various places within a website, and they will still pay for the number of times it is clicked on.
In light of its aim to be at the top of an SERP, paid advertising works. However, it costs money that smaller brands may not have, as well as other commonly claimed downsides.

Photo credit: 13_Phunkod / Shutterstock
Social Media Marketing (SMM)
The potential of social media marketing is underestimated. Many people use social media to research a brand before engaging with them, so what better place to showcase your brand to millions of people?
Many companies, especially SMEs, ask themselves "what is social media marketing?" and tend to avoid it due to misunderstanding its power as a digital marketing tool. Because social media is so prolific, it pays to combine social media elements into other areas of your marketing strategy. But if this isn't viable, targeting social media platforms more is a good start. Some experts say that the more engaged on social media a user is by your brand, the more likely they are to become a customer and influence others to become one too.
But what is social media marketing?
Methods of social media marketing include:
Paid advertising – paid social media advertising can be used to target specific people's timelines/feeds.
Organic advertising – posting content on your company's social channels to an active and engaged audience.
Content Marketing
Content marketing is a company's main outlet for creativity. Sometimes considered as a key pillar of SEO, a company that promotes quality and engaging content to the right target audience will undoubtedly see success. And don't forget, this can be in any form including images, videos, writing, interactive media, radio, email, and more!
But, 85% of content published on the internet is redundant. So you may be asking "how do I create engaging and successful content that is sure to target the right people?". Well, firstly, you should try to put yourself in the consumer's shoes. Thinking about what queries they might be seeking to solve can help you to write content that is of value to them. You should also think about the content in terms of the company's digital marketing strategy - i.e. what do you and your company want to achieve?
Another way is showing you are an expert in the field. Creating rich content that is well structured, informative and engaging can increase an individuals trust in you dramatically.
And finally, let your creative juices flow. Many of the most successful TV, radio and online advertisements have been the ones that didn't follow the norm. Remember this?

Photo credit: Cadbury Schweppes
Or this?

Photo credit: MoneySupermarket
Enhanced Offline Marketing
Enhanced offline marketing is an integration of both digital and traditional methods of marketing. This multichannel marketing strategy is what many argue to be the best way to target customers effectively and creatively. It's also more common than you might think.
Some examples of enhanced offline marketing include:
Electronic billboards
Digital product demos, for example phones in the Apple shop
Digital product samples, such as CD demos attached to magazines and artists giving out demos on the street
Enhancing your offline marketing with online activities works to create a seamless brand presence, whilst targeting as wide a demographic as possible.

Photo credit: NicoElNino / Shutterstock
4. What is the most important advice to take away?
So, have we answered your question of "what is digital marketing?". The most important/effective aspect of digital marketing could be argued for days on end. What's for certain, however, is that it is essential to a successful business. Regardless of your brand, there are a few points that should be intrinsic to your approach:
Use a variety of digital mediums across a variety of devices to diversify interest and create a ubiquitous and dynamic brand.
Digital marketing trends are ever changing - ensure to keep up to date with what works and what doesn't.
Operate under the intention of retaining customers, and not just acquiring new ones that won't return - the point of digital marketing is to think about the whole buyer journey.
Feature image credit: Copyright Mikko Lemola / Shutterstock