INSTAGRAM FOLLOWER TRACKER
Tracking the rise (and fall?) of each Love Island contestant's following on Instagram.
INSTAGRAM LIKES TRACKER
Tracking the number of likes on each Love Island contestant's Instagram account.
INSTAGRAM COMMENTS TRACKER
Tracking the number of comments on each Love Island contestant's Instagram account.
Twitter Mention Tracker
Tracking the most talked about Love Island contestants on a given day.
Twitter Likes Count
Tracking total likes on tweets mentioning each Love Island contestant.
Twitter RT/QT/Replies Tracker
Discovering the most debated Love Island '22 contestants.
Twitter Sentiment Tracker
Scoring the attitudes surrounding each contestant using the VADAR sentiment analysis model. The higher the number, the more positive the sentiment.
Mentions of the Islanders in News Headlines
Tracking the most newsworthy Love Island contestants over time.
FURTHER LOVE ISLAND 2022 ANALYSIS
HOW MANY INSTAGRAM FOLLOWERS DID THE LOVE ISLAND CAST HAVE BEFORE THEY ENTERED THE VILLA?
The percentage increase in followers before vs. after the first episode of Love Island 2022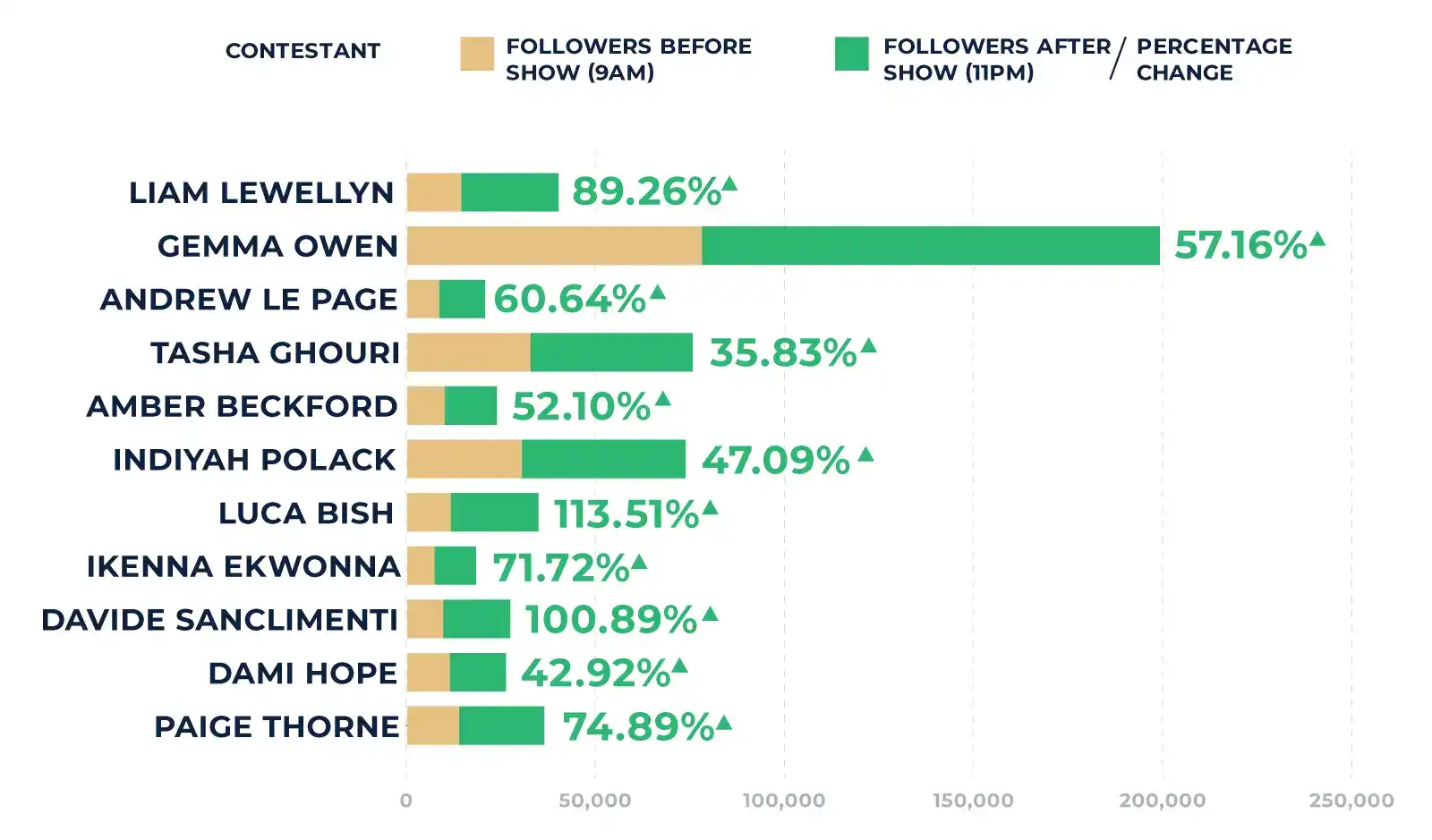 HOW OLD ARE THE LOVE ISLAND CONTESTANTS THIS YEAR?
The average age of the first eleven Love Island 2022 contestants was 23.8 years old. Comparatively, in series seven, contestants had an average age of 24.
WHICH LOVE ISLAND CONTESTANT HAD THE MOST INSTAGRAM FOLLOWERS UPON ARRIVAL?
Of the first eleven Love Island 2022 contestants, Gemma Owen has the most Instagram followers - more than 41,000.
However, of all Islanders in the villa, late arrival Ekin-Su Cülcüloğlu had a whopping 350,000 followers before entering. That's 308,900 more than Gemma. The Turkish-born influencer is also an actress, most well-known for her role as Isil on the Turkish TV series Kuzey Yildizi.
*This discounts late arrival, Adam Collard, who already built up a following on Instagram after his first stint in the Love Island villa in series 4 (2018). Upon his arrival on Day 36, he had 916,000 followers.
WHO IS THE YOUNGEST CONTESTANT?

WHO IS THE OLDEST CONTESTANT?
CHARLIE & JAY

WHICH STAR SIGNS ARE LUCKIEST IN LOVE ON LOVE ISLAND?
As a Digital PR agency, we got our research heads on to find out which star sign has the most successful record on Love Island, to help predict the most successful Islanders this year.
Based on this research, fellow Taurus Gemma Owen and Leo Liam Llewellyn could be the Islanders to keep an eye on this summer.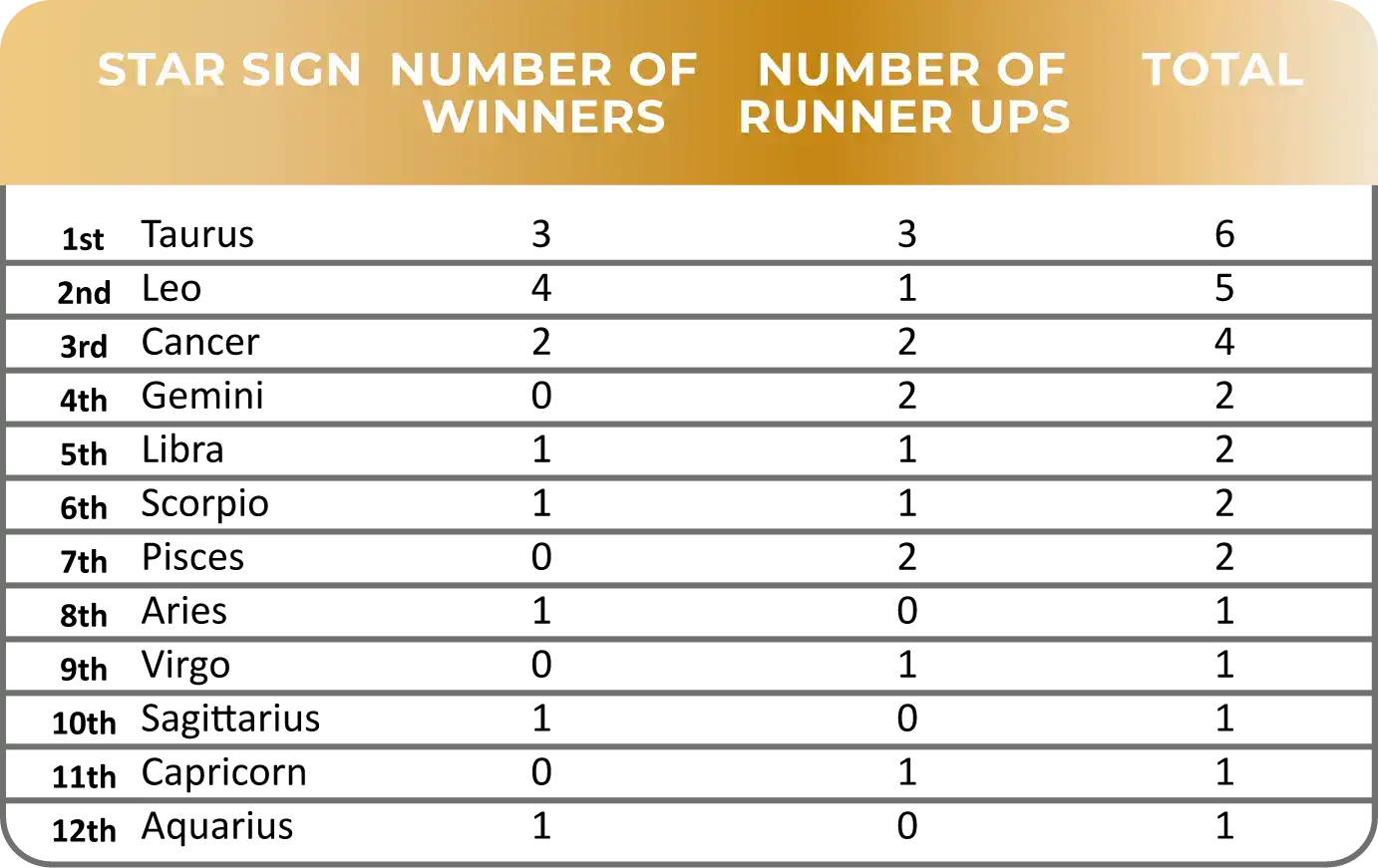 WHICH COUPLES ARE THE MOST COMPATIBLE?
We partnered up with Celebrity Psychic and Body Language expert, Inbaal Honigman, to uncover which couples had the strongest chemistry during week one. Paige and Luca top the table, with an average chemistry score of 9.5 out of 10.
At the beginning of the series, we predicted Gemma and Liam could be the couple to watch this summer. However, based on Inbaal's compatibility score of 6.5 out of 10, this is looking unlikely...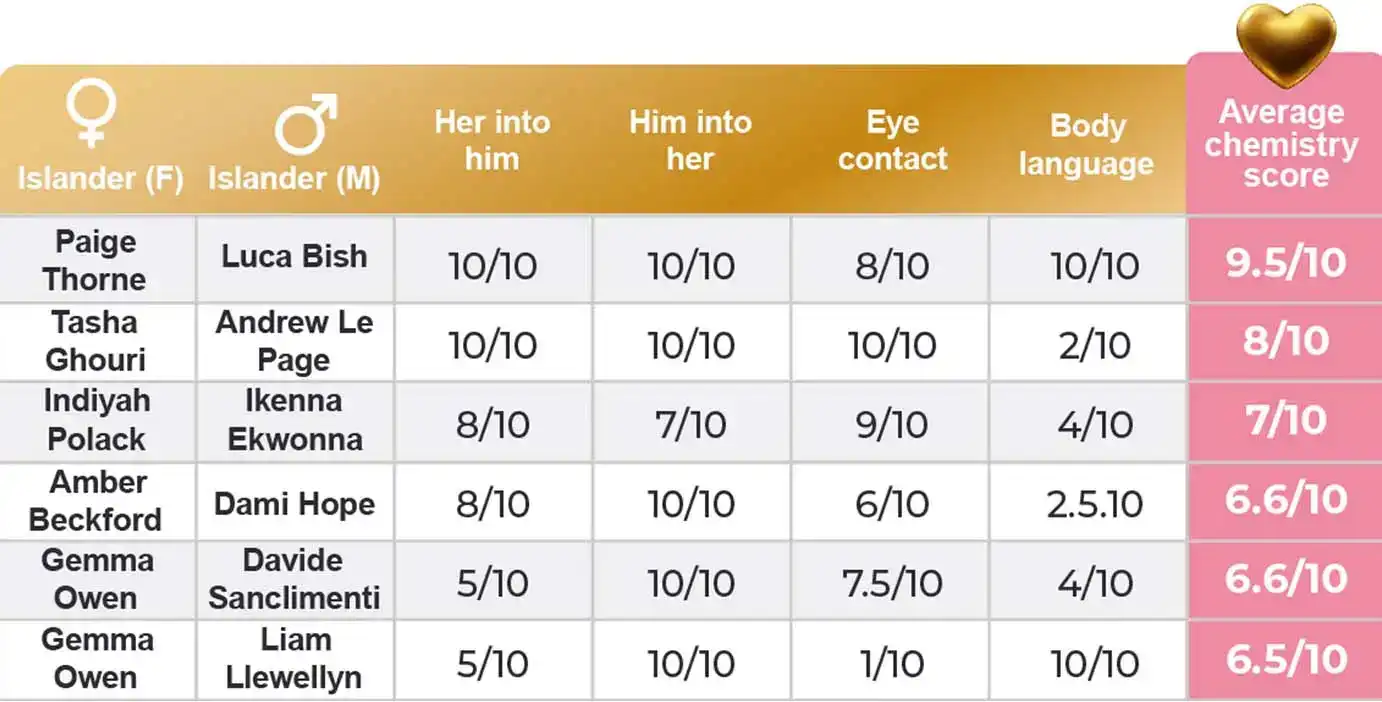 Love Island's most successful bombshells of all time
We analysed the 135 bombshells that have entered since the series first began in 2015. By delving into each individual's Instagram follower count and estimated earnings per post through the Influencer Marketing Hub, we can reveal the most popular bombshells of all time.
Molly-Mae Hague is the most popular bombshell to ever enter the Love Island villa. With over 6.4 million followers, it is reported that she could earn up to £17,428 per Instagram post.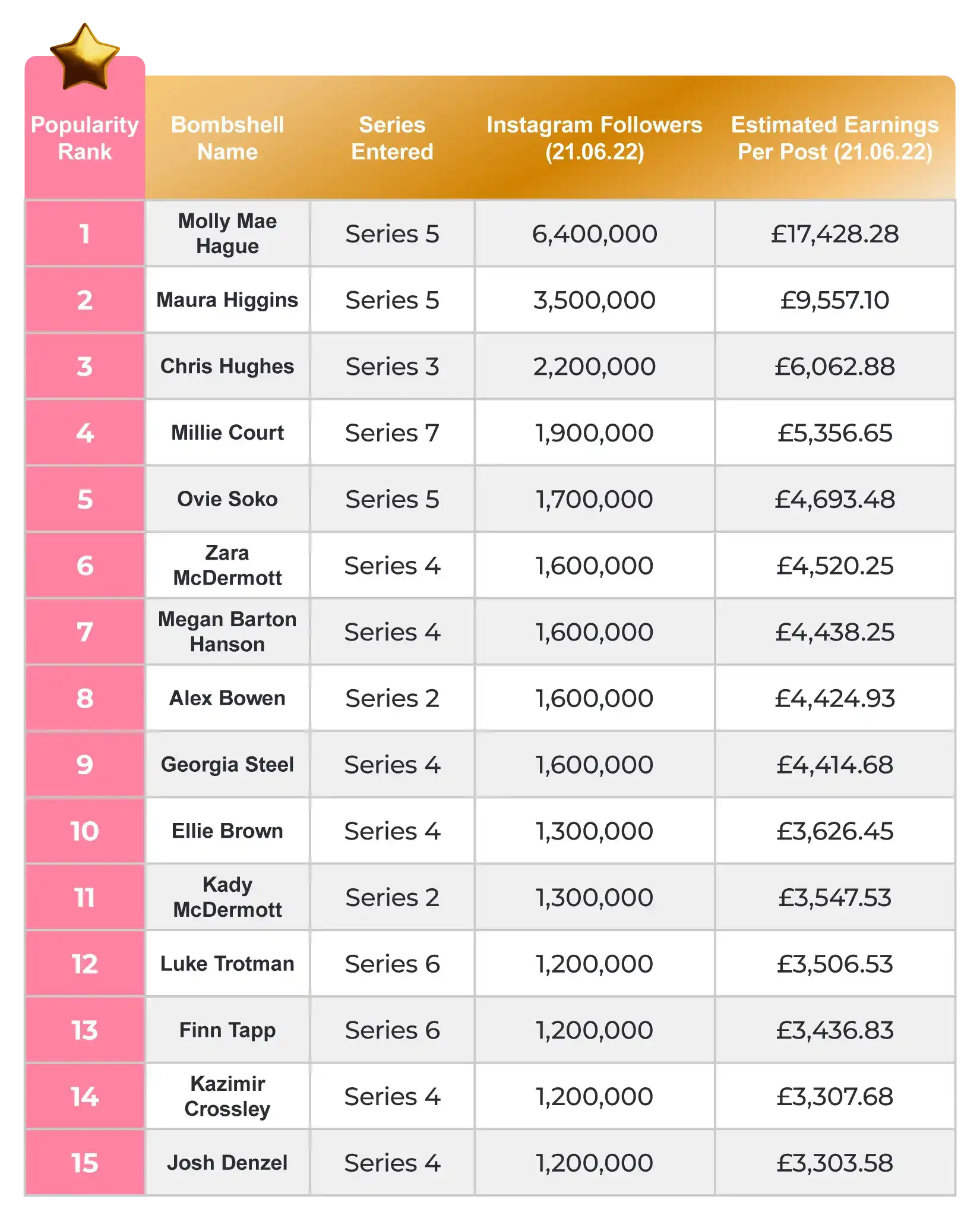 Casa Amor: Which star sign is most likely to cheat?
Casa Amor is always guaranteed to stir up trouble, but which Islanders are most likely to stay loyal to their partners, and which Islanders are going to have their heads turned?
We investigated each contestant's star signs and personality traits by partnering with celebrity psychic and body language expert, Inbaal Honigman. According to our research, we can reveal who is most likely to CHEAT...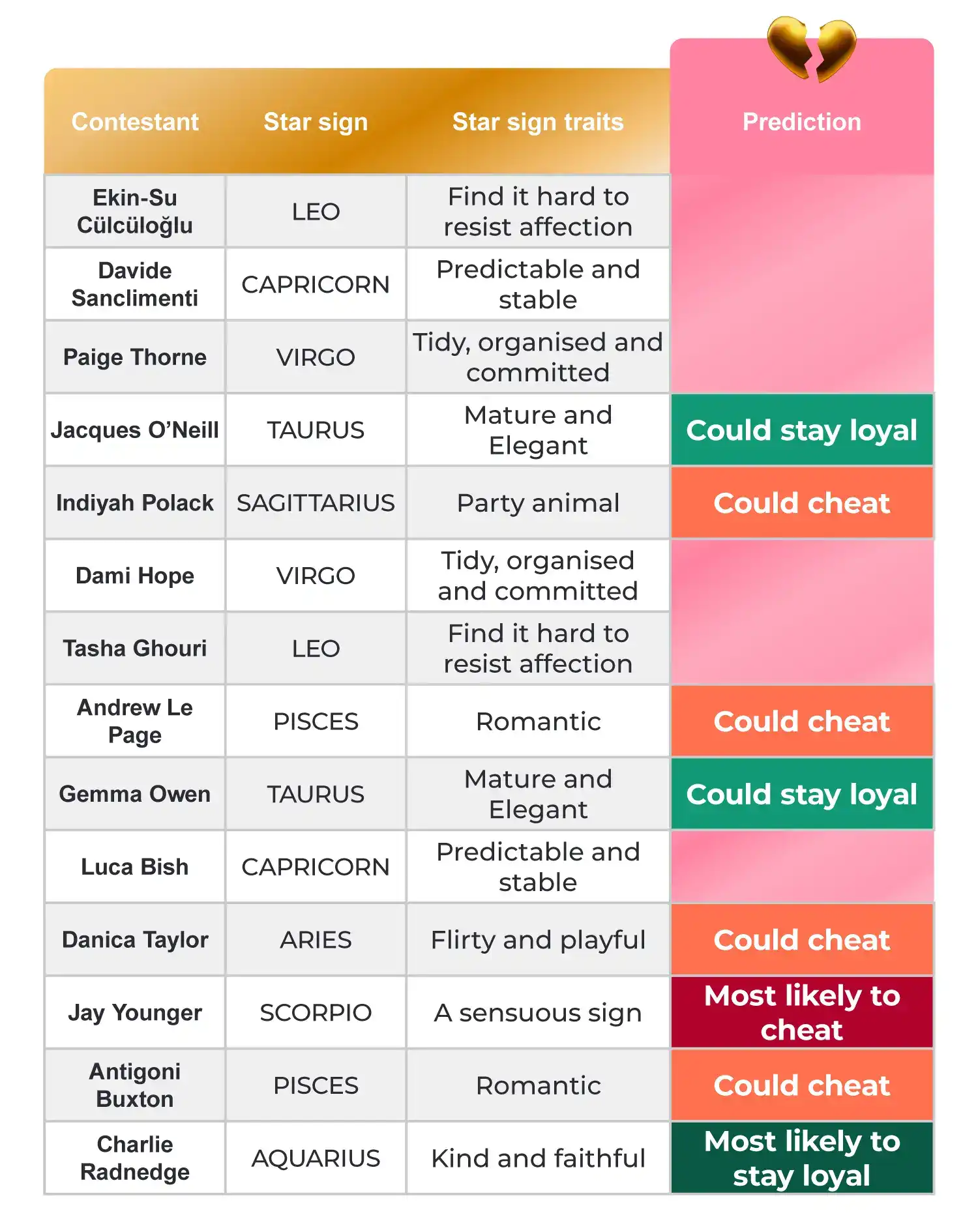 QUICKFIRE LOVE ISLAND STATS FROM 2022
APPLICATIONS
---
100,000+
Love Island bosses were reportedly swamped with over 100,000 applications from contestants for the 2022 series.
VIEWERS DAY 1
---
5 MIL
2022's launch episode drew in a whopping 5 million views, making it the show's biggest premiere since 2019. The episode was watched by 2.9 million viewers on the ITV Hub alone.
Following of starting 11
---
91,000
At the time of the first episode, the first eleven Love Island 2022 contestants had a combined following of 91,331. Gemma Owen contributed 41,100 of those.
Average age
---
23.8
The average age of the first eleven Love Island 2022 contestants was 23.8 years old. Comparatively, in series seven (2021), contestants had an average age of 24.
Most common star sign
---
Scorpio & Pisces
The most popular star signs of Love Island 2022 are Scorpio (October 23–November 22) and Pisces (February 19–March 20), with five Islanders born under each zodiac sign.
Prize total
---
£50,000
To survive in the villa the Islanders must be coupled up with another Islander, whether it be for love, friendship or money. The overall winning couple receives £50,000.
FAMOUS PARENTS
---
3
Three Islanders have famous parents: Gemma, daughter of now-retired pro footballer Michael Owen; Antigoni, daughter of chef Tonia Buxton; Jack, son of Boyzone singer Ronan Keating.
EX-ISLANDER
---
1
26-year-old Adam Collard from series 4 (2018), who famously coupled up with four Islanders, entered the villa as a "bombshell" on Day 36 – a Love Island first!
WALK-OUTS
---
2
Love Island 2022 has seen two Islanders walk out of the villa on their own accord. The first was Liam Llewelyn, who left after just 36 hours, and Jacques O'Neill, who left after 29 days.
OFCOM COMPLAINTS
---
781
Four weeks in (halfway through the show), Love Island received 781 complaints from viewers. Complaints were surrounding bullying, contestants' well-being and mental health, certain contestants getting more screen time than others, and the age gap between contestants on the dating show.
Despite this high number, this is considerably less than in 2021, when 33,540 complaints were made 26-year-old the most Ofcom complaints in the history of the show.