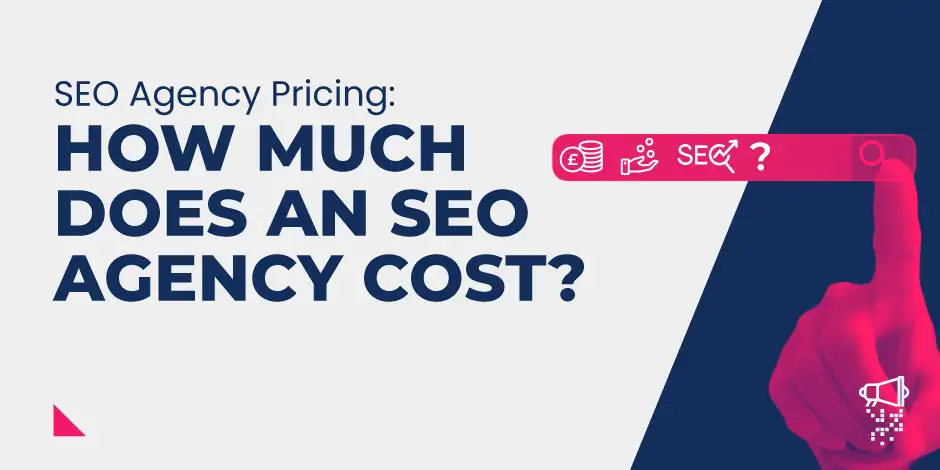 So, you're thinking about hiring an SEO agency. Or, at least, that's what we assume you're doing here.
Hiring SEO services is a somewhat daunting, but increasingly necessary part of operating any business with an online presence. One of the most perplexing things is the enormous discrepancy in SEO agency pricing: from £10 on a freelance marketplace to £10,000+ a month, or even £100,000 for the world's biggest brands.
With SEO services available at every price point imaginable, it can leave you wondering: "what on earth is a fair deal?" and "how do I budget for something like this?"
We're here to help you understand the average cost of SEO services and, more importantly, what you're getting for your money.
Average cost of SEO services
Although the average cost of SEO services can vary widely, it can be loosely broken down into three price ranges.
CHEAP SEO - £0 - £500/month
This range is the modern Wild West of SEO, where you can find anything from inexpensive freelancers to small agencies to SEO cowboys. Freelancers on Fiverr and Upwork may sell individual services like auditing, keyword research or copywriting for as little as £10, whereas agencies would only price themselves this low if they were lacking demand and desperate to drum up business. And if that's the case, it's usually a sign of inexperience or of a string of dissatisfied clients they can't hold on to. The bottom line is that at this price point, you're not going to get anything more than risky 'churn and burn' tactics that are increasingly likely to land you with a black mark in Google's index and cause long-term damage to your ability to rank for anything.
MID-RANGE SEO - £2000 - £5000/month
We'd describe most SEO agencies in this range as competent but not competitive. The problem is, SEO is inherently competitive - we're all vying for approximately eight positions on the first page for the exact same search terms. Based around fixing problems and keeping your site ticking over, mid-range SEO will likely keep you out of Google's bad books, but you won't get much return on your investment in the way of increased leads or revenue. If this is what you can afford, it's still worth some of your time. Get an audit done to check for any technical and indexing issues, have them write some SEO-friendly on-page copy and maybe a steady stream of blogs, then move on to a more qualified provider when you have the means.
HIGH-END SEO - £5000/month +
SEO is a service like any other. If you want the best results, you should expect to pay for them. Don't get us wrong, we're not saying that just because an agency charges this much, it means that they're guaranteed to be of quality, just that you won't find a quality SEO agency that charges any less. This higher bracket is where you'll find full-scale strategies and enterprise SEO that focus on true optimisation - as opposed to mere survival - and encompass content development, digital PR, cutting edge technical SEO, UX optimisation and more… all fully integrated into your business. If you want to truly compete for those top places, this is the range you're looking at.
SEO agency pricing models
While you might find a couple of ballpark figures floating around the web as to the estimated cost of hiring an SEO agency - including the ones we've suggested above - the actual average cost is virtually impossible to estimate. One of the reasons for this, besides the wild variation in the quality of service, is that different agencies and types of SEO providers use different pricing models. We have:
Per hour: Favoured by SEO freelancers and consultants, and occasionally used by agencies such as ourselves to calculate project costs based on the estimated number of hours needed to meet the client's demands, hourly pricing is common for short-term work.
Per project: Many agencies and freelancers alike have a set rate that they charge for certain services, such as technical SEO auditing, Google penalty removal or keyword research. This can then be used to calculate the cost for a client looking to achieve a particular goal. Again, this is popular for short-term clients.
Monthly retainer: As an SEO agency, it's important to hang on to clients. A retainer is a flat rate paid to the agency on an ongoing monthly basis covering a certain scope of services. This could be for continuing digital PR company campaigns, a website migration or launch and future content, a certain number of pages produced or all of the above. Additional fees can be charged if the work completed exceeds the agreed-upon amount, such as after a certain number of requested revisions.
Why you need to budget for SEO
The most important thing to understand about SEO agency pricing isn't just how much you'll be paying, but what you're getting for your money.
There is scarcely a market where SEO is not relevant. Search has been dictating an increasing share of both online and offline transactions for years now, and this is only becoming more so the case. If you want to capitalise on that first page search engine traffic, you will need help.
SEO is the highest value inbound marketing strategy in the 'New Normal'

Excuse us for stating the obvious, but the COVID-19 pandemic has drastically reshaped people's lifestyles both inside and outside of work and consequently, their commercial behaviour has changed. This has accelerated a shift to digital that had already been gaining significant momentum for years.
Transactions of all kinds are less location-dependent than ever before, with B2B business generated twice as much revenue from organic search than any other channel and 86.7% of UK consumers predicted to shop online this year. In 2017, American multinational financial services giant Nasdaq predicted that 95% of all shopping will take place online by 2040 - and that was before we entered the so-called 'New Normal'!
And if you're not on the first page? You're unlikely to draw in any traffic, as 91.5% of all organic traffic goes to websites ranking on the first page of SERPs.
All this is to say is that if you're not investing in SEO, you're missing out on oodles of potential revenue that only stands to increase with time.
You snooze, you lose
Not to get all playground politics on you by saying that "everyone else is doing it, so you should too", but… everyone else is doing it so you should too.
Research shows that demand for SEO services has risen as a result of the pandemic and even as marketing budgets have sharply decreased, spend on SEO as a percentage of the budget allocation has risen from 6.6% to 10.% since 2019. The people spending this money are your competition.
With a limited amount of space available on SERPs, you cannot realistically expect to compete with your rivals' SEO providers if you don't have one of your own - preferably a better one.
It's worth it
Even with all this information to hand, we understand that it can still be daunting to take the plunge into investing in SEO agency services. But the facts speak for themselves: SEO, when done well, can deliver an ROI up to 12.2% of marketing spend and reduce the cost of acquisition by as much as 87.41%. As long as you choose the right agency, that is.
Reboot Online is an industry leader in search and digital PR, known for our cutting edge SEO experiments and inventive campaigns. We're not the cheapest around - although we do have some flexibility for smaller clients - but that's because we're a fully resourced team of multilingual SEO professionals who are treated with respect and therefore feel supported to do their best work and we actually deliver results. We have clients on our roster who've been with us for over seven years now and we never settle for anything less than the absolute best we have to offer. As a result, we never pay for links and earn them from the high-authority websites that simply don't sell them.
How to budget for SEO
If your intention is to keep up or even exceed your competition who are already hiring the very best agencies a combination of search and word of mouth has to offer to vie for the coveted 8-10 spots on the first page of SERPs, you can generally expect to spend around 10.5% of your marketing budget.
However, it isn't just the amount you spend; it's how you spend it. Here are our tips for budgeting for hiring an SEO agency.
Check out your competition. There's no point forking out thousands a month if you only have a couple of competitors. Or, if you have loads but you don't get the lay of the land before setting your budget, you might find yourself disappointed with the results of your £500/month expenditure.
Determine your needs. The overwhelming majority of companies don't have quasi-unlimited resources to spend 'figuring out' SEO. Based on your analysis of your competition, highlight what your priorities are. For example, you probably don't need a complete multinational enterprise SEO campaign if the majority of the audience you're looking to attract is local, which conveniently costs a lot less.
Be realistic. No decent SEO agency wants you to bankrupt yourself trying to get to the first position on SEO. We're not vultures. Actually, some agencies are, but if you've followed our tips on how to avoid them, you'll be fine. If you can't afford a full-scale campaign yet, then focus on getting your site audited, fixing any immediate technical issues, doing a little bit of keyword targeting, some basic optimisation of your site architecture, metadata and UX, and a steady stream of blogs.
Reallocate budget. Remember what we said about marketing budgets being slashed, but average spend on SEO rising? That's in no small part because SEO is more cost-effective than continuing to spend on outdated and low-ROI channels like offline marketing and PPC/SEM.
Track conversions. This one is for a little bit further down the line, but worth bearing in mind nonetheless. Develop a process with your agency that allows you to track not only rankings and traffic, but leads and revenue directly attributable to SEO, so you can adapt your budget accordingly.