Technical SEO has never been more important than it is today. Googles algorithms want to rank only the highest quality sites on the first page and you need to make sure that your site is set up correctly to become one of them. Our professional and bespoke SEO audits help you do exactly that.
The main search engines (Google, Yahoo and Bing) have three main jobs: to crawl, index and rank websites as efficiently and accurately as possible. As a website owner, you have just one: to make it as easy as possible for them to do this.
Making sure that your technical SEO is sound will be one of the best investments you ever make for your website and business.
What Can an SEO Audit Do for Me?
An SEO audit carried out by an experienced expert can uncover the issues that you couldn't possibly know were harming your sites organic performance.
People often forget that there is more to a website than meets the eye and the code powering it is what is read by the search engines. Our audit service ensures that Google can crawl, index and rank your website most effectively.
Once key technical issues have been found on your site, you and your development team will need to know how to fix them. We can work with you and advise on fixes from a coding, user experience and design perspective with search engine optimisation in mind.
Why is Technical SEO & Bespoke SEO Audits Important?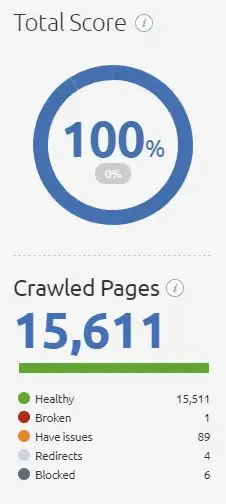 Put simply, Google wants you to make it easy for them to crawl, index and rank your website. This makes their job of making sure that the results searchers see are only of the highest quality that much easier.
Websites (big and small) have a lot of moving parts. With a near endless amount of code, content, resources, scripts and tags powering them there is a lot of room for error. One misplaced noindex tag could mean the most important pages on your website get ignored by Google. An incorrect canonical tag could result in hours of wasted time spent creating high quality content which will never perform well in the search results.
Technical SEO is important because it gives the high-quality content published on your website the start it needs to perform well in the search results. Without it, you are relying on luck that the thousands of lines of code that makes up your website is working for your SEO campaign instead of against it. In our experience, every website has areas for improvement when it comes to their technical SEO set up.
Our SEO Audit Service
The Reboot audit service makes use of the most advanced crawlers and SEO tools alongside a wealth of technical SEO experience to find issues hiding beneath the surface of your website. We partner this with the powerful Google Search Console suite of tools to gain detailed insights into what exactly is holding your website back in the search results.

Although the code powering your website might look like another language, it presents countless opportunities to improve your online presence and organic performance. A keen eye and detailed understanding of the way that the search engines work allows our team of SEO specialists to identify the most damaging and important issues.
A thorough SEO audit allows you to improve your rankings without building a single backlink and is one of the first things you should ask for when signing up with any new SEO company.
Just some of the things included in our audits:
In depth crawling of your website code, content and set up.
Mobile optimisation and Accelerated Mobile Pages (AMP) implementation.
On-page optimisation. Make sure that your meta titles, content and keyword optimisation is up to scratch.
Page speed checks to find out if your website loading time is holding you back in the search results.
Backlink and citation audit. Find out if your link profile is negatively effecting performance (and what we can do about it).
Site architecture analysis. Discover how your URL and content structure could be greatly improved to build more power, authority and trust.
Pagination, canonical and href lang analysis to make sure that your technical SEO is not causing duplicate content issues.
Duplicate content searches. You need to know if your content is duplicated and if the other sites using it are outranking you.
Google Search Console reports and excluded page checks to find any URLs not being indexed which should be.
Site command checks to find problem URLs which should not be included in the index but are.
Sitemap set up. Guarantee that your HTML and XML sitemaps can be read and understood by Google.
Crawl budget optimisation.
Image and alt text optimisation.
Schema mark-up implementation.
Open Graph (OG) and social sharing implementation.
Our Technical SEO Audit Experience
Over the years our team of technical SEO experts have carried out audits for enterprise scale websites with hundreds of thousands of pages and for many small, local business websites also. No matter the size of your website, odds are we have tackled one similar. We know what to look for and where to look to find the issues preventing you from seeing further SEO growth.
We have found issues ranging from huge redirect problems which risked diluting link equity from top publications to small, targeted issues such as poorly optimised meta titles on key pages. Some issues we see on almost all websites that we audit whilst others are more unique. You can rest easy knowing that if there is a technical issue on your domain, we will be able to find it.
In addition to our analytical skills, we possess a unique ability to find innovative solutions for large scale issues such as duplicate content across e-commerce stores or thin content pages on enterprise websites.
It is a combination of years of experience, data driven SEO experiments, an extensive suite of SEO tools and our unique approach to our work that allows us to find and fix the most harmful and complicated issues on your website.
Get Your Free Professional SEO Audit Today
If you aren't seeing the kind of SEO results that you are looking for or think that your technical set up might be holding you back, get in touch. We can carry out a free audit on your site and talk you through anything we find.