How Do I Choose a Trustworthy SEO Company?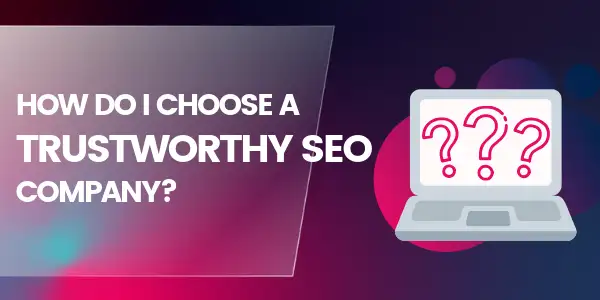 If you are an entrepreneur, you are most likely familiar with the term SEO and what it implies.Unfortunately, some people wouldn't put SEO and 'trustworthy' in the same sentence, and this is due to the negative reputation it has gathered over time. Yet the benefits of good SEO are plentiful – if you choose a good SEO company that is.
Picking a trustworthy agency can be challenging, especially if you haven't worked with one before. In this blog post we will tell you exactly what you need to look for and the questions you need to ask in order to make a wise business decision.
So, what are the steps to choosing the right SEO company?
SEO is not a one-man band, and any agency you decide to work with should have a toolkit of skills and manpower to get the job done right. A trustworthy agency will be comprised of not only SEO specialists, but skilled content writers, developers, PR specialists and graphic designers. Their jobs are to make sure your website isn't only visually pleasant but optimised at its core.
Essentially, a good firm should possess the following:
Technical set up
Any good SEO agency will not only have a top team behind them, but access to technical tools and resources (Screaming Frog, SEMrush, Ahrefs etc.). This will not only show they are dedicated on keeping track of your progress and making sure everything is done perfectly from an SEO perspective, but they are also willing to make an investment and pay for these tools in order to give the client the best results.
Team of content writers
In order to get traffic on your website, your content needs to target the best longtail keywords and answer search intent in order to convert. A good agency will be able to use content to get you a top place on the Google SERP and target potential customers to convert them into actual customers. Make sure that the content:
Targets relevant keywords

Is genuinely useful to a reader and answers the questions they searched for

Has internal links to other pages/posts on the client's site

Has the potential to convert
Team of outreach specialists
This is also something you'd want to see offered by your SEO agency. Link earning is achieved by creating great content relevant to your topic, which will be good enough to atrract links from industry relevant online publications. Because of the high quality and originality of the content, others will want to link back to it as a reference. A good team specialised in outreach will know exactly who to target in order to get the most out of the content produced and ultimately get as many organic links as possible.
Organic link building is a vital part in getting your website to rank on Google, and while 'quality over quantity' is what most companies claim about their practices, this is only correct to a certain extent. Yes, it's true, you wouldn't want links coming from low quality domains, but what we're saying is that a good company understands that success is part quality, part quantity.
So, if you want your website to rank highly and be within Google's guidelines, you will need at least as much authority provided by links as the main competitor/top ranking site, but these links also need to come from high quality domains. The third definitory aspect which will make an agency stand out (and is often overlooked by the scammy ones) is relevancy. What this means is that the domains that link to your website should ideally be relevant to your industry. This helps Google know that your website is legitimate, and the information it provides is useful and relevant.
What are the types of links you can get for your website (and which ones you need to stay away from)?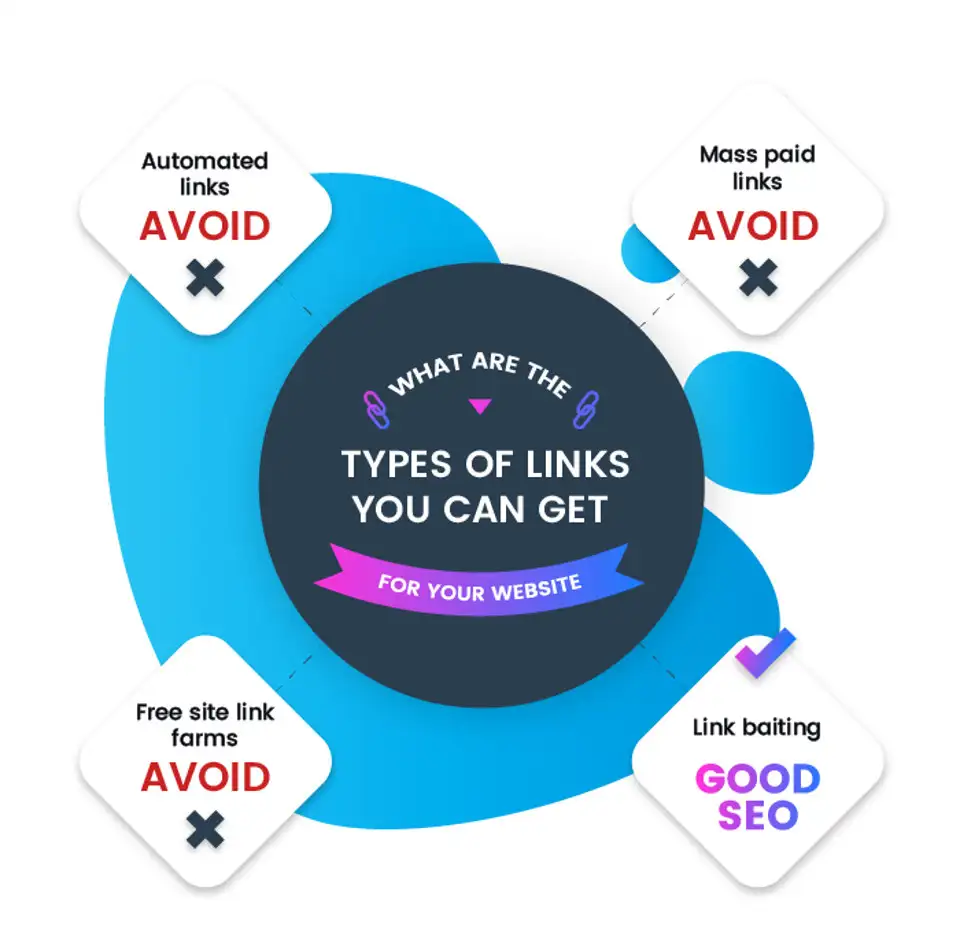 Automated Links (avoid)
If a company is offering you these kinds of links, start running in the opposite direction. These low-quality links are produced using automated tools and they are viewed as spam by Google which can result in you getting a penalty on your website.
Mass Paid Links (avoid)
Also against Google's guidelines, this method involves paying a supplier to create these links in batches. This will also eventually trigger a penalty from Google as they are not natural.
Free site link farms (avoid)
Another one to avoid, some SEO companies will be creating loads of pages with poor content on free sites to link back on your website. This is again considered spammy and will put you in Google's bad books.
Link Baiting (good seo)
Link Baiting is a sign that the company has a capable team behind it, as this sort of link building requires writing research that is sent out to a curated database of journalists, who use this research in an article and link back to your site.
Before deciding which company to hire, have a good look at their website. The things you should be looking for are originality and signs that they are thinking outside the box.
A top SEO agency will be continuously contributing to their industry. Experimenting with ways to get clients to the top, the company you choose should be continuously investigating the ever-changing field of SEO.
At Reboot know the importance of finding new, innovative ways to decipher how search engines work, and we like to share our discoveries with those as passionate about SEO as us.
"RebootOnline.com [...] performed some wonderful, large-scale, long-term tests [...] We really appreciate the efforts of folks like that, who go through intense effort to give us the truth about how Google works." - Rand Fishkin, formerly of Moz.
We understand it can get very confusing when you are looking for a top firm and you see some charge £300/month while others charge £10,000/month. Surely, they all do the same thing, so why not go with the cheaper option? We wish it were as simple as this.
Why should you be wary of low-priced companies?
Generally speaking, an untrustworthy firm will charge you peanuts – and you'll get monkeys. Low-end SEO agencies cannot afford to pay for experienced employees nor the professional technical tools they would need to do the job properly. So, you may want to rethink hiring a business with only two or three employees.
The process of optimising your website and getting it to the front page on Google can take some time if done properly and within Google's guidelines, so entrepreneurs need to be patient. However, a bad agency will try their best to rush those results, so they can prove to you they are doing a good job for little money. As we mentioned before, a good SEO process relies both on quality and quantity. However, you can expect a cheap company to focus solely on quantity and not pay any attention to quality. This can be detrimental to your business to say the least, as the only way of getting fast results is employ black hat tactics which will eventually end in your website getting a Google penalty.
In fact, many companies have contacted us because they found themselves in a similar situation where they have needed a penalty recovery service as they've hired a cheap firm and of course, it ended badly for them. And as much as you'd want them to pay for it, the damage is already done, and you'll need a trustworthy firm to try to salvage your website. Thus, it's better to do your research beforehand and treat hiring a good team of experts from the offset as an important investment.
This is not to say that a company charging £10,000/month is sure to make a great job solely based on the price they ask for. We aren't saying that bad SEO can't be done at high prices – we are saying, however, that good SEO cannot be done at low prices.
Let's say you've done all your research, and you have found a firm that you think could be the one. What are the questions you need to ask to make sure you can trust them with your business? We recommend asking:
Can you provide me with references (at least 5 or more) of companies you've worked with for at least a year?





Can you show me examples of links you've earned for your clients?





Can you show me examples of content you have created for your clients?





Who are your main competitors, and can you give me some examples of keywords you've helped them rank for.





What is your contribution to the SEO community? Are you active on forums? Are you aware of or have you done any SEO experiments yourself?





How is your approach different to every other SEO agency?





How will you help me decide which keywords my site should target? (their answer should focus on various important metrics such as competition, budget, search volumes and, most importantly, return on investment (ROI). Will these keywords help me grow my business?





What keywords does your agency rank for? (If they can't rank themselves, how will they rank you?)





Do you have any experience building and/or migrating websites? (if they do, this suggests perhaps a deeper technical knowledge.)





Do you out-source any of your services? (best agencies do everything in-house.)
Simultaneously, you can spot a trustworthy company when they are keen on asking questions and learning more about your company and what you are trying to achieve through them as well, instead of only being on the receiving side. Learn more about what to expect from our blog: 'Questions any good SEO agencies will ask you".
Now you know what to look for when searching for a great SEO team, but what should you avoid? This is a list of red flags you should keep an eye on before deciding on who to hire:
The company is shy about or avoids giving details on how they gain their links. This most likely means they are doing it against Google's guidelines and you need to avoid them.

They want to offer you link-building packages. This is something you want to avoid as a trustworthy company would not be able to guarantee a certain number of monthly links.

Stay away from one-man bands, SEO is a complex business and cannot be done well by a single person.

They show you results for keywords with no search volume – of course they will rank for them if there is no competition and nobody else is interested in ranking for them. They would probably be apprehensive about revealing the client, so you wouldn't be even be able to check if they rank or not – definitely avoid

They offer technical audits or a report using a free website – they are usually autogenerated and are meant to scare you into thinking your site is in danger just to get you to sign a contract with them.

They neglect their own website and blog: how are they supposed to look after your site?

Are they really specialised in SEO or is it just a Web Design company doing SEO on the side?
What main points should I take from this?
Do your research before signing on the dotted line: read reviews, check their website, ask the right questions, know what to avoid.

Quality and Quantity needs to go together, don't chose a company who's focusing only on one.

The more the merrier, a good group will not only be SEO specialists, but also skilled developers, graphic designers and content writers.

While expensive doesn't always mean quality, most times you get what you pay for.

Working with a good SEO firm means you need to invest time; however, the payoff will be a profitable business.