Reboot's elite SEO consultancy services have enabled brands from an array of sectors to achieve unprecedented results online.
Our approach is built around a string of proven yet ever-changing principles, combining technical SEO with essential practices like digital PR, outreach, content marketing, and social media to devise holistic digital strategies for our clients.
With a team of over fifty SEO and digital PR specialists, we possess all the skills and resources required to establish your brand as a major player within your industry.
Hiring a leading SEO consultancy like Reboot means that your strategy will be handled with expertise every step of the way. With designated teams for the four pillars of digital marketing—SEO, digital PR, content, and social media—our expert campaigns are tailor-made to get your site soaring through the search engines.
Why Choose Us as Your SEO Consultant
As the digital age continues to accelerate at an unfathomable pace, the importance of SEO to businesses grows ever stronger. Long gone are the days when SEO was an optional practice that companies could take or leave when devising their online strategy.
With search engine performance widely accepted as a cornerstone of digital success, many companies are seeking the services of an expert SEO consultancy to enhance their performance on the web.

While the benefits of hiring a company of experts to handle your SEO strategy can be profound, the fact remains that your strategy is only as good as the people working on it. With so many charlatan agencies promising the world while delivering little, it's important that you outsource your SEO to a company with proven credentials.
Reboot is a leading SEO and digital PR consultancy boasting a wealth of clients from a diverse range of industries. Our forward-thinking digital tactics can be tailored to generate phenomenal results for clients regardless of their size or sector. From specialist companies in niche industries to ubiquitous global brands, our team at Reboot have seen it all.
We understand that, in the world of SEO, standing still means being left behind. This is why all of our processes are informed by our own trials, studies, and analysis to ensure that our approach remains at the cutting edge of the industry.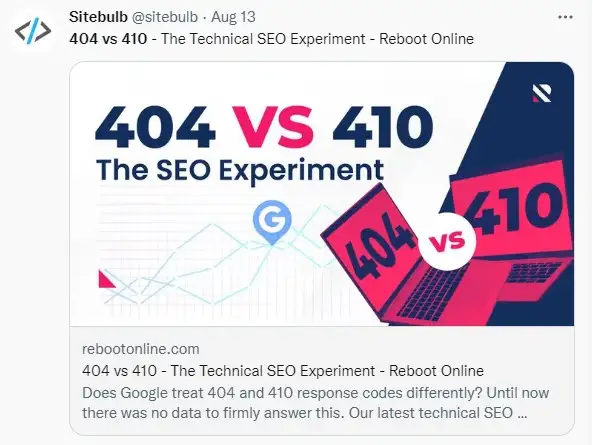 By relying on our own findings, we not only avoid being left behind but place ourselves in a position to produce genuinely innovative strategies that position your website as the first stop for your target keywords.
Our technical approach is enhanced by a peerless outreach strategy that has seen us earn high-calibre backlinks at unprecedented speed for our clients. The wide-ranging coverage we generate is made possible by our close-knit relationships with journalists, thought leaders, and media outlets across an expansive range of industries.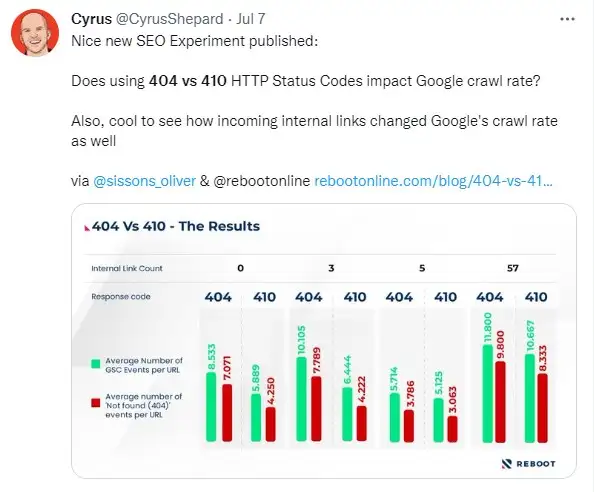 Whether it's enhancing your brand authority with a well-regarded niche placement or raising your profile with coverage in a global mainstream outlet, Reboot has everything you need to maximise your company's profile online.
People Talking About Our Work
At Reboot, innovation is at the core of our ethos. As well as following the latest industry trends, we produce our own SEO experiments that have resulted in findings that have both challenged our own model and advanced the industry as a whole.
The shapeshifting nature of our experiments has attracted interest and coverage from some of the biggest names in SEO, with a few listed below:
Brands We Have Helped
From fast-rising specialist companies to world-renowned brands, Reboot's work knows no bounds.
Our award-winning SEO company has worked closely with clients to establish themselves as thought leaders within their field while maximising their profile with dominance in the search engine results pages (SERPs). It's for this reason that we're widely recognised as one of the leading SEO consultancies in London and beyond.
Here's a selection of some of the brands we've helped: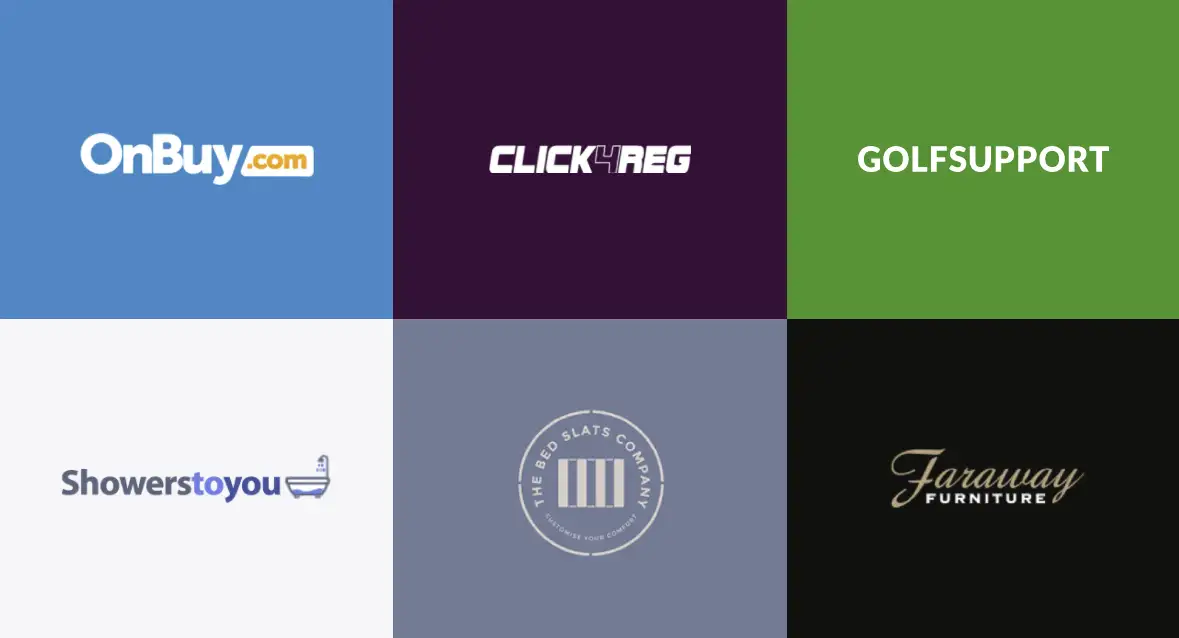 SEO Consulting Services
Our extensive SEO consulting services cover all the main facets of the industry so we can meet the demands of any client, no matter how simple or complex.
On-Site Audits & Technical SEO Consulting
The importance of technical SEO auditing accelerates with each passing year. With Google's algorithms becoming increasingly sophisticated in their pursuit to rank only the highest quality sites on their first page, it's essential that your site is well placed to become one of them.
The primary goals of the main search engines (Google, Yahoo, and Bing) are to crawl, index, and rank websites as accurately and efficiently as possible. The easier google finds it to fulfil these duties on your site, the greater your ranking will be in the SERPs.
As such, our technical SEO auditing services are expertly designed to identify the hidden issues preventing your site from reaching a higher place in the search engines. We utilise the most advanced crawlers and SEO tools alongside our vast technical SEO experience to gain rich insights into the things that are preventing your site from storming the SERPs.
Our extensive audits provide us with the platform we need to tailor our SEO consultancy services to your brand's specific needs. Identifying any problems from the start provides us with the foundation we need to maximise your site's performance when it comes to producing content and implementing keywords.
Digital PR & Link Earning
As a leading digital PR consultancy as well as an SEO company, we understand the profound impact digital PR can have on a wider SEO strategy. This is why we have a designated team of digital PR specialists who are experts in generating the type of publicity that can transform your digital presence.
With our bespoke and ever-evolving approach, we're able to obtain relevant, authoritative placements in national and global outlets, as well as esteemed, industry-specific publications. By securing links and coverage from the most relevant, high-calibre outlets, we position your company as a leading voice within your sector.
Local SEO
While the importance of national and international exposure is beyond question, there are just as many benefits to be garnered by dominating the search results in your local area.
By looking directly at the search trends of customers and competitors within your region, we're able to create precise local SEO strategies to provide you with that vital edge over your most direct competition.
Our cross-industry experience lets our SEO specialists know exactly what's required to rank your site for some of the most competitive keywords in your field. To see our results in action, you only have to look at our own SERP placement for 'SEO company', where we have topped the list for numerous years.
With Reboot's unrivalled local SEO strategy, you'll have the perfect platform to place your brand ahead of its nearest rivals.
SEO Training
At Reboot, we strive to empower our clients. While our SEO consultancy services have transformed the digital presence of many brands, some clients wish to develop the skills required to implement parts of their SEO strategy independently.
This is why we offer extensive SEO training services to clients wishing to learn some of the tricks of the trade. Whether you're a relative novice looking to learn basics or an intermediate wishing to keep up to date with the latest best practices, our tailored training courses can provide the perfect solution.
While there is no substitute for the full-scale strategies offered by elite SEO consultancies, our training services can empower you with the knowledge you required to implement elements of your strategy alone.
From upskilling in-house teams to identifying brand-specific improvements for your site and existing SEO strategy, we put the power in your hands.
Website Migration Consulting
Site migration must be treated with due care and skill if you want to protect your place in the SERPs. Whether you're changing your site's URL, platform, or server, or revamping its design, a rushed and poorly planned migration can cause untold damage to your ranking in the search engines.
Thankfully, with our professional oversight, you'll be armed with enough knowledge and expertise to ensure your site migration is both smooth and successful. With the help and guidance of our site migration specialists, you can focus on arranging your site however you like while minimising the risk of damaging your presence online.
In a world filled with cautionary tales of brands redesigning their site only to slide down the search engines, Reboot is here to make the transition as smooth as possible.
SEO Penalty & Algorithm Recovery Consulting
For those who've received past penalties from Google, establishing your site online can feel like an uphill battle. Whether you're paying the price for the Blackhat tactics employed by an untrustworthy agency or you've made mistakes when trying to optimise your site alone, restoring your brand's rep in the SERPs requires skill, patience, and expertise.
From this...

...to this!

Our proven SEO penalty and algorithm recovery services have helped over 60 clients recover from Google penalties and regain their presence in search engine results. With our measured, quality-focused approach, we'll use your content as the catalyst to bring your site out of the wilderness and maximise your visibility online.
From The UK Public Health Association (UK PHA):
"WE CAN'T THANK REBOOT ENOUGH FOR THEIR MONUMENTAL EFFORT IN HELPING US REMOVE THIS PENALTY FROM OUR SITE. I REALLY THINK THAT WITHOUT THEIR DECISIVE ACTION, WE WOULD HAVE HAD TO CLOSE DOWN WITHIN A SHORT PERIOD OF TIME."
Read the penalty recovery case study to find out how we did it.
---
SEO Consulting FAQs
What is an SEO Consultant?
An SEO consultant is a professional hired by other companies to oversee their SEO strategy. These consultants can either work independently or as part of a wider SEO consultancy like Reboot.
SEO consultants typically have cross-industry experience and are therefore uniquely placed to assist your brand with maximising its performance online. This scope for success is enhanced further in large agencies like Reboot which not only house SEO consultants, but also provide expert teams in other digital marketing facets like digital PR, content, and social media.
Should I Hire an SEO Consultant or Build an In-House Team?
Deciding on whether to hire a consultancy or build an in-house team can depend on an array of factors.
While on the face of it, hiring in-house professionals may seem like the more cost-effective option, the reality is not so cut and dry. Though employing your own team eliminates any up-front fees that you may pay to a consultancy, the cost of paying a team of professionals can start to add up over the years. This is before you even factor in the extensive training required to keep your staff at the forefront of this constantly evolving industry.
Hiring a leading SEO consultancy ensures that all the costs for paying and training staff are the responsibility of the consultancy. What's more, the best consultancies typically have specialised teams for each facet of digital marketing which would be extremely costly to replicate in an in-house environment.
While for smaller, upstart companies with basic requirements, an in-house SEO team might make sense, this approach can be limiting for larger companies or those looking to expand quickly. For any company with high aspirations for its SEO strategy, hiring a best-in-class consultancy provides you with unparalleled skills, resources, and expertise.
What Does an SEO Consultant Do?
An SEO consultant employs a range of tactics to ensure your content ranks as highly as possible in the SERPs. From researching and implementing keywords to securing backlinks from authoritative sites and everything in between, SEO consultants use their wealth of industry knowledge to maximise your brand's visibility on the web.
When Will I See Results?
While we're confident in our ability to deliver swift results, we manage each client's expectations on an individual basis. This is because there are an array of external factors including your current SERP position, previous penalties, and the scale of your strategy, that can affect the speed and scope of your success.
At Reboot, we have a proven track record of delivering fast and definitive results for our clients. With our holistic SEO approach, it's not uncommon to see noticeable improvements in your search engine placement within a matter of months after we've begun working with you.
However, as a consultancy, the timeframe for results depends on the working relationship we build with you; whilst the strategy is entirely our domain, implementation involves collaboration. And so, as all good SEOs will tell you, it depends.
How Much Does an SEO Consultant Cost?
The cost of hiring an SEO consultancy can vary substantially based on the hours we spend on your strategy and the type of work you have done.
At Reboot, we offer tailored SEO plans to suit the needs of each customer, allowing you to select the services you require based on your budget and requirements. If these requirements change over time, then you can upscale or downscale your plan accordingly.
While the cost of our plans is dependent entirely on the type and quantity of the work you require, it's reasonable to expect a one-off influx of optimised content to cost less than a long-term technical SEO strategy. This is because of the increased time and outlay involved in producing this type of work.