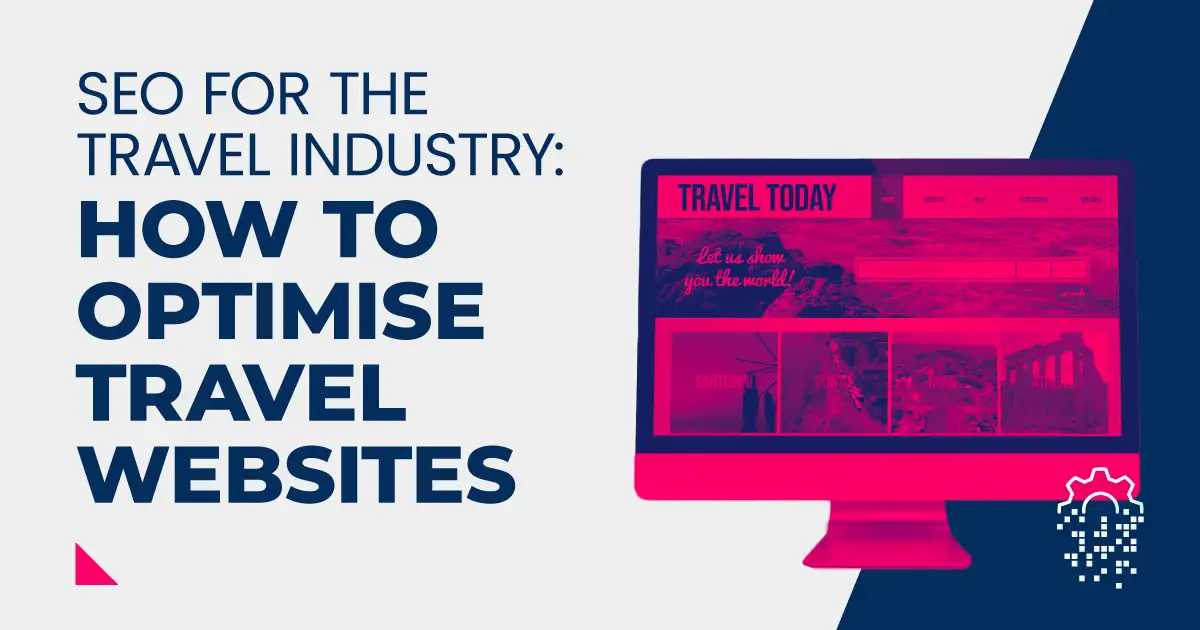 We live in a world where it is possible to book a flight to the other side of the planet in a matter of minutes using a search engine. Travel and tourism websites are therefore competing not just on value, but on factors like online visibility and user experience. This makes SEO one of their most important marketing strategies.
We are a specialist SEO agency with more than 15 years' experience maximising sales from organic traffic for our travel-sector clients. We're spilling the beans on the best SEO tips for the following types of business:
Travel agents
Tour operators
Airlines
Cruise lines
Hotels
Travel insurance providers
Why Is SEO Important For Travel

There are two main factors behind the importance of SEO for travel:
The Internet is now the first place the average traveller goes to research, plan and book their trip. This automatically maximises the amount of competition, as businesses that may have fallen under the radar twenty years ago can now turn themselves into a market leader with good SEO.
SEO can either be your worst nightmare or your biggest asset, as they offer your customers transparency, flexibility and cost savings, and they offer companies new opportunities to be discovered across countless different keywords.
It's a mutually beneficial deal, as long as you know what you're doing.
Travel SEO Statistics
The statistics about the importance of SEO for travel and tourism sector businesses get more impressive—or more terrifying, depending on how well-optimised your site is—every year.
The research shows that travellers are using search engines and other online resources at every stage of their journey: inspiration, research, planning, booking and travelling. It paints a pretty clear picture: if you're not trying to get seen on search engines, you're losing business to competitors who are.
86% of travellers use online resources to decide what destination to travel to (TripAdvisor)
65% of travellers use online sources for travel inspiration (Think With Google)
Search engines are the second-most popular source of travel inspiration, after social media, and the most popular channel for travel planning among leisure travellers (Google)
The vast majority of leisure travellers are undecided about which brand they intend to use when they begin planning a trip (Google)
65% of leisure travellers and 69% of business travellers conduct research online before deciding where or how they want to travel (Google)
57% of leisure travellers and 64% of business travellers always start their travel planning with Search (Google)
95% of people continue to visit travel-related websites after making a booking (Think With Google)
74% of people re-research a trip after booking (Think With Google)
Benefits of SEO for Travel Companies
1. Countless opportunities to be seen
SEO is all about connecting your products and services to the people searching for them. This means that every destination, product, service and piece of advice you have to offer is a separate opportunity to capture qualified leads. An optimised website is like a sponge dunked in a big bowl of keywords, soaking up that organic traffic from every angle.
2. Capitalise on seasonal trends
The nature of the travel industry is seasonal, and companies need a great degree of flexibility in order to be successful. After all, it's not just a question of peak season and off season—the popularity of certain destinations can be influenced by any number of factors. If you choose the right SEO agency, they can help you develop an agile strategy that keeps pace with these trends to ensure you're always targeting the right keywords at the right time.
3. Bring in high-converting traffic
The major advantage of SEO over other marketing methods is that your target customer comes to you, not the other way around. In SEO, site visitors aren't just browsing—they've come looking for something in particular. If you can provide that 'something', the end result is that the majority of people using your website come with an intent to book or purchase.
4. Disintermediation from OTAs
Travel companies have a love-hate relationship with OTAs (online travel agencies). Selling rooms through websites like Booking.com and Expedia helps drive sales and visibility, but comes at a high cost of up to 30% commission. Any opportunity to wrestle back some independence from OTAs and drive more direct sales is therefore welcome. SEO gives your business the opportunity to appear above OTAs in Google Search Results (more on this in a little while)—no commission necessary.
5. New levels of customer data
In 2020, Google launched Google Travel Insights, a tool that helps travel companies understand both their customers and how the industry landscape is playing out on search engines on a whole new level. But it's one thing having the data, it's another knowing how to use it. SEO agencies have the experience to help you get the most out of Google Travel Insights.
SEO Tips For The Travel Industry
Optimise for mobile
Let's get one thing straight: if your website isn't optimised for mobile, it isn't optimised. There are reasons for doing mobile SEO that are specific to the travel sector, which we'll get to, but the most important thing to know is that an unoptimised mobile version of your site will definitely impact your ability to rank.
Google started using mobile-first indexing in 2020. This means that the mobile version of your site is the version Google prioritises when discovering pages, evaluating their quality and deciding where to rank them. If you hire a travel SEO agency, this will be one of the first things they look at.
Optimising for mobile is also important for supporting your end users throughout the entire process of researching, booking and even going on their trip. People are more comfortable than ever booking travel without ever using a desktop device—64% of millennials use only their smartphone to book trips.

Google also found that people of all ages were inclined to browse for travel inspiration and do research using a mobile device in what they call "snacking moments", such as commuting or while watching TV. And then, of course, people rely heavily on their smartphones to navigate, find information and book local amenities like tours and restaurants on the trip itself.
Embrace local SEO
Here's a hard truth you need to hear: OTAs dominate organic Google Search results, and they're not going anywhere. We're never going to say that you can't outrank them for certain keywords with some long-term strategising—anything is theoretically possible in SEO—but it's not a KPI to hang the success of your entire campaign on.
Do not despair, though. There is a way you can appear above OTAs in Google Search results even if you don't technically outrank them—local SEO.
It might sound contradictory at first—"local SEO? But they're travelling!"—but just trust us. Perhaps instead of 'local SEO', you could think of it as location-based SEO.
51% of travellers use destination-based search terms when planning a journey. Results for these kinds of searches show different SERP features compared to, for example, an informational search.
Take the following SERPs for the destination-based keyword 'tour operators johannesburg'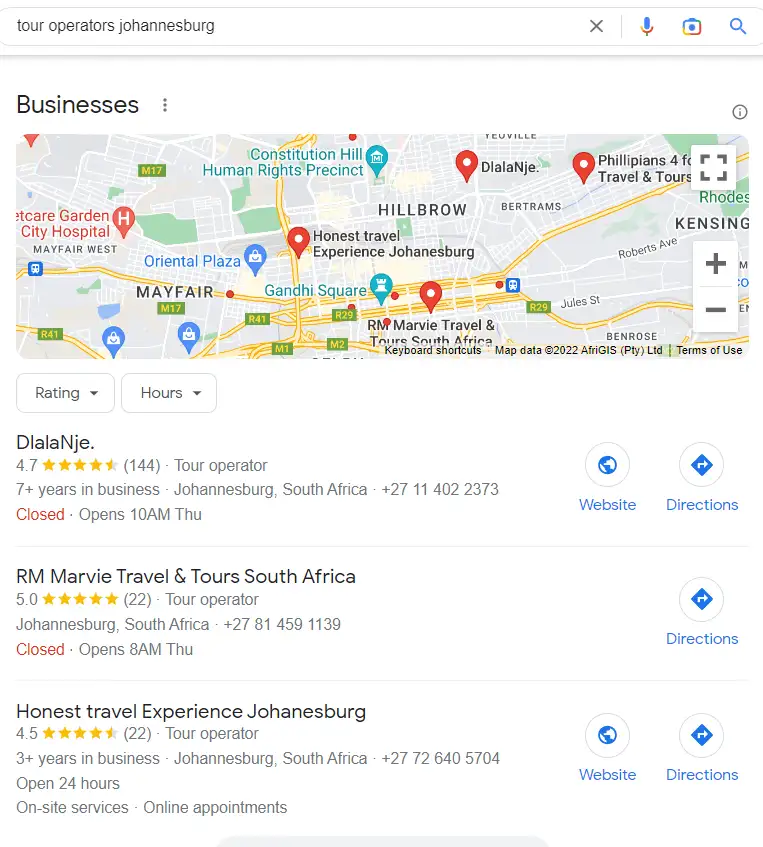 versus the informational keyword 'history of johannesburg'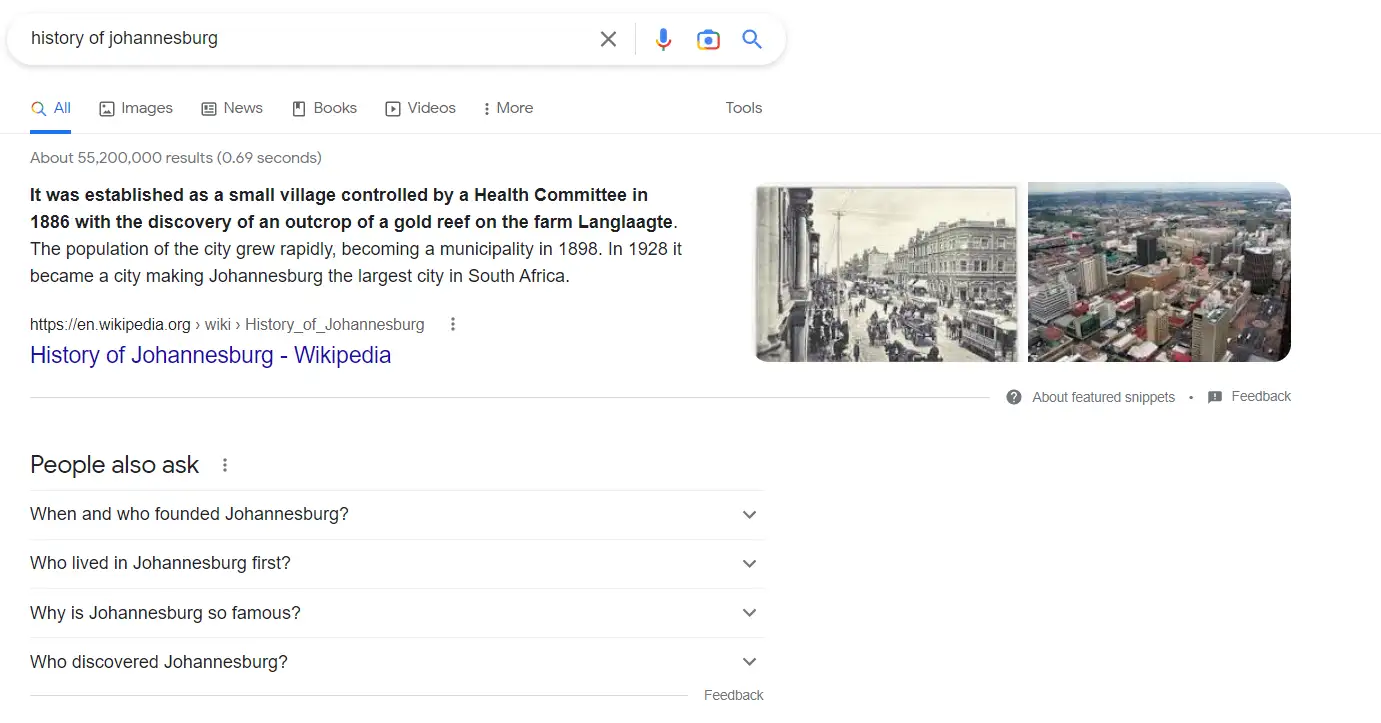 Google understands that users looking for 'tour operators johannesburg' are looking for [SERVICE] + [LOCATION], and therefore show results from Google Maps—known as the 'Map Pack'—higher up the page. A search for 'hotels in Johannesburg' might also show results from Google Hotels and the Knowledge Graph, or 'flights to Johannesburg' would understandably show results from Google Flights.
You get the idea.
As location-based searches show different SERP features, Google prioritises different ranking factors in local SEO compared to so-called 'regular SEO'. Some things are the same: your site needs to be optimised for mobile, have a common-sense structure and a strong backlink profile… But if you have all of that and no Google My Business listing, your chances of ranking for your highest-value keywords are slim to none.
To optimise for local SEO, you need to:
Claim and optimise your Google My Business profile
Ensure NAP citations are consistent
Encourage online reviews
Add local Schema Markup to your website
Reviews are your friend
We know. Customer reviews? For marketing? Groundbreaking.
Nonetheless, you'd be surprised how many businesses undervalue the importance of online reviews in their SEO strategy. After all, customers aren't the only group you've got to build trust with. Gaining the trust of search engines is an even more important ranking factor than even SEO fundamentals like keyword targeting.
Over the past few years, three magic words have popped up in every single algorithm update: "expertise, authoritativeness and trustworthiness". Like most things in marketing, it's become better known as an acronym—E-A-T. These algorithm updates are designed to improve the quality of search results, and Google has been specifically cracking down on websites that cannot prove their legitimacy.
Concurrently, research has shown that more weight is being put on customer reviews as an indicator of legitimacy or E-A-T. According to BrightLocal, reviews are the second most important ranking factor for local SEO. While little can ever be 100% certain in SEO, this seems to indicate that Google is looking directly to the user to evaluate E-A-T.
Reviews are the second most important ranking factor for local SEO
SEO analytics giant SEMrush also found that Google places more weight on the number of customer reviews than on the rating. So, while hundreds of 1-star reviews certainly won't do you any favours, a couple of 3-star ones won't do too much damage. The important thing is that people are using and engaging with your business.
If you're not already encouraging customer reviews… What are you waiting for?! Over 70% of customers will leave a review if prompted. Try these tips to encourage more customer reviews:
Ask for reviews in your email marketing
Ask for reviews in person
Ask for reviews on social media (with a link to your Google My Business page)
Respond to reviews
Feature Google reviews on your website, with a "leave a review" call-to-action
Don't forget about your images
Speaking of undervalued and underutilised user-generated content (USG), let's talk about images.
There are many reasons a user might conduct a Google Image Search while planning their next trip, such as:
Trying to find the nicest-looking hotel rooms
Planning an itinerary of places to visit prior to booking accommodation or tours
Screening the legitimacy of language schools or other group programs
All of these represent opportunities to drive traffic towards your site especially in the travel sector.
Image and video search is the second most common means of finding travel inspiration, after a web search. Meanwhile, user-generated content and professional brand images are the two most influential content types for users when planning a trip.

Additionally, a greater emphasis on visual search has been promised by Google as part of their Future of Search plans. This is a curve you want to be ahead of, not behind.
There are a number of things you can do to drive traffic using image SEO, including:
Using relevant images
Placing images in a relevant context
Optimising alt text
Optimising meta data
Optimising image URLs
Making images mobile-friendly
Resizing and compressing images
Choosing the right file format
Amplify your brand with digital PR
Most non-SEOs understand the value of keywords. If your website ranks for a variety of relevant terms and is providing great content on those topics, you're more likely to rank.
The less obvious value of SEO—one that even some SEOs get completely wrong—is in your backlink profile. Backlinks are links from another website pointing towards your own, and are one of the most important SEO ranking factors. The idea is that the more backlinks from relevant and high-quality sites a piece of content is, the more trustworthy it is likely to be.
Some SEOs will chock your website full of low-quality, spammy backlinks and consider it a job well done. We know better, and so should you.
Digital PR is one of the best strategies for building a strong backlink profile. It involves collecting a unique dataset on a subject relevant to your industry, writing up the results as a press release and emailing the campaign out to journalists, who then write it up on their lovely high-authority websites. You get two for one: a high-quality, relevant backlink and coverage in a major publication.
Digital PR is a huge opportunity for travel and tourism websites, due to the amount of both industry and consumer publications, as well as the popularity of independent travel blogs. One great idea can help you generate evergreen and constantly compounding value for your website.
Should I hire a travel SEO agency?
Yes. Yes you should.
Of course, we're biased. But we're not unrealistic. Take another look at this article and ask yourself: "can I really achieve all this by myself?"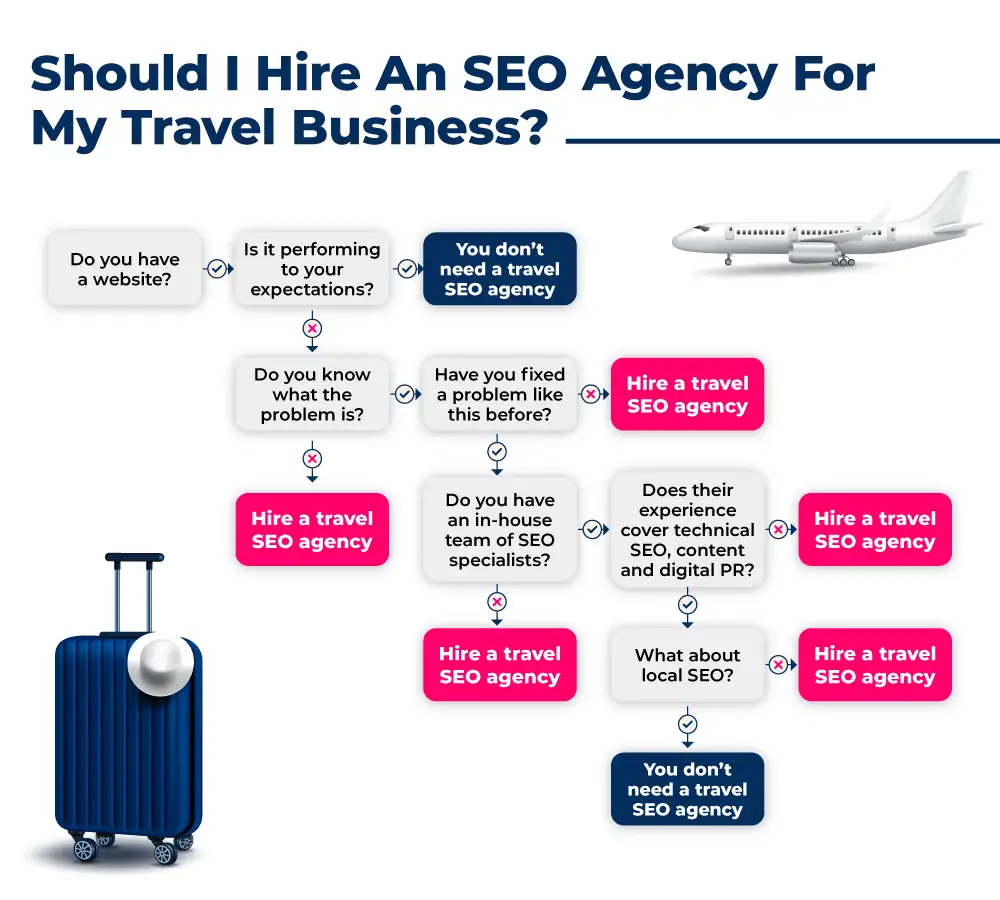 Optimising a travel and tourism website for Search is a mammoth operation, requiring specialist knowledge of technical SEO, content optimisation and link-building and a complete stack of SEO industry tools. It's not a job for one person—it's a job for a team of experts.
This is especially true in travel, where some seriously impressive SEO is being executed day-in, day-out. Part of the reason that OTAs dominate the market is because their SEO is so good—Airbnb and Booking.com are regularly used as case studies of some of the best SEO in the world.
You cannot outperform them without help.
Hire Reboot
Reboot Online Marketing is an SEO agency with a track record of maximising sales for our clients. We have worked with businesses in a wide variety of niches—from sports equipment to online marketplaces, home furnishings and more—, deploying a wide range of expertise across content marketing, technical SEO and digital PR to drive relevant organic traffic to both top-level and inner category pages.