Brainstorming is designed to stimulate the mind and spark new ideas. Naturally, the process of brainstorming differs from business to business and there is no one-size-fits-all approach. As a digital PR company, brainstorming is a team exercise driven by the individual. Each team member will create a plan, conduct their own research and extract the facts – but the big team talk is where the magic really happens.
Here is a breakdown of how we brainstorm for best results:
Plan of Action:
The Reboot team begin by looking at the content planner, which is colour-coded by client and updated every month. This allows the team time to digest their clients for the month, before constructing their plan of action:
Who will I be writing for?

What industry and topics will I need to research?

Have I seen any relevant news in the media that relates to a potential PR project?
Then, it's time to scrawl down the basics before moving on to the next stage: research!
In-Depth Research
We start by looking in-depth at our client's industry – be it property, finance or health – utilising sources such as Google search, governmental datasets and industry insights to pull reports, facts and figures related to hot topics and buzzwords circulating in the industry.
At this stage, it's useful to research around relevant keywords. This is effective in finding information that is niche and may otherwise lay undiscovered. For example, for a commercial property client we would not just search "commercial property" (although it's a good place to start!) We would also search keywords like 'land space', 'leaseholds' and 'investment' to see what we else we could find.
Gathering Reports and Angles
We then select the juiciest reports, facts and figures we have found and check they have not been reported in the media. We break the reports down to extract key information and to identify strong angles. Competition in the press is fierce and it's important to spin content in the newest, most relevant way: we want our digital PR campaigns to stand out and be read by as many journalists, industry insiders and audiences as possible.
Breaking down the report to its bare bones also helps to spark other ideas and different topics to research. Which of course helps to create something truly original and unlike any press coverage out there.
It can also help us to uncover more data which may not be wholly relevant to one client but could help another member of the team. So, we make a conscious effort to share what we find with each other.
The Big Team Talk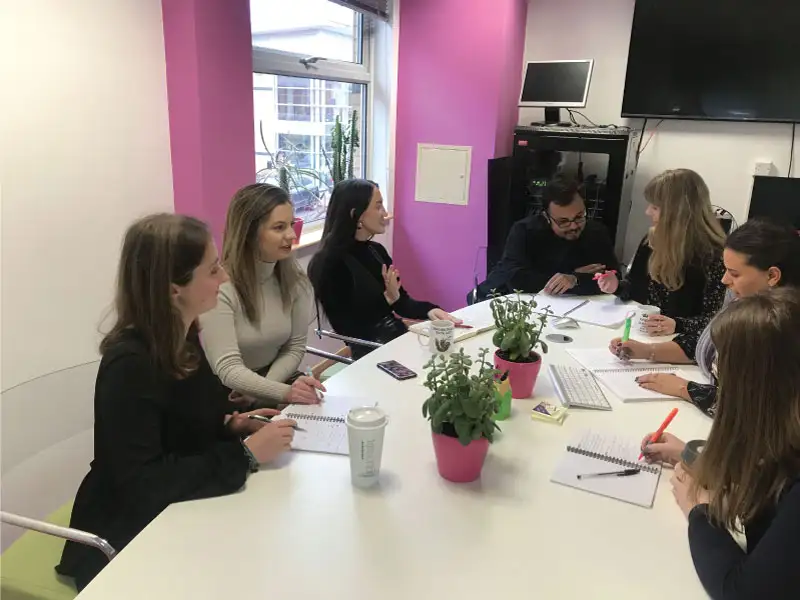 Every month a big team talk is scheduled, and this is where the magic really happens! Each member of the Reboot team will bring with them the ideas they have whittled down through their plan of action and in-depth research and one by one we share them with the group – usually over some coffee (essential) and gluten-free brownies (scrumptious!)
In the hours that follow, we provide each other with feedback and help to mould each idea into a potential success. This talk is crucial because the team acts as a solid sounding board. After all, an idea can sound spectacular in your own mind – but spoken aloud to an objective audience can reveal if it's really any good at all!
Through discussion, everyone can easily identify the leading ideas amongst their scrawls and scribbles. These are the ideas the team will go on to refine and build into a campaign in the next and final stage: prepping the digital PR.
Prepping the Digital PR
In the final stage of brainstorm, we set out to refine our leading ideas and plan out our digital PR campaigns. This includes combing back through our research to check we have collected every golden nugget possible, creating mood boards of fitting images and colour schemes for graphics to accompany our text and visualising a flow for our content:
What's the best way to introduce my topic?

What's the crux of my PR?

Is there someone to contact for an exclusive quote?
At last, the digital PR team is fully prepped and visualised, ready for the coming month's client campaigns!
A brainstorm well executed.