Ranking the Most Popular Fitness Clothing Brands on Instagram
Whether you're hitting the gym, doing a home workout or going outdoors, you need to make sure that you have a dedicated selection of clothes to maximise your workout.
And with the athleisure wear movement now gaining momentum in the clothing industry, more and more people are looking for outfits that combine form, feeling and functionality.
We all have our go-to favourites when it comes to fitness clothing, whether it's a comfortable pair of trainers, a supportive sports bra, or an outfit that just feels right when we exercise. But what are the most popular brands for fitness clothing?
With this in mind, Reboot Digital PR Agency decided to assess the popularity of the top 20 most cited brands, according to a number of relevant publications, including Forbes, GQ and The Manual. Data was then taken from Instagram, for the top 10 most relevant hashtags for each brand, to determine the final order.
What are the most popular fitness clothing brands on Instagram?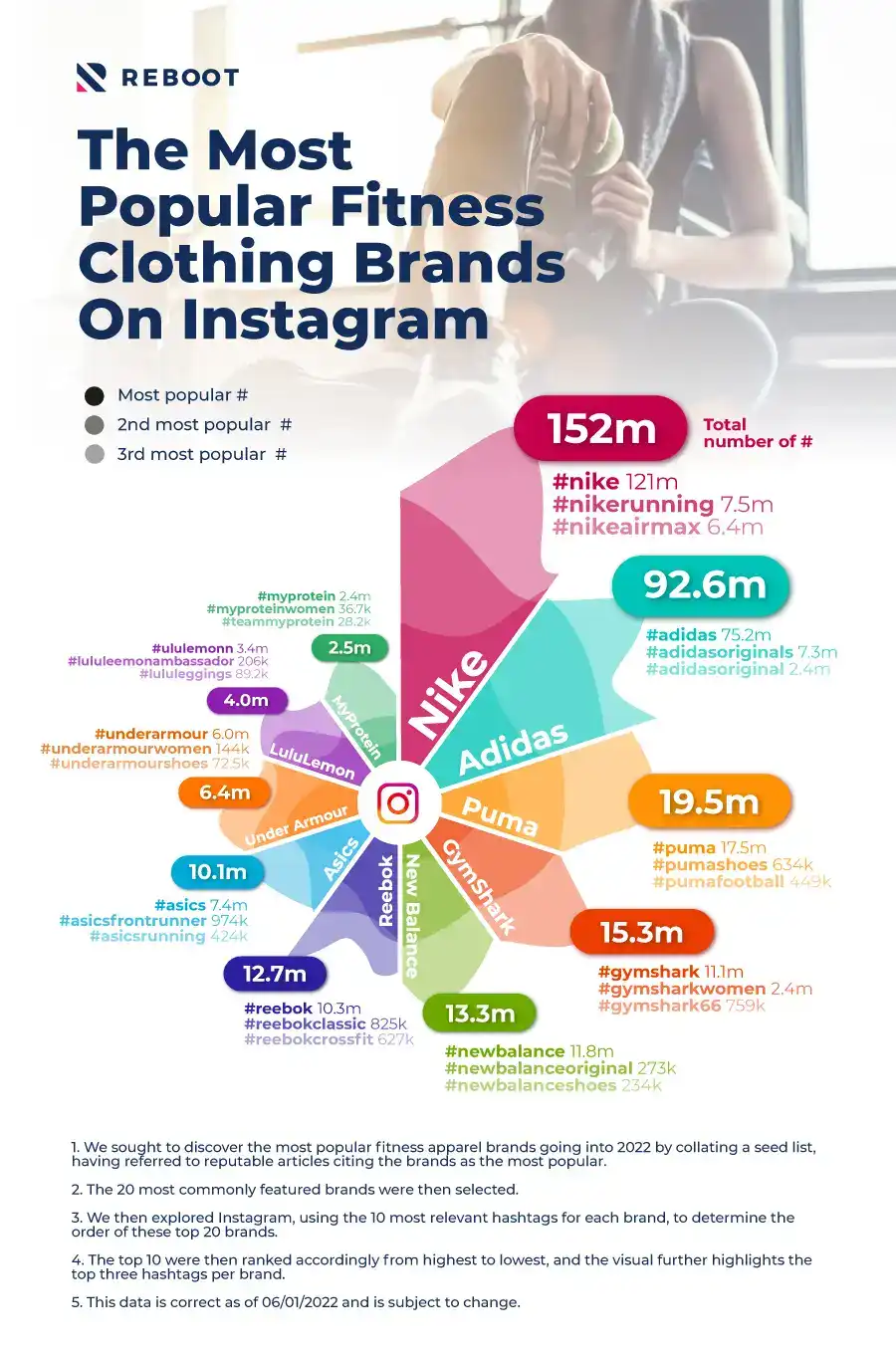 Nike continues to dominate as the most popular fitness clothing brand, with an impressive 152 million hashtags. Founded in 1964, this American multinational corporation has been a principal supplier of sporting apparel for many decades, and continues to lead the market in terms of global sales.
With an astonishing 7.5 million hashtags for #nikerunning and 6.4 million for #nikeairmax, it is clear to see why Nike continues to reign supreme in the world of fitness fashion.
In second place is Europe's largest sportswear manufacturer, Adidas. This German corporation boasts a staggering 92.5 million hashtags in total, with a combined 9.7 million hashtags being for Adidas original(s).
Puma makes up the top three, with 19.5 million hashtags. Founded in 1948 by Rudolph Dassler, brother of Adidas founder Adolf Dassler, this international sporting company also happens to be the third largest in the world, with annual sales of over $6 billion. With significantly fewer hashtags than the previous two companies, #pumashoes and #pumafootball have a combined total of just over a million.
In fourth place is Gymshark, the highest placed British company from our study. Valued at over £1.2 billion, this fitness apparel and accessories brand prides itself with 15.3 million hashtags. Initially aimed at men, two-thirds of its sales now come from women, and would go some way to explain the 2.4 million #gymsharkwomen from our findings.
They have clearly got their jaws into the fitness fashion market; Largely an online retailer, they did experiment with a pop-up store in Regent Street in 2020, and in 2022, will open their flagship bricks-and-mortar store in London. They were also one of the first companies to make extensive use of influencer marketing to help market their products - some'fin' that competitors might want to take note of.
Completing the top five is New Balance, with 13.3 million associated hashtags. Most recognisable for their range of comfortable running shoes, they experienced a combined total of around 500,000 for #newbalanceshoes and #newbalanceoriginal.
Reebok and Asics fall in sixth and seventh place, respectively, which is perhaps surprising given that individually, #reebokclassic, #reebokcrossfit and #asicfrontrunner all have more hashtags than some of the examples listed earlier. However, in terms of total numbers of hashtags, Reebok has 12.7 million, whereas Asics has 10.1 million.
The top 10 is concluded with Under Armour (6.4 million), LuluLemon (4 million) and MyProtein (2.5 million).
Outside of the top 10, there are a couple of interesting examples to note. Alo Yoga comes in eleventh place, marginally ahead of Emporio Armani. Determined to make 'the best yoga clothing in the world', Alo Yoga have a quarter of a million fewer hashtags for their name compared to Armani, yet over 240,000 hashtags for 'Alo Yoga challenge' to make up the difference.
Echt, in sixteenth position, has just under 240,000 hashtags in total, yet only appears with two hashtags; with almost 46,000 of these for #echtapparel. The remaining four companies all have under 100,000 hashtags: Beyond Yoga with just over 76,000, down to P.E. Nation with 42,800.
Final thoughts
Fitness clothing remains a popular part of people's lifestyle choices.
The superpowers of fitness fashion, Nike and Adidas, continue to dominate the rankings by some margin. However, the gap is much closer the further down the list you go.
Out of the 15 companies included in our study, it is encouraging to see four representatives from the British Isles, the highest being Gymshark in fourth position.
Whilst it looks unlikely that some of these fitness brands will challenge the big boys any time soon, it is certainly healthy for the public to have such a varied selection of fitness clothes available on the market, in their quest for comfortable, yet aesthetically pleasing, exercise clothing.
Methodology
1. Reboot sought to discover the most popular fitness apparel brands going into 2022 by collating a seed list, having referred to articles sourced from Forbes, GQ, The Manual, Women's Health, DMARGE, and Trendspotter, citing the brands as the most popular.
2. The 20 most commonly featured brands were then selected.
3. Reboot then searched for hashtags via Instagram, using the 10 most relevant hashtags for each brand, to determine the order of these top 20 brands. Brands such as Champion and Rhone were left out as the hashtags featured could not be directly linked to the brand due to alternative meanings.
4. The top 10 were then ranked accordingly from highest to lowest.
5. This data is correct as of 06/01/2022 and is subject to change.