The Most Cyber-Secure Countries to Work From
It's safe to say that remote working is here to stay, with a lot of companies allowing—or even encouraging—employees to work from home. Digital nomads have been taking advantage of this societal shift to remote working by going on workations (working + vacations), but which countries are the safest to work from?
To establish which global countries are the least and most secure to work from, the experts at digital PR agency, Reboot, analysed cyber-security statistics that include:
Drive-by downloads. An accidental download of malicious code on your computer puts you at risk of a cyber-attack.
Phishing sites. A domain that looks like the official website it is trying to impersonate. It's made to trick you into thinking it's real and potentially sharing personal information.
Malware hosting sites. Sites that are likely to contain malware that scrapes sensitive information from your computer and could even redirect you to other malicious sites.
Compromised computers. Computers that have been infected with the Gamarue botnet (a form of malware that gives hackers access to your computer which could allow them to steal important information, change security settings, and take control of the machine as a whole).
What Is a Workation?
Let's start with the basics. What actually is a workation (or workcation, whichever you prefer—we won't judge)? The purpose of a workation is to relax, unwind, and be productive while working remotely. A workation involves taking a break from your regular workplace but not from your job itself.
The flexibility of workations is what gets most people excited. They give you the chance to travel and work at the same time—without having to take any extended time out from your role. In addition, it's a good way for you to escape if your day-to-day job has started to feel monotonous.
The Most Cyber-Secure Countries to Work From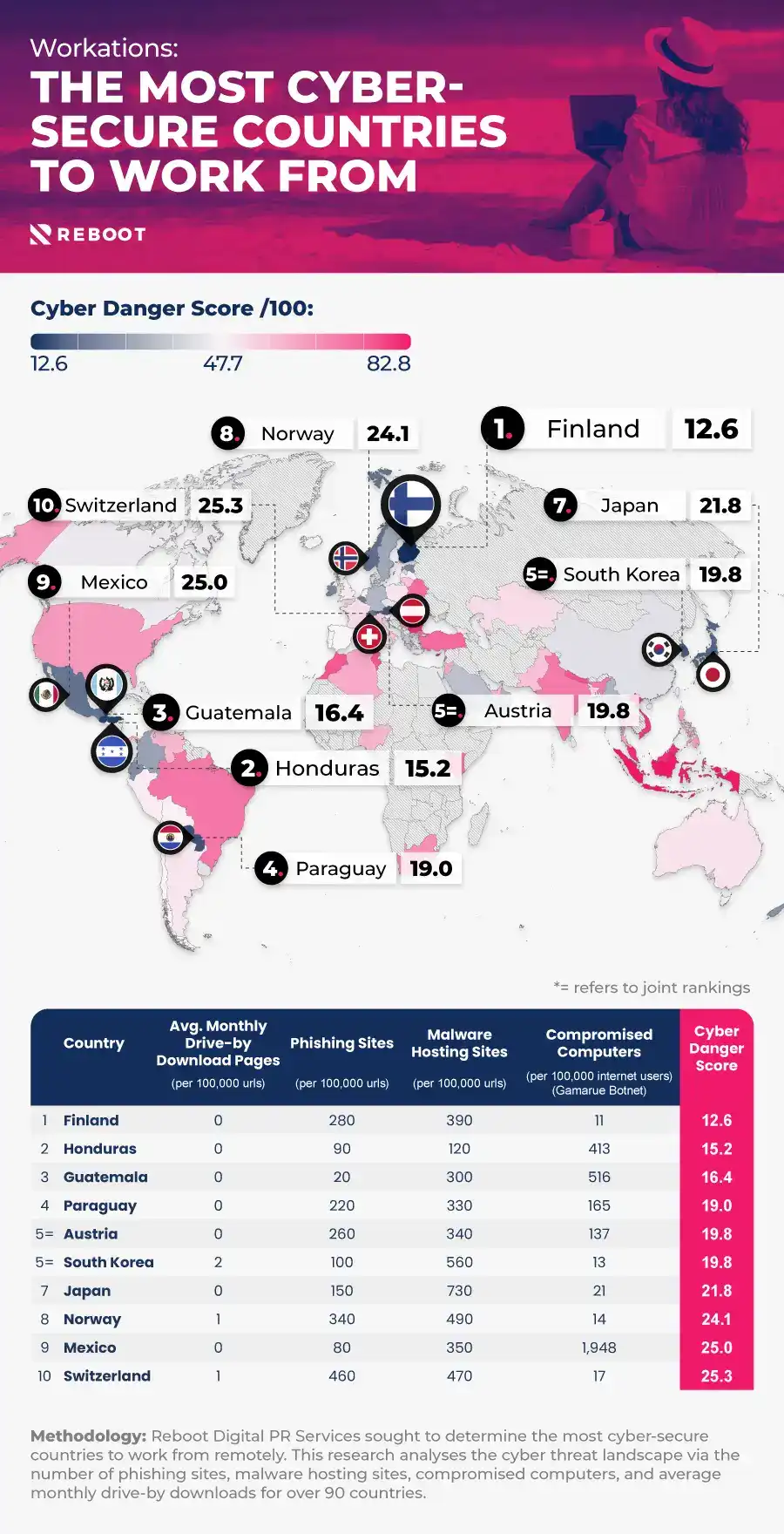 Finland is the place to be if you're looking for the best country for a workation without having to worry about your, or your company's, data being stolen. With a cyber-danger score of just 12.6, the country hosts fewer than 300 phishing sites and only 11 compromised computers per 100,000 internet users. So whatever industry you work in, and whatever data you're handling in your remote role, the chances are you'll be cyber-safe in Finland.
The North American country of Honduras ranks second with a low cyber-danger score of 15.2 out of 100 for its cyber-security. While able to boast about low stats for drive-by downloads, malware, and phishing sites (all under 150), the number of compromised computers remains relatively high at 413 per 100,000 internet users.
Rounding out the top three most secure countries for your workation dreams is Guatemala with a cyber-danger score of 16.4. You won't have to panic about encountering phishing sites as you relax in this tropical paradise as there are only 20 per 100,000 URLs.
The first South American entry and the second European country in the top 10 are Paraguay and Austria. While these locations have wildly different landscapes for you to enjoy during your workation, they have received similar cyber-danger scores (19 and 19.8 respectively).
The Asian countries of Japan (21.8) and South Korea (19.8) are also among the locations with scores under 25 for overall cyber-danger, showing their strong security measures for digital nomads.
The Least Cyber-Secure Countries to Work From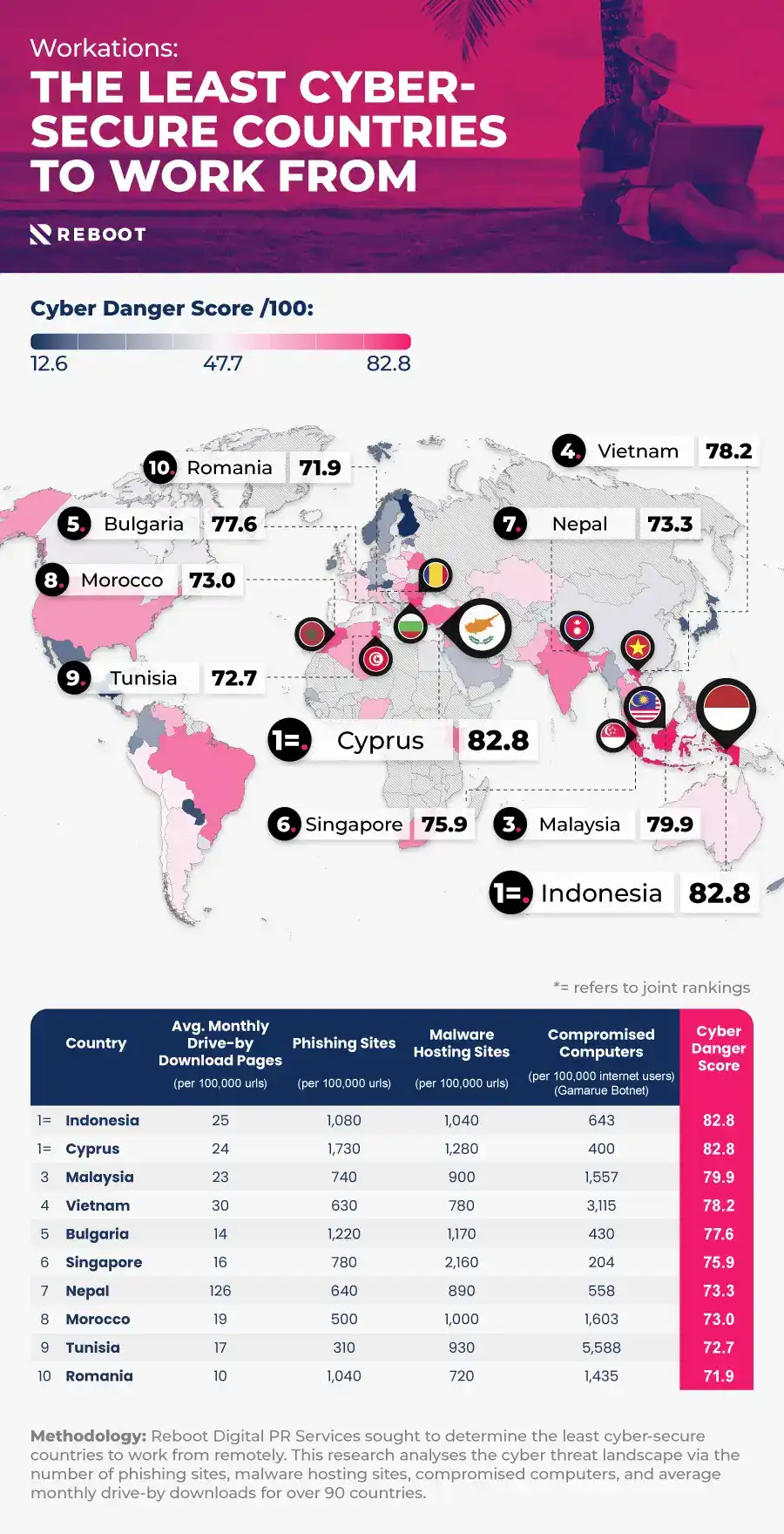 Indonesia and Cyprus share the unwelcome honour of having the lowest cyber-security score in the world: 82.8 out of 100. Keen workation-ers may be surprised by this top spot as Indonesia has already established itself as a favourite destination for remote workers—especially after Bali is planning a five-year digital nomad visa.
Cyprus, which alarmingly hosts over 3,000 phishing and malware sites combined and 400 compromised computers (per 100,000), has also opened its doors to those after a bit of sunshine alongside their daily jobs and offers remote working visas.
The third country where you're most likely to encounter cyber-attacks is Malaysia, which has a worrying number of 1,557 compromised computers, 740 phishing sites, and 900 malware-hosting sites. These combined figures have resulted in a cyber-danger score of 79.9 out of 100.
Vietnam, Bulgaria, Singapore, and Nepal came in fourth, fifth, sixth, and seventh place. These stunning locations may not be the best places for a workation due to the high number of malware and phishing sites (over 8,000 combined) as well as the high likelihood of encountering drive-by download pages.
From the adrenaline-packed ski slopes of the Atlas mountains to the seaside escape of Djerba, it's easy to see why North Africa is such a hotspot for those looking to explore. If you're looking to work, though, you may need to take extra precautions. Morocco (cyber-danger score of 73) and Tunisia (72.7 out of 100) rank eighth and ninth, respectively.
With a cyber-danger score of 71.9 out of 100, Romania completes the 10 least cyber-secure countries and is the second of only two European countries featured.
The Countries with the Most Drive-By Downloads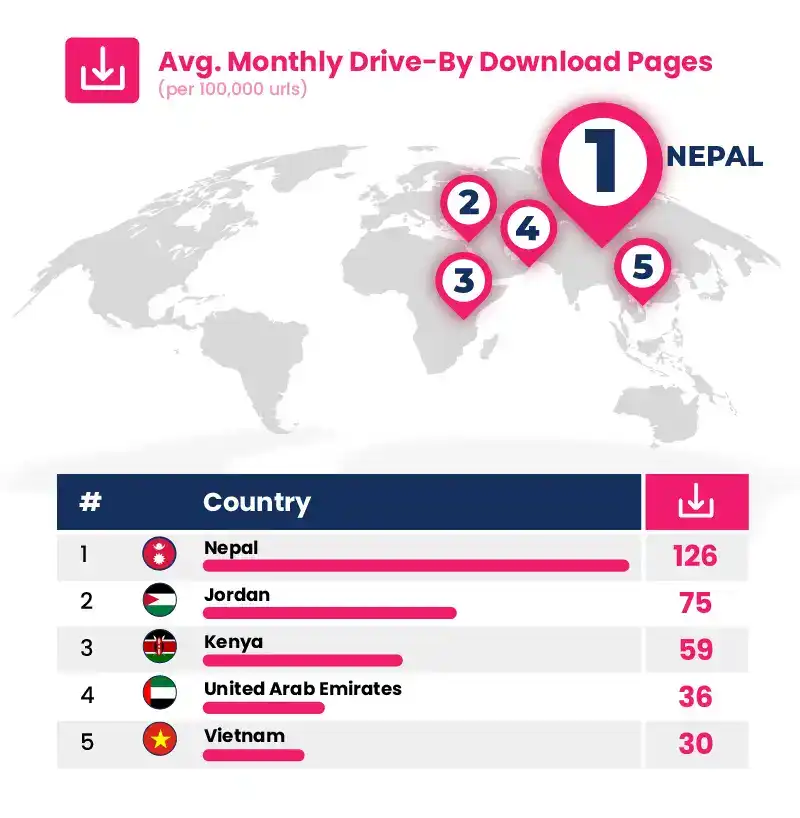 Not only did Nepal finish seventh in the least cyber-secure countries for digital nomads, but it also has the highest drive-by downloads average of all countries analysed, at 126 every month.
Jordan and Kenya trail behind with a (still worrying) total of 75 and 59 drive-by downloads every month.
Be wary of clicking on any suspicious links or sites when workationing in the United Arab Emirates or Vietnam as well—there are over 30 drive-by downloads a month in these countries just waiting to catch you out.
The Countries with the Highest Number of Phishing Sites

Designed to fool you into thinking you're visiting a legitimate and trusted website, phishing sites can be a massive problem for digital nomads. Those in Ukraine and Cyprus should be particularly cautious as there are over 1,700 of these sites (per 100,000 URLs) active in these countries.
Panama (1,560 phishing sites), Belarus (1,230), and Bulgaria (1,220) are also dangerous locations for your workation if you're worried about your important data being stolen.
The Countries with the Most Compromised Computers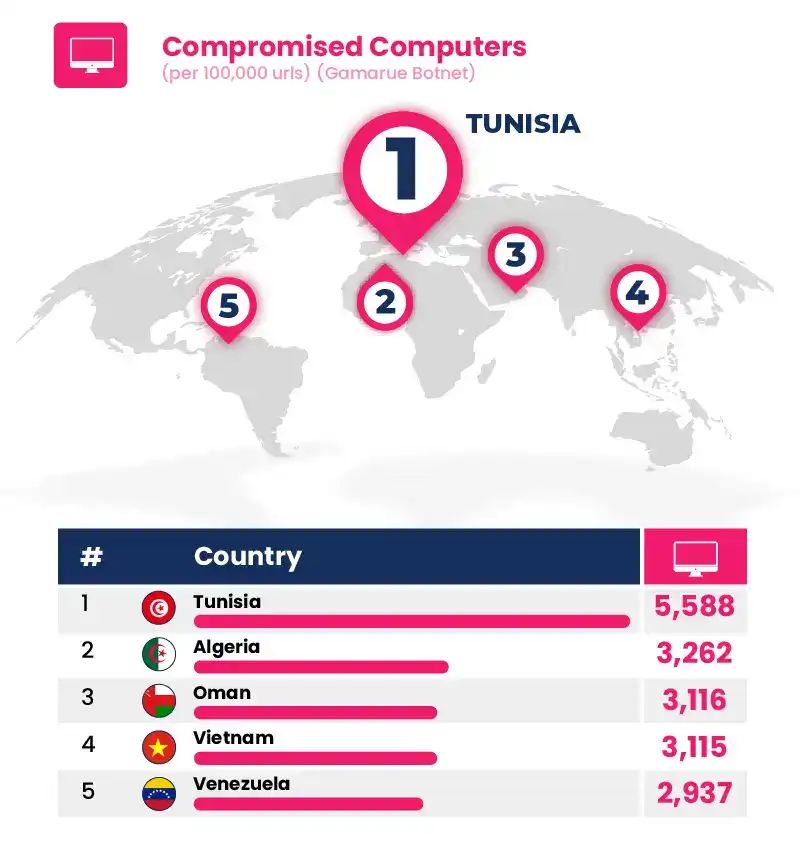 Gamarue, sometimes called Andromeda or Wauchos, is a particularly dangerous botnet that can wreak havoc on your computer. It's most common in Tunisia with 5,588 computers compromised with it per 100,000 internet users—meaning over 5% of users will have trouble with this malware at some point.
A mixture of African, Asian, and South American countries make up the rest of the top four with Algeria (3,262 compromised computers), Oman (3,116), Vietnam (3,115), and Venezuela (2,937).
The Countries with the Highest Number of Malware Hosting Sites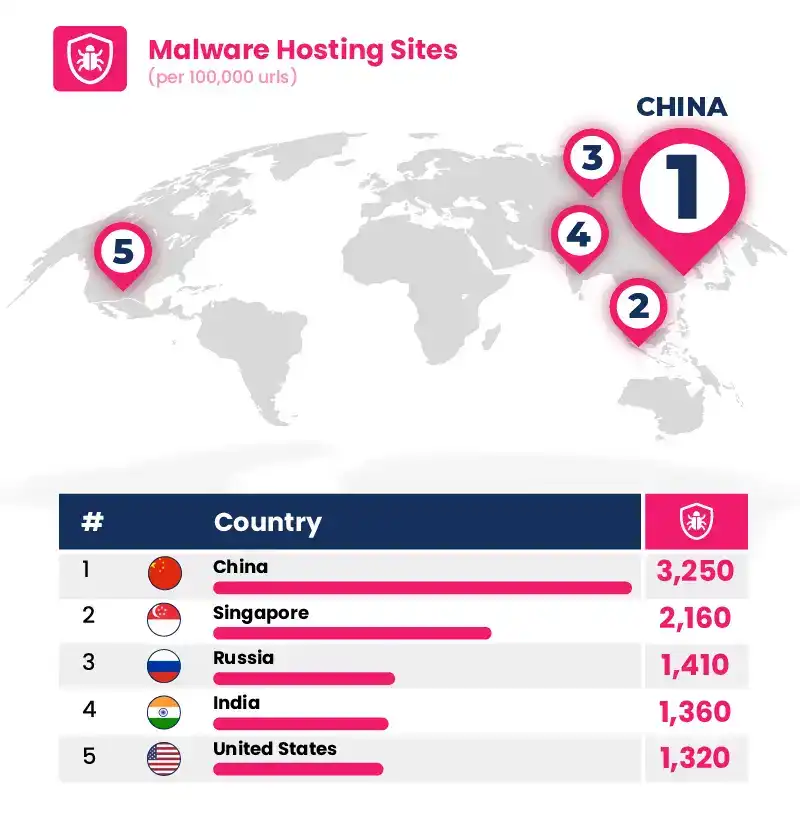 Although China can be the place to find a well-paid job, coming second in the highest salaries of digital marketing managers around the world, the cyber-danger you face as a digital nomad may make you think twice about workationing there. There are 3,250 sites hosting malware per 100,000 URLs. These can be anything from computer viruses and Trojan horses to complex spyware.
The United States has its first appearance in this study. Although ranking 20th in the least cyber-secure countries with a danger score of 62.4 out of 100, it is in the top five locations with the most malware-hosting sites. We found there were 1,320 of these sites per 100,000 URLs just waiting to catch someone out.
How to Have a Cyber-Safe Workation
Workations can be a great way to relax, see a new country, and still keep hold of that valuable annual leave allowance. With 16% of companies working on a fully remote basis, and this number only looking to increase, the digital nomad dream may become a reality for many.
But if the concern of cyber-safety is something that's holding you back, make sure you get into these habits:
1. Protect (and change up) your passwords!
We're all guilty of it. Choosing one main password and running with it. Maybe adding a capital letter here, a special character there when needed, but keeping the essence the same.
If you want to stay cyber-safe you need to get out of this habit. Try to change up your passwords as much as you can and keep them safe. Don't ever enter them on websites you're even vaguely suspicious of.
2. Delete unnecessary sensitive information
Depending on your role, you may be handling a lot of sensitive information during your workation. Losing this or having it stolen through malware or phishing sites can result in severe consequences for both you and your company.
Avoid this by deleting this sensitive information as soon as you stop needing it. Don't let it just set in your computer.
3. Don't open links or attachments you're not 100% sure of
This is beginning to seem like age-old advice now. Guidance from since the internet began gaining popularity and hackers saw opportunities to trick you. That doesn't mean it's any less important though.
Whether you work for a high-security firm, an SEO company, or are self-employed, you always need to be wary of links and attachments. If you see a link—either through email, online, messages on social media, or elsewhere—don't click on it unless you're 100% sure it's safe.
Final Thoughts
Remote working is here to stay, especially after studies on how people feel about working from home found that 57% wanted to work remotely at least some of the time. With the freedom to work away from an office building, workations are only going to become even more popular.
While some countries are more cyber-secure than others for these workations, with various types of online dangers plaguing different locations, if you're careful then you'll be able to make it work.
So, rather than just dreaming about it, give workations a go. Your Insta and annual leave allowance will thank you for it!
Methodology:
Reboot Digital PR Services carried out the following research to identify the most insecure countries for a workcation. This research analyses the cyber threat landscape within each country considering the prevalence of phishing and malware along with botnet networks.
Python data mining tools were used to extract cybersecurity statistics from over 90 Microsoft Security Intelligence reports (2017) resulting in a comprehensive dataset containing the number of phishing sites, malware-hosting sites, compromised computers (part of Gamarue botnet), and average monthly drive-by download pages for over 90 countries.
Each statistic collected above was presented on a per 100,000 URLs basis, with the exception of compromised computers presented per 100,000 internet users.
An internal dataset of over 3 million restaurants and other food outlets worldwide was used to find the number of outlets providing access to free wifi per 1,000,000 inhabitants with population data acquired from the world bank.
Food outlet data was not included in the overall cyber danger rankings
A final normalised ranking metric considering the cyber safety factors listed above was created and sorted in descending order to identify the most dangerous countries for a workation.
Note: Cybersecurity statistics are provided only for computers using Microsoft Security software in December 2017.