The Highest Paid Jobs in London's Tube Stations
It's well-known that living in London isn't cheap - in fact, it's in the top 20 cities with the highest cost of living. As a result, when searching for a new job, salary is one of the most important aspects to consider. Many job advertisements promise a "competitive salary", but which locations are the best to start your hunt and typically pay the most?
To find out, Reboot digital PR agency, used the relevant postcodes for each tube station and scraped data from job listings on Indeed to calculate an average salary across all job sectors. From this, we could identify the highest and lowest salaries, along with the job sectors, around each London tube station.
The highest salaries around London's tube stations
The tube station with the highest average salary is Waterloo. As the busiest train station in the UK, this location sees thousands of professionals arrive for work each day, receiving an average yearly wage of £32,247 - that's £786 more than the national average of £31,461.
Missing out on the top spot by just £155 is Mansion House. This station sits on the Circle and District line which makes it well-connected for professionals working in the city as "you'll be able to get pretty much anywhere". The salaries of jobs in this area are good too, sitting at £32,092.
A hotspot for tourists, London Bridge Tube Station is also home to some well-paying roles. On average, you can expect a salary of £32,076. The highest-paid jobs at this station come with an impressive salary of £60,000 - that's if you work in the legal, logistics, education or technology sectors.
Borough, Liverpool Street and Barbican are in fourth, fifth and sixth place. The average salaries in the same postcode as these stations are £32,018, £31,922 and £31,582 respectively. If you're looking for more than that, keep in mind that jobs in travel, attractions and events are the most likely to earn you a salary of over half a million a year.
Both Bank and Aldgate have salaries that are just under £1,000 less than the top spot. Yearly pay around these Zone 1 stations is over £31,400. Healthcare occupations can earn up to 60k around the two stations, as well as personal service and social care.
The last two stations in the £30,000 bracket are Cannon Street and Farringdon. In particular, some legal occupations can earn you as much as £60,000 a year around this London tube station.
Dipping just below the 30k mark is Moorgate. Job listings in this Central London postcode advertise an average salary of £28,638 (just £14 more than 12th place Old Street) and span across multiple job categories. Although, if you're qualified enough for a job in the legal sector, you could be looking at over £57,000 a year for the best-paid roles.
The 13th, 14th and 15th places are separated by just £226. Jobs in Monument, St. Paul's and Tower Hill come with an average salary of over £28,000, which falls short of the national average. To earn higher than this in jobs around Monument station, search for roles in technology as some adverts for these roles promise a salary of over £44,000.
The lowest salaries around London's tube stations
The tube station with the lowest-paid jobs is Hainault with an average salary of £18,598. The average cost of rent for a one-bedroom property in this postcode is over £11,000 and the cost of living for a single person is over £10,000 in London, people working and living in this area may find themselves short each month.
Other Zone 4 stations with the lowest-paid jobs are Fairlop, Barkingside and Greenford. Roles surrounding Fairlop are slightly better paid than the other two stations, at an average of £18,929 a year.
Upminster, Edgware, South Ruislip and South Harrow are four other stations that have average salaries within £19,000, with the lowest sitting at £19,538 and the highest at £19,696.
From Hendon Central to Burnt Oak, there are seven stations with the same average salary. In these tube stations, you can expect a yearly wage of around £20,000 - over £12,000 less than the highest-paid tube station and almost 11,500 less than the national average.
What are the highest paid job sectors across all tube stations?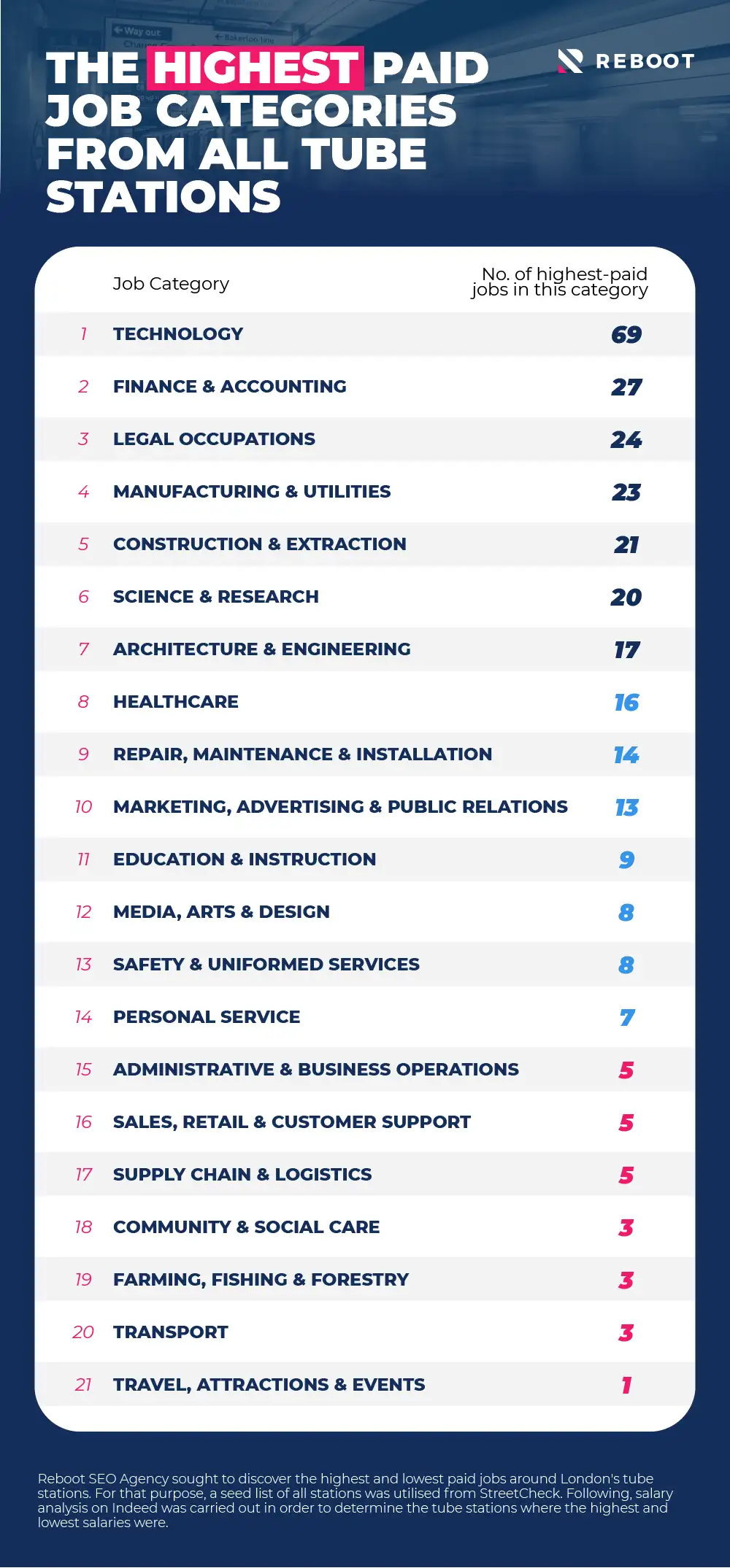 It's no secret that some sectors pay better than others, but which jobs appear to pay the most across all London tube stations?
Technology is your best bet if you're keen to make a meaty wage. This sector was responsible for 69 of the highest paying job adverts near London tube stations, with the most impressive promising £70,000 a year.
Finance and Accounting is up next, with 27 jobs in this sector that are the highest paying in the area. Roles such as Financial Controller and Accountant make up the majority.
As lawyers are one of the best paid in the whole of the UK, it's no wonder that legal occupations make up 24 of the top-paying roles by London's tube stations.
Some of the lower-paying industries are Community and Social Care, Farming, Fishing and Forestry, and Transport. Although interviews for transport positions are deemed one of the easiest, it may be worth scrubbing up on your skills and aiming for another sector if you want a better salary.
---
Methodology:
Reboot SEO Agency wanted to discover the highest and lowest job salaries around London's tube stations.

A list of all 270 tube stations in London and their respective postcodes were sourced from StreetCheck.

To keep results consistent and comparable, the location of each tube station was defined to a radius of 1 mile from each station.

Indeed search tool and filters were used to find the average estimated salary, common job categories and the number of jobs under each category close to every tube station.

The average estimated salaries and the number of jobs under each salary were used to calculate the weighted average for each job category.

Out of 270 tube stations in total, data was collected and amalgamated for 268. Paddington tube station was considered over Paddington (H&C Line)-Underground station for having identical postcodes and Bond Street station was omitted from the research, due to lack of data.

All data was collected between 31 August 2021-3 September 2021 and is subject to change.