Text Overlays: How To Add Text To A Video In Public Relations
Have you ever scrolled through your phone and a video sparks your interest? You click on the video. Suddenly, sound blasts into the overcrowded commuter train. Chances are, you will switch that video off immediately. As such, there is a demand for text overlay.

This guide will explain what text overlay for video is, why it is valuable, and how to overlay videos for a successful marketing strategy. You can use our contents page to navigate the post.
CONTENTS:
1. What is text overlay in a video?
Text overlay refers to the words which appear at the forefront of a video. The text can appear in a variety of sizes, fonts and may be accompanied with video effects. Designers and editors implement text overlay on the video to enable more viewers to watch their content. Notably, there are several types of on-screen text: subtitles, closed and open captions.
What is the difference between subtitles, closed and open captions?
Subtitles act as a word for word translator and aid to individuals with hearing disabilities. In general, captions are storytelling features and enable silent views. Closed captions allow the viewer to turn on and off the captions. In contrast, open captions remain on the screen without permitting the user to select their preferences.
What is better, closed captioning vs open captioning?
Closed captions are better suited for user experience (UX). This type of caption allows the viewer to feel in control and that their needs are catered. Closed captions usually entail text that acts as condensed subtitles, allowing the user to read rather than hear.
However, you may also wish to include open captions if your text is more creative. For instance, graphic designers who implement layering will want their overlay to stay on the screen. It may sound a bit complicated, but we will explain this layering concept further within our stylistic tips later in the guide.
What are the other reasons you should add captions to video online?
2. Five reasons why video text overlay is important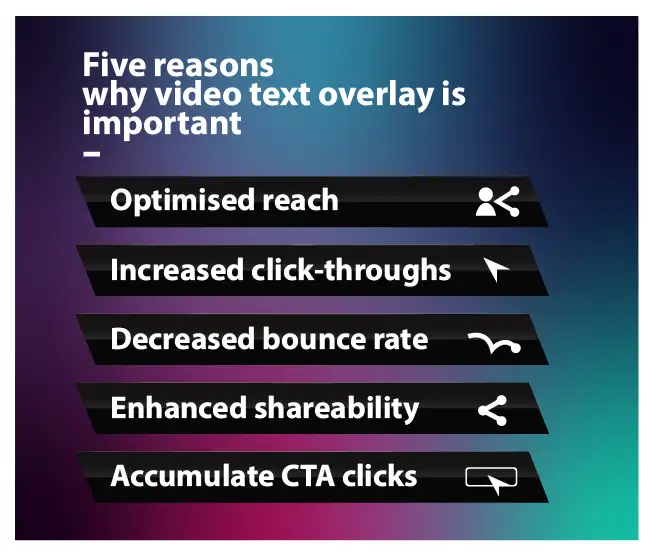 Optimised reach
Make the most of having access to your target audience. Research by Digiday revealed that 85% of Facebook videos are not played with sound. These figures decrease with Instagram Stories and YouTube. Yet, marketers still lose viewers on social platforms by neglecting text overlay.
Optimise your reach by implementing on-screen text into your video content. After all, you won't only be catering to the twenty-first-century lifestyle but also to individuals with hearing impairment.
Increased click-throughs
Videos that include either a sound on/off button or text overlay will see an increased click-through-rate (CTR). Show your audience from the offset that the video can be viewed without sound. Often editors will feature a scene with the video text overlay to attract a higher CTR ratio.
Decreased bounce rate
Adding text overlay on the video will reduce your bounce rate. Put plainly; people will continue watching your video for longer. Research by Ad Age showed that 33% of people turn off videos after 30 seconds. That gives you a brief window to engage the audience and maintain their attention. As such, incorporating on-screen text is beneficial.
Enhanced shareability
Text overlays should be a go-to tool if you are looking for increased engagement and shareability. While you may have text running throughout the whole video, select words can be highlighted. These design elements can make a substantial impact, stir emotion and reiterate a point.
The on-screen text often aids the user experience (UX). As such, videos with text are more likely to become viral content and reach a broader audience. The receiver frequently trusts referred content. Thus, there is an enhanced conversion opportunity.
Accumulate CTA clicks
Closed captions impact your call for action (CTA) clicks. Instapage carried out a study which evaluated these closed captions. As it turns out, CTA clicks plunged by 26% when captions were excluded from the videos on Facebook. You should include captions if you want more people to respond to your call for actions, and ultimately, gain conversions.
It is clear that text overlay for video is crucial when it comes to your social media marketing. Not only will you attract and maintain the attention of your audience, but you will also increase viability and engagement. Ultimately, your conversion rate could be at stake.
3. How to add text to a video?
There are different methods for inserting a text overlay into your videos, depending on your editing preferences and expertise. First, let's take a look at the software and apps available for adding overlay text. After, we will review how to overlay in video using the most popular programs.
12 video editors that enable you to add text to videos:
Adobe After Effects

Cameo

Adobe Premiere Pro

iMovie

Kapwing

Freemake

Vont

Final Cut Pro

Camtasia

Typito

Flimora

Video Square
How to overlay text in iMovie?
Open the text function within the iMovie toolbar

Double click the text box to enter your text

Choose your font, colour and size by clicking on 'show fonts' in the movie viewer

Drag your overlay onto the timeline so that it appears in the video

Reposition the text overlay on the video until you are happy with it

Extend the photo element in your timeline to dictate how long the text should appear on the screen

Save your masterpiece!
Use the following six steps for different formatting:
Open PicMonkey editor, locate the text bar and press add text

Choose a font, colour and size

Drag your text box to the desired location

Use the crop tool to capture your text

Save the copy as a png onto your desktop

Open iMovie, insert the image and follow the steps above
Canva is another fantastic tool to help you format your videos with text. Similarly, once you have chosen the style, save the overlay as a png and upload to iMovie. For stylistic advice, scroll down to the last section of this guide.
How to add text in Adobe Premiere Pro CC?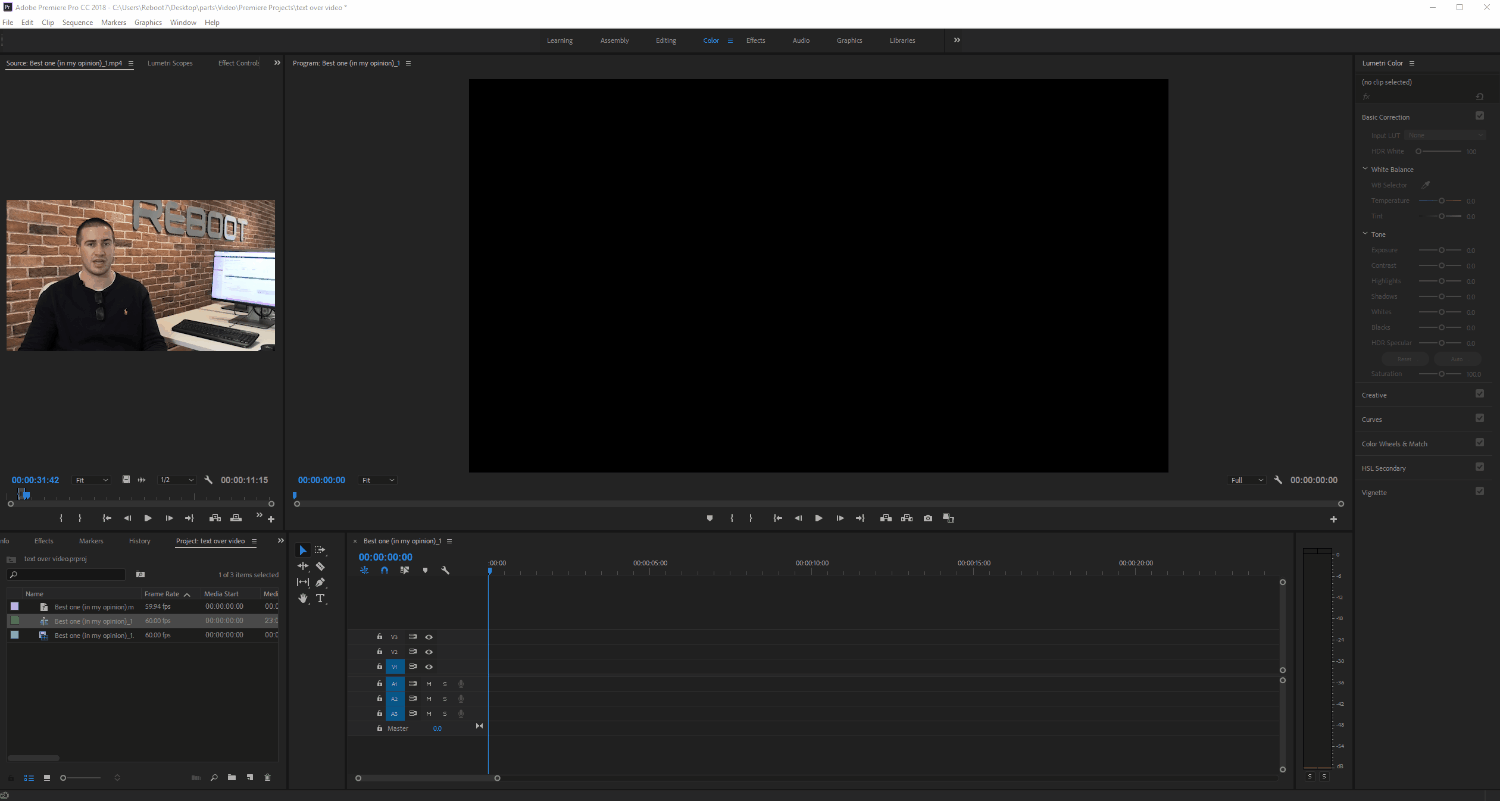 Open your project on Adobe

Locate and click the text icon (T) which is usually located at the bottom of the screen

Click on your video to insert the text

Type the content

Add colour by previewing the appearance tab

Experiment with the effects until you are satisfied

Click on your text and drop it into the timeline

Extend the text box, within the timeline, to match the required duration

Preview your overlay text using their alignment tool, a rectangular tool to enhance the accuracy

Save your video!
4. Stylistic tips for adding text overlay on a video

The text overlay is intended to complement your unique content. As such, it is vital to choose the right font, size and effects. It is equally of value to position the text in the right place and ensure the spacing is aesthetically pleasing to the eye.
Word count
There is no need to include every word used by an interviewee. Nor should you cram in too much information. Declutter the conversation. Ultimately, it should be just enough to guide a viewer without sound. Wordiness can be overwhelming and off-putting.
Font for video
What are the best fonts for video editing? Usually, we recommend staying consistent with your brand's typography when creating content. However, loud fonts can distract the viewer from the video itself. Therefore, you should keep the typography simple. Sans serif fonts tend to work well for text overlay in videos.
Best fonts for video text:
Gill Sans

Arial

Lato

Gotham
Size of text
For readability, 12pt to 16pt is the optimal size for video text overlay. Smaller words can hinder mobile experiences due to visibility. Sizable text can be applied on a blank canvas or blurred background. Text overlay is used as an alternative to sound. As such, you should support the imagery rather than overpower it.
Spacing
Pay special attention to the spacing of your text overlay on the video. Text that is squished too close together will negatively influence the video. However, massive gaps will steer the viewer's attention away from the video. Thus, a happy medium is appropriate for text overlay.
Boxes and blurring
Boxes are an excellent way to enhance the readability of your text overlay. Perhaps the most useful technique is by inserting a marginally-transparent box, for instance, a Scrim. Choose white or black, depending on the video. By adding this feature, your text will stand out, acting as a storytelling aid.
Blurring is another way to guarantee legibility. Merely include a rectangular blur behind the text. The transition from image to overlay is seamless. Thus, the watcher's focus will remain on the video footage itself. For intro and exit, you could opt to blur the whole screen.
Positioning
If the text is acting as subtitles, keeping the overlay at the bottom of the screen is advisable. When showcasing the name of a person, position your overlay to the left, a third of the way down on the video. Transitions may incorporate text in the middle of the screen. However, your ultimate aim is to frame the visual components.
Layering
Layering is a fun and useful feature when done well. An example of this can be found in the movie Limitless to showcase the thoughts of the main character, Bradley Cooper. For instance, when he writes on the laptop, you can see words in the air. Business Insider also uses this technique to showcase statistics.
5. Closing considerations for creating videos with text overlay
As mentioned, text overlay in the video is an excellent way to attract, engage and retain your target audience. No wonder closed captioning is on the rise! Remember, the majority of Facebook viewers prefer silent mode. As such, video without sound is the way to go. Equally, the sound-off dynamic also appeals to other social platforms.
So if you are struggling to hone your video text overlay, perhaps it's best to contact a professional digital marketing team with proven results. It's essential that your video incorporates all of the best SEO practices and is optimised for social.
How have you employed overlay text in your video marketing campaigns? Share your overlay examples in the comments below.