7 Essential Strategies to Create Viral Content
As a content creator, producing content that will achieve a high level of shares and exposure is the ultimate goal. But with millions of blog posts written daily, how can you make your content unique and appealing enough to stand out, let alone go viral?
Here at Reboot, we've succeeded in gaining viral coverage for our campaigns. It's not as simple as just creating an enjoyable read or relying on luck, however—you need to plan and construct your content in a particular way. If you want to create viral content, you're going to need a content strategy.
Luckily, we've done the groundwork for you. Read on to learn the 7 essential strategies you need to create viral content with our handy guide.
What Is Viral Content and Why Is it Important?
The term 'viral content' refers to a piece of content that has been shared, liked, viewed and commented on an exceptional amount of times within a short timeframe.
Not only does viral content generate valuable traffic and greater shares, but it can also boost both sales and Google rankings. Whether it's a blog post, a social media post or a video, content that contains all of the right components can be shareable.
Essentially, viral content is important for increasing brand awareness and website traffic.
The Key Components of Viral Content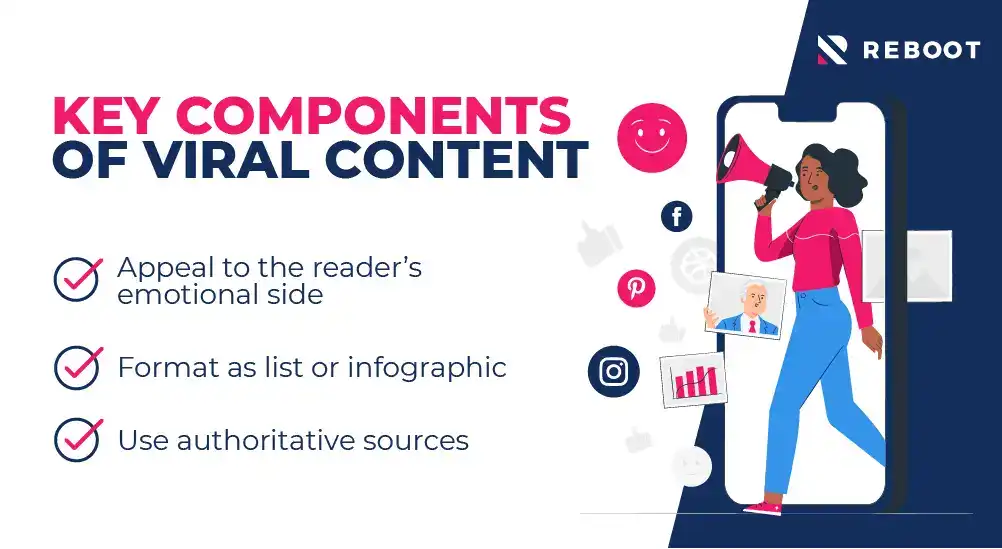 If you want to create viral content, then you need to understand why content goes viral in the first place. A study by Buzzsumo analysed 100 million blog posts and the results are a good place to start.
The study found that the most shared content all featured the following components:
They appealed to the reader's emotional side (invoking laughter, amusement, awe, etc)

They were formatted as either lists or infographics (which are easier and more appealing to share than regular text)

They were authoritative and knowledgeable sources
Featuring these elements is just one step in creating viral content. First, you need a plan for your content. Here's how to do it.
7 Essential Strategies For Viral Content
We've delved deep into content statistics and compiled the top 7 strategies you can implement to help your content go viral.
1. Optimise the Format of Your Content
A crucial aspect of creating viral content is choosing the best structure and format for it. Even if you've written a brilliant piece, it will be useless if a reader cannot quickly find or extract the information they're looking for. The key to writing high-quality viral content is to ensure it's easy to read and digest.
Before you start writing, you should consider how you will make your content accessible to your readers. For example, listicles often go viral as they're easy to read. Short-form content is better suited for small screens (such as mobile content), however, BuzzSumo's study revealed that long-form content achieves more social shares.
You can optimise your content's structure by:
◾ Including visual aids. Infographics, list posts or a combination of the two are great for grabbing attention and are ideal as shareable content
◾ Break up long-form content with images to improve user experience, decrease your bounce rate and increase its shareability potential
◾ Use a tool—such as BuzzSumo's 'Content Analysis' tool—to indicate your audience's preferred content length. This helps budget time or money towards your website's content creation.
Don't forget to optimise your text structure. This helps guide your readers through your content and encourages them to click through to other pages on your site.
2. Deliver Practical Value
For your content to go viral, it must contain information that is valuable and useful to your readers. You need to create content that offers practical value, whatever that might be.
If you're stuck for ideas, there are plenty of online tools and tricks to help you create valuable content, including:
◾ AnswerThePublic and Ahrefs. These online tools enable you to complete valuable keyword research on your topic
◾ Considering and planning around user intent will help shape your posts and overall content marketing strategy
◾ Using Google's People Also Ask box to inspire ideas to answer your target audience's questions
By delivering practical value, you are organically inspiring users to share and promote your content.
3. Write Content to Evoke Emotion in Your Readers
Research shows that emotional arousal proved to be the single biggest determiner of whether content goes viral. Creating content that inspires an emotional reaction or connection is more likely to be shared by your readers.
Whether it's joy, surprise, nostalgia or upset, content that triggers an emotional response resonates strongly with readers. This may be why emotion-driven digital PR campaigns do well.
Think about the most famous viral content you know:
◾ We fell in love with Grumpy Cat because of her permanently peeved expression (so adorable)
◾ We couldn't help but laugh when this baby panda sneezed.
◾ We felt empowered by Dove's Real Beauty Sketches campaign.
Creating content that invokes emotions naturally compels individuals to share the content with friends, colleagues or followers, which then naturally gains momentum and becomes viral.
Appealing to positive emotions, such as amusement or awe, rather than negative feelings of anger or upset, tends to succeed better in going viral. This is because positive emotions tend to provide fulfilment for readers who want to share something that's made them feel good or inspired.
4. React to Trending Topics
Think it's impossible to create unique content about a trending topic? Think again. Even though trending topics are widely covered, putting a unique spin on the story and making it timely is possible to make your content go viral.
A fantastic example of this is a successful campaign we ran within our agency. We created a campaign for an energy supplier information site by combining two topics: the environmental effects (energy) of streaming our favourite Netflix shows (entertainment).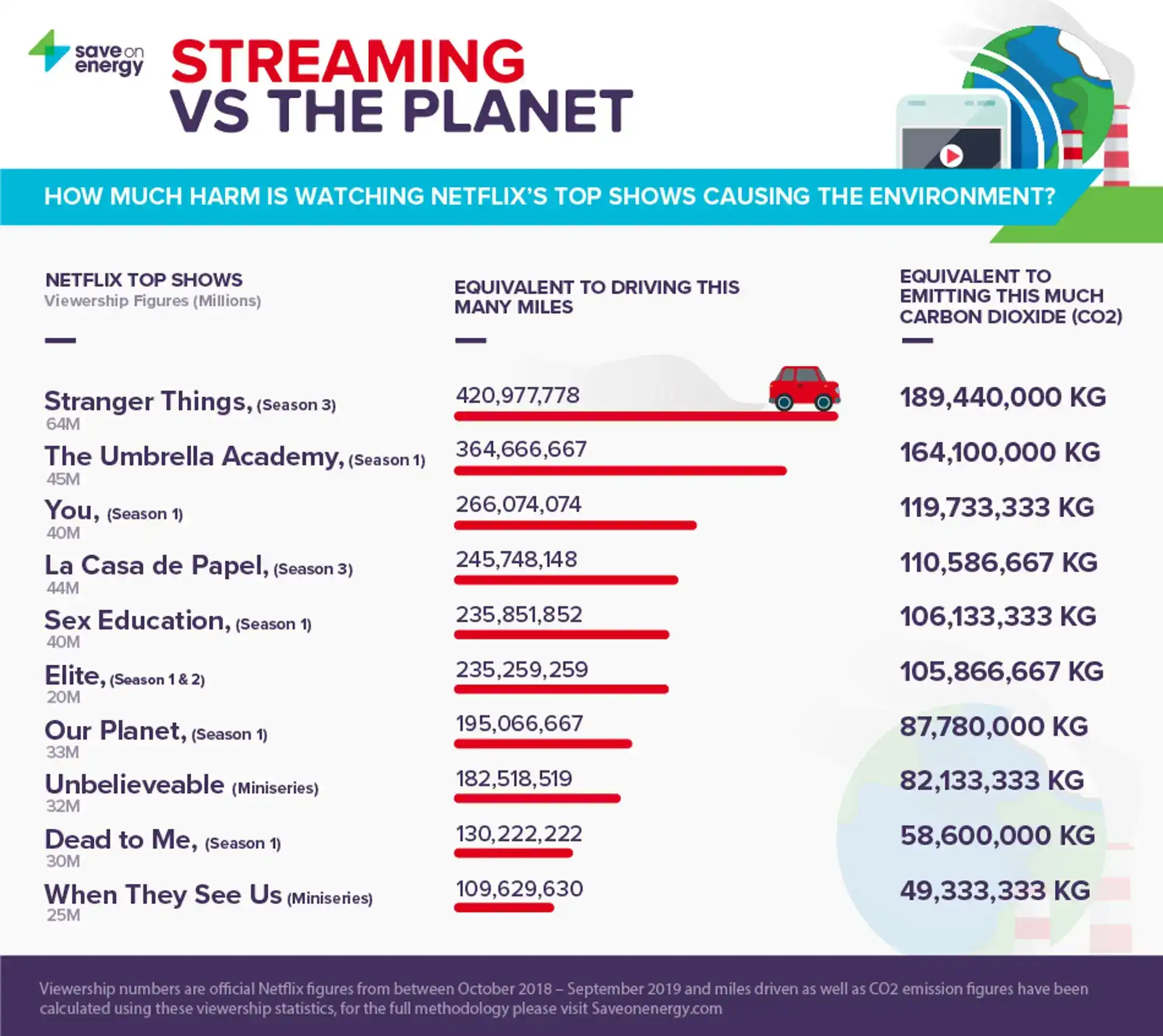 We released the content at the start of the 2020 Coronavirus Pandemic, a time in which much of the world was tucked away in their homes streaming Netflix (which achieved 16 million user sign-ups during the first quarter of 2020).
The campaign also came at a critical point in the climate crisis whereby clearer water, bluer skies, and lower carbon emissions were all achieved as a result of life coming to a halt.
By combining these two trending topics, we were able to create content that was not only trending and unique but also widely shared, despite 'energy' being a niche that is notoriously difficult to create viral content for.
5. Plan For Popular Events
You can plan your content based on upcoming occasions that are publicly known—such as celebrated days or month-long events—preferably by at least a month for optimum results, by using the following resources:
◾ Days of the Year: a calendar-based website that highlights national days of the year
◾ BrainyHistory: discover historical events by picking a day or date
◾ On This Day: find out exactly what happened on any day in history
You can also check the "Trending" sections on Twitter and Facebook to find specific terms that are trending on social media. This can help to increase your engagement and expand your reach beyond Twitter and Facebook followers.
Google Trends and BuzzSumo are other useful tools you can use to see what is on the rise and is becoming viral content. SEO expert, Cobus van Vuuren, also recommends researching the engagement of the topic you are interested in on sites like Quora and Reddit, saying "if you find something popular then you're onto a winner".
A fundamental aspect of reactionary content is being timely and aware. By hosting a deeply creative team that keeps engaged with current affairs and trends, you can easily craft content that is both reactionary and novel, therefore giving it the potential to go viral.
6. Be An Authoritative Source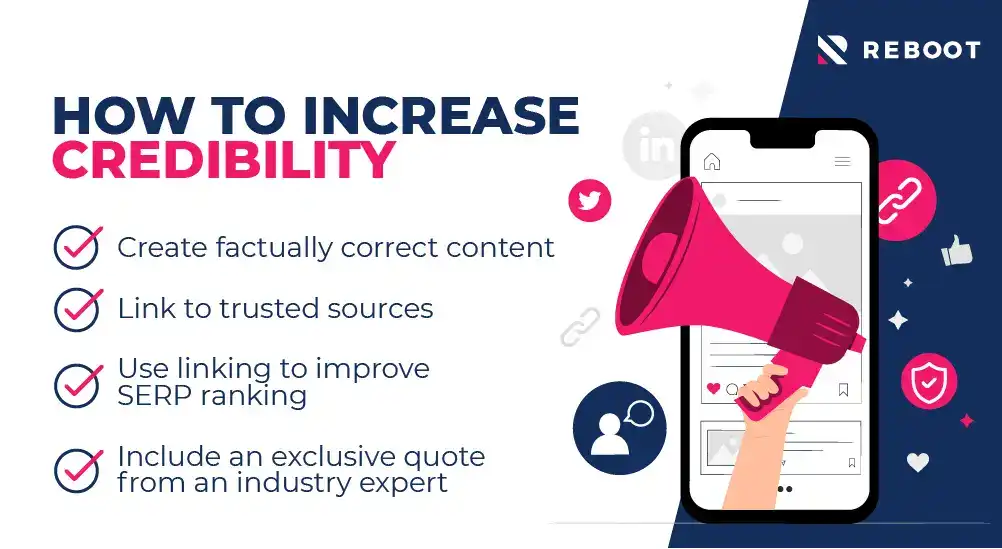 People tend to share content that looks trustworthy or is from an authoritative source. Users are becoming more cautious of what they like and share in the wake of misinformation and 'fake news'.
This is especially true when viral content is based on practical advice since people are far more likely to trust in a piece of content if it comes from a credible and authoritative source.
You can increase your credibility by:
◾ Ensuring your content is robust and factually correct (make sure you do your research)
◾ Include links to trustworthy sources to back up your content (.gov and online media outlets are a good place to start
◾ Check the domain authority (DA) of websites using the free MOZ SEO toolbar to identify high-authority pages (scores above 30 are considered "good")
◾ Include different outbound links to improve your SERP ranking
◾ Try to include an exclusive quote from an industry expert to share advice or pointers (Twitter is great for this—use the hashtags #JournoRequest or #PRrequest to ask).
Ensuring that your content is thoroughly researched, backed up with authoritative sources and includes any unique aspects such as an exclusive quote all boosts your chance of going viral.
7. Understand How You Will Achieve Your Desired Coverage
Finally, it is important to understand the coverage you're aiming for when creating content. By its very nature, desired coverage for content can be anything from a short TikTok video reaching the explore page to a data-led campaign gaining placements in certain outlets. However, achieving these different forms of coverage require different approaches, and understanding what does and doesn't work for your target audience is key.
If you are writing content your audience wants to read, they are likely to share it with their like-minded friends and family, as they believe someone else will receive some value from it. Likewise, journalists will only pick up content that they believe their readers will respond well to. If there is no value to anyone in what you have produced, it is unlikely to become a piece of viral content.
If you are unsure of how to successfully address your audience, competitor analysis is always a good idea. In particular, we recommend completing the following exercise:
You Still Have to Write Compelling Content
Employing the above strategies will increase your chances of creating content that could go viral. But the foundations of your content lie in quality, so don't forget to plan, structure and write a compelling post to hold up your viral strategies.
Page Updated - What Has Changed?
In the interest of pursuing perfection, we have updated some aspects of this blog post to correct typos and grammatical errors, and to include updated links.