Strange Google Searches Brits are Making In Lockdown
With the number of UK coronavirus cases now exceeding 100,000, it's a strange and surreal environment to navigate. The coronavirus pandemic has forced a change of course for the types of things we search for online, with things like can I leave my house? and what is social distancing? becoming the norm. Not to mention, a number of strange Google searches that have appeared since the start of 2020.
But how strange, and how exactly have our search behaviours changed since the virus emerged in Britain? As a leading SEO company and digital PR agency, we took it upon ourself to investigate!
TABLE OF CONTENTS:
4. Other Strange Google Searches of Interest
1. Methodology
By researching trending topics and gauging interests, a list of search terms was collated*. Each term was inserted into Google Trends and analysed for the past 90 days to gauge their growth or decline. Then, teamed with raw data values from SEMrush, the search topics which have increased and decreased since the introduction of coronavirus the most can be revealed.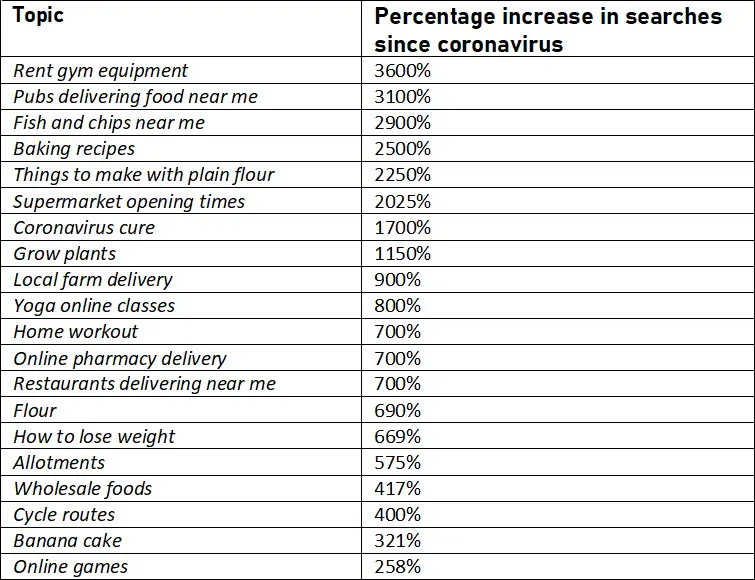 2. Results: Increasing Topics
With gym sessions now out of the question, this has resulted in a whopping 3600% increase in searches to rent gym equipment. As the term with the biggest increase, it seems many Brits are eager to replicate their gym set-up at home.
The results prove we're also more than missing the variety of foods the UK has to offer. Food-related searches dominate the second, third, fourth, fifth, and ninth most increasing topics, as well as 13th, 14th 17th and 19th of the top 20. For instance, pubs delivering food near me is up 3100% and fish and chips near me up 2900%, the latter a weird Google search that even in lockdown highlights our obsession with the British classic.
In fifth place, another strange Google search increasing by 2250% over the past 90 is things to make with plain flour. The flour shortage in Britain seems to remain an issue, with flour more generally also up 690% in 14th place.
The struggle to find things to do to at home is ongoing, with baking recipes up 2500% and specifically banana cake has 321% more searches on Google than before.
Other trending Google searches include:
Coronavirus cure - +1700%
Local farm delivery - +900%
Online pharmacy delivery - +700%
Cycle routes - +400%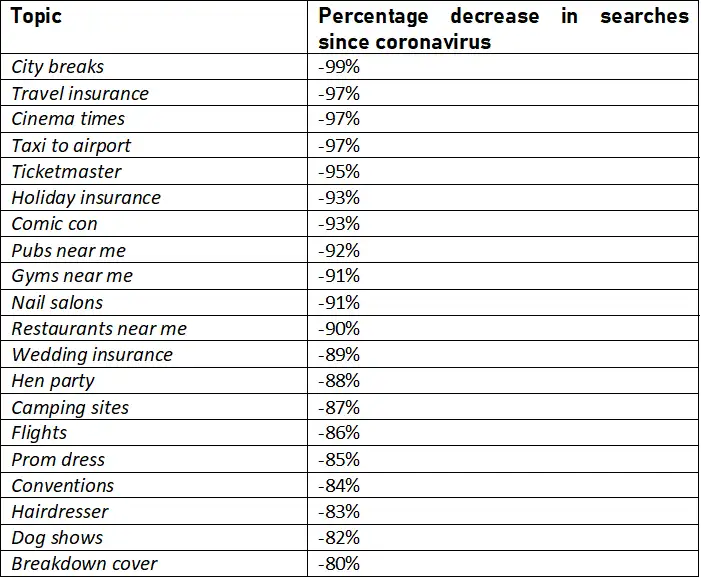 3. Results: Decreasing Topics
Flipping the data, there are also several weird Google searches for decreasing topics over the past 90 days.
Unsurprisingly, the search term with the biggest decrease in interest is city breaks. Understandable, a weekend getaway is the least of our priorities right now.
And in joint second are travel insurance, cinema times, and taxi to airport, all down 97% since the start of the study. While unsurprising to see a reduction in an interest for holidaying and cinema times, assumedly Brits would still need to consider their insurance policies when cancelling trips?
The 20th biggest decrease in interest goes to breakdown cover. Down 80% since the early in the year, Brits don't intend to need help in a breakdown. Perhaps this is solely since fewer people are on the roads, or perhaps it's a solemn indicator that lockdown measures are due to remain in place for much longer.
Other topics of interest include comic con in seventh place (down 93%), prom dress in 16th place (down 85%), and dog shows in 19th place (down 82%) – a hint into Britain's usual online interests.
4. Other Strange Google Searches of Interest
The Google related searches so far represent a mix of surprising and less surprising results. But like many of Reboot's studies, there are always interesting results. The table below highlights some of these: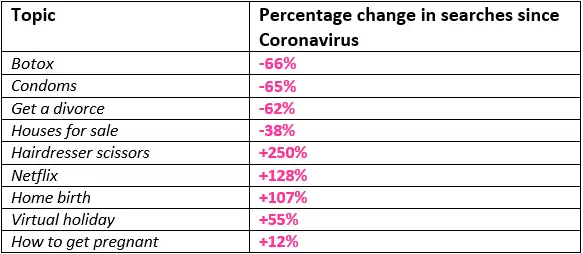 As recent studies indicate, Brits are taking advantage of quarantine measures to work on struggling relationships. And is this much-needed relationship TLC working out for the better? Searches for get a divorce are down 62% since early January, meaning quarantine could have been a blessing in disguise for many of us.
And on a similar vein, searches for condoms are down 65% whilst interestingly how to get pregnant is also up 12% - could we be seeing a baby boom nine months from now?
Finally, some of the other weird Google searches deserving of mention include houses for sale (-38%), hairdresser scissors (+250%), botox (-66%), Netflix (+128%), and virtual holiday (+55%).
5. Are Americans Making Weird Searches Too?
Not only has Reboot looked in Britain's search habits over the lockdown period, we've also considered it from across the pond. Taking the top 20 increasing and decreasing topics in the British study, tweaking any British-isms to American-isms, and including some extra American-only topics, the States' interests since January can also be revealed!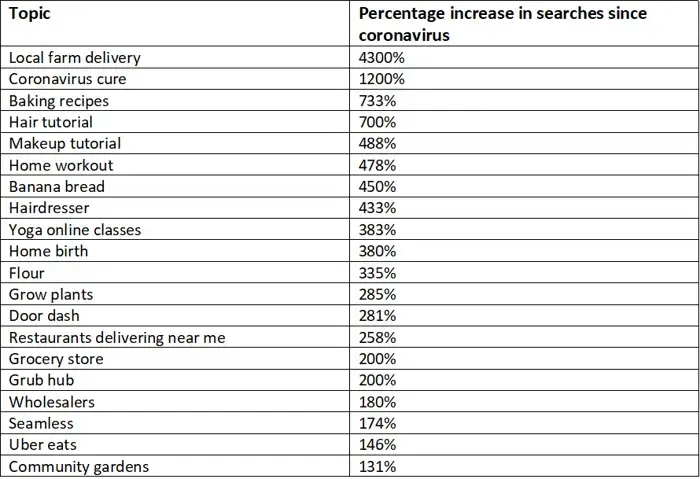 Results: Increasing Topics
It seems that many Americans have that the same on their minds at their British counterparts. In first place, local farm delivery has sweeped the country with a staggering 4300% increase.
Similarly high and in second place is coronavirus cure, up 1200%. With one quarter of Americans big fans of conspiracies and psychic powers, it comes as no surprise that many are interested in potential experimental cures for the virus.
In third, fourth and fifth place involve baking recipes, makeup tutorial and hair tutorial. It appears many are keen to improve their appearance and honing in their hobbies, as all are up by 733%, 700% and 488% respectively.
Flipping the table, in 20th place, but still increasing quite rapidly, are community gardens. Understandable for those living in a small, gardenless apartment in a busy city, it comes as no shock that 131% more searches have been going towards this lockdown measures developed.
Food deliveries are in increasing demand, with the ability to go out and shop being limited in many states. Uber eats places in 19th (up 146%), Seamless in 18th (up 174%), Grubhub in 16th (up 200%) and finally Door dash comes in at 13th, an increase of 281%.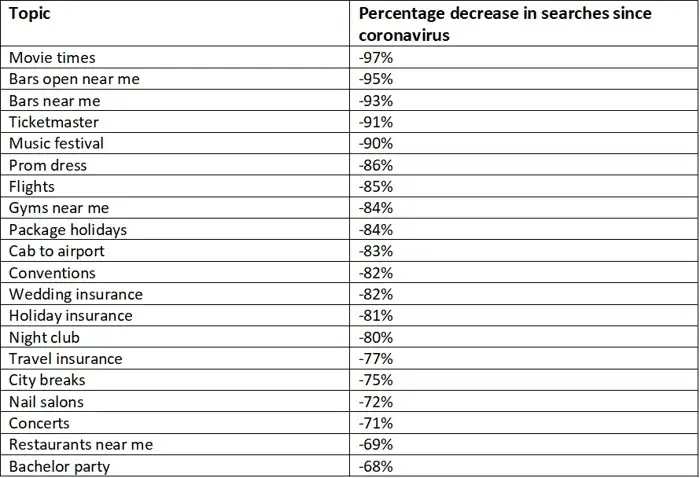 Results: Decreasing Topics
Finally, decreasing topics also shared some similarities with the UK data, but with shocking numbers nonetheless. In first place, with the highest decreases in searches at -97% is movie times. With a worldwide pandemic and varying degrees of quarantine rules, seeing a movie at the cinema is the least of someone's concerns!
Americans are also barely concerned with getting together in close quarters. Not all bars are closed across the USA, but a decrease of 95% for bars open near me and of -93% for bars near me, proves it is another past-time of little importance right now.
This is followed by:
Ticketmaster - -91%
Music festival - -90%
Prom dress - -86%
Flights - -85%
To name a few.
At the bottom of the list but still down 68% is bachelor party - bachelors will have a hard time finding ways to celebrate in the current climate!
Restaurants near me is also, understandably, down 69% in 19th place. And some others of interest include nail salons (-72%), city breaks (-75%) and finally conventions (-82%).
If you're interested in seeing the full datasets considered in this study, or you'd like to find out more about what we do, get in touch today!
*Specific topics were collated based on general research and current trending news.
*Data was gathered from over a 90-day period between January 18th and April 15th 2020.