Digital PR is a marketing strategy that increases a brand's online presence through media coverage and backlinks to their site, with the ultimate goal of improving their search engine results page (SERP) rankings for the keywords that matter.
Essentially, digital PR is a form of gaining backlinks by writing editorial press releases with exclusive data and new angles that people actually want to read. Rather than simply advertising products they will pass by without a second glance, get your target audience to stop and take notice of your brand.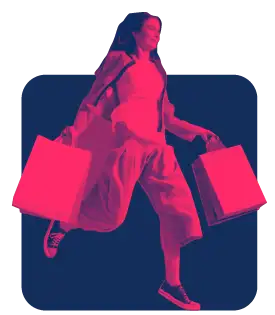 How Reboot's digital PR can help fashion, beauty and retail brands
The most cost-effective way of marketing your business and establishing your expertise in the field is to hire an experienced digital PR agency. By gaining coverage and backlinks from unique campaigns, digital PR makes your brand accessible to the general public. However, not just any coverage or backlinks - rather, those from credible sources.
In a digital PR campaign, you provide a news story or study that is on brand and relevant enough to be featured on high authority websites and linked back to your website.
An important component of Google's algorithm is to promote sites and articles that are useful. Digital PR is integral to achieving these rankings since authentic and trustworthy content is a critical element.
The mission at Reboot is to provide digital PR services that help you achieve the results you're looking for. Our integrated PR approach mixed with content marketing and SEO will help you to become the industry leader with the most prominent voice.
What are the benefits of digital PR?
Increase awareness and traffic
With the right digital PR strategy, you can land coverage across regional and national press, showing your brand to potential customers. By gaining high-quality backlinks and brand exposure in reputable media, you'll become a recognised authority in your niche.
Your company will also benefit from increased visitors to your website as a result of online media coverage, in addition to the SEO benefits of digital PR. What's more, you can also measure site activity and use future campaigns to re-target visitors.
Target the right people
A good digital PR strategy will place your brand in front of a relevant and interested audience. The more people reading about your products and clicking through to your website, the more leads you will generate.
You won't find anything like our tailored digital PR campaigns anywhere else, making you the leader in your industry. Standing out from the crowd is key to becoming dominant within the competitive beauty industry.
Personalise coverage to tailor to your needs
We can focus on the coverage that counts with our brand of digital PR. As opposed to focusing on national sites that have a limited reach, we will create a strategy to have you appear in publications that are in line with your brand.
In addition to reacting to trending news stories, planning campaigns according to national days, and scouring media requests from journalists, we make sure you're able to provide expert commentary as soon as needed.
In order for your company to improve its online reputation, increase sales and achieve its objectives, Reboot will develop tailored media campaigns. Maintaining relationships with key media contacts allows our team to place curated content on specific online publications.
Easily measure success
A major advantage of using digital PR is that its success can be easily measured with a number of metrics, which are easily tracked. These metrics also highlight which strategies work and which ones do not deliver the right amount of results, so you can make effective data-driven decisions as soon as possible.
At Reboot, we don't wait until after the campaign has ended to measure success. By collecting data and monitoring results in real time, we can quickly correct and adjust your strategy based on the activity that's occurring.
If you're looking to revive your tired marketing campaigns so your company takes the lead as an industry voice, give us a call today.
Our digital PR services for fashion, beauty and retail brands
In an industry as cutting-edge as fashion, beauty and retail, a bold approach to digital PR is critical. You have to attract the attention of potential customers beyond traditional means.
Reboot's digital PR solutions cater to the evolving nature of fashion and are not merely a collection of "one-size-fits-all" techniques, but are a new way to reach out to a global audience.
Using our extensive network of contacts, we search for the best partner for your business when providing digital fashion PR services. Not only this, we are confident in our ability to execute a strategy as innovative and creative as your customers.
Our range of digital PR services include:
Irresistible data-led campaigns
The ideas we pitch to you will benefit from our in-house data experts, who through accessing raw data, can provide journalists with exclusive findings – data libraries are created in-house from specialist scraping to produce primary data that cannot be found anywhere else. It's this exclusivity behind the campaign which means no one else can get their hands on it, making it irresistible to journalists.
We won't stop at anything to get the juiciest stories that will generate long-lasting backlinks for your business. Our methods of brainstorming, data collection, and outreach are all the ingredients for success.
Campaigns that build links
The major component of digital PR is running campaigns that will secure backlinks from important sites. While the authority of these sites is important, what's even more vital is the relevance to your brand.
To gain the attention of relevant publications, we run niche campaigns as part of specialty marketing, since research shows that improving your SEO through local websites will have more impact than solely targeting national publications. A strategy like this has two main advantages. It is more likely that these newspapers will link out, and it will signal to Google that you are an expert, ensuring that you rank highly on the SERP.
Localised and global campaigns
Digital PR is the most effective way to generate coverage and awareness for your brand. By gaining high-quality backlinks and brand exposure in reputable media, we create a strategy to help your brand become a recognisable authority in your industry.
And with Reboot, you're not limited to focusing on media in the United Kingdom. Instead, you'll gain worldwide awareness. With the ability to translate campaigns into 19 languages, our employees can tailor content to your specific audience. If you have an interest in targeting a specific country or even desire to go down the international route, we have the right tools to make it happen.
In the competitive fashion, beauty and retail industry, having a large variety of backlinks that are derived from different countries around the world will give your brand the edge over your competitors.
Campaigns tailored to specific pages
In the past, it has been difficult to gain backlinks to inner pages, which include product or category pages. This means that it's unlikely many of your competitors will have links going directly to and giving authority to other pages on their site. So, gaining these inner page links will propel your business beyond the competition.
The process requires some skill and experience. With years of experience with anchor text and internal link optimisation, our team at Reboot will be able to secure these inner-page links for your brand by using effective campaign ideation, data collection, and outreach. The result? You'll be higher up the SERPs for fashion keywords thereby securing your status as a reliable, credible and trustworthy business in the fashion industry.
We ensure our digital PR services benefit the pages that matter most by collaborating closely with you. Our focus can even change to different pages month-by-month if that's what works for you.
On-site assets
Our sites add value through establishing connections, conducting research and experiments, scraping and sifting through data that hasn't been tapped into before, and uncovering previously unexplored avenues. This will be used to create on-site assets.
We create content pieces that will help our clients rank higher, increase sharing and encourage backlinks, be it a blog post, video or interactive asset. How? The assets secure links by:
▪️ Providing website owners and journalists with a page to link to for crediting the study.
▪️ Providing value to website readers by presenting a hub where they can find more information on what they're reading.
▪️ Optimising to appear organically in the SERP for certain search terms, and therefore used as a reference for years to come for certain statistics, tips or commentary.
Our data visualisation experts will also make sure your on-site asset is unmissable and easy for readers to digest.
Newsjacking and reactive opportunities
Since the fashion industry is ever-changing, we know the quickest way to put our pitches into motion is to send them to you and make them happen. It's not only our quick thinking but also our ability to capitalise on news and trends in order to jump into action and create unique reactive assets that makes us such a valuable partner.
You'll never be left out of the conversation if we're your digital PR agency. Rather than just being a footnote in your industry, you will be the captain who leads the charge. With the changing landscape that the beauty, fashion and retail industry lives in, you can't afford to miss anything.
We keep a constant eye on developments within your industry and find ways to use them to your benefit. Our newsjacking work lies in that area between relevant and authoritative subjects to deliver the high-quality backlinks that Google loves.
A proven track record of successful digital PR campaigns
Our digital PR team is constantly following the latest trends in the fashion industry and is always taking note of all the latest media news. This allows us to hop on breaking news and new stories that are sure to pique the interest of your target audience.
Whenever we are not creating exciting marketing campaigns for your brand, you can expect us to be searching through reams of online trends and offline crazes to find even more ways to enhance its visibility.
Through using this reactive method, the campaign The Most Iconic TV Hair, According to Pinterest was born. We observed the rise in online searches and general interest in specific character hairstyles and got to work scraping Pinterest to find which television shows resulted in the most hair envy.
Overall, this project earned our client 19 placements, including follow links in Bustle, Italian Vanity Fair and in the fashion and beauty section of Toronto Sun.