5 Effective Methods to Measure Digital PR Campaigns
In the past, measuring digital PR efforts was an ambiguous venture. Yet, there are digital public relations measurement tools to quantify the success of your campaigns. This article provides five ways to measure digital PR. After all, if you can't measure your campaigns how will you fine-tune subsequent digital PR strategies?
CONTENTS:
1. Track your email opens
2. Check how many times your digital PR gets published
3. Evaluate the backlink's domain authority
4. Monitor spikes in your inbound traffic
5. Find out your social media engagement
5 Digital PR measurement metrics:
1. Track your email opens
You perfected your digital PR campaign and created a targeted outreach list for a press release. After crafting a gripping email, you click send. Now you are left in the dark. One day goes by, two days, three days. Sound familiar?
The first step to measuring digital PR starts with that email. Before outreaching your campaign, set up email tracking. Email tracking allows you to see whether your digital PR has been read. There are numerous tracking tools which have been designed for varied budgets. For example, MailChimp, Boomerang and Mailtrack are three great options to choose from.
It is one of the best digital PR metrics to help you identify if the media are interested in your brand story. You can see how long it takes for a journalist to open the email; potentially indicating the level of interest.
After all your hard work constructing a seller campaign, it's not worth tripping up on the subject line or email content. Tracking emails will enable you to identify impact and whether the email can be improved.
While measuring email open rate, if you notice a low amount of reads, you should alter the formatting of the email. Internal text, the subject line, or perhaps attachments may have caused issues.
2. Check how many times your digital PR gets published
Next, evaluate the success of your digital PR campaign by identifying how many times your campaign has been published. Unsurprisingly, the amount of times your brand's name is published is a fantastic digital PR metric. Remember to look for all types of coverage including do-follow links, no-follow ones (Google has publicly confirmed that nofollow links have evolved since their inception and can now be used as a hint in ranking websites) and brand mentions also. Of course, you can keep your eyes peeled for print, audio and video mentions too which are excellent ways to highlight the various ways in which 'PR' is achieved.
Links from reputable media outlets carry significant weight when determining the success of your digital PR campaign. A backlink enhances brand awareness and proliferates exposure. Yet it goes beyond the traditional methods of PR by driving traffic to your site and improving your ranking on google. As such, don't neglect these links when analysing your campaign's performance!
As part of digital PR, it is important to keep in mind that not every publication that uses your data and/or press release will link to your website. Many outlets don't link for many reasons, but it's worth noting that mentions can have a positive effect on a brand's reputation and, we suspect, indirect SEO benefits in some capacity. This is especially true when mentions come from very highly regarded publications that have a very high domain authority (or DA). Although as of yet Google has not been clear on how they perceive mentions as opposed to links.
Use these four key digital public relations measurement tools to find your brand mentions as a PR value measurement:
3. Evaluate the backlink's domain authority
Backlinks and brand mentions are obviously great digital PR success metrics, however, not all links were created equal. You should measure digital PR campaign success by evaluating the strength of your backlinks. Domain authority (DA) is a digital PR metric provided by Moz.
The Domain Authority predicts how well a website will rank on search engine result pages. But, what is a good domain authority? There is no right or wrong answer to this question, but in general, the score ranges from 1 to 100, and sites with a DA over 40 are generally considered 'good' websites.
The higher your DA the better. Links with a high DA will enhance your position in the SERPs. For example, links from governmental websites or universities are considered gold. You can measure digital PR campaigns by evaluating your link's DA on Moz. To check this, simply visit Moz Metrics online or install the plugin MozBar.
Measuring digital PR is most effective when done through multiple metrics rather than relying solely on one system. It is also worth noting, many digital PR methods have similar metrics. For example, AHREFs' domain rating is a digital PR measurement very similar to domain authority.
4. Monitor spikes in your inbound traffic
If a digital PR campaign goes viral, you should monitor your site. The fluctuation in live ranking positions is a positive sign that your digital PR efforts could be paying off. This is because a website often wavers due to large volumes of backlinks targeting your site and a high click-through rate. Which in turn, is a ranking signal to Google and could result in traffic spikes on your client's website.
Successful digital PR campaign example: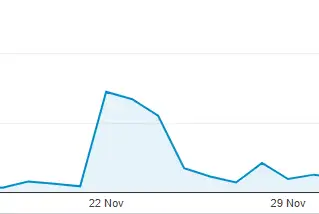 For example, Reboot created a digital PR campaign for Sell House Fast which went viral within days. The campaign featured Laura Arnolds, a wife who decided to sell her house after finding out her husband had cheated on her whilst on a business trip. Fuelled with anger and fury, Laura decided to sell her house, using sellhousefast.uk, whilst her husband was away. Upon his return, he was unable to access his house and found out that students now occupied the property.
The combination of links from extremely reputable and high DA sites and the sheer quantity of clicks resulted in versatile analytics. Whilst the client's website remained on the first page of Google, the exact position varied.
Tamir Davies, Digital Public Relations Manager at Reboot, explained why the campaign was a success:

"The Laura Arnolds' campaign was a direct result of speaking to the right journalist at the right time. Most of the time you cannot prepare for a campaign to go viral, but in this instance, it had all the elements of a good story, as quoted by the journalist who was the first to receive it. The scandal covered marital issues, cheating, gender divide and money - everything a reader wants. Within minutes, the story went viral, and the subsequent results for Sellhousefast.uk were unimaginable. Hundreds, if not thousands of links targeted to the site, causing an immediate increase in rankings."
Whilst spikes in traffic are not the sole measure of success, they certainly contribute to it. The links and click through rate signalled to Google that Sell House Fast is trustworthy and producing noteworthy content that Google likes to see.
Whilst traditional PR shapes how people view a brand, digital PR changes how people and Google views a brand. The more backlinks (of good quality/high DA) to your site, the better your overall rankings. It kills two birds with one stone.
5. Find out your social media engagement
There a debate regarding social media's long-term SEO impact. Yet, perhaps we can all agree that social media proficiently creates a buzz around quality content. In turn, this could boost the number of incoming organic links. With that in mind, how do you measure digital PR success using social media?
For starters, you can use BuzzSumo which provides your campaign's engagement data. Another option is to use Social Mentions which calculates four different sets of data based on your digital PR efforts.
What metrics does Social Mentions use?
Strength: the probability that your brand or digital PR campaign is being mentioned in social media.

Sentiment: is your brand leaving a negative or positive impression?

Passion: How long will this interest last?

Reach: What variety of authors are referring to your brand?
Alternatively, use Bitly to track and quantify your social media campaigns. This method monitors multi-channel links, both paid and organic, conveniently displaying all your efforts in one place. Bitly's live analytics assess the number of clicks you get on our link to measure digital PR campaigns.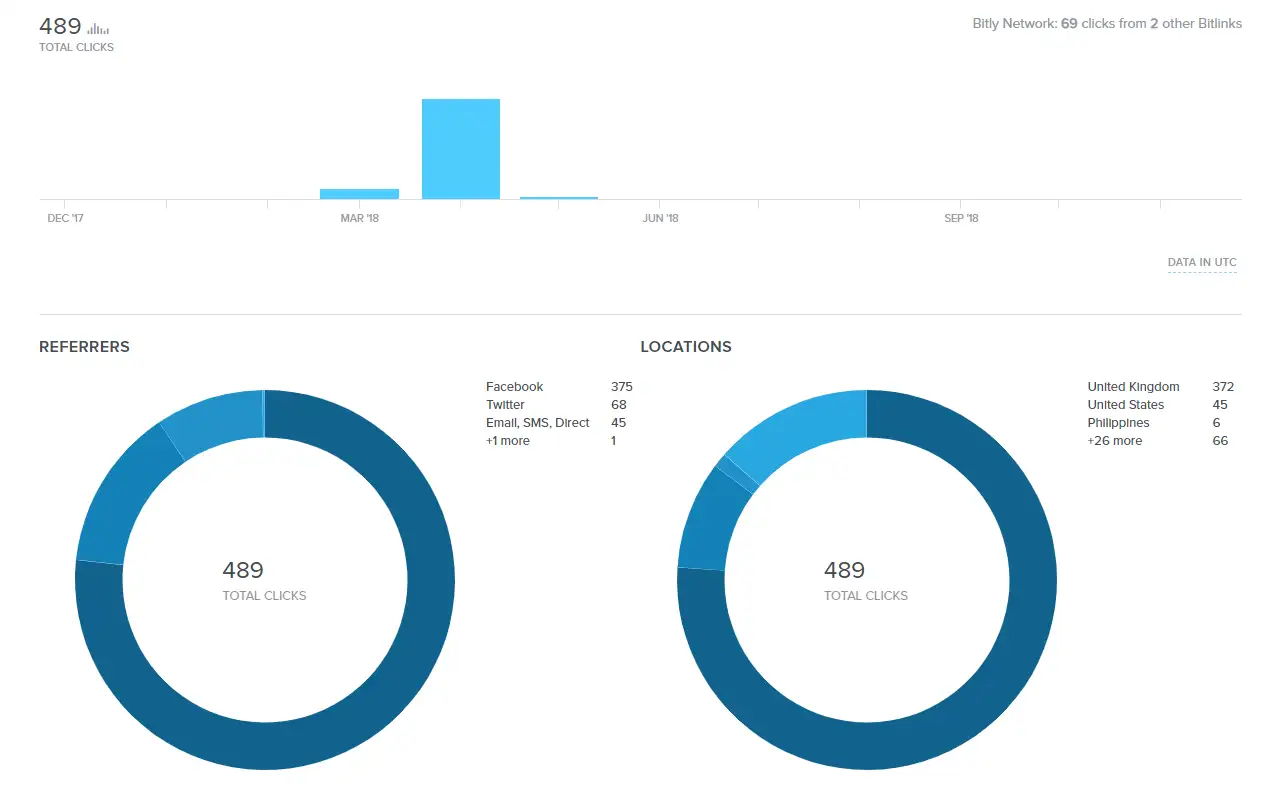 Finding a method which breaks down your social media campaign by platforms is essential. Perhaps, your technique on Twitter was profitable by creating traffic to your website. However, that might not be the case for the post on Linkedin.
Look for a metric which can compare the social media channels your company (or client) uses frequently. This will help you decide the best method, whether it be BuzzSumo, Social Mentions or Bitly.
The multi-pronged approach to measuring digital PR
Ultimately, using a multi-pronged approach is the best way to measure digital PR campaigns. As such, we recommend implementing all five methods to accurately assess whether your campaign is a success. It is vital to identify why your campaign worked (or didn't).
You also need to consider which digital PR measurement metric is important to you or your client. Maybe rankings are the most important, or perhaps it's retweets or even an increase in website traffic.
As Tamir Davies, Digital Public Relations Manager at Reboot, notes that "measuring the success of a campaign is tricky. Sometimes you will find yourself surprised by the campaigns that do well, and even more flabbergasted by the ones that don't."
With this in mind, remember to take advantage of analytics that pinpoints areas for improvement. Equally, this approach gives you a valuable insight which highlights your accomplishments. If done well, quantifying campaigns is an excellent technique to motivate your team.

---
Feature Image Photo Credit: Ollyy/Shutterstock