What is User Intent and Why is it Important?
How many times do you use Google on a daily basis? According to SmartInsights, Google now processes over 40,000 search queries every second, which translates to over 3.5 billion searches per day and 1.2 trillion searches per year worldwide. Behind every Google query is user intent, but what does it mean?
---
TABLE OF CONTENTS
- The four pillars of user intent
- How to transform content with user intent in mind
- Some useful keyword intent tools
---
What is user intent?
When you type into Google, you are looking for something in particular, whether it be an answer to your problems, to find information, or to source the specific product or service that you want. Therefore, if you want your business to be discovered by potential customers, your content must be optimised for user intent.
You may be familiar with Neil Patel, who describes user intent simply as "the goal someone has in mind when typing in a query into Google".
Search engines understand what a person's user intent is, and so, as a result, display web pages in the search engine results page (SERP) that are most relevant to what the user is looking for. Therefore, in order to help your chances of ranking, it is crucial to understand a person's search intent and create content with the user in mind. Indeed, writing the right content can give a company a significant advantage over its competitors, which can considerably help to improve your website's SEO and ranking too.
The types of user intent:
There are said to be four pillars of user intent, and all online content must incorporate (at least) one:
1.

Informational
:
A person wants questions answered/information on a specific topic
2.

Navigational
: A person who seeks a specific resource, page or site
3.

Commercial
: A person knows what they want to buy and researches before making a purchase
4.

Transactional
: A person who is looking to buy something
However, user intent differs from person to person, and for each scenario – bear in mind that not all queries have just one single user intent as it may change as they travel through their user journey. For example, someone may start off wanting informational content, and end up converting to another type of user intent by the end of the blog post, such as commercial or transactional.
Tailoring content for one of these types of user intent is vital to ensure your website is discovered by users and goes hand-in-hand with ranking on Google too. If the content is good and answers the reader's question, you are more likely to rank higher in the search results.
To find out what kind of search intent your reader would have, you can simply look at the different types of keywords people are using in their search queries. Let's use our e-commerce client, Golfsupport.com, as an example: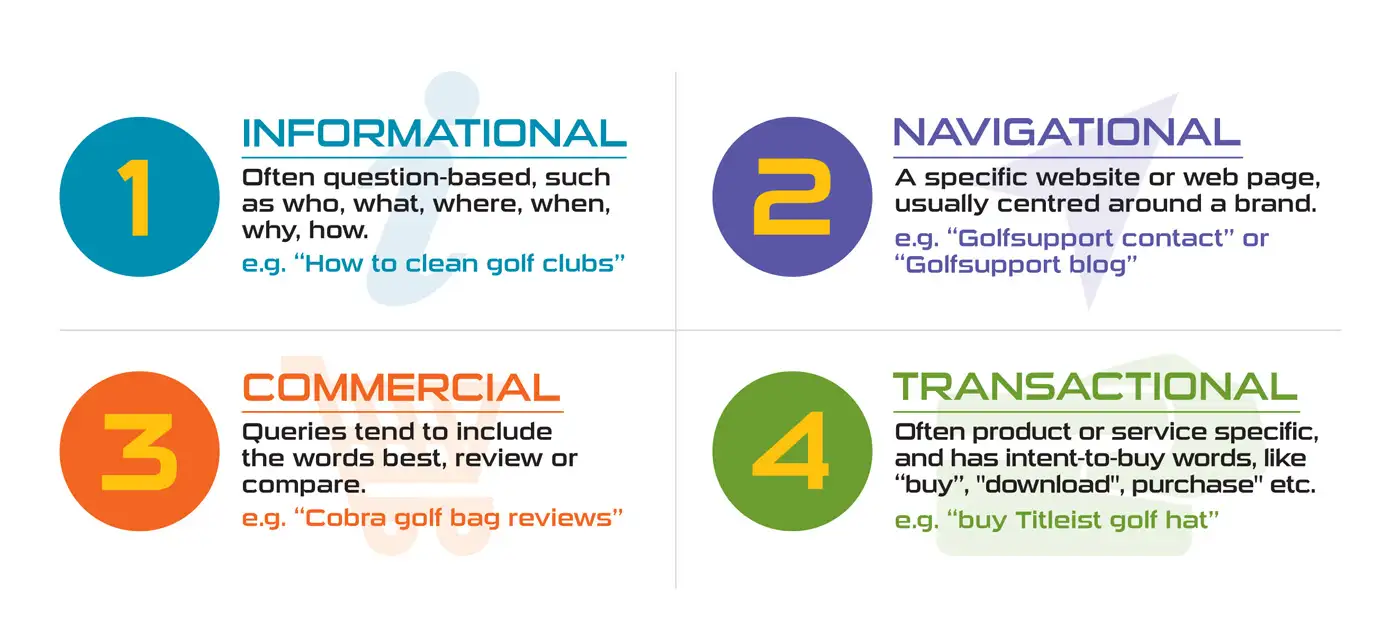 So next time you write content for your website, take a walk in your readers' shoes; think about what questions they may be asking at this point of their user journey. Is the content helpful and engaging, and does it fulfil the user's goal – to find out some information, research or buy?
For example, you do not want a blog post about the history of golf balls (informational) to rank when the searcher has typed in "buy golf balls", or simply "golf balls" (both transactional). In this instance, you will have missed out on a potential sale, as the user would have expected to be taken to an e-commerce page and will not click on your blog post.
The four pillars of user intent
1. What does informational user intent mean?
The searcher wants questions answered or information on a specific topic
At this stage of the user's journey, the searcher is trying to understand more information about a particular topic, or product before they decide to make a purchase. Typically, these are question-based, such as who, what, where, when, why and how.
From a business perspective, the aim is to identify queries that relate to the product or service your company provides. From this, you will then look to develop content that answers these questions or provides information, which will help to get your business website discovered.
For instance, we have written a post for our client, Ticketgum, about "How to avoid online ticket fraud?". The aim of this content is to inform sports fans what to look out for to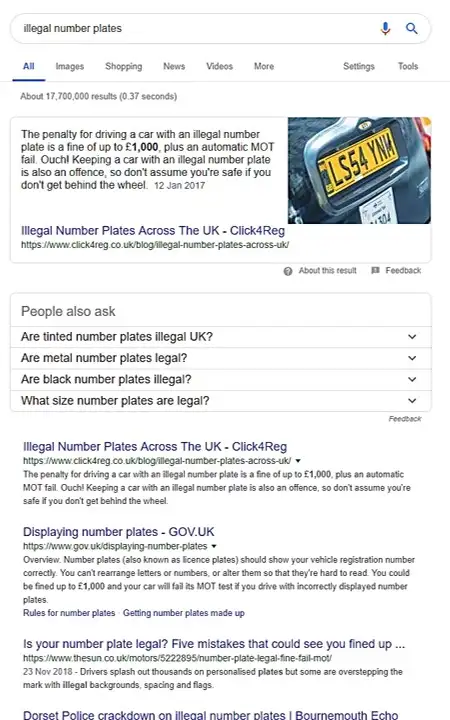 avoid being scammed, which makes the reader trust you and believe you are an expert in your field. The reader may even end up converting to a customer and buying tickets from their website instead – the ideal situation.
But when writing for informational queries, the aim is to create unique content, as your website is often competing with hundreds of others. The goal is to get into the top 10 search engine results, and even have some information from your blog post on the featured snippet (see picture), also known as 'position zero'. This can be achieved by using relevant buyer intent keywords and writing good posts, so it is vital that you think about the content you are producing for your audience and answer the question properly.
Oliver Sissons, Reboot's SEO manager, says: "It is worth remembering that even if no sales come as a result of your informational blog, if the content is providing something useful to readers, it will gain backlinks as other people choose to reference the content – whether this is in an article or blog, or via social media".

He adds, "Increased traffic coming to your website as a result of your social media campaigns and sharing your website or blog content on social can also have several knock-on effects when it comes to your SEO results. If you are putting out interesting and valuable content, high click through rates are to be expected, which have been proven to have a positive effect on rankings."
2. What does navigational user intent mean?
The searcher seeks a specific resource, page or site
Navigational queries are more specific queries, with the intent of finding a specific website or web page, and are, more often than not, centred around a brand. A navigational query could be seen as an alternative to typing a full URL into your search bar.
For example, "Facebook" is navigational because the intent is to access Facebook. Alternatively, an individual may be searching for a contact page, such as "Reboot Online contact" or even the blog "Reboot Online blog".
3. What does commercial user intent mean?
The searcher knows what they want to buy and carries out research before making a purchase
Commercial queries often go hand-in-hand with transactional searches, as a commercial query is often to research prior to committing yourself to buy. Therefore, people often type in words such as best, review or compare, in order to get some background research, such as "2019 Cobra Golf Bag Reviews".
This specific post has commercial intent, as the reader can read and compare different golf bags on the market. This signifies they are at the end of their buyer's journey and are almost ready to come to a decision about whether they are going to make a purchase. After reading this content, a user may type a transactional term in Google such as "golfsupport golf stand bags".
4. What does transactional user intent mean?
The searcher is looking for something to buy
Usually, at this stage of the buyer's journey, the search intent is to purchase whatever they have been searching for. For example, search results will be e-commerce landing pages to enable a person to make an enquiry or buy a service or product – not blog posts. For example, if you type in "SEO company" into Google, you will see results for companies offering SEO – no informational content.
But if your business isn't an e-commerce site, like Reboot, this can be difficult. Instead, a blog post could be designed to push a buyer along in their buyer journey, through internal linking. For example, a link to our "SEO services" page tells the reader that we offer SEO services and gives them the option to visit the page and make any enquiries – transactional intent.
How to transform content with user intent in mind
As much as you try, it's not always easy to know exactly what your readers are thinking, it is helpful to use the four pillars of user intent to understand the user's journey, to help your readers fulfil their goals on your website.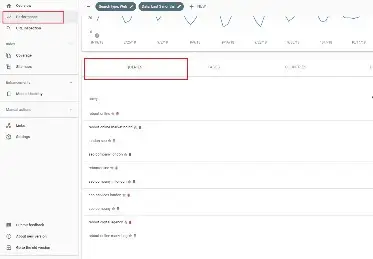 Once you begin to come to terms with what kind of content your audience is hoping to find, you can bear this in mind with your content strategy and ensure you are writing relevant and helpful copy. In turn, this helps your business as it is much easier for Google to recognise your content as useful to your audience, which has a significant SEO benefit: it can boost your rankings on the SERP.
To know what type of content your readers are hoping to find, it is important to understand the queries that drive traffic to your site, to ensure you are writing the correct content and bringing in readers with the aim to convert into a customer. A good way to look into this is to head over to Google Search Console, click on 'Performance' on the left-hand side and then make sure 'Queries' is selected on the page. If you can figure out your customer's informational intent, then curating content that delivers this should help to provide significantly better traffic to your website.
"But remember, you're creating content for people, not search engines."
Some useful keyword intent tools
But when writing content, whether this be landing page copy, description text or blog posts, keyword research is vital to identify the valuable search terms that your customers or readers are searching for on Google, for whatever the user intent is.
When you create something that your audience likes, people are more likely to link to, engage and share the content more, which is likely to affect search engine rankings and traffic, too. The best SEO is — and for many years has been — a good product, so taking the time to consider your audience's intentions when creating a content strategy can pay off in a number of ways.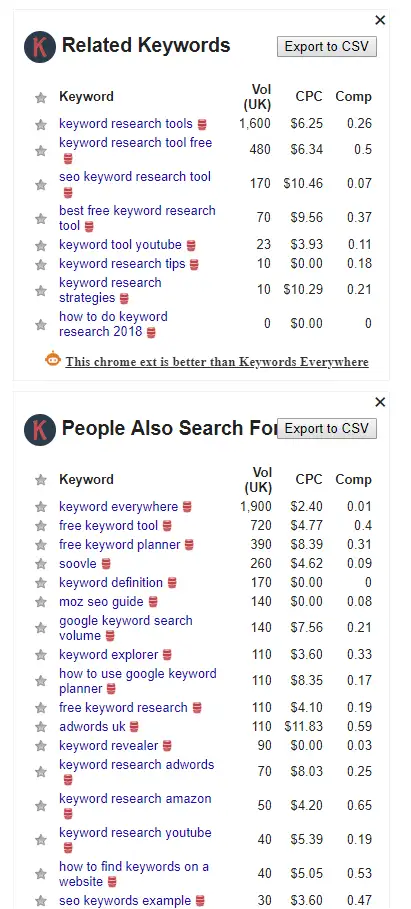 Firstly, tools to help find ideas:
- Buzzsumo
- Answer the Public (Free)
- Google Autosuggest (Free)
Secondly, tools for conducting keyword research:
- AHREFS
- SEM Rush
- UberSuggest (Free)
- Google Autosuggest (Free)
- Keywords Everywhere (Chrome Extension - pictured right)
Reboot's tip

:

Short keywords are difficult to rank for, so think about long-tail variations that you can combine with short keywords to create a stronger impact in search engines.
Page Updated - What Has Changed?
In the interest of pursuing perfection, we have updated some aspects of this blog post to correct grammatical errors, formatting, and to include updated links.