SEO Audits of the Top Shopify Stores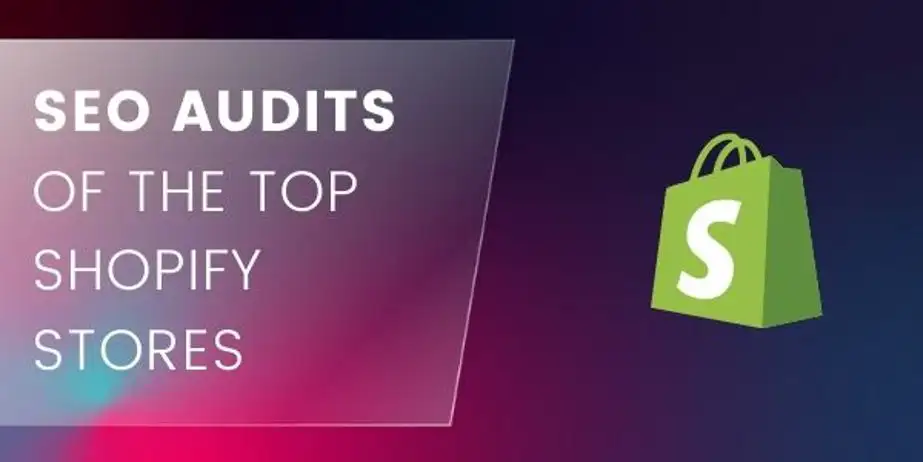 It seems that now, more than ever, people are turning to side hustles and/or seeking new opportunities for their business. Experience tells us that many will turn to efficient, affordable and in many cases effective content management systems (CMS) such as Shopify, WordPress, BigCommerce and OpenCart. With this in mind, we decided to audit the top 39 Shopify stores for onsite and offsite SEO issues. We aimed to highlight the common issues affecting many of the stores audited so new and existing store owners can avoid them.
METHODOLGY
In order to pick our list of the top Shopify stores to analyse, we looked at the My IP list of the top sites hosted on the Shopify IP address sorted by World Site Popular Rating.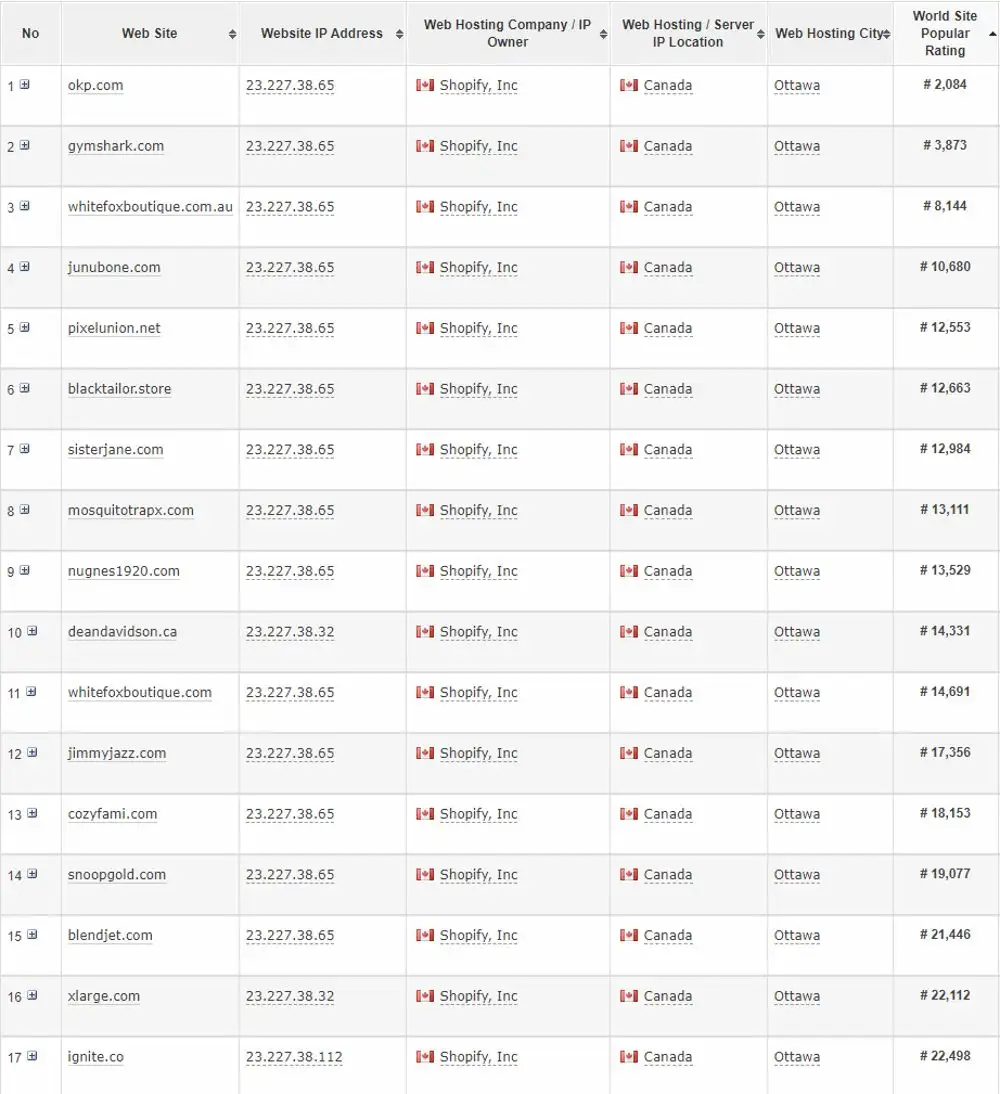 Some of the sites on the My IP list were removed if they are no longer live and/or running on Shopify.
We looked at number of key SEO metrics and issues to audit each site including:
Page speed performance.

Number of indexed pages.

Meta titles.

Onsite optimisation.

Internal linking strategies.

Duplicate and/or thin content issues.

Backlink profiles (number and quality of referring domains, anchor text used etc.).

Potential Google penalties.

Expertise, Authoritativeness and Trust (E-A-T) signals.
These metrics have been outlined in more detail in our other study on SEO for accountants which can be read here.
FINDINGS
The 5 most common SEO issues found were:
84% of the sites analysed had a poor or average backlink profile.

The average Majestic Trust Flow of the audited sites is 9.

87% of the Shopify stores lacked an effective internal linking structure.

74% of the websites analysed had poor or average meta titles.
PAGE SPEED
Most sites audited had a poor page speed performance. On average, the Shopify sites had a score of just 31/100. As Google themselves has publicly announced that page speed is a ranking signal, this is an area businesses and brands of all sizes should focus on improving.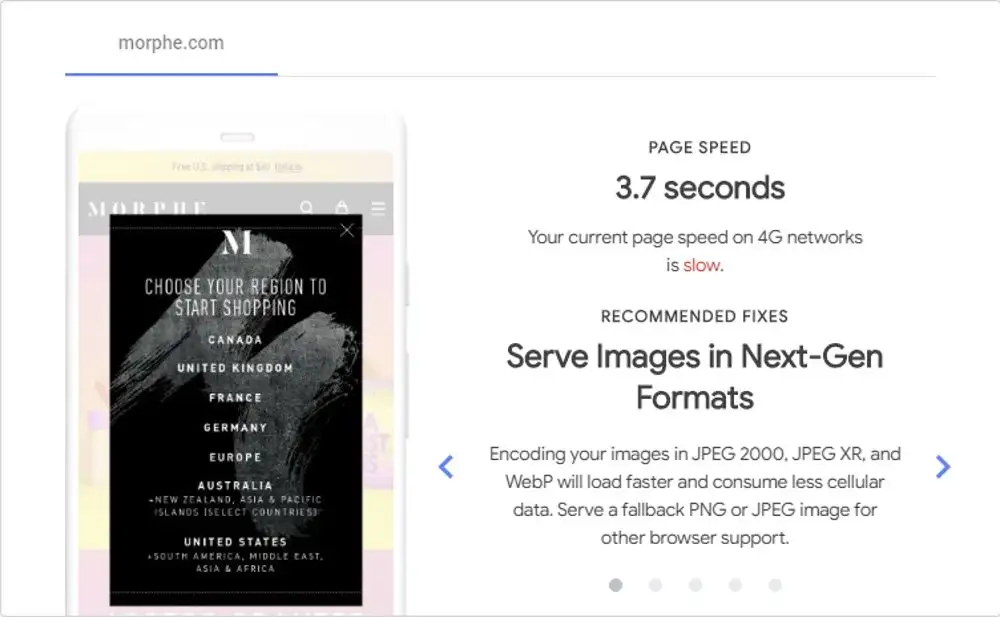 In order to improve page speed, website owners should look at several things including:
The theme they are using (ensuring the code is not bloated and is optimised for speed).

Optimising the images served on their pages (if possible, serving them in next gen formats e.g. WebP).

Limiting the number of plugins/apps being used.

Minimising broken internal links and redirects.

Consider implementing accelerated mobile pages (AMP).
For the average online shop owner, selecting a well optimised and built theme should go a long way in achieving a good page speed score.
LINK PROFILE
Anyone who starts reading up on SEO will quickly find that links are still king when it comes to ranking on page one. Surprisingly, 84% of the sites audited had a poor or average backlink profile. We used the Majestic SEO tool to analyse the quantity and quality of the links pointing to each site and found that the average Trust Flow was just 9.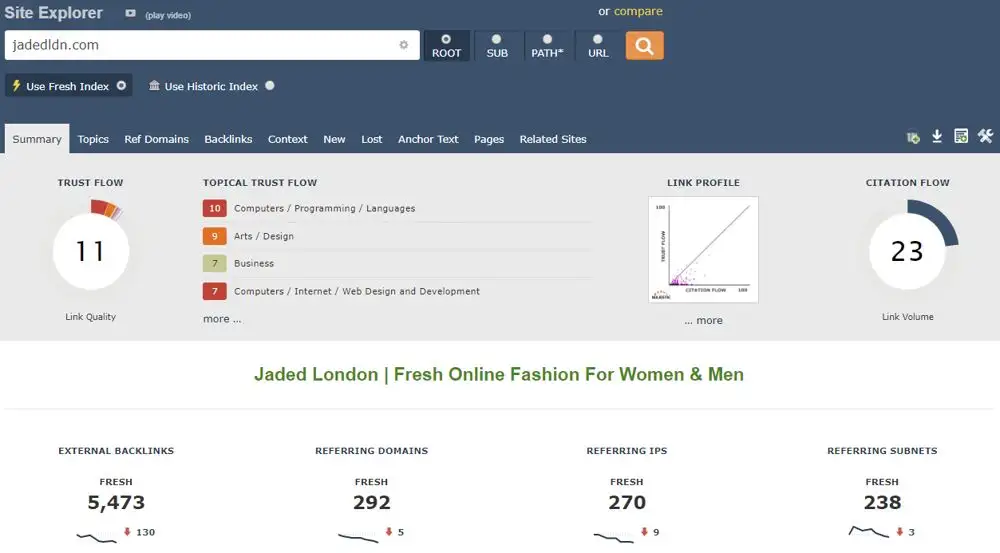 Any site looking to generate organic traffic and improve their SEO should start by ensuring that they are consistently earning the highest-quality links for their website. Over the years, many link building strategies have come and gone but editorially earned, digital PR links remain the safest and most effective strategy. This is especially true considering some of the brands in our audit are household names whose reputation would lend itself perfectly to earning these types of links.
INTERNAL LINKS
One of the most common issues potentially limiting the organic performance of the sites audited was a lack of an effective internal linking strategy. A staggering 87% of the sites audited lacked an effective internal linking strategy.
Internal links can be great for user experience, sharing valuable link juice and establishing a greater level of contextual authority on a given topic or product type. All content writers should be well versed in how to internally link to key, relevant pages as well as how to make use of targeted internal anchor text for greater effect.
META TITLES
Another common issue the websites we analysed suffered from was poorly optimised meta titles. In fact, 74% of those analysed had poor or average meta titles. We reviewed meta titles with several things in mind including:
How long or short they are.

If they include the main keyword(s) being targeted on the page.

If they encourage positive click-through-rates (CTR) through the use of searcher intent keywords.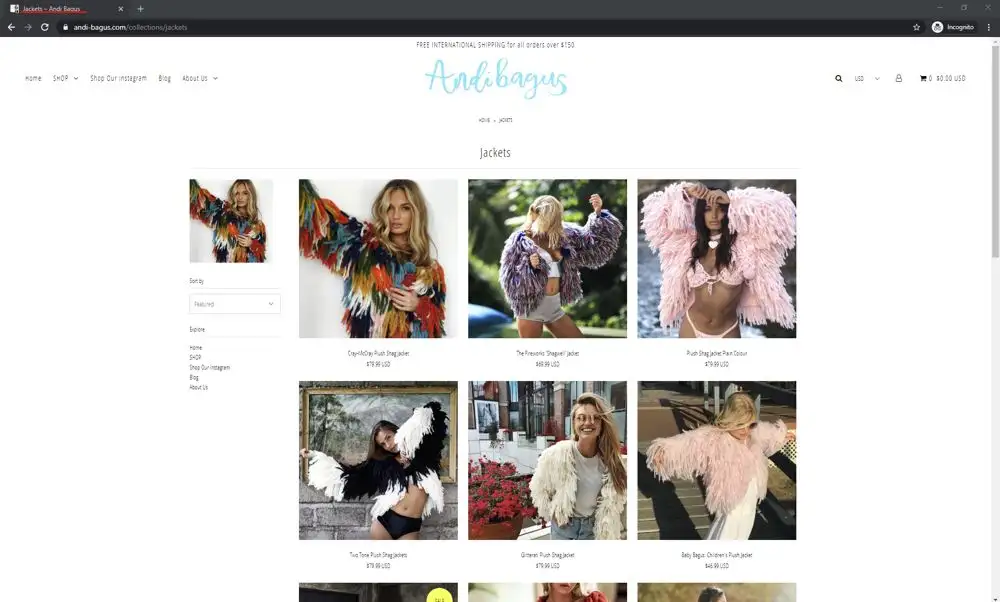 Meta title for the Andi Bagus categories are just the product type followed by the brand name e.g. 'Jackets – Andi Bagus' for the page above. They should test adding longtail keywords and/or variations whilst using searcher intent keywords.
BLOG
Even on e-commerce websites, a well-maintained blog can have several key SEO benefits. Besides providing fresh content, a blog allows brands to target more informational keywords and communicate with potential customers earlier on in the buyer journey.
The analysis revealed that 56% of the sites audited lacked a blog. Of those that did have a blog, 29% had not posted any time this year.
CONTENT ISSUES
On a more positive note, most of the sites analysed did not have thin or duplicate content issues (a common issue found on e-commerce sites where manufacturer product descriptions are often used to save on time and resources). Still, we did find thin content issues on 30% of the sites and duplicate content issues on 28% of them.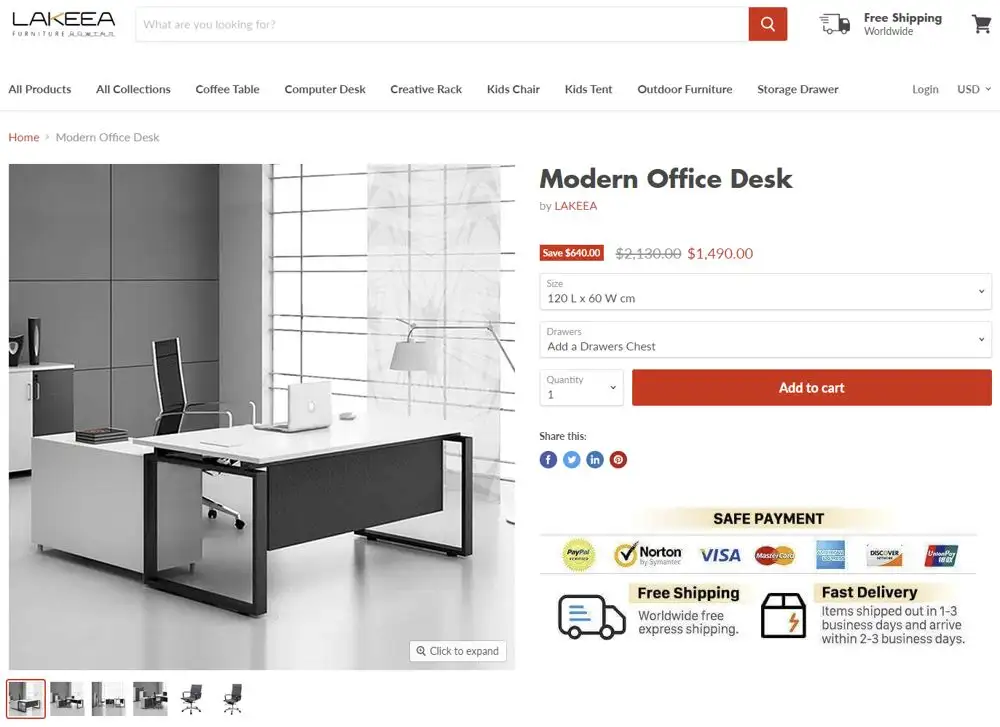 Lakeea product descriptions consist of only images meaning Google can't index the text. Although there is a lot of content on the page, these pages could still be seen as thin and limit the sites organic performance.
In our experience, unique and comprehensive product descriptions are one of the best things e-commerce stores can immediately do to improve their rankings (alongside the right link earning strategy and making sure meta titles are concise and enticing).
OTHER SEO ISSUES
Although the below issues were not as common across the audited sites, we did still find them on several of the top Shopify sites analysed so it is likely others suffer from them also.
INCORRECT INDEXING
Some sites had low-quality and thin pages indexed which would be best set to noindex to improve the overall quality of the site. Such pages did not seem to offer much value to searchers and weren't optimised for any keywords. The main example was tag pages which often created keyword cannibalisation issues and internal competition between key category and/or subcategory pages.
MISSING E-A-T
Some sites also lacked key E-A-T information such as links to social media profiles and/or contact details and about us information. Whilst there has been much debate on the effect and necessity of such information, it doesn't take long to set this up and remove any potential risk of negative effect.
THINGS SHOPIFY STORES ARE DOING WELL
Considering the scope and scale of what the Shopify CMS offers, they are doing an incredible job. The platform allows individuals and businesses to get functional, well designed and most importantly secure online shops set up within days if not hours. Something which only a few years ago would require substantial time, investment and resources to get up and running is now accessible for a reasonable price to millions.
Here is some of the things we noted most (if not all) the sites audited were doing right:
All sites had SSL certificates set up correctly.

The overall user experience of the sites was considerably better than many other sites we audit.

We didn't find anything to suggest that any of the sites had received an algorithmic or manual Google penalty.

85% of the sites analysed were clearly optimised for a target keyword.

Only 3 out of the 39 sites audited had suspicious anchor text profiles.
RECOMMENDATION
Many of the issues found on our list can be fixed in-house by Shopify store owners. Others however, such as earning the highest-quality links, should be left to a specialist SEO company. If you need help with earning top tier, white hat links for your website or Shopify store, please do get in touch.