Digital PR is a marketing strategy that will increase your brand's online presence through media coverage and backlinks to your site, with the goal of improving your search engine results page (SERP) rankings for the keywords that matter.
Reboot will have you standing at the top of your field when it comes to online casino and gambling marketing.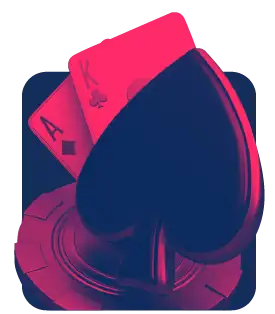 Online casino brands: Introducing your new digital PR agency
The worldwide casino and gambling sector is continually advancing, meaning all marketing techniques need to evolve with it. With new competitors entering the market regularly, creating a winning digital PR strategy that gets your brand in front of the appropriate people is key.
A digital PR campaign involves having a news story or study in your name published by a high authority website that is on brand and on topic. In return, your site will be credited as the source of the story/study. These exist to secure the brand visibility you need whilst still putting out genuinely interesting content. Maintaining high levels of exposure and strong links while remaining true to your brand identity is the main focus of any robust digital PR approach.
Steady, calculated, and specialist link-building through digital PR is one of the main ranking factors when it comes to Google, and will increase your long-term organic traffic. Over time, as more and more people link to your site, you will become an authoritative name within the online casino and gambling industry, further increasing traffic to your site, increasing consumer exposure and the probability of those all-important conversions for maximum return on investment.
The benefits of digital PR
It has never been easy to promote the online gambling and casino industry because of the numerous regulations that apply to this form of entertainment. Owners of gambling sites have long fought to find ways to advertise their brands whilst still following the rules.
However, here at Reboot, we have the necessary skills in order to work within these parameters whilst still providing an A-class service to you.
Gain recognition in your industry
With Reboot, you're not limited to focusing on media in the United Kingdom. Instead, you'll gain worldwide recognition.
With a focus on global distribution, we have built up a team of digital PR talent, and these employees can speak a combined total of 20 languages. We'll take the time to translate campaigns into target languages, to appeal to specific publications.
We understand and appreciate that gambling and online casinos are far from uniform across the globe. Our campaigns will take into account the nuances of local culture and the idiosyncrasies of the population in order to ensure our campaigns are appropriately targeted for the demographics of that particular area.
Outperform competitors
As already stated, because the gambling and online casino industry is saturated and competitive, you'll need to stand out. Whether this is with unique concepts, new data or quick reactive campaigns that take advantage of the current news, by continually putting out new and exciting projects, people are bound to take notice.
A fundamental component of any successful campaign is creative ideation. We'll never run out of ideas to promote your business, thanks to continual brainstorming meetings and the combined ingenuity of every member of our team.
Target the right people
With casino and gambling digital PR, it all comes down to your target audience. Adapting your messaging to match people's demands can be done by knowing their reading habits and if they're sharing content online.
Although most people will bet once or twice in their lifetime, we will target specific customers using digital PR tactics. Whether you are introducing a new game, launching a brand new project or simply want to attract more site visitors, we have the right methods to do so.
You won't find anything like our digital PR campaigns anywhere else, making you the go-to in your industry. Staying ahead and standing out from the competition is key to becoming dominant within this competitive and highly saturated industry.
Increase organic traffic
Reboot has conducted several experiments that have found digital PR placements are one of the most effective ways to improve SERP visibility. Organically generated links and online coverage should now be an important part of any brand's overall marketing strategy.
Backlinks from websites that Google and other search engines deem trustworthy will strengthen your reputation, allowing you to raise your website's ranking for relevant terms and keywords. The higher you rank, the more likely people are to find your website and the greater chance you have of online conversions.
It will also ensure that you rank highest for expertise, authority and trustworthiness. Reliable websites tend to link to other reliable websites, much like websites considered 'spammy' will link to other 'spammy' websites. The more reliable backlinks you have, the more your website is considered reliable, and the positive feedback cycle continues.
Become a thought leader
To get our clients into topically relevant, high-authority media, we've perfected the art of niche digital PR. Rather than focusing on national sites with limited reach, we will handpick publications that are appropriate for your site.
What's more, our expertise lies in our strategy to get you featured in these national publications - reacting to trending news stories, planning out campaigns in accordance with relevant national days, and scouring media requests made by journalists, to make sure you can provide an expert comment as soon as it's needed.
Relevancy and authority are key attributes to a successful digital PR campaign, so we will only endeavour to select those publications with the biggest, positive outcomes. This means taking the time to find publications that will allow your campaigns and brand to thrive, whilst still being in control of the narrative.
Reboot has devised a winning strategy for online success based on a wealth of skills, knowledge and competency in the digital PR industry: our research, our creativity, your brand. Your tone of voice is at the heart of everything we do, so you won't have to worry about it getting lost as the links start to roll in.
Our in-house digital marketing specialists can help your casino or gambling businesses become more known and dominate your industry. Take a look at just some of the services we offer:
Campaigns with international reach
Digital PR is a tried and tested way to gain international coverage, increase your brand visibility and stay within the industry regulations. With this global variety in backlinks, you'll be one step ahead of your competitors, enhancing your chances of attracting new customers. It will allow you to expand to regions of the world that you have not explored before, further widening your reach and customer base.
And even if you haven't expanded into other countries, gaining international links is still beneficial from an SEO perspective. Why? Because an authoritative link is an authoritative link, even if it's from outside your country. It will still impact your SERP rankings positively.
If you want to target a certain country or go totally international, with our resources, creativity and experience, we'll achieve this for you.
On-site asset creation
Working according to our client's budgets, we add value to their websites by conducting our own research and experiments, scraping raw data, and coming up with new ways of looking at things. We can then use these unique findings to develop assets for them to use on-site.
Whether it's a blog post, a video, or an interactive page, these assets are created to heighten the campaign's shareability, which will increase the visibility of the brand and help our clients rank higher on search engines. The assets also encourage backlinks by:
▪️ Providing website owners and journalists with a page to link to for crediting the study.
▪️ Providing value to website readers by presenting a hub where they can find more information on what they're reading.
▪️ Being optimised to appear organically in the SERP for certain search terms and therefore used as a reference for years to come for certain statistics, tips or commentary.
Exclusive data and campaigns
Every campaign is founded on research from our experiments and studies, ensuring that our content is just what the journalists want. We make our campaigns impossible to refuse and irresistible to readers by providing this exclusive data.
Our expert data team has a plethora of ways to scrape unique data from various sources to generate the foundations of a successful campaign. We can carefully scrape websites, build specialist in-house data libraries with findings, and combine multiple sources to uncover undiscovered angles.
These can be turned into compelling data visualisations that make the campaign more interesting and make them highly shareable across multiple platforms.
To secure a high number of worthwhile backlinks, you need to be able to combine interesting and data-driven campaigns, comprehensive outreach and careful follow-ups. Reboot run specialised campaigns and only contact relevant publications to get those all-important backlinks.
You can choose the size of the campaign and goal to fit in with any marketing budget.
Campaigns targeting inner category pages
Internal pages, such as individual category or product pages, have traditionally been difficult to obtain backlinks to as many publications and digital PR agencies focus on homepage and asset links. This means that it's unlikely many of your competitors will have links going directly to and giving authority to other pages on their site. So, gaining these inner page links will place you a step ahead of your competitors.
However, you'll need some talent and a lot of experience to generate a lot of links to inner pages, and this is where we can help - Reboot employs a team of digital PR experts who have spent years doing so.
Using effective campaign ideation, data collection, and outreach, we will earn you those valuable inner page links that will help drive you higher up the SERPs for casino keywords and help secure your status as a reliable, credible and trustworthy brand within your industry.
Reactive campaigns and newsjacking
Coverage opportunities from breaking news will never be missed. We are always looking for opportunities to run responsive campaigns for breaking news and newsjacking stories.
Our reactive campaigns are based on custom calendars that tell us when relevant national days in your industry are approaching or specific reports on which we can release expert commentary. Our team also holds ideation meetings each morning where they scour the news for stories to cover.
Relevant and data-driven campaigns secure links for gambling brands
The key to digital PR for gambling sites is looking at subjects around the industry, getting into the heads of your target audience and pinpointing what other hobbies or interests they may have. For example, people who are into online casinos are also likely to follow some sort of sports.
A campaign that looked at the most trolled NBA players on Twitter cultivated interest around the topic and the brand, without showing an obvious link to gambling.
Our data-collection team used SEMrush to analyse hundreds of tweets and count the number of negative words compared to good and neutral phrases about them on Twitter. After deciding which NBA player was the most trolled, Yahoo News, NBC Sports and The Score all covered the story and linked back to our client.
In total, this piece gained 63 placements and has the potential to be revisited in the future, providing long-term longevity for the brand. This is because everything we do is based on processes that have been proven time and time again. All projects have unique data and analysis as the foundation to produce accurate yet engaging campaigns.