The financial and accounting services sector has been rapidly growing and transforming over the years. As a specialist in financial digital PR, Reboot can help your business thrive in this competitive environment. We have the expertise and skills to cater for the needs of small and large organisations, both in the UK and globally.
Digital PR produces an increased amount of brand exposure through a combination of digital strategies. Digital PR relies on a blend of creative ideation, data collection and outreach in order to secure those all-important backlinks that will see you rise to dizzy heights of Google SERPs.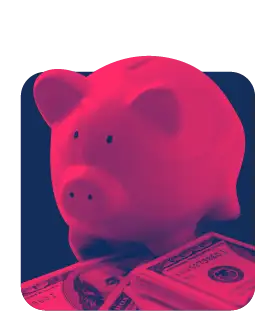 Digital PR: The solution for financial and accounting brands
It can often be difficult to market a financial or accounting brand correctly. However, it is possible to improve your customers' experience, as well as attract new clients with an appropriate digital PR campaign.
A digital PR campaign involves publishing newsworthy content (a story or study) in your name, that's in line with your brand and topical enough to get published by high domain authority (DA) websites, linking to your website in the process.
The benefits of digital PR in the finance industry
Thrive in a competitive market
With the number of accounting or finance companies out there, the competition can be brutal. But, if you use your marketing budget in the right way, you can definitely establish yourself as a leading voice. We'll find ways to increase your visibility across a range of platforms.
Due to the competitiveness of the financial services market, it is hard to stand out from the crowd. The world of digital PR is still not being taken advantage of by most finance or accounting brands, so be one step ahead of your competitors with Reboot to guide you.
As the majority of financial and accounting brands have not yet embraced digital PR, you can get a jump start on your competition. By using this marketing strategy, you will set yourself apart. After that, you must stay on top. Let our innovative digital PR agency help. With us, you will always put out campaigns that no one else has thought of, making sure you remain the go-to company.
Increase online visibility
We provide a range of services to assist financial brands in navigating their industry and the obstacles they face. Reboot specialises in constructing solid financial PR and digital marketing initiatives that include thought leadership, a strong voice and strategic communications.
Once you've committed to a digital PR strategy, it can be difficult to find the right publications for your brand. To outsiders, it may seem like a choice between national sites or niche publications, but with Reboot, you can have both. We know the exact sites to target to meet your goals and deliver a mixture of international coverage and relevant links.
Utilising these established links with journalists, publications and influencers within your niche industry means your brand is more likely to get noticed, helping to develop backlinks and raise the profile of your presence online.
Generate more sales
To pull in the right kinds of leads for your company, you need an SEO agency that understands not only the services you offer but the people you're trying to reach too.
Building links is one of the main components of digital PR and will increase the visibility of your company.
If you have many authoritative sites linking to your site, search engines will consider your site to be trustworthy. As a result, you will enjoy your site appearing high in the rankings of search engines for the keywords that matter. By maintaining a consistent tone of voice and appearing in your target audience's favourite online media, you will begin to gain their trust.
From there, it is quite simple; the more people value your brand, the more likely they will visit your website and pay for your services, resulting in higher conversions and improved return on investment (ROI).
Reboot will examine your needs and determine how to meet these through a digital PR strategy that works. Marketing financial services are about more than traditional advertising; it's about knowing who you're talking to and using inventive campaigns to grab their attention.
Become a thought leader
If you are included as an expert on a variety of platforms and relevant online publications, it will demonstrate that you have knowledge in your field and can be trusted, which is crucial for financial firms.
Our team combs through trending news stories, plan campaigns based on relevant national days, and follows up on media requests from journalists to ensure your brand is able to provide expert commentary as soon as it is requested.
Reboot won't let your brand fade into the background. The campaigns we run will have you featured on a number of platforms and online publications, enough to attract new customers as well as retain existing ones.
To do this, we work closely with you to establish your core messaging and brand values to keep them at the heart of all projects.
Custom-built strategies to deliver results
Services in the financial and accounting fields can become complicated if you don't have the experience and expertise to guide you throughout your digital PR campaign. For best results, you'll want to work with a digital PR agency that focuses on ongoing improvement and are experts in:
Essential link-building campaigns
We have experimented with speciality marketing that includes running niche campaigns in order to get our clients into relevant publications. This is because research shows that it will have a greater influence on your rankings rather than just targeting national newspapers.
This is something we pride ourselves in at Reboot; we target relevant and authoritative publications rather than a blanket approach to the world of journalism. We aim to position you as a leader in accounting and finance, and news outlets are more likely to link out if this is the case, further enhancing your reputation.
Whether it's newsjacking, coming up with topically relevant campaigns or recovering from search engine penalties, you want a digital marketing agency that can react quickly.
For reactive campaigns:
▪️ We have media contacts who turn to us for expert comments in their articles.
▪️ We create tailored calendars to ensure we know what relevant national days are coming up for your accounting firm or specific reports we can release expert comments on.
▪️ Each morning, we hold ideation meetings where our team goes over the news and finds relevant stories to jump on for our clients.
We've been doing this for years, and over this time, we've been able to create a solid outreach service by forming long-term connections with a range of journalists and publications. They know they can count on us for interesting and data-driven content.
On-site assets
Depending on your budget, we can add value to your site by conducting our very own research and experimentation, scraping and accessing never-before-used, raw data, and uncovering previously unexplored angles. We can then use this to produce on-site assets.
Whether it's in the form of a blog post, video or interactive asset, our content is designed to help our clients rank higher, increase the 'shareability' of the campaign and encourage backlinks. But how does an on-site asset help to build backlinks?
▪️ By providing website owners and journalists with a page to link to for crediting the study.
▪️ By offering value to website readers as an authoritative source of information on what they're reading.
▪️ Being optimised to appear organically in the SERP for certain search terms and therefore used as a reference for years to come for statistics, tips or commentary.
We don't stop there; this is all presented using a variety of interesting, innovative and appropriate data visualisation techniques that compliment the written content and further enhance the shareability of the asset.
The Reboot team analyses all results to determine which strategies work and which don't - assessing those areas performing well and optimising them further whilst constantly tweaking other areas for improved success. Regardless of your organisation's size, you'll always get bespoke digital PR strategies tailored to meet your needs.
Inner-page campaigns
Backlinks to inner pages, such as specific categories or product pages, have been incredibly tough to gain in the past. It takes skill and a fair bit of experience to do so. Reboot has a team of experts in this area of digital PR, having spent years experimenting with anchor text and inner page link creation.
Our team will brainstorm relevant, unique and newsworthy ideas for the high priority categories of your company's website. Using effective campaign ideation, data collection, and outreach, we will earn you those valuable inner page links that will help propel you higher up the SERPs for accounting keywords, cementing your position as a reliable, credible and trustworthy firm in your industry.
We collaborate closely with clients to ensure that the pages that matter most benefit from our digital PR services. And, using web analytics, we can continually assess the success of these campaigns. 0
International or country-specific campaigns
Outreach is an essential part of any successful digital PR campaign. And this is not limited to UK-based journalism and audiences.
Our employees speak a total of 20 languages and can personalise campaigns by translating them. If you're looking to target a specific country, or even want to go completely international, we have the right tools to make this happen.
This team of experts is brimming with knowledge, understanding and appreciation of the cultural nuances associated with different parts of the world. Our campaigns are targeted with a sensitive appreciation of local values, attitudes and cultural differences, whilst still ensuring the goals of your campaign are achieved.
You'll be one step ahead of your competitors with this global variety in backlinks, vastly increasing the chances of attracting new customers to your financial brand. From an SEO perspective, an international link is still an authoritative link, even if it comes from outside your country. It will still impact your SERP rankings positively.
The strength of relevant financial digital PR campaigns
Digital PR campaigns for financial and accounting brands can come in the form of newsjacking, reactives, expert comments and creative concepts. All of which have different timeframes and goals, but can all be incredibly successful if done right.
A campaign for a financial comparison site took the idea of tribalism and turned it into a highly profitable project. When you compare countries, fandoms, regions and technology, you're bound to generate a conversation. In the campaign 'Ranked: These Countries Most Favour a Cashless Society', the data team at Reboot looked into the general census regarding going completely cashless in different countries in order to prove which one was most in favour.
This ranking system had journalists around the world talking about it, including the Australian edition of Business Insider and India's Tech Radar. In total, this single campaign achieved 57 placements, 20 of which were follow links.
For another example of a finance-related digital PR campaign, take a look at this case study for Money.co.uk.