Content marketing for Sell House Fast
The Brief
Sellhousefast.uk are one of the UK's leading home buying companies and they needed a little help climbing the SERPs for some crucial keywords they wanted to target. They had fierce competition from big national players – but we like a challenge.
The objective was to rank in the top 5 results for the term "we buy any house", understandable as this term alone brings a whopping search volume of 8,100 per month. However, the objective was by no means an easy feat. Up against around 1,560,000,000 other results vying for a top spot, we got to work creating content for Sell House Fast that we knew would rank.
Our Strategy
The content marketing team at Reboot decided to take a different approach to targeting Sell House Fast's coveted keyword. Instead of creating a landing page for the "We Buy Any House" term, we decided to create a blog post about how to avoid the all-too-common scams you can come across when dealing with some unsavoury home buying companies.
The blog post was to provide a trust signal to the potential reader, offering them information on the signs to spot in order to avoid a fraudulent company, whilst at the same time revealing why they should use Sell House Fast instead.
We felt that the click through rate would be higher on such an informational piece, which would help the post to rank highly.
The Results
Now for the all-important part- how did our client benefit from our work? Well, Sell House Fast has seen an 87% increase in unique page views since the content's creation, with a 35% increase in leads.

They are also in the top 10 rankings on Google for 30 important keywords in their field (including being position 2 for the highly desirable "we buy any house" term). This has generated them a traffic potential of over 17,000 searches every month. This content is also worth over a potential £430,000 a month in PPC advertising!
When it comes to how many clicks the client gets for their target keyword, looking at the months prior to our content, Sell House Fast gained a mere 6 clicks for the query "we buy any house", after our cunning content marketing however, this has gone up to 675 clicks since the blog post's creation and keyword impressions have increased by over 20,000.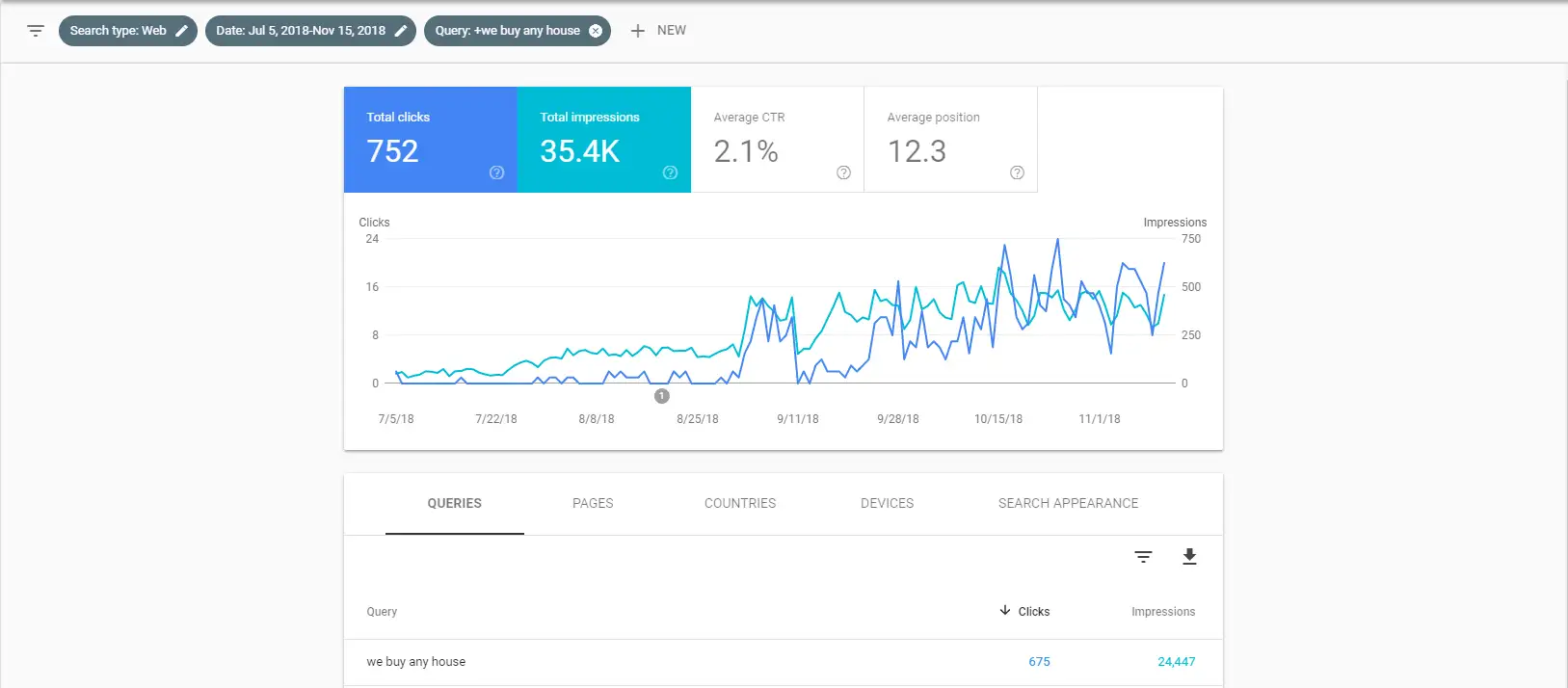 ×
"The keyword 'we buy any house' was really key for us to target. The team at Reboot thought of an innovative way to get us to the top of Google's rankings without creating sales-focused content that could put off potential leads."