Survey reveals how much time we really waste in the working day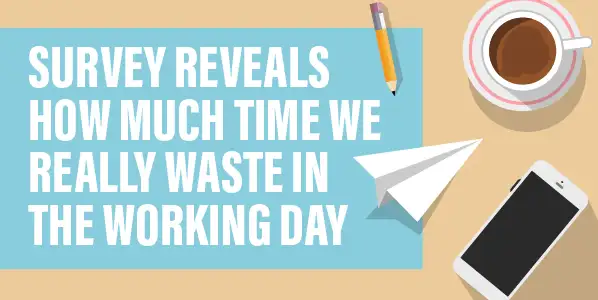 Rebootonline.com carried out a study of 865 office workers, laying bare the hours and the cost of time people spend procrastinating at work. Overall it was revealed that this expensive drain is costing companies £8,851.14 per employee annually.
It was discovered that employees spend 2 hours and 2 minutes a day procrastinating- that's 10 hours and 10 minutes a week. This equates to essentially employees working just 73% of the hours we are employed to. Research by Rebootonline.com broke this down, highlighting the following:
Brits are spending on average 37 minutes browsing social media daily- equating to a massive 3 hours and 5 minutes of our working week.
38% of office employees are browsing social media sites more than any other website.
On top of social media, we are spending 33 minutes a day surfing other sites across the internet.
An additional 15 minutes is consumed by making coffee at work, as well as 12 minutes using the toilet. Although, these at most cannot be avoided, 62% admit to undertaking this office rituals largely down to boredom.
Employees are also making the most of office hours to talk with one another, spending 25 minutes speaking to colleagues about non-work related chat daily.
Shai, MD of Rebootonline.com responded to this survey:
"Although the results are quite shocking, it's important to avoid any knee jerk reactions and understand that some "off time" could have an overall beneficial effect on productivity in the workplace. In most cases, the benefits far outweighs the time lost. Saying that, it does need to be kept under control and if staff members are found to abuse the freedom given to them, this needs to be brought up at the appropriate time"
Recommended Posts...