Should Brands Use Pride as a Marketing Campaign?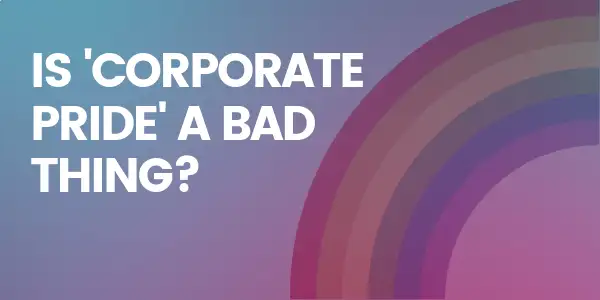 As a digital marketing agency, we are always interested in the latest marketing and advertising trends. This summer, we therefore could not fail to notice the colourful supermarket aisles as brands flew the rainbow flag for Pride month.
We couldn't help feeling a little uneasy.
Whilst it's great to see this sort of acceptance across a wide range of corporations, the reasons behind sporting colourful rainbow logos may come from a darker place – one of corporate profit.
We decided to see whether organisations were donating the proceeds from their Pride campaigns to any LGBT+ charities, and how the community felt about 'corporate pride' in general.
Are companies donating to LGBT+ causes during Pride?
Image credit: Oreo.com
We took a look at over 120 companies (122 to be exact) who were visibly supporting the LGBT+ community during Pride month. Some of the companies included: Amazon, Ikea, Walmart and H&M.
We soon discovered that for 29% of the companies analysed, this was their first Pride tie-in.
The LGBT+ community do not seem to mind this dramatic increase in brands supporting their cause – 84% of the 250 LGBT+ respondents stated that they felt "positive" in the face of Pride wash.
More shocking however, was the fact that only 64% of those with a campaign for Pride this year donated to charitable LGBT+ causes. This has caused a stir in the LGBT+ community, with 87% of those questioned stating that ALL corporations should be donating proceeds to relevant charities.
Taking to Twitter, we noticed the backlash from communities about these brand tie-ins.
Companies have a nasty habit of taking from people with actual culture, use what they get as an inroad with that group, and put out 'we're so welcoming' messages without actually doing anything meaningful.

See corporate Pride.

Or just stealing wholesale. See black culture in US

— Tamurello Ocello (@TamOtter) 15 July 2019
Indeed, it would seem that not everyone feels this representation is necessarily a positive one. Around 9% of participants in our own survey stated that they would go as far as purposefully NOT purchasing brand Pride tie-ins. One tweet in particular spoke directly to Uber's Pride-related marketing video:
okay uber i'm queer/pan myself and honestly i'm getting annoyed from seeing these adverts on my tl constantly pride month is over london pride is over i've seen each damn tweet 10 times, can we not just be gay in peace without you co opting our shit for ur own personal gain?

— megan 5 (@runningfrmylife) 14 July 2019
We decided to dig deeper, behind the colourful façade of these brands to see what they were REALLY doing for the rights of those they are purporting to support.
To do this, we took a look at CEI (Corporate Equality Index) score of each brand, where listed. This a score awarded by HRC, giving a percentage judging to what extent a company is a good Place to Work for LGBTQ Equality." The majority of brands on our list got a fantastic 100%, however over 1 in 10 companies scored less than 80% for their "steps to ensure greater equity for LGBTQ workers and their families in the form of comprehensive policies, benefits and practices". Most of the organisations scoring less than 80% failed to provide "equivalency in same and different sex domestic partner medical and soft benefits" and lacking "equal health coverage for transgender individuals."
When it came to the companies with the lowest CEI score, H&M stood out with a meagre 45% score for their corporate equality. Shocking considering, they released a special clothing range this year.
However, unlike 36% of brands, H&M are making meaningful donations (10% of proceeds are going to "support the work of the United Nations' Free & Equal campaign").
The LGBT+ Community Have Their Say on Corporate Pride
Further to our examination of brands this Pride month, we also asked 250 willing participants some Pride marketing related questions. The demographic breakdown was as follows:
119 identified as female and 131 identified as male (unfortunately we were unable to target anyone non-binary.)
Participants were aged 25 to 34
196 identified as homosexual while the other 54 identified as bisexual.
The full survey questions and responses were as follows:
Are you more/less likely to by a product with LGBT/Pride packaging?
| | |
| --- | --- |
| More | 18% |
| Less | 9% |
| It wouldn't affect my purchasing decisions | 73% |
How do you feel about brands using Pride month to create LGBT campaigns?
| | |
| --- | --- |
| Positive | 84% |
| Negative | 10% |
| Not sure | 6% |
Do you think brands use Pride month to sell products rather than trying to help the cause?
| | |
| --- | --- |
| Definitely most do | 23% |
| Some do | 66% |
| No, all brands are trying to rais awareness | 11% |
Do you think all Pride campaigns should donate to LGBT causes?
| | |
| --- | --- |
| Yes | 87% |
| Not necessarily, awareness is enough | 13% |
Should brands be more supportive of PRIDE throughout the whole year and not just during PRIDE month?
| | |
| --- | --- |
| Yes | 96% |
| Not necessarily | 4% |