3000+ No. 1 Positions and Counting
We are constantly reviewing how our client sites are performing, looking for new opportunities and implementing improvements as needed. A large part of this involves reviewing how much organic traffic the sites are generating each month and from what keywords.
This week, we used the SEMrush marketing tool to get a broader look at how our client's sites are performing in the search results and even we were impressed by some of the figures. We have shared some of the key figures below as an example of what the highest-quality approach to SEO can achieve.
A not-so-subtle brag of the kind of results you can expect if you invest with the right SEO company.
Keywords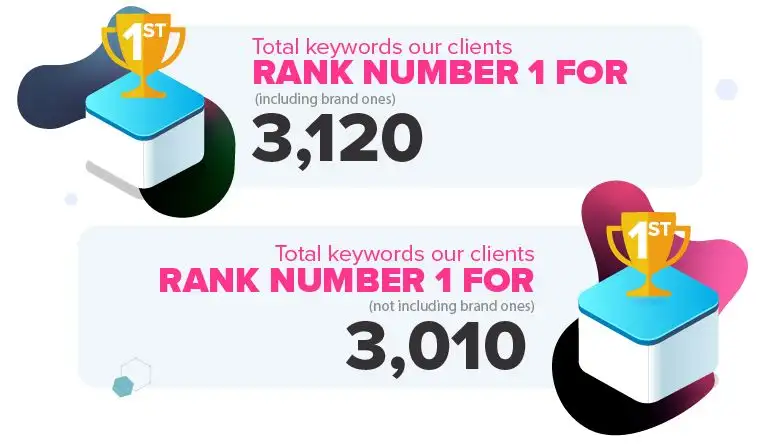 We found that our clients rank in top position for an impressive 3120 keywords (including brand ones) and 3010 keywords with brand searches removed.

Combined, clients that have been with us for 3 months or longer (excluding some big brands who recently started working with us who are already seeing results) rank in the top 3 positions for 24,815 keywords.
Search Volumes

Our clients operate in some of the most competitive industries you can think of. The keywords that they are looking to rank for are searched a lot. In fact, the keywords our clients rank #1 for are searched on average 432,820 times every month. The keywords they rank in the top 3 positions for are searched a combined 2.4 million times per month.
Organic Traffic

So, you might be asking how these searches translate into organic traffic. Well, we can answer that. The tool estimates that our clients receive approximately 678,338 organic visits every single month.

Taking into account the average cost-per-click of all the keywords our clients rank for, it would cost them £533,532.64 per month to generate the same amount of traffic.
Get Similar Results for Your Site
We follow the highest-quality approach to SEO.
Our unique, creative processes allow us to earn the top-tier links your site needs to compete effectively through data-driven Digital PR campaigns. We partner this with our thought-leading SEO knowledge (hard earned through countless technical SEO experiments which have been shared by the best in the industry) to ensure all aspects of your site are set up to rank strongly for your target keywords.
Get in touch to discuss your SEO goals and start increasing your organic traffic.