What is eCommerce SEO?
Do you ever look at your top-ranking competitors on Google and think: "Damn, how do they rank for everything? It's almost unfair!"
Well, they didn't get there by accident. Every online retail business that routinely ranks on the first page of search results is there because of eCommerce SEO. The good news is: no one has a monopoly on SEO. It is an opportunity available to all.
In this guide, we're going to be giving you the low down on eCommerce SEO, agency-style. Keep reading for an introduction to key terms, the best eCommerce SEO platforms, tips, tricks and how we've put it all together to get real results for our eCommerce SEO agency clients.
What is eCommerce SEO?
In a nutshell, eCommerce SEO is an umbrella term for a series of technical, content marketing, and link-building processes that are designed to get your products ranking on search engines in order to maximise your sales.
But wait… let's take it back to basics. First things first, for the uninitiated: what the hell is SEO? SEO stands for search engine optimisation and is—you guessed it—the process of optimising websites to perform better on search engines.
Search engines are extremely complex machines with one very simple aim: help people find the information they're looking for. Their number one priority is to satisfy the wants and needs of their users with the most accurate, up-to-date and relevant content.
When it comes to eCommerce, these wants and needs can be quite broad. For example, a user that types "golf equipment" into a search engine isn't looking for any particular brand. They just want to find some golf equipment as quickly as possible.
This presents an opportunity for any brand supplying golf equipment to capture that user's buying intent—but only if they can rank high enough to be seen. After all, the first three results on a search engine capture around 75.1% of all clicks.
It's our job as SEOs to make sure your website is in those first few positions for your most relevant commercial keywords.
Read more: "What Does An eCommerce SEO Agency Do?"
Why does eCommerce SEO matter?
As SEOs, it's in our nature to believe that what we do is important for any business with a website. However, there are undeniably some industries where SEO matters more than others. eCommerce is one of those industries because you don't have a website… you are a website.
With around two billion websites currently registered worldwide—that's about a quarter as many websites as there are people on the planet—if you're not actively trying to be found by search engine users, you're not going to be.
eCommerce SEO is the single most important thing you need to be doing to grow your online retail business.
What are the benefits of eCommerce SEO?
Grow revenue: The ultimate aim of any business—online or not—is to attract new customers and boost the bottom line. By making you more visible on search engines and improving the user experience (UX) of your site, eCommerce SEO helps not only bring users who already have buying intent—by virtue of having searched for a product—to your website but guide them toward a conversion and steadily grow your sales.

Improve brand visibility and awareness: If you run a successful eCommerce SEO campaign, your website should appear on SERPs for all of your most important terms. What do you think happens when customers shopping in your niche see your site URL over and over again? They remember you. The more highly ranked you are on search engines, the more seriously you will be taken by your competitors and by your customers.

Gain insight into your niche: The true beauty of SEO isn't rankings. It's data. With any decent SEO tool—from free resources like AnswerThePublic to professional tools like Ahrefs—you can easily see the exact phrases your customers are searching for, the most popular websites in your niche, the sites that are linking to them, and the keywords they're ranking for. This information is crucial in building your own online business

Take control of the user journey: Another area of SEO that is often undervalued and underutilised is UX optimisation. While UX design is kind of its own thing, it interacts with SEO in fascinating ways that can be especially beneficial for eCommerce businesses. Search engines like websites that can retain users. It signals to them that the user is finding value on that domain, and they will reward it by ranking it more highly. Combining UX and SEO can help you guide customers through your site towards a sale while winning favour from the search engine gods.

Become a thought leader in your industry: eCommerce SEO isn't all about product descriptions and category pages. One of the best ways of capturing organic traffic and providing value to users is by targeting informational queries. Topic authority is a major factor in search engine rankings, so gaining your audience's trust with high-quality informational content won't exactly hurt you in the SEO world either.
Read more: "11 Benefits of eCommerce SEO"
10 essential eCommerce SEO statistics
We could ramble on all day about the importance of eCommerce SEO, but we know what you're really after: the numbers. It's straight-up good business sense to want to quantify the impact of investing in eCommerce SEO services as much as possible before making the jump.
Luckily, there is a ton of data about how your future customers are using search engines to find brands and products online. We've put together the ten most eye-opening statistics about the impact of eCommerce SEO and, more importantly, the quantity of business you could be missing out on if you don't optimise your website.
Find out more: Check out our top SEO statistics!
How to build a killer eCommerce SEO strategy
Let's get one thing straight about building an eCommerce SEO strategy: it is anything but easy, and you probably can't do it yourself.
If you're just one person wanting to solo a complete overhaul of your eCommerce SEO strategy, we have one piece of advice for you: don't. Don't listen to any online guide promising you that you can outrank ASOS or Amazon or eBay by implementing a few simple SEO hacks. It is a waste of your time.
In fact, there are very few types of websites that can be successfully optimised by a lone individual learning SEO from self-proclaimed DIY online marketing gurus. But eCommerce SEO projects are a particularly tall order.
Find out more: Why You Shouldn't DIY Your SEO
eCommerce websites are generally far larger and therefore more complex than most other types of sites. For example:
The number of pages on Sspecops Soft, a former client in the SaaS sector.

The number of pages on Golfsupport, a previous eCommerce client.

Each of these pages will need to:
Fit logically within the site structure
Be internally linked
Have unique metadata
Have unique on-page copy
In addition, the homepage, category pages and blog section will all need to be optimised for commercial keywords—this means hours of keyword research and content planning. This is a huge undertaking for any SEO agency, let alone an individual with limited experience.
This guide, more than anything else, is designed to help you understand how eCommerce SEO works, which will enable you to work more effectively alongside a specialist eCommerce SEO agency.
Best eCommerce SEO platforms
Let's start at the beginning: what is your website built on?
eCommerce websites are a unique kettle of fish and therefore need to be built and hosted on a specialist eCommerce platform. This is because eCommerce business owners need to be able to easily perform a large number of complex functions that content-based websites simply don't need to worry about, such as:
Inventory management
Payment processing
Order management
On-site product reviews
Product filtering
Advanced site search#
Safe to say that a regular old single-page site isn't quite going to cut the mustard.
Thankfully, the market is awash with eCommerce platforms to help business owners get set up and manage their online stores. But which of them is best for SEO?
WIX
Wix is easily one of the most-advertised eCommerce platforms out there. If you've expressed even a passing interest in building a website, you've likely had a YouTube ad with that familiar, enthusiastic American accent telling you how easy it is to do just that with Wix. The thing is, Wix hasn't historically been set up for eCommerce SEO. For years, SEOs struggled to work with clients whose online stores had been set up with Wix due to issues with URL structure and the inability to properly optimise blog posts. In recent years, Wix has gone to some effort to fix these problems and should be okay for small to medium-sized eCommerce businesses.
SHOPIFY
Like Wix, Shopify is practically a household name—especially in eCommerce—thanks to its extensive advertising. It hasn't done it any harm, as it has more than one million merchants in more than 175 countries. It is probably one of the best eCommerce platforms for SEO, as it gives webmasters access to a full range of on-page basics that are, for the most part, easy and intuitive to use, even with an elementary level of SEO knowledge. Again, it's a good enough option for smaller eCommerce businesses in local niches or those with a low level of competition, but there are some limitations when it comes to implementing more elaborate strategies. These include difficulties modifying URLs, creating blog pages and an inability to access the sitemap.
WOOCOMMERCE
WooCommerce isn't strictly an independent eCommerce platform, but rather an eCommerce plug-in available through WordPress. This may sound like a downside, but it really isn't, as WordPress is one of the most SEO-friendly content management systems (CMS) you can get. It's a little more complex than some of the other options on this list, as you'll need to manage multiple plug-ins to get the most out of WooCommerce as well as have a decent understanding of SEO fundamentals to get started, but it enables you to shoot for bigger and better things. If you're competing with big-name brands or intend on getting the most out of your blog section to grow your traffic, WooCommerce is one of your best bets.
SQUARESPACE
Unlike most of the other entries on this list, Squarespace is not primarily an eCommerce platform. In fact, it originally specialised in content-based websites such as blogs and has added more eCommerce functionality as time has gone on. Surprisingly, it is now on par with the likes of Shopify for eCommerce SEO. Some SEOs find that Squarespace takes more getting used to than other platforms, but once you've found your way around, it provides everything you'd need to optimise a small to medium-sized eCommerce store. As always, for more advanced content marketing options and projects involving more than a hundred or so pages, you're likely to get more out of the WooCommerce plug-in or a custom CMS.
BIGCOMMERCE
BigCommerce is a platform worthy of its name: BigCommerce for the big guns. This is undeniably a platform that was built with SEO in mind, as it offers more sophisticated features than many of its competitors, such as it prioritising web security, integrating with Google Analytics and giving users the ability to supply microdata to search engines. Its more basic features are also really well set up, giving webmasters the ability to easily edit metadata and alt tags, optimise for mobile-friendliness and access the robots.txt file, a feature uncommon with other eCommerce platforms.
eCommerce SEO audit
Every SEO project worthy of its name begins with a complete eCommerce SEO audit. Proceeding without an audit is like building a house without having the land surveyed, or writing a thesis without doing any research. You're setting yourself up for potential failures and giving your project no grounding in data that could guide your decision-making. It's something no professional eCommerce SEO company would do.
During an eCommerce SEO audit, the following aspects of your website will be analysed, at minimum:
Technical SEO

On-page SEO:
Off-page SEO

Google penalties
Site security
Mobile-friendliness
Page speed
Site structure and navigation
UX
Crawlability
Duplication
URL structure
Redirects
Status codes

Keyword targeting
Content structure
Images and video
Metadata
Schema
Internal linking

Backlinks
Competitors
Content gaps
Again, due to the number of pages, eCommerce SEO audits are generally larger and more time-consuming undertakings than audits in other industries.
The aspects that are likely to come under the most scrutiny are those that specifically relate to how easy pages are to find and navigate, both from the perspective of search engine crawlers and that of site visitors. These include:
Site structure
Mobile-friendliness
URL structure
Metadata
Keyword targeting
Page speed
UX
This is by no means an exhaustive list, merely the highest priorities.
It's also worth noting that the aim of a technical SEO audit is not merely to catch and repair errors, but to spot opportunities. These might arise from keywords you're already ranking for without trying, or from competitor analysis and content gaps.
On-page eCommerce SEO
Right, let's get down to business. On-page SEO, also called on-site SEO, deals with all the pages hosted on your domain. Due to the number of pages eCommerce websites typically have, this often takes up the lion's share of the work.
Some of the main areas addressed in on-page eCommerce SEO are:
Technical SEO
Site architecture
Internal linking
Keyword targeting
Page experience
Content writing
Conversion rate optimisation (CRO)
SEOs also liaise with web developers and designers to keep your website looking and performing its best.
TECHNICAL SEO
In layman's terms, technical SEO deals with how your website is built. Your site can look great from a design perspective and have great, keyword-optimised content, but if the back end is all screwy, it won't perform properly and, crucially, it won't rank in search engines.
Neglecting technical SEO leaves you at risk of being invisible to search engine crawlers like Googlebot, which effectively means you don't exist to them: you won't get indexed and won't appear in search results. You might also be at risk of landing yourself a Google penalty out of sheer ignorance, which could cost time and money to fix.
Technical SEO covers a whole host of web development, coding and site structure elements, but its basic purpose is to make sure your site is fast, easy to navigate and in line with search engine guidelines. It is a highly specialised area of SEO and should only be done by an expert.
SITE ARCHITECTURE
The structure or architecture of your eCommerce website is both one of the most complex and one of the most important parts of your on-site eCommerce SEO strategy, and it gets more complicated the more products and categories you have on your site.
More often than not, poorly optimised websites have far too many category and subcategory pages for users and search engine crawlers to navigate, making it difficult to retain customers and ensure all your pages are indexed.
The basic rule of eCommerce website architecture is that you should be able to navigate from the homepage to any product page within three clicks. Proper, keyword-targeted categorisation and on-page product filtering help enormously in achieving this.
INTERNAL LINKS
Related to site architecture, internal links are extremely important when it comes to getting your pages indexed and ranked by search engines. They are how crawlers or 'spiders' such as Googlebot navigate your website: by jumping from one URL, such as your homepage, to another that it links to, such as a category page.
Think of your website as a tree. If technical SEO makes up the roots and your homepage is the trunk, then all the category pages, product pages, blogs and informational landing pages are the branches. Crucially, they are all connected. If a page isn't linked to from at least one other page on the site, it is 'orphaned' and cannot be found by a crawler.
Again, because of the number of pages typically at play on eCommerce sites, internal linking is something that needs to be carefully thought out and implemented as part of your on-site strategy.
KEYWORD RESEARCH AND TARGETING
This is where the real competition begins. Generally speaking—as there are obviously many different sub-sectors of online retail—eCommerce keywords with commercial intent are some of the most competitive out there. Everyone in your niche is trying to rank for them, but only ten can make the first page.
It is crucial to choose the right keywords, and this is where a lot of people slip up. To some business owners, the 'right' keyword is the one with the highest monthly search volume. Now, first things first: the most important factors in choosing keywords are relevancy and search intent. The content on the page—in this case, your products—has to match what the user is looking for, or you don't stand a chance.
Then, when it comes to volume, be mindful of your competition. If you have the domain authority to compete with household name brands for the top positions, then go for it! If not, you might be better targeting longer tail keywords with less volume, which will win you higher rankings and more traffic.
PAGE EXPERIENCE
The two guiding principles of page experience are as follows: don't confuse people and don't annoy them either. This means no pages that take three hours to load, no endless series of irritating pop-ups, no buttons that go somewhere other than where they ought to… It sounds simple, but it's not.
Page experience is, in a lot of ways, the SEO branch of UX design. It combines Core Web Vitals, a set of metrics used by Google to evaluate the real-world experience of users when visiting a particular website, with search signals like site security and mobile-friendliness. So while UX designers are not strictly SEOs, intuitive UX design often leads to a positive page experience, which is good for SEO. Did we just break our 'don't confuse people' rule or are you still with us?
PRODUCT AND CATEGORY PAGES COPYWRITING
There are some industries where more on-page copy gives you better results. eCommerce is not one of them. When it comes to writing your eCommerce product and category pages, keep. it. snappy!
While 'waffle' is discouraged in any industry, in eCommerce it is a complete turn-off that could cost you customers. Category page copy exists mainly to target keywords, and is therefore for the benefit of search engines, while product pages are all about providing functional information and clearly explaining—or better yet, listing—the benefits of what you're selling.
For SEO, pages also require metadata, which is the 'preview' information that appears in search engines.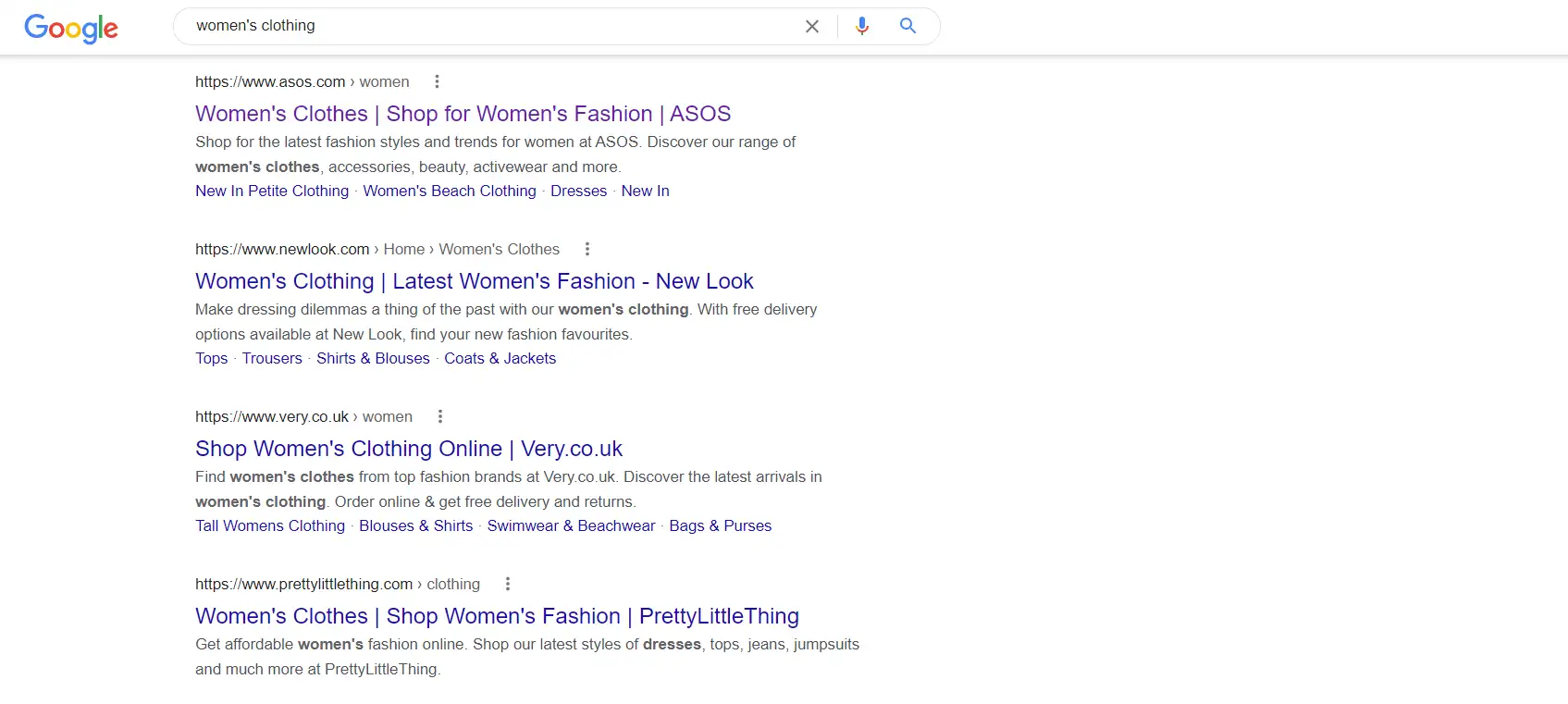 Metadata has a couple of purposes, including:
Giving a search engine information as to what the page is about
Targeting primary keywords
Optimising click-through rate (CTR) with customer incentives and calls to action (CTAs)
In the example above, you can see that all three of the top results are targeting variations on "women's clothing" and "women's fashion" in the title tag, while Matalan is optimising its CTR by promoting "Free Click & Collect" in the meta description.
CONVERSION RATE OPTIMISATION
In traditional retail, there are plenty of ways to maximise sales. You might bring in a merchandising expert, promote offers in the shop windows, or encourage your salespeople to upsell to customers. In eCommerce, you have to rely on your website.
Many businesses operating without an eCommerce SEO agency might know that whatever organic traffic is visiting their site isn't consistently converting into sales. But what they might not know is that SEO companies can track exactly where you're losing potential customers, down to how far they've scrolled down the page.
This information can then be used to analyse and optimise the customer journey through the website, from the bounce rate to the average number of pages per session to the scroll depth. And with eCommerce SEO, anything that can be pinpointed as an issue can be fixed.
Off-page eCommerce SEO
If you've got a good understanding of what on-page SEO is, you can probably guess what the term 'off-page SEO' means. Perfecting everything on your own domain is only half the battle. One of the biggest factors in search engine rankings is backlinks—links that point toward your website from another domain.
eCommerce link-building, in theory, is pretty simple:
You generate some content ideas
You pitch them to publications in your niche
You write the ideas up if they are accepted
You ask the site to link back to you from that piece of content
You earn a backlink
You'd be surprised at how wrong people are still capable of getting this fairly simple concept more than 25 years after it was introduced. The golden rules of off-page SEO are as follows:
Links must be inserted into the content naturally
Links must be relevant to the subject and industry being discussed
Links must be earned, not bought
Ideally, you want to earn a backlink that meets all three of these criteria from a high domain authority (DA) website.
Now, to be clear: domain authority—also known as domain rating (DR)—is made up. It is not a Google ranking factor—or a Google anything for that matter. It was invented by SEO analytics giant Moz as a way of measuring a domain's overall authoritativeness from the perspective of a search engine, and therefore how likely it is to rank well. Nonetheless, it is a widely-used and extremely reliable metric.
When a high-DA website links to your own, it passes some of its authority to you. Earning backlinks from a number of high-DA sites and publications is therefore a reliable strategy for building your own DA and therefore being able to rank for more competitive terms.
Phew. Right, now that's all clear… How does it apply to eCommerce?
Well, let's take a fairly general commercial term like "kitchenware".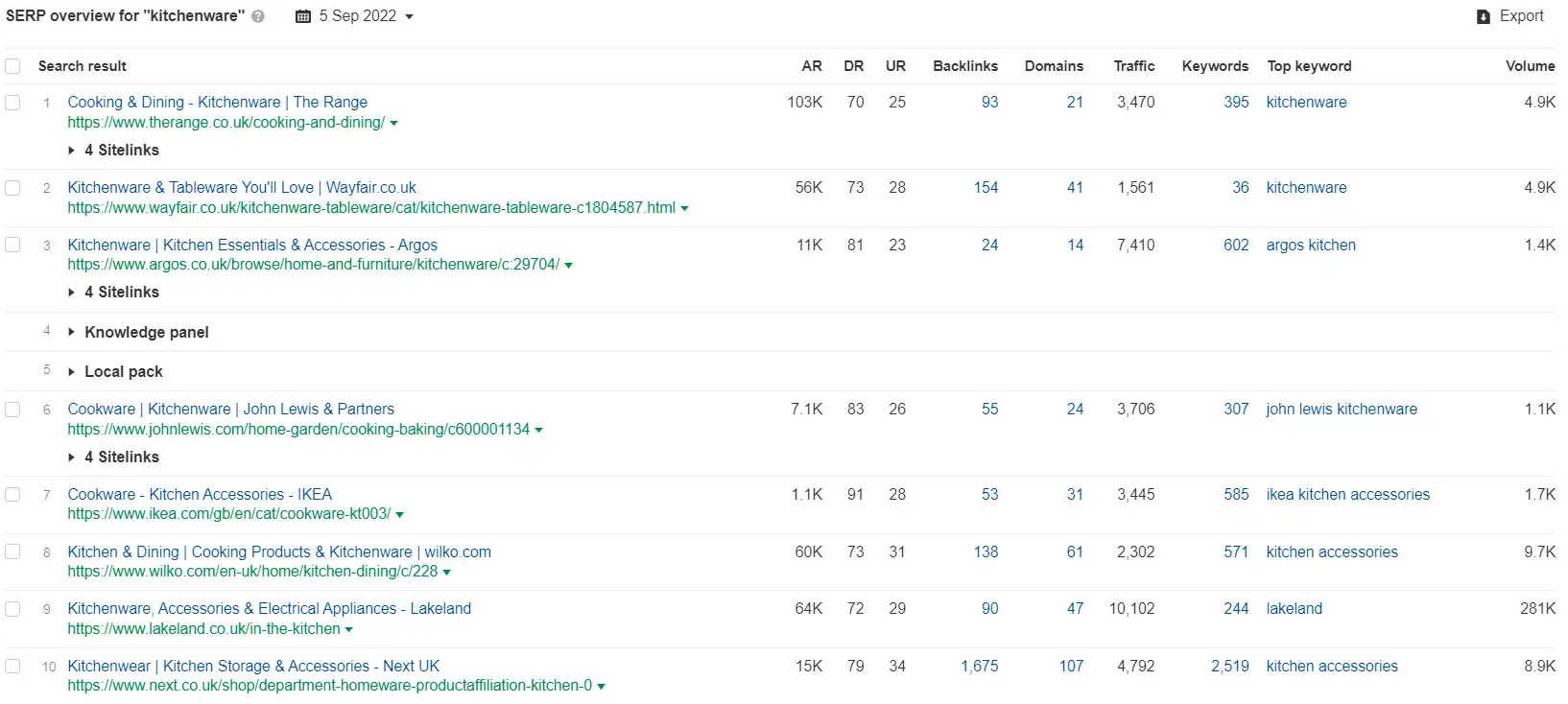 If you look at the 'Backlinks' column, several of the top results have 50+ backlinks pointing to just that one page. Notably, kitchenware specialist ProCook is managing to outrank Argos, Next and John Lewis by building more than 12,000 links to its homepage.
Of course, this doesn't tell the whole story, but hopefully this example goes some way towards demonstrating the importance of link building in eCommerce SEO.
Whatever you do, remember the golden rules of off-page SEO: the best links—the ones that make the biggest impact—are natural and relevant above all else.
So how do you go about building these? You create a win-win.
Digital PR for eCommerce
Once upon a time, the best way to build links to your domain was to write an endless stream of guest posts on similar topics for as many websites as you could. This earned you links, but they were often from low- to medium-DA domains and had little impact, if any, on your own ability to rank. Meanwhile, the time and energy of talented content writers was being wasted churning out endless guest blogs on the same subject.
But what if you could create one fantastic piece of content, and earn 100+ links from it? Enter: a digital PR agency.
The gist of digital PR is simple: journalists need content and lots of it. Online publications generate almost all of their revenue from advertising, so they need eye-catching pieces that attract clicks. Businesses need links from these types of publications, as they often have high domain authorities.
Digital PR is basically link-building, but better. Our specialists:
Generate some engaging content ideas in our clients' niche
Collect a unique data set
Create an eye-catching asset
Send the asset to journalists, asking them to link back to the client's site
Then, just watch the backlinks come pouring in. Let's show you an example of how this works for eCommerce businesses.
OnBuy, one of the world's fastest-growing online marketplaces, wanted to boost the visibility of one of its inner category pages: Mobile Phones. We collaborated across the data, content, SEO, design and digital PR teams to deliver a campaign that focused on the mobile phone myths most believed by British consumers.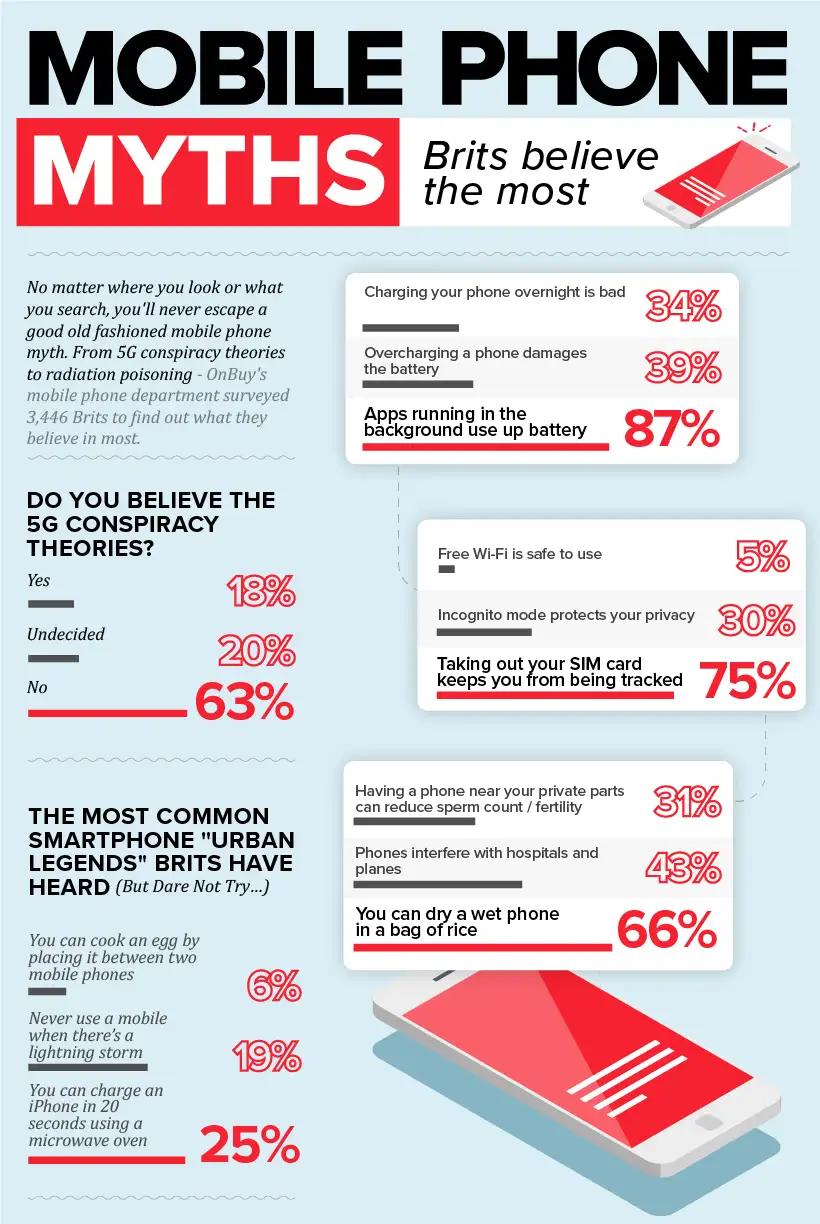 The results? The campaign attracted a number of high-quality links from relevant publications in the technology sector and helped increase rankings for organic keywords from 0 to almost 20 within a few weeks of the campaign launch, including rankings on the first page of SERPs.

Why you need an eCommerce SEO agency
Think you can manage all of this by yourself? If you answered "yes", maybe you need to scroll back up and think again. eCommerce SEO is one of the most complicated and time-consuming areas of digital marketing, and if you expect to succeed, you'll need help from a professional eCommerce SEO agency.
There are two main reasons you should hire an eCommerce SEO agency to optimise your website:
The size of the project
The size of the competition
Just in case we haven't hammered the point home enough: eCommerce SEO is tricky. It's every aspect of the average SEO project multiplied by the number of pages involved—a number that could easily be in the thousands—not to mention the number of variables that can affect the outcome of the project that need to be carefully managed.
In addition to this, most eCommerce businesses are not the only business in their niche, and many face strong competition from brands who have strong backlink profiles, name recognition and brand keywords working in their favour—all of which they've capitalised on with the help of an SEO agency.
Choosing the right eCommerce SEO agency
"Where do I start? How can I tell the good eggs from the bad?"
eCommerce SEO projects are not for the fainthearted or the inexperienced. To get the most out of your website, you're going to want to work with a provider that has handled projects of this scope before.
More to the point, you want a provider that has evidence of achieving long-term results for multiple clients in the eCommerce sector. We're talking case studies—the kind with detailed explanations of how they achieved these results using both on-page and off-page eCommerce SEO tactics.
Once you're satisfied with the case studies, the next step is to book an SEO discovery call to discuss the project in-depth with someone from the agency's senior team. This is a perfect opportunity to spot a sub-par agency attempting to upsell themselves, or one using black hat SEO tactics which you want to avoid, which is a big no-no.
The best thing you can do is to have a list of questions to ask your potential SEO provider at the ready and know the answers you should expect.
There are a lot of eCommerce SEO agencies in the sea– sorry, we mean on the internet. You could spend hours Googling "eCommerce SEO agency", sifting through website after website, reading case studies and trying to find the right agency for you… or you could just stay right here and get in touch with us.
Read more: "How To Choose an eCommerce SEO Agency"
Hire Reboot
Reboot Online Marketing is an eCommerce SEO agency with a track record of maximising sales for our online retail clients. We have worked with businesses in a wide variety of niches—from sports equipment to online marketplaces, home furnishings and more—, deploying a wide range of expertise across content marketing, technical SEO and digital PR to drive relevant organic traffic to both top-level and inner category pages.