eCommerce Link Building Agency
There's a lot to think about when it comes to eCommerce SEO. Think smarter with a professional eCommerce link building agency.
It's hard to overstate the importance of links in any SEO strategy. Backlinks—links pointing to your domain from third-party sites—are the foundation of how Google became the world's most important search engine. You could read countless posts trying to explain eCommerce link building and attempt to master it yourself. Or you could just get the masters to do it for you.
What Is An eCommerce Link Building Agency?
An eCommerce link building agency is a type of SEO agency that specialises in building natural and relevant backlinks—the type of backlinks that search engines love—for eCommerce websites. These backlinks should ideally come from websites with a high domain authority (DA), as this authority is then passed on to your own site.
The best SEO agencies have clients across a broad range of industries, giving them a flexible, adaptable mindset that is beneficial for every project they undertake. You wouldn't want a one-size-fits-all eCommerce SEO solution after all, would you? An eCommerce SEO agency is one that has significant experience working with eCommerce clients and can produce several relevant SEO case studies for you.
Reboot is one such agency. We have more than 15 years' experience building high-quality backlinks for eCommerce clients. In SEO, that's a lifetime.
Read more: "What Is eCommerce SEO?"
Benefits of working with an eCommerce link building agency
The benefits of working with an eCommerce link building agency are actually pretty straightforward:
Grow your backlink profile
Grow your domain authority
Grow your search traffic
Grow your revenue
Read more: "11 Benefits of eCommerce SEO"
Why Do You Need An eCommerce Link Building Agency?
eCommerce websites are their own beast. They're often huge and complex, with hundreds, and maybe even thousands of pages—all of which would benefit from having external links pointing towards them. Attempting to DIY this process is, frankly, just asking for trouble. You could risk falling prey to black hat link building tactics or building low-quality, irrelevant links that hurt your website more than it helps it.
If you're serious about building the backlink profile of your eCommerce site, you need a specialist eCommerce link building agency on the case.
What Does An eCommerce Link Building Agency Do?
The truth is, "link building" is a little bit of an outdated term. At Reboot, we're firmly invested in the process of link earning, because that's exactly what Google expects every one of your links to be: earned. We've perfected the art of using highly creative digital PR campaigns to create the kind of content high-DA publications will want to link back to — from the most popular football YouTube channels to the sport that will get you the most swipes on Tinder.
But how does our industry-leading eCommerce link building process come together? Let's break it down.
Ideation: Great minds think… of a ton of great ideas, apparently! Our process kicks off with a brainstorming session, where our team come up with the weirdest, wildest and most interesting ideas they can to grab the attention of high-DA publications, all while remaining consistent with both the brief and the client's branding.
Data: From the brainstorming session, the best ideas are picked and it's time to gather the information. We have a dedicated data team who run the numbers for us and help us pull out the most eye-catching figures for our headlines.
Campaign building: Our digital PR executives are the glue that hold our eCommerce link building campaigns together. They're responsible for seeing the data through from numbers on a spreadsheet to a visually captivating asset ready to be sent out to journalists across the clients' target industry.
Outreach: Outreach used to mean cold emailing dozens of journalists and all but begging them to feature your content. For some eCommerce link building agencies, it still does. But not us. Through years of experience, we've formulated an airtight 6-tier outreach strategy and built lucrative relationships with journalists and publications. As a result, we exceed client KPIs by 296% on average.
Read more: "What Does an eCommerce SEO Agency Do?"
eCommerce Link Building Agency FAQs
Why are backlinks important for eCommerce?
Backlinks are important in any industry. They are crucial to getting you to the top of SERPs.
It is incredibly rare for a website to rank highly with zero backlinks. This is only likely to happen if you're targeting extremely niche, low competition and often low-volume keywords. If you're in a generally low-competition niche, then great! However, most eCommerce keywords are competitive, particularly the ones that are going to bring you the most business.
Take for example, "buy houseplants online". This is likely to be a high-priority keyword for any site with a focus on indoor plants, garden supplies, plant subscription boxes and home decor. Leading SEO company analytics tool estimates that this keyword could bring up to 61,000 in organic traffic to the top ranking result, and sites targeting this term would need around 77 backlinks to break into the top ten.

From the SERP, we can see that the majority of top-ranking results far exceed this estimate, often having hundreds of backlinks. The top result has a whopping 2,242 backlinks from nearly 300 unique domains—that's 29 times the recommended amount.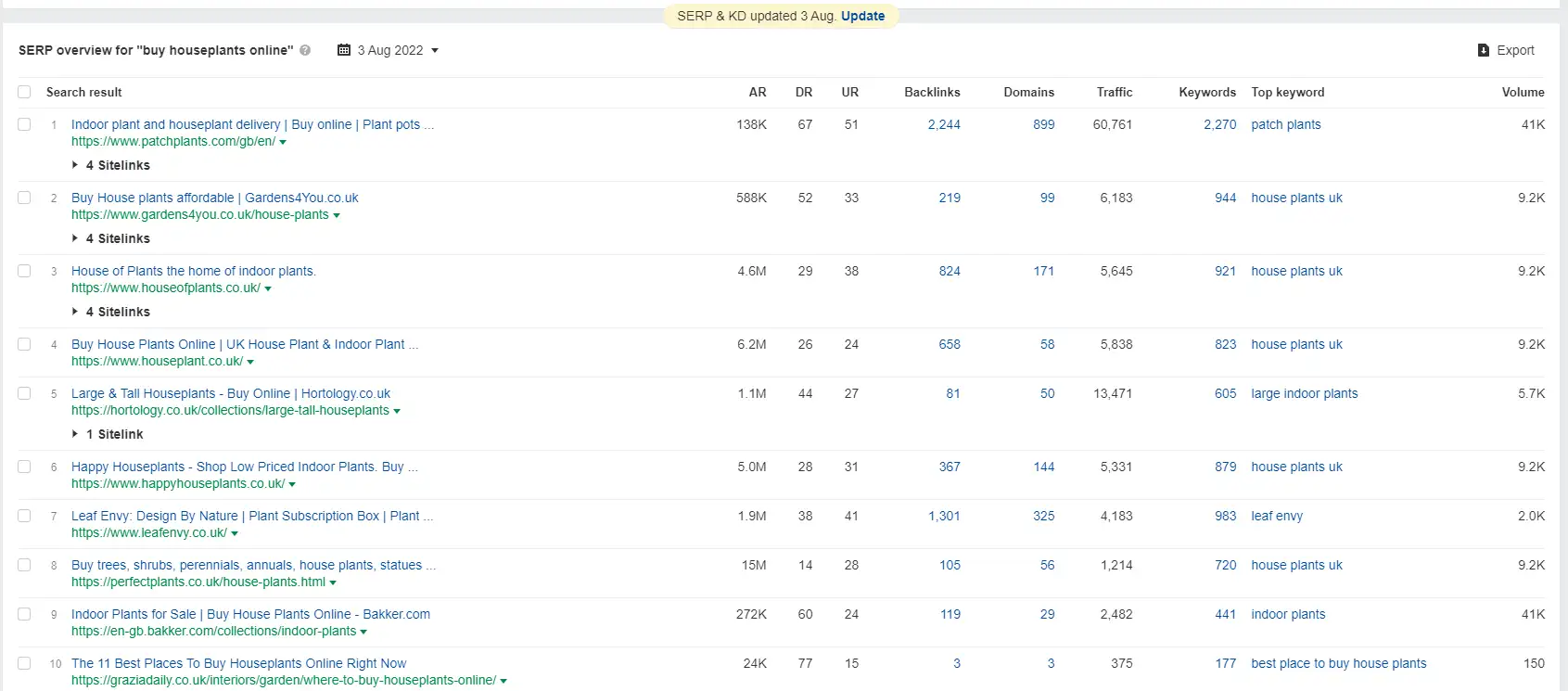 And while we'd advise against getting caught up in the "more is better" mentality—as this can often lead to people buying low-quality backlinks that do more harm than good—a 2020 study by Backlinko did find, after an analysis of 11.8 million search results that the #1 result in Google has 3.8 times more backlinks on average than positions #2 - #10, and often had more unique referring domains as well.
How many backlinks do I need to rank?
There is no average number of backlinks it takes to rank in the first position, or anywhere at all for that matter. It all depends on the keywords you're targeting.
Keywords are often assigned a 'difficulty' or 'competition' score by SEO analytics tools like Ahrefs, which estimate how hard it would be to rank in the top 10 for that exact phrase. It is calculated primarily using the number of backlinks the average site ranking for that term has, as well as factors like user behaviour, dwell time and the overall domain rating (DR) or domain authority (DA) of the site.
For example, you can have a super competitive term like "buy books online", with a keyword difficulty score of 93.

The top result is Waterstones, which has a domain rating of 86 and more than 200,000 backlinks pointing towards its homepage from more than 7,000 unique domains.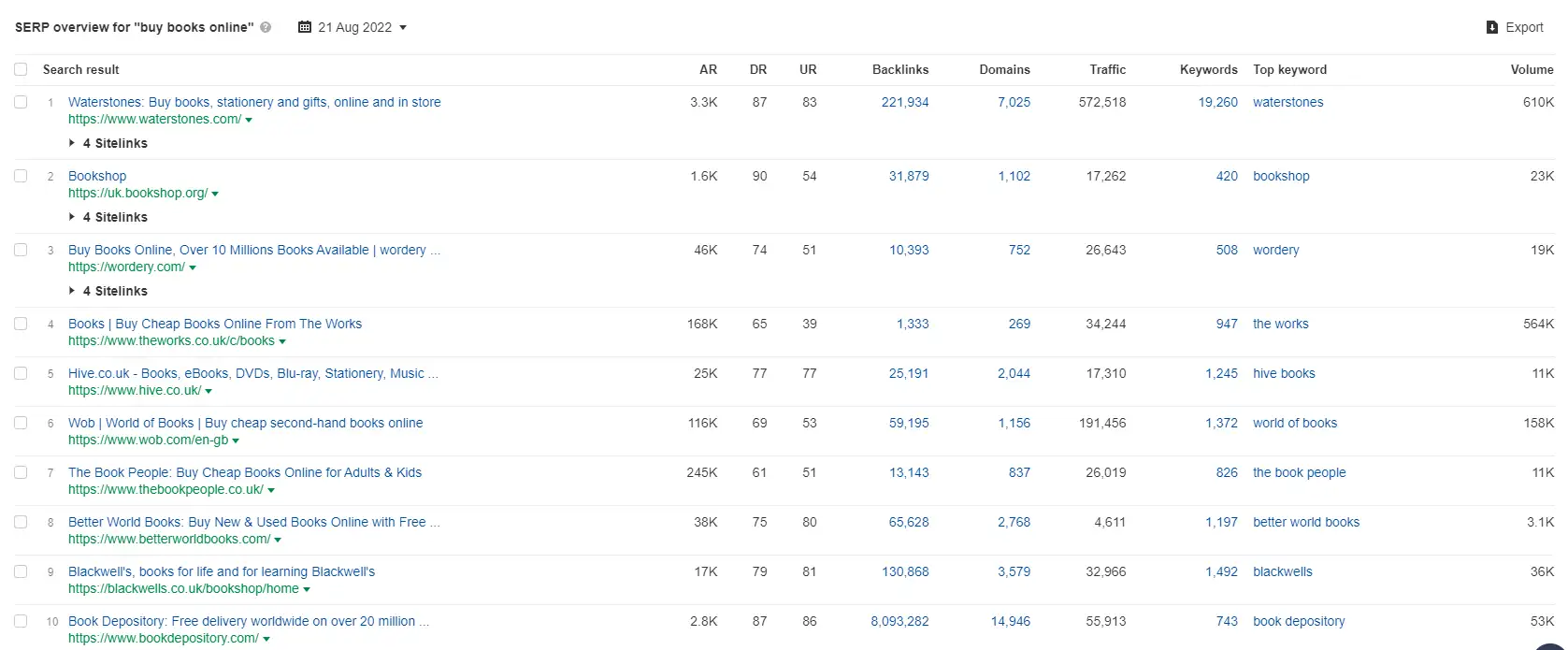 It's therefore extremely unlikely that a bookseller would be able to rank on the first page without some significant link building activity and likely a wider on-page eCommerce SEO strategy.
What is the best link building strategy for eCommerce websites?
The best link building strategy for eCommerce sites is one that emphasises quality over quantity. Google and other search engines treat backlinks like recommendations from one site to another—the best recommendations come from trusted sources. If you're serious about link building, earning natural (read: earned, not paid for) backlinks from high-authority websites is the way to go.
Of course, that's much easier said than done. High-DA websites are often picky about what they write about and who they're willing to link to. Your standard guest post about something tangentially related to both your site and theirs just isn't going to cut it if you're trying to rank for competitive eCommerce terms.
The creme de la creme of websites to earn links from are online newspapers and magazines. Why? Well…



Would you check out the DAs on them?! These are just some of the publications that Reboot regularly works with as part of our link building campaigns.
Of course, these are not easy links to get. If your average high-DA guest posting site is discerning about who they publish, just imagine what it's like trying to get a link from Hello, Yahoo News or Country Living Magazine.
This is why Reboot specialises in digital PR. You know all those listicles with titles like "The top locations for [insert activity here] REVEALED"? Yeah, that's us (and companies like us). We produce original data sets, pull out the most engaging statistics and email the asset out to journalists, who write them up and link back to our clients.
Obviously, this is not something the average DIY eCommerce link-builder has the capacity to do. You'll need:
A complete team of digital PR specialists to ideate, manage and execute the campaign
Data specialists with access to the right tools to scrape the web for the juiciest information
Graphic designers to produce eye-catching assets that make the data pop
SEO-savvy copywriters to type up the data in a way that highlights all its best bits
Access to and established relationships with journalists at top publications
That's why the best eCommerce link building strategy is to hire the right agency.
How do I find backlinks for my eCommerce site?
Okay first of all: you don't, we do.
That's the beauty of hiring an eCommerce link building agency. They'll likely have a list of relevant publications in your niche ready to go, and if they don't they can definitely drum one up in a fraction of the time it would take you to do the same thing.
We've talked a lot about domain authority so far. Other factors that can't be forgotten in the battle for eCommerce backlinks are relevance and naturalness.
Search engines are incredibly smart. They are able, in their own way, to understand and judge human concepts like topics, industries and grammar, This means that they can spot a backlink that has been jammed somewhere it doesn't belong—such as a link to a garden supply store in an article about cybersecurity, to take an extreme example. And search engines hate this.
Nonetheless, there are eCommerce link builders who will convince you that they can build 2,000 backlinks in less than a month. They will then proceed to put links to your website on irrelevant pages and in unnatural places, usually by purchasing them—which is, in search engine terms, illegal—or by automating the content.
This will absolutely get you penalised by a search engine, and will push you further down the rankings.
The absolute best targets for building eCommerce backlinks are websites that already write content about the niche you're selling in, or general news publications that you pitch digital PR campaigns to.
Should I pay for backlinks?
No. Please, no.
That's it. Don't do it.
Paying for backlinks—in eCommerce or in any other industry—is a black hat practice. These are SEO methods that violate search engine rules, such as Google's Webmaster Guidelines, and are likely to land you penalties that are expensive and time-consuming to recover from. In some cases, Google will remove you from its index entirely.
Unfortunately, this is still a fairly common practice and you'll still find some self-proclaimed experts telling you that it's fine. They're wrong, and they're probably trying to take advantage of you.
To webmasters, backlinks can seem like a chore, but to search engines, they are indicators of quality. If you're promising quality that isn't there, it will notice and it will penalise you.
The ultimate objective of any search engine is to provide value to its users by answering their queries with the best possible content. Isn't this what you should be trying to do too?