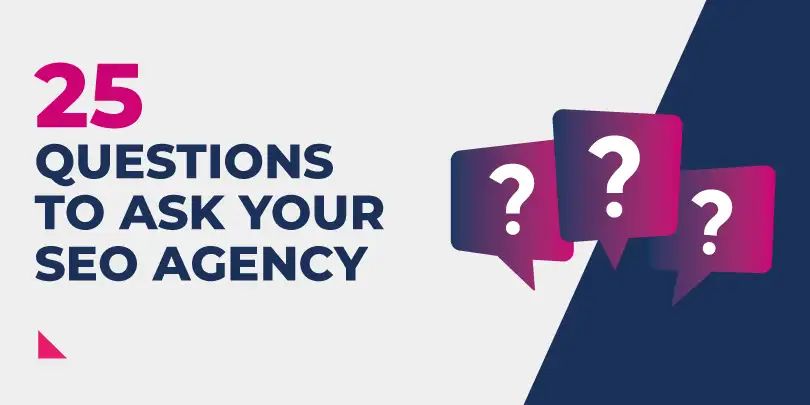 So - you've decided to take the plunge and hire an SEO agency to help grow your business. You're not alone: demand for SEO services has risen significantly since the pandemic kicked off and businesses became more reliant on their online marketing channels. Even as overall marketing budgets have decreased, companies have been spending more on average on SEO.
But choosing an SEO agency isn't always straightforward. It's still a fairly niche corner of the marketing world, misunderstood not only by clients but by the very agencies that claim to be experts in it. How do you avoid getting sucked in by a bad agency? Don't waste your time - filter out the rubbish by asking these questions during your next discovery call:
1. CAN YOU PROVIDE ME WITH REFERENCES OF COMPANIES YOU'VE WORKED WITH FOR OVER A YEAR?
? "We do more short-term work"
? Can provide five or more examples off the top of their head
Why: Bad SEO agencies might be okay at securing clients, but can they hang on to them? High client turnover is a huge red flag that your prospective agency is either not implementing long-term strategies or using risky, black hat SEO tactics which, at best, have short-term benefits. The bottom line: it's cheaper and easier for clients to stick with the same SEO provider, so if people are leaving in their droves, you probably want to ask yourself why.
2. WHERE CAN I VIEW YOUR CASE STUDIES?
? "We don't publicise our work" or any other variation on "no"
? "They're on our website! Let me send you a link."
Why: An SEO agency is only as good as the results it produces. No case studies often means either no experience or no results. If your potential provider can cough up some SEO case studies, remember to not get sucked in by big numbers. Growing rankings by 1,000% isn't as impressive when you realise the website was a new build, for example. Instead, pay attention to how results were achieved, and to metrics like conversions, coverage in major publications and revenue growth.
3. WHAT'S YOUR FAVOURITE CAMPAIGN YOU'VE RUN RECENTLY?
? "Ooh, I'd have to think about that"
? "I LOVE this question! This campaign went live last week…"
Why: Wh- What? Why would you have to think about that? Didn't you run the campaign? One thing about SEOs: we love to brag. We're big geeks when something goes right and we love to talk about it. If a company can't rattle on about a recent success story, it's probably because they haven't had any.
4. CAN YOU SHOW ME EXAMPLES OF LINKS YOU'VE EARNED FOR CLIENTS?
? "There are too many to show, but we earned 5,000 for one client in under a month"
? "Sure! You can find them on our website"
Why: Any response to this question that cites numbers before quality and relevance is a big no-no, especially if a huge amount of links was achieved in a short space of time. This generally indicates that the links have been bought rather than earned, which is a direct violation of Google's Webmaster Guidelines. A decent agency will be able to pull up a quality, relevant and natural backlink at a moment's notice because they invested the necessary time and creativity to earn it. Better yet, they might even advertise it on their website.
5. CAN YOU SHOW ME EXAMPLES OF CONTENT YOU'VE CREATED FOR CLIENTS?
? "That's confidential I'm afraid"
? "Sure! I'll grab you some links"
Why: Again, there is no reason a prospective SEO partner shouldn't be able to provide this information. Even if they can't directly evidence their high-quality content creation services during the discovery call, they should at least be able to send you a few examples in an email later that day. If they can't, there's a chance they either have no clients or are outsourcing content creation - one of the pillars of SEO.
6. HOW DO YOU CHOOSE KEYWORDS?
? "We pull [x] amount of keywords and choose the ones with the highest volume"
? "First we gain an understanding of your target customer, then we concentrate on relevancy and search intent"
Why: This is a great question (if we do say so ourselves) because it makes it so easy to weed out the bad actors and those who have a rudimentary, outdated and all-in-all incorrect understanding of how search engines work. High volume doesn't always equate to high traffic, especially if it's the wrong keyword for your business. SEO is about studying how your target customers are using search engines to find products and services and coming up with creative, content-based solutions to reach them. Relevancy and search intent are therefore far more crucial than volume.
7. WHAT IS YOUR APPROACH TO LINK-BUILDING?
? "We buy…"
? "We earn natural, high-quality links through creative digital PR campaigns"
Why: "We buy…" Okay, stop right there. Hang up. Once again, buying links is a direct violation of Google's Webmaster Guidelines and based on a knowledge gap about backlinks the size of the Grand Canyon. The links 'earned' - and we use that term loosely - will be low-quality if not signalled as spam. It is entirely possible (and actually kind of fun) to extract that sweet, sweet link juice from high-authority sites like GQ, MSN, The Daily Express and more with engaging, creative digital PR, if your digital PR agency is willing to put the time in.
8. HOW MANY PEOPLE DO YOU HAVE ON YOUR TEAM?
? "We're a small team, but mighty!" … if there are three or less and/or they won't give you a number
? "We have complete teams for each of our pillars: technical SEO, content and digital PR"
Why: SEO can certainly be done by a small team, but it can't necessarily be done well. Each pillar of SEO is a distinct discipline - there aren't many content writers who are also skilled technical SEOs, for example, and even if you find one, the likelihood of them having the time capacity to do both effectively is quite slim. It is best for both the client and the agency team to have a broad range of creative professionals working on projects.
9. DO YOU OUTSOURCE ANY OF YOUR SERVICES?
? "We work with a third party" OR "We use an AI copywriting tool"
? "No, we've invested time and resources into building a complete in-house team of specialists"
Why: The best agencies do everything in-house. An SEO agency that is outsourcing vital skills like copywriting, outreach or link-building is either stretched to its limits and in desperate need of some recruitment or a complete scam. Similarly, some agencies have taken to using trendy AI copywriting tools in the belief that a machine (the tool) will be better at producing content for another machine (search engines). However, these tools are, for now at least, nothing more than trendy.
Beyond obvious concerns like fact-checking, Google's algorithms are a constantly evolving mystery that requires the cognitive skills of an SEO specialist to notice and interpret changes. Search engines are also primarily interested in the behaviour and interests of human beings using their service. The best person to write content that matches search intent is, therefore, another human being.
10. WHICH SEO TOOLS DO YOU USE?
? If they can't answer you OR they exclusively use free tools
Why: SEO tools aren't a cute little bonus item - they're part of what you pay for when you hire an agency. Your prospective SEO partner should have access to a few different tools for keyword and topic research, backlink analysis, outreach and tracking. If they're just using free versions of Moz, Ahrefs or a simple Yoast SEO plugin, you can assume you're looking at an amateur operation.
11. HOW LONG BEFORE I START SEEING RESULTS?
? "We can guarantee results within the first month"
? "It will depend on how much work needs doing to your site, how competitive your niche is and you own speed of implementation, but we would aim to start seeing increases within six months"
Why: Now, let's be clear: it is nearly impossible to guess-timate how long it'll take for digital marketing strategies to start bearing fruit, no matter what industry you're in. Some providers will take advantage of this fact and keep collecting your monthly retainer for a year or more with no results in sight. You have to toe the line between vigilance and patience, to some degree. Generally speaking, if your provider isn't delivering some results by the six-month mark, there's something wrong with the strategy. There is one golden rule, however: steer clear of anyone using the words 'we guarantee'. They can't.
12. HOW DO YOU MEASURE RESULTS?
? "If we can increase your rankings, that's the most important thing"
? "We track rankings, traffic and conversions to give us a complete picture of how each page is performing"
Why: Rankings do not provide a complete picture and it's easy for bad SEOs to make the improvements look better than they are. A jump from 80th to 60th to 40th can look impressive to the uninitiated, but the progress may very well stop there. 75% of search engine users don't even venture into the wilderness of the second page of SERPs, so where are your conversions coming from?
Let's say, for argument's sake, that your rankings-obsessed provider manages to get you on the first page because of low competition, perhaps. If no one is clicking through to your website and converting from a visitor into a customer, is it really worth the investment? Also, if no one is clicking through to your site or they're not staying on your site for very long, your stint on the first page will be short-lived. Good SEO agencies track a variety of metrics for this very reason.
13. DO YOU HAVE ANY EXPERIENCE WITH SITE BUILDS AND/OR MIGRATIONS?
? "That's not really our thing"
? "Yes, we worked on a site build for a client a few months ago…"
Why: A 'no' to this question isn't necessarily a dealbreaker, depending on whether or not you need a site build or a migration and on how well they can evidence their capacity to execute one. But SEO projects, particularly in the local area or the startup space, do often involve starting from scratch. A 'yes' to this question isn't just a sign of experience, but an indicator that they have a certain level of technical know-how.
14. HOW DO YOU HANDLE MULTILINGUAL SEO?
? Panic!
? "It depends on which markets you're looking to target, but we have an multilingual in-house team, a network of translation specialists and are experienced with hreflang"
Why: Again, this question might not apply to your specific business, but it's a good way to catch out agencies with a low level of technical knowledge. Even an agency that doesn't have experience with multilingual SEO should be able to give you a basic breakdown of how hreflang works.
15. WHO ARE YOUR COMPETITORS?
? "We don't pay attention to the competition, we focus on ourselves"
? "In our niche as digital PR-based SEO specialists, there are a few companies we keep an eye on"
Why: Regardless of what industry you're in, it's bad business sense to not have an awareness of your competition. We'd argue this is particularly true in SEO, which is such a wide and interconnected network. To be the best, you've got to compete with the best. The best SEO agency will therefore not be intimidated by its competition - it will trust that its own approach and processes are superior.
16. WHICH SITES DO YOU THINK DO SEO WELL?
? "Um– ah… uh…"
? "We really like the approach taken by…" Bonus points if it's in your niche!
Why: The biggest side effect of becoming a specialist in SEO is that you can no longer look at any website without analysing its site structure and digital strategy. You notice the clunkers and you definitely notice those who have a highly original or creative take. Any agency that doesn't have an answer to this question simply isn't paying attention.
17. HOW IS YOUR APPROACH DIFFERENT FROM EVERY OTHER SEO AGENCY?
? "SEO is pretty simple, really. We just carry out this checklist and Bob's your uncle".
? "We are most well-known for our in-house experiments, which go on to inform our strategies, and for our inventive digital PR campaigns"
Why: Good SEOs never rest on their laurels. Search doesn't look the same as it looked five years ago, and it won't look the same five years from now. Constant innovation is key, which results in many of the best SEO agencies developing unique methodologies to set themselves apart.
18. WHAT KEYWORDS DOES YOUR WEBSITE RANK FOR?
? "We don't have time to optimise our own site"
? "We're constantly working to improve our rankings and currently rank on the first page for both commercial and informational queries"
Why: If they can't make their own website rank, how exactly are they supposed to help you? The only reason that a talented SEO team wouldn't be able to work on their own site is time constraints, which could indicate their internal resources are already stretched to the limit before you even begin working with them.
19. HOW DO YOU CONTRIBUTE TO THE SEO COMMUNITY?
? "We stay out of all that"
? "We conduct in-house experiments observed by top SEO industry figures"
Why: Don't trust an SEO that doesn't trust the SEO community. Why? Because, with no in-depth guidebook on how search engines really work, SEOs have to rely on each other for news, tips and advice. Plus, the community includes industry insiders like Google's Search Advocates, who are in regular communication with SEOs on platforms like LinkedIn, Twitter and Reddit, answering questions and providing insight into the mysterious inner workings of the world's most popular search engine.
20. DO YOU ATTEND ANY SEO CONFERENCES?
? "No, they're a waste of time"
? "We love conferences! They're an invaluable resource for meeting other SEOs and swapping expertise."
Why: Remember what we said about SEOs being geeks? Well, conferences are like Geeky Glasto. It's a rare opportunity for the aforementioned well-integrated SEO community to meet in person and learn from the best and brightest in the industry. Many agencies clamour to get their team members tickets to summits like BrightonSEO, LondonSEO XL and Women In Tech SEO so they can learn new skills and raise the company's profile a little in the process.
21. HOW DO YOU STAY UP TO DATE WITH INDUSTRY NEWS?
? "Nothing ever really changes"
? "It's a combination of our professional network, publications like Search Engine Journal, podcasts and social media"
Why: "Nothing ever really changes"... Does this agency live under a rock? Are their offices in some sequestered underground bunker? While it's true that some of the fundamentals of SEO - such as a strong backlink profile, great content and proper keyword targeting - will likely always be important, search engines are constantly overhauling their services, from algorithm updates that catch low-value content to completely changing their analytics features. If SEOs aren't reading industry news, whether through online publications or social channels, they risk falling light years behind their competition.
22. WHAT'S YOUR FAVOURITE PIECE OF SEO CONTENT YOU'VE READ RECENTLY?
? "I can't think of one"
? "I read this fantastic article the other day - let me send it over!"
Why: This obviously ties in with the previous question. There is fresh SEO content to be read every single day - whether that's industry news, a hot topic of discussion on socials or recently published SEO experiments conducted by a cutting-edge agency. We're not saying that all of it is of value, in fact a lot of it isn't, but your potential provider should at least be able to cite an industry figure whose content they admire, preferably with a recent example at hand.
23. WHO WILL BE MY MAIN POINT OF CONTACT FOR MY ACCOUNT?
? "We'll all be working on your account collectively so it'll change depending on who's doing what"
? "Your account will have a single point of contact who'll update you with everything you need to know"
Why: There are two possible explanations for not having a central point of contact when working with an SEO agency: the first is that you're working with a small team who might not have the capacity to deliver campaigns at scale; the second is you're working with a large team that is completely disorganised. Most experienced agencies will streamline communication as much as possible so that you know who to ask your questions to and to ensure they get answered quickly by someone 'in the know'.
24. HOW OFTEN WILL WE BE COMMUNICATING?
? "I'll send the monthly report over and that should be enough"
? "As often as you like! We usually have regular, scheduled check-ins with our clients on top of the monthly reports, but we're always available to answer any questions you have"
Why: In our experience, every client has different communication needs. We work with businesses that take a very hands-off approach; they want to outsource their entire operation to us and as long as their investment is paying off, they're happy. Others want to be as involved in the process as possible, maybe because they've had a negative experience with an agency in the past or they want to make sure that everything we do is in line with their branding. It's important that SEO agencies aren't forcing you to remain at arm's length.
25. WHAT DO YOU NEED FROM ME?
? "Just let me do my job"
? "We'll need your insight to help us understand your proposition, brand values and target customer, as well as the following access to your website"
Why: If an agency doesn't at least ask for access to your CMS, you're likely dealing with an amateur operation. Forget about 'streamlined processes', their processes probably don't even exist yet! Additionally, every facet of both on-page SEO and link-building must be driven by your customers and your brand. A competent agency might therefore ask you to complete a questionnaire, look over any branding documents you've produced or have a separate call discussing your target users in depth.

Obviously, not all of these questions will be relevant to every business looking to hire an SEO agency, but the key to not getting hooked in by a less-than-competent provider is educating yourself. We hope this list helps business owners avoid getting trapped into an unprofitable - or worse, detrimental - professional relationship. If you'd like to hire an SEO agency with a proven track record of maximising results for both local and global brands through innovative, white-hat tactics, contact us today.