The Businesses People Are Most Interested in Working At
Ever wondered what the most sought after jobs are? Well, we wondered the same thing. Which is why we have crunched the numbers to find out which companies people most want to work for. As an award-winning SEO agency, we're well-versed in using Ahrefs' keyword search tool, and so we were able to hone in on a variety of terms searched by people who were looking for their next opportunity in the workplace. We then ranked the world's leading companies by the volume of global searches that they have attained.
The Top 10 Businesses People Are Most Interested in Working At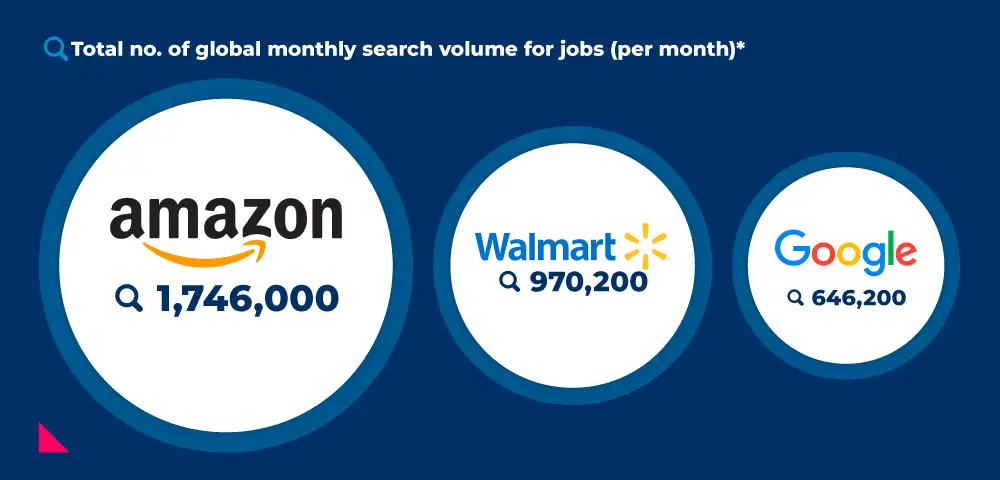 1. Amazon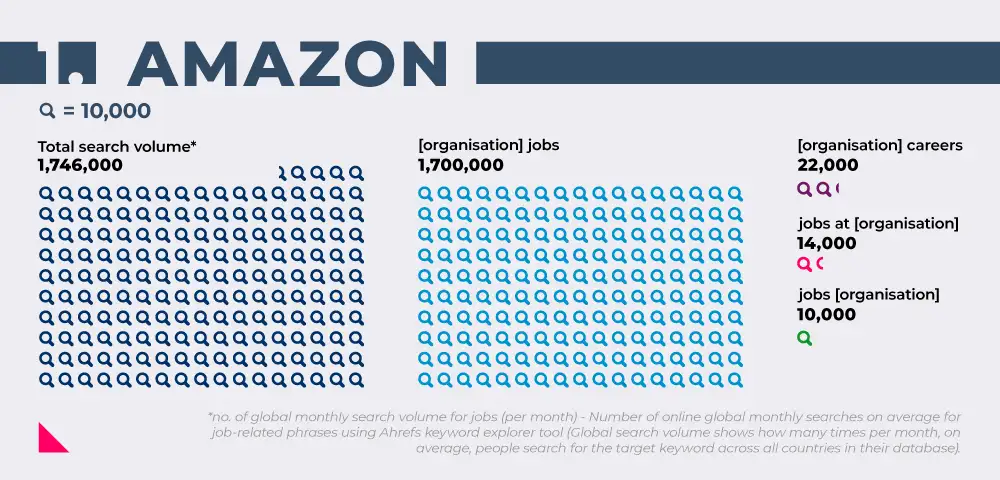 Founded in a garage in Washington state, Amazon is the undisputed king of online shopping. Such is the sheer size of Amazon, they ship out approximately 1.6 million packages every day, which totals 569 million each year. Given Amazon's status as a market-leading company, it is no surprise that so many people are keen to work for them. Per month there are 1.74 million searches in relation to gaining a job at Amazon. This means that there are over 40 people searching for jobs at Amazon every single minute.
Amazon has faced criticism in the past for the undue pressure it puts on staff and unpleasant working conditions. However, the company claims that they are always making strides forward to improve the working environment within its warehouses. Recently, they rolled out a new safety and injury prevention program to reduce accidents in the workplace.
2. Walmart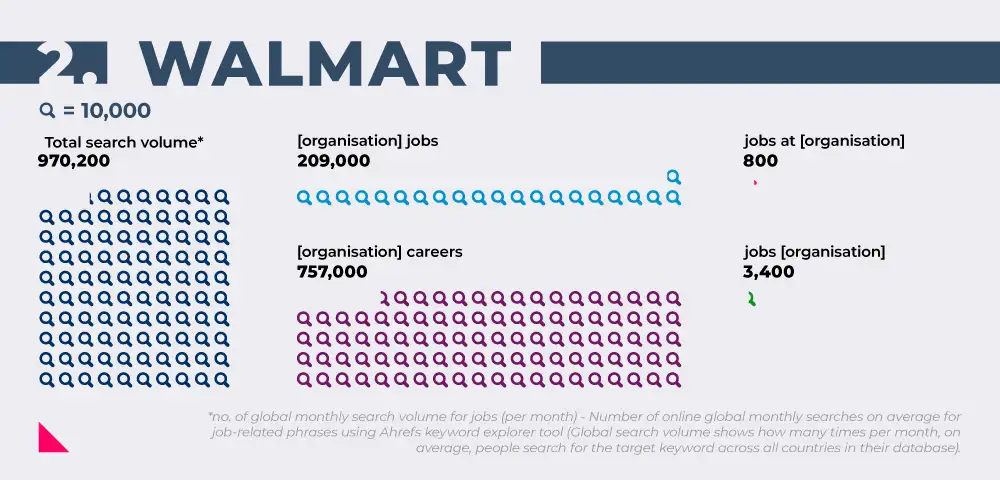 Walmart is second on our list. The quintessentially American company operates 4,742 stores stretching as far south as Miami to as far north as Anchorage. It also oversees local shops and supermarkets in the UK, South America, Central America and China. Walmart's reach means that there are 97,200 searches for jobs at the company every month. Jobs at Walmart range from running the cashier, selling and preparing fresh food, and being a store manager.
3. Google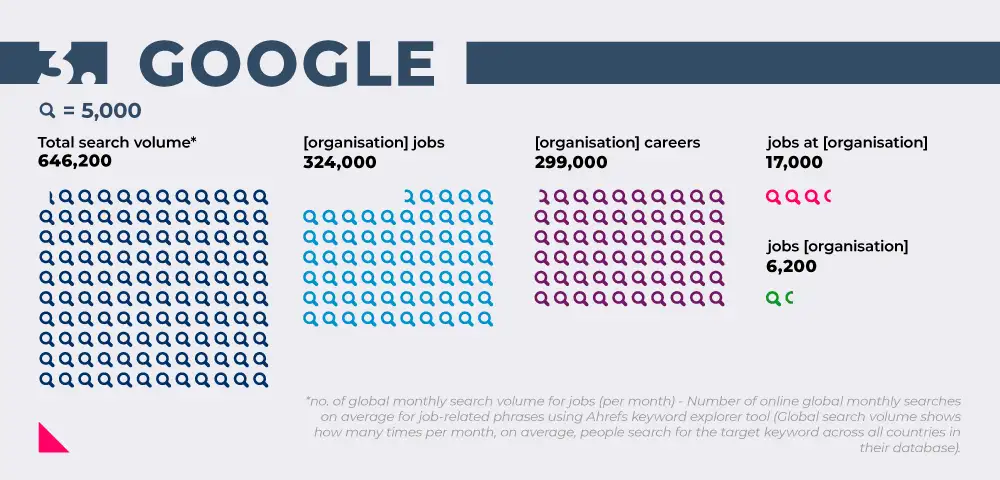 We all know Google. The search giant, found in 1998 in California, has dominated the internet. So it's no surprise that people are curious about job opportunities there, ensuring it landed in third place on our list. There are over 640,000 searches for employment at Google every month and, as Google receives over 80% of online searches, the majority of people will be searching for jobs at Google through Google.
4. Target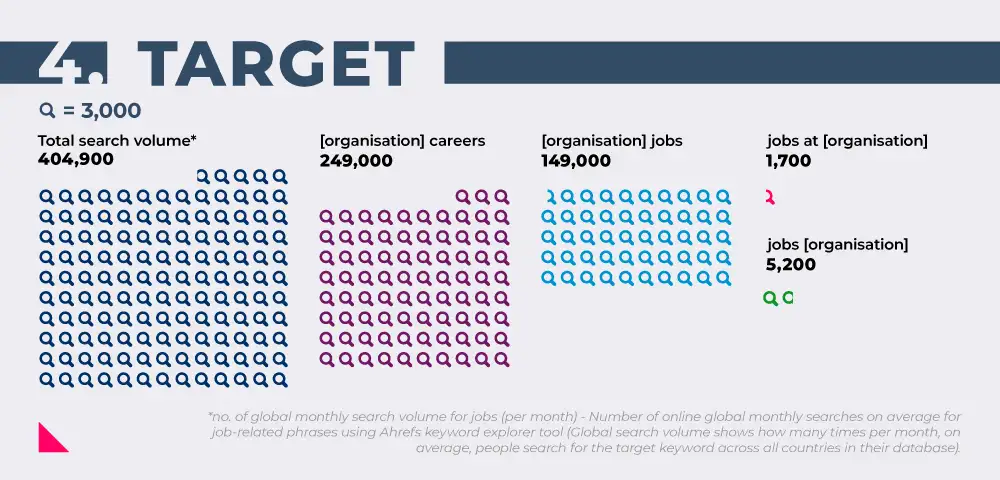 Target is perhaps a surprisingly high entrant on this list. They are the seventh largest retailer across the USA, with little presence elsewhere on the globe. Target has a made name for itself by offering affordable prices in accessible locations. They have also embraced online shopping in the wake of the rise of Amazon. Target has invested substantially in improving its delivery services, with the aim to always offer same-day delivery for customers.
The breadth of the job opportunities available at Target means that there are 404,900 searches a month from people looking to work at Target. In total there were 249,000 searches for a career at Target, whilst there were 149,000 searches for a job.
5. United Parcel Service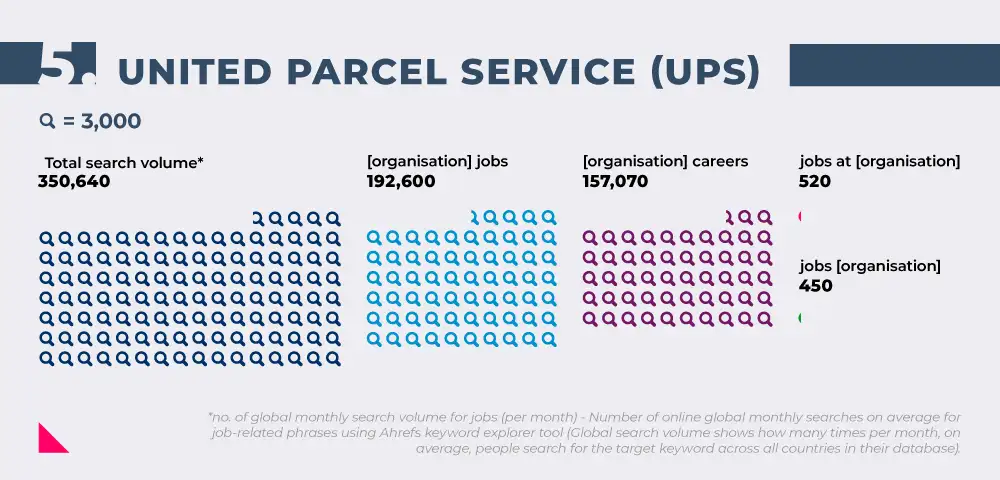 The United Parcel Service, formerly known as the American Messenger Company, used to specialize in posting telegraphs. These days UPS can shift almost anything, to any location all over the world. On top of this UPS also has stores across the USA that assist customers in shipping their goods, as well as offering printing, shredding and passport photos. Typical jobs at UPS include working in a warehouse to load up trucks or working as a delivery driver.
In all, there were 350,640 monthly searches from people hoping to gain a job at UPS. 157,070 people were looking for a career, whilst another 192,600 were simply looking for a job at the company.
6. Apple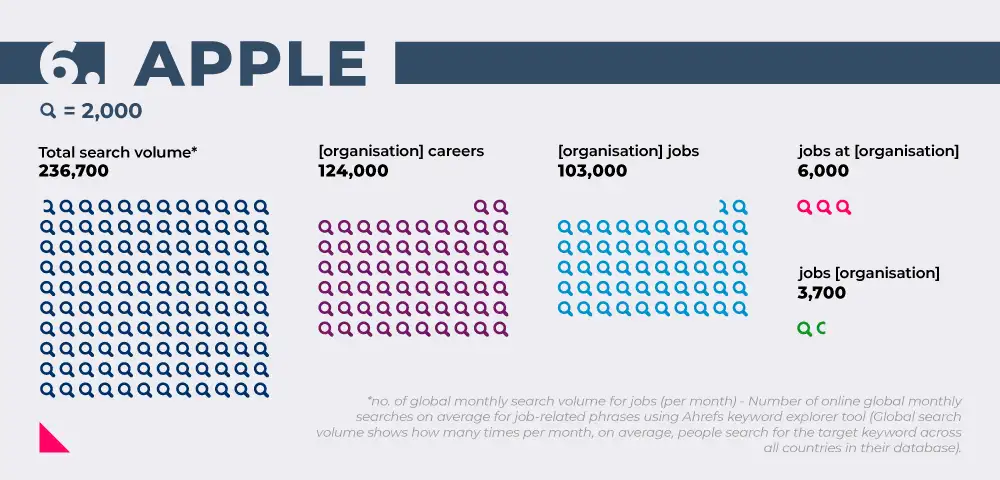 Steve Jobs, the MacIntosh, the iPod, the iPad. Apple's illustrious history is one of the best-known stories in business, thanks in part to Danny Boyle's 'Steve Jobs' film which delighted cinema-goers in 2015. Apple today is the largest technology company by revenue, making $365.8 billion in 2021. What has made Apple so successful is not just the range of products it has been able to dream up over the years, but also that its brand name is synonymous with excellence and intuitiveness.
Over the course of a month, there are 236,700 searches for a job at Apple. Of those 236,700, 124,000 people are looking for a career at the California-based corporation.
7. Tesco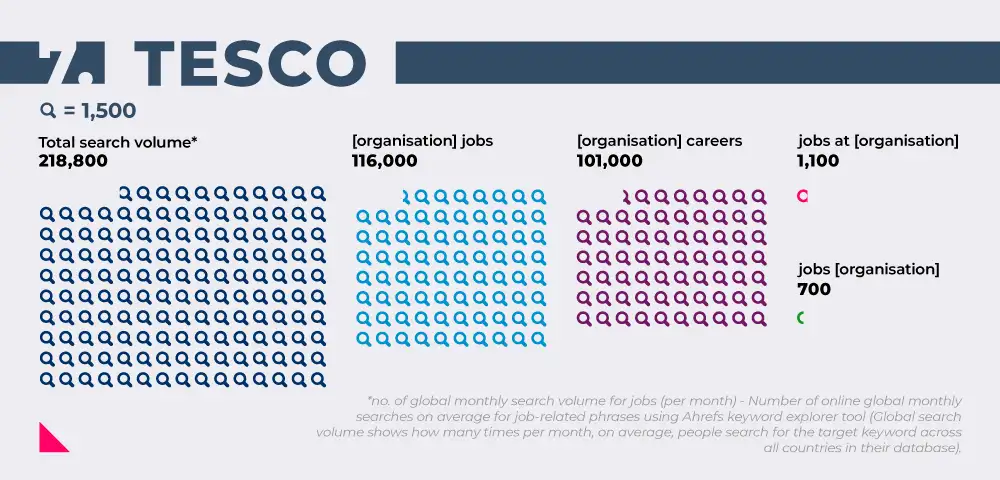 Tesco is a UK icon—from superstores to small newsagents, they have everything you might possibly need and more. They've also made the leap into international waters, opening up stores across Europe, Asia, and the USA.
218,800 searches are made for employment opportunities in Tesco each month, with 116,000 of those being specifically for jobs, and 101,000 looking for careers.
8. Meta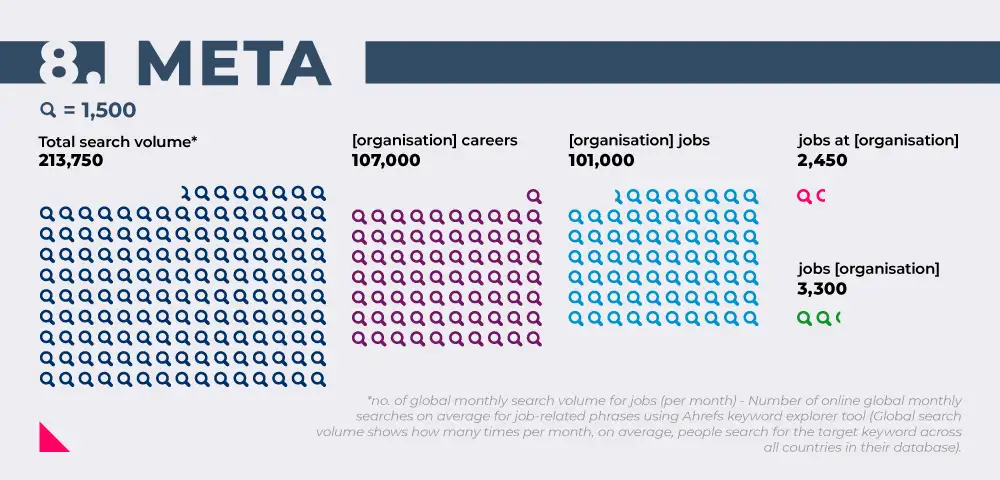 Coming in at eighth is Meta. Formerly known as Facebook, Meta rebranded itself in 2021 as an attempt to distance itself from the Cambridge Analytica scandal. Meta is the parent company of well-known apps such as Whatsapp, Instagram and Facebook. Currently, much of the company's efforts are being ploughed into building up the Metaverse, an integrated online environment within a 3D world. Something that Meta's CEO Mark Zuckerberg is the natural next step for the internet.
Meta's lofty ambitions have resulted in 213,750 searches a month from people hoping to work for them. In all 107,000 searches were made for a career at Meta, whilst there were 101,000 searches for a job.
9. FedEx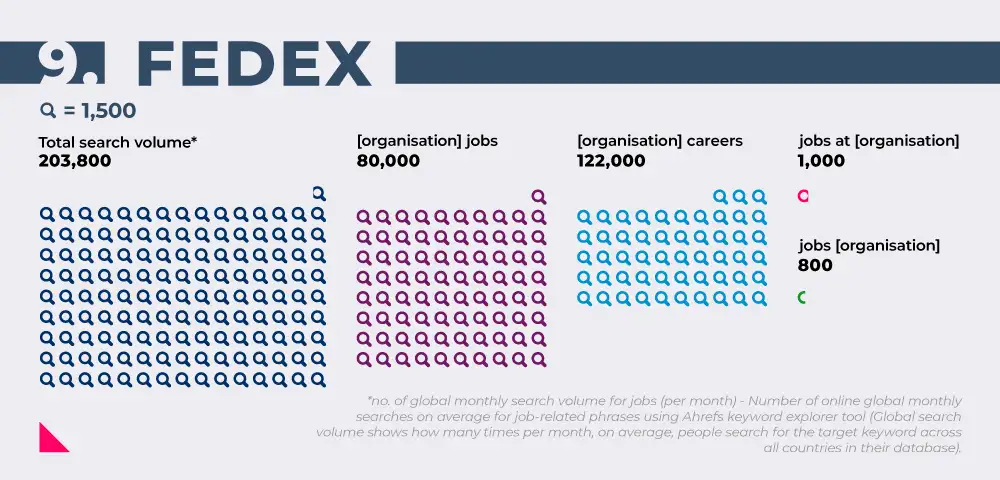 Four places below their arch rivals UPS, FedEx is ninth on our list. The Federal Express Corporation to give the company its full name was founded in 1973. Since then it has become a multinational corporation that specialises in the transporting of goods as well as offering an e-commerce service. The brand features prominently in the 2000 film Cast Away which sees Tom Hanks' character stranded on a deserted island following a crash in a FedEx plane.
Clearly not perturbed by the Oscar-nominated movie, there are 203,800 searches per month for jobs at FedEx. Of those searches, 122,000 were from people looking for a career at FedEx.
10. Costco Wholesale
Founded in Seattle, in 1983, CostCo has since become the fifth-largest retailer in the world. With its warehouse-like stores, Costco has come to specialise in prime beef joints, organic foods and rotisserie chickens. Costco's success has been largely down to its rather unique membership system. Only members can shop at Costco. Thanks thus to the fees the company gains from membership it is able to keep the price of its goods low.
Every month there are 200,250 searches for jobs at Costco, with 82,450 people looking for a longer-term career at the company.
Battle of the Tech Giants: Data Reveals the Big Five Tech Companies People Want to Work For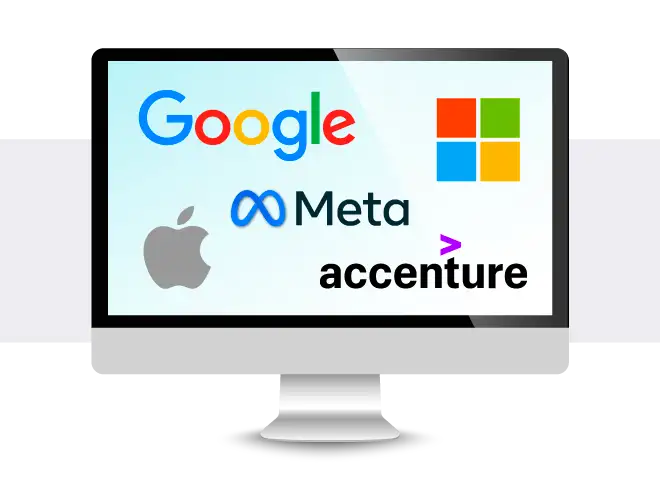 Four of the 'big five' tech companies have made our top twenty list of the companies people most want to work for, whilst three of them finished in our top ten.
It was only Microsoft, who were unable to breach the top spots. Microsoft's headquarters remains outside of Silicon Valley, instead situated in Washington, something which may affect how appealing it is to work for. Also, Microsoft's reputation as a more functional, perhaps more boring, company may mean that it is a less attractive proposition compared to more outwardly innovative rivals such as Apple or Alphabet.
Amazon's position as the most sought-after company is likely down to the diversity of roles that exist within the company. It can offer jobs for professionals, who are interested in developing and creating technological services. Whilst at the same time, they hire thousands if not millions of delivery drivers and warehouse workers, who may be looking for a more short-term commitment.
Not Looking for Just a Job, but Ready to Start a Career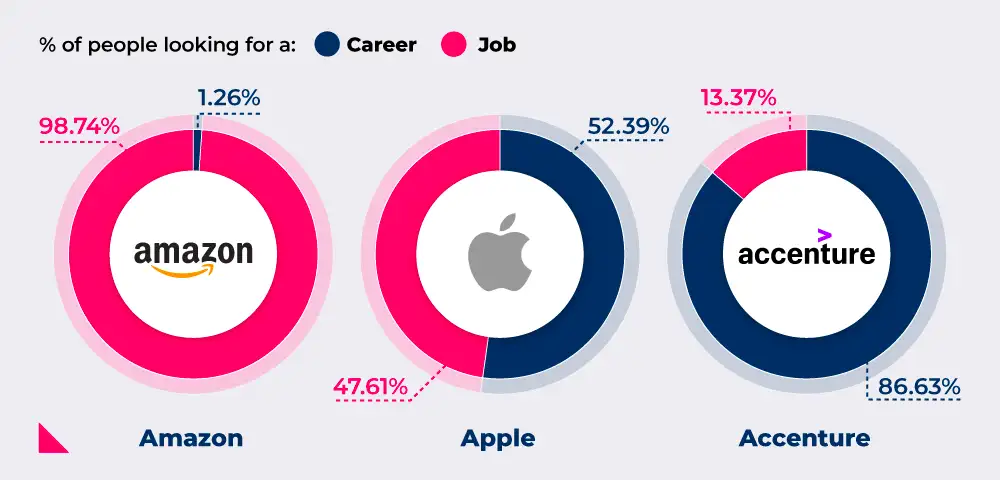 The differing ways in which people search for their desired employer show a lot about what they want from their job. Some are looking for a position that will simply help them pay their bills, whilst others are looking for a stable career that apart from just offering an income will also deliver a sense of purpose and fulfillment.
The organisation where this disparity was most evident was Amazon. Amazon was top of this list when it came to overall searches, yet just 1.2% of those searches were for a career at eCommerce giant. This indicates that people do not see their long-term future at Amazon. It also suggests that many of those in search of jobs at Amazon were looking for more of lower-paid roles such as working in a warehouse.
At the other end of the spectrum, Accenture was the company with the highest proportion of searchers looking for a career as opposed to a job. Accenture is an Irish-American firm specialising in information technology and consultancy. They assist other businesses, giving them strategy and leadership advice. Given the fact exists very much in the world of white-collar work it is no surprise that people hoping to catch the eye of Accenture are looking for a long-term career.
Methodology
1. Local SEO company Reboot sought to determine the companies with the most searched for job vacancies online.
2. First, a seed list of the biggest business organisations in the world were collated using online reputable sources, Statista.com - World's top companies, Statista.com - Leading UK brands, and companiesmarketcap.com.
3. Subsequently, each organisation's name was inputted into the Ahrefs* keyword explorer tool, followed by relevant key terms: '[organisation] jobs', '[organisation] careers', 'jobs at [organisation]' and 'jobs [organisation]' to gather the average global search volume per month.
4. Business organisations with no available data were omitted from the study.
5. The total number of global monthly searches for the above phrases were then amalgamated for each organisation.
6. The total number of global monthly searches was ranked in descending order, crowning the organisation with the most searched for online job vacancies overall.
7. Finally, the top 20 results were presented in the final table.
8. The data was collected on January 16th 2023 and is accurate as of then but subject to change.
*All online search volumes extracted from Ahrefs are monthly global searches which show how many times per month, on average, people search for the target keyword across all countries in their database.