Case Studies: Google Manual Action Penalty Recoveries
Company Name: UK PHA – Public Health Association
Penalty Symptoms: Complete loss of ranking for the majority of profitable keywords resulting in an overall 90% loss of traffic overall and 98% loss of traffic from Google.

The Cause: UK PHA contracted out their SEO to one of the largest SEO agencies in the UK. For over 3 years, they did not really have much to complain about and just let the SEO Company do its thing. Mr Liscombe, IT manager at the company said:
"At first things were fine. Although we never really seen any major increase in traffic, we were lead to believe that is completely normal. In hindsight, we should have kept a closer eye on what they were doing but at the time we just thought they are the experts so let them get on with it. One day the phones went quiet and i mean really quiet. Even marketing calls stopped. The MD asked us to investigate further and check our site. I was shocked to see that we did not appear on Google for our main keywords; we weren't even ranking for our own company name. We contacted (removed) who said it was just a temporary 'glitch' and everything should be back to normal in a week or two. 3 months later, our phones have now pretty much ceased ringing altogether and things were getting desperate. We contacted the company again, this time demanding a meeting. (Removed) declined our requests and started to get quite rude with us on the phone saying that they are not responsible for Google's actions. At this point, the relationship deteriorated and we decided to contact Reboot for a second opinion. We were shocked with what they found. It seems that this company used every dirty trick in the book to build spammy links to our sites. We found dozens of porn sites carrying links to our site, as well as forum spam links and just the worst type of links anyone could imagine. It was not a Google "glitch" as they claimed, but rather a very serious Google penalty we were under."
Action Taken: After diagnosing the cause of the ranking drop as a Google Penalty, we started work on recovery. It was clear there were 2 main problems with the site: 1. Spammy low quality links 2. Unnaturally concentrated anchor text profile To tackle the problem, we decided on a two prong approach. One person will be in charge of removing as many low quality links as possible, and the other will be in charge of coming up with a high quality link building methods to increase the authority ratings of the site. 4 weeks after we begun work, we documented the before and after link profile of the site, clearly demonstrating the removal of a large proportion of spammy links the other SEO company built and filed a Google Reconsideration Request.
The Results: 2 weeks after the reconsideration request, we received this message in our Google Webmaster Tools account: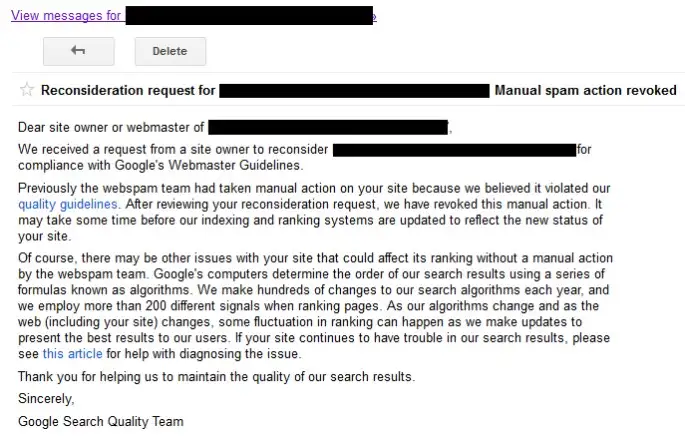 3 days later, ranking have started returning to normal and in some cases, probably due to the new high quality links we managed to gain, much better positions were attained.

Mr Linscombe adds:
"We can't thank Reboot enough for their monumental effort in helping us remove this penalty from our site. I really think that without their decisive action, we would have had to close down within a short period of time."
Update: We are pleased to announce that UKPHA have awarded Rebootonline.com their SEO contract.
Lessons to be learnt:Don't be afraid of asking questions. If the SEO agency are doing everything naturally and are proud of their work, they should be nothing but happy to answer all of your questions. Don't wait until it's too late. As soon as you detect a problem, deal with it. Waiting 6 weeks before taking decisive action can sink your business.
Final Thoughts: Yes, Google ranking sometimes jump about in what is commonly known as the "Google Dance" which is believed to be caused by algorithm changes or updates. Sometimes, a site can disappear completely from the rankings but only for a few days maximum. Often returning at a higher position than previously held (See below image). As a guideline, if your site has lost rankings for more than 1 week, start asking questions.
Always make sure you have access to your Google Webmaster Tools account and monitor it frequently. If you are not sure how to do that, ask us or your current SEO agency. Any manual action penalties or problems with your link profile and Google will notify you there.