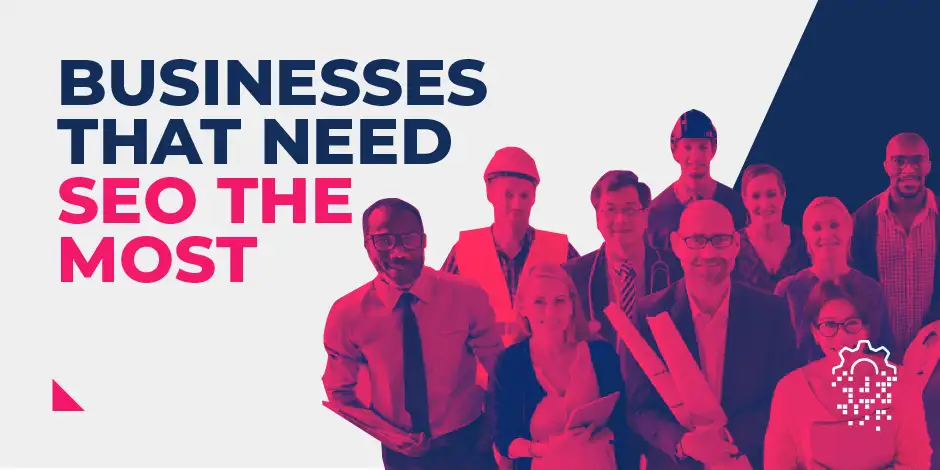 There's only so much room at the top, and some industries' SERPs are looking a little crowded.
Hiring an SEO agency is becoming more and more of a 'must' for businesses of all kinds with every passing year. Optimising your website for search is one of the highest-ROI marketing strategies you can use - up to 12.2 times your marketing spend - and the benefits of SEO speak for themselves. As far as we're concerned: if you have a website, it should be optimised.
However, there is no denying that in some cases, SEO is a make or break factor in the success of a business - particularly if the website is the business. If we had to choose, these are the nine businesses that benefit the most from SEO.
1. Startups and small businesses
Convincing early-stage startups and small businesses to invest in SEO is a bit of an uphill battle. We get it: the purse strings are tight, and many are put off by the initial cost of SEO services and the timeframe for results to start showing. These are completely reasonable concerns.
That being said, it's important to remember that if you choose the right agency, SEO pays for itself multiple times over. This is especially true with startups and small businesses. There are two critical things that companies of this size need that an SEO agency can provide: high growth and customer data.
The golden rule of starting a business is that you need to meet an existing need in the market. If you've done this bit right, it stands to reason that there are search engine users already looking for a business like yours. Wouldn't it be nice to know more about their pain points or the questions they're asking about your product or service?
SEO gives you this information on a silver platter, ready to be used to structure not only your site, but your offering. Combined with the amount of additional business you can generate from having a well-optimised site, this puts you in a position to reap long-term rewards and secure future buy-in from investors.
2. Professional services
Let's face it, if you're trying to rank for "law firm" or "financial advisor", you've got your work cut out. For every B2B client in every location typing these terms into the search bar, there are pages and pages of results that all fit the bill.
"What's the point, then?" we hear you ask. "If everyone is competing for the exact same term, what difference does it make?"
Well, you have to be in the game to win. SEO is anything worth doing in life: the more competition you have and the more pressure is on, the more work you have to put in. Professional services companies have got their work cut out, which is exactly why they need the very best SEO agency they can find to make their site the very best it can be.
Professional services businesses that need to invest in SEO services ASAP include:
Solicitors
Accountants
Financial advisors/planners
Architects
Technology
3. Service providers
B2C service providers are faced with a very similar problem as their professional services counterparts: an overabundance of competition. They also stand to gain the same benefits as a small business, including improved visibility, long-term revenue increases and more footfall to brick-and-mortar locations.
If you are, for example, a plumber, estate agent, pet grooming service or landscaper, you are already competing with every comparable business in your local area based on word of mouth. The same is true on search engines, where the overwhelming majority of both online and in-person transactions begin. If you've been losing business, there's a good chance it's because people are searching for your service and finding your competitors.
Beyond the local area, if you are able to provide services remotely - as is the case with, for example, a therapist, designer or insurance company - optimising your website could open up entirely new channels of business for you.
The good news is that SEO projects for service providers are, generally speaking of course, quite straightforward. The basic types of SEO services you'll likely be looking at are:
Technical SEO
Landing pages
UX optimisation
Link-building
4. Blogs
There's no getting around this one. If your blog is a business, then traffic is your currency. You can't get away with having a poorly-optimised website.
Blogs are a bit different to the rest of the entries on this list in that content isn't a means to a greater end of selling a product or service. Content is both the product and the service. However, the same principles apply: you have to meet the needs of your audience. In this case, your audience is search engine users.
It may not be strictly necessary to hire an entire agency to optimise your blog. This is the one area where you might actually catch us recommending DIY SEO - everyone else, steer clear. Depending on the size of your blog and how successful it already is, it is likely to be a much smaller site than an eCommerce or a law firm's domain, and can potentially be managed alone or in collaboration with a freelancer.
No matter what kind of blog you are, there are a few important things to bear in mind:
Indexation: No matter what, you need all your pages to be indexed by Google and other search engines, or they might as well not exist. In fact, as far as their search engine is concerned, they already don't.
Keyword targeting: You still need to be responding to user queries, so you'll need to have some means of identifying keywords - either through free keyword research tools like AlsoAsked or AnswerThePublic, or paid ones.
Competition: You won't just be competing with other blogs. You'll be competing with any site that has published content on the same topic, including high-DA sites like online newspapers and magazines.
The most important things to have in order, therefore, are:
Technical SEO
Keyword research
Content optimisation
5. eCommerce
eCommerce is one of the most competitive industries in terms of SEO. If you're the webmaster of an eCommerce site and you're not already working with a professional SEO agency… Frankly, what the hell are you doing?
Not only do eCommerce sites face a huge amount of competition on SERPs, but they are also often some of the biggest and most complex SEO projects agencies handle. Whatever you do, do not try this at home. This is a job not just for a pro, but the pros.
Some of the many, many services eCommerce SEO projects entail include, but are by no means limited to:
Technical SEO
Keyword research
Metadata optimisation
UX optimisation
SEO copywriting
Category page production
Landing page production
Product descriptions
Link-building
Digital PR
… and all of this for potentially hundreds of pages.
When done well, eCommerce SEO is game-changing. After all, this is definitely a case where the site is the business, and there are as many opportunities to attract traffic as there are products on your site.
6. International and multilingual sites
Yeesh, where do you want to start?
Do you really fancy translating (or hiring a translator for) thousands and thousands of words of content across your whole site for every location you're targeting? Yeah, we didn't think so.
Luckily, international and multilingual SEO exists for this exact purpose: to save webmasters countless time and money by automating the translation process with a nifty little HTML attribute called 'hreflang'.
Of course, there is much more to international SEO than just this. There is all the standard technical, content and backlink-related kerfuffle that needs to be placed in the care of an SEO specialist, particularly if there's a large amount of work to be done.
There is keyword research to be done in each language, competitors to be analysed in each country, localisation efforts to be completed, pages to be optimised before they can be translated, international publications to be contacted with content and digital PR campaigns that are relevant to each territory and–You get the picture.
It's a lot of work. You need an agency.
7. News sources
For online newspapers and magazines, SEO is not just a matter of optimisation but of survival. That may sound a little dramatic, but there is a very simple reason behind this: monetisation.
How many articles have you read over the last decade or so about the death of print journalism? How many of your favourite news sources have to hide their content behind paywalls to make ends meet?
Those publications that have opted to keep their content free to access rely heavily on advertising for revenue. But for the adverts to pay off, that content needs clicks. That's where SEO comes in.
There's an art to SEO for journalists because, unlike other entries on this list, users aren't looking to be sold to. They're looking for expert comments and information, usually both topical and time-sensitive. Because of the fast-moving nature of the industry, news SEO also works a little differently – less emphasis on keyword targeting, and more on domain authority and UX.
Nonetheless, it's still SEO – keywords or not. Getting to the top of SERPs, where the overwhelming majority of clicks happen, is a financial non-negotiable for an industry that has been disproportionately affected by the digital revolution.
8. Local businesses
There once was a time when local businesses could rely exclusively on their reputation to grow their business. Barbara would tell Fred, who'd tell his barber, who'd tell his brother, who'd pass the news along to his dentist or coworker that you were the best business of your kind in town.
Technically, word of mouth is still a thing. It just goes by the name of Google Reviews or inbound links nowadays.
It's a grave mistake for local businesses to undervalue their online visibility. Search engines and apps have brought a heightened sense of convenience to end-users, making them significantly more likely to spring for something easily accessible online than to go to the trouble of shopping local.
However, search engines don't have to mean the death of local businesses. SEO can be leveraged to reach and persuade these end-users to pay you a visit or access your products and services via your website instead. Did you know that:
If you're not doing local SEO, imagine how much business you are missing out on.
9. Enterprise
You'll be hard-pressed to find a single successful enterprise company that doesn't work with an SEO agency - usually, a similarly established one - on its website. Enterprise businesses have similar challenges to eCommerce sites when it comes to SEO: lots and lots of pages.
The more built-out and complex the website, the more opportunity there is for issues like duplicate content, broken links and content cannibalization to fly under the radar if you're not working with a specialist enterprise SEO agency.
But it's not all about spotting problems and doing technical repairs. From an SEO perspective, enterprise websites are a huge, exciting challenge, as they're usually super competitive.
Enterprise businesses are often competing with a small number of similarly high-authority domains for the top spot on search engines. In case you haven't spotted the main trend in this list so far, the more competitive a niche is, the more critical it is to have excellent SEO.
In addition to making sure all the technical aspects of the website are ticking over nicely - or preferably more than nicely - and the content is properly optimised, enterprise websites benefit massively from digital PR campaigns. When done well, these campaigns can provide that extra boost to your site's DA (domain authority) needed to pip the competition to the post.
10. Travel-sector companies
There are two sides to the SEO story in the travel industry.
On the one hand, you've got independent travel businesses—this can be anything from tour operators to airlines, car rental companies, hotels and taxi services. At the moment, these companies rely on online travel agencies (OTAs) like Booking.com and Expedia for a large part of their revenue. The problem is, this also comes with high fees.
On the other hand, you have the OTAs themselves—both established and emerging—who are fighting to retain or grow their market share amid growing sophistication from their independent competitors and ever-changing customer demands.
Either way, travel-sector businesses have to deal with a volatile and highly competitive market. Additionally, travel SEO is extremely specialist, requiring knowledge of:
The unique buyer-traveller customer journey
Google Travel Insights
Local SEO
Mobile SEO
Image optimisation
On-site micro and macro conversions
… to name a few.
Hiring the right travel SEO agency will help you achieve your business goals. SEO can help independent travel businesses disintermediate from OTAs and generate a greater percentage of their revenue directly through their website, and it can help OTAs maximise their visibility in a highly competitive space.
11. iGaming and Gambling
Online gambling is a peculiar industry in SEO. It is simultaneously one of the most highly-regulated industries in the world, and one that is rife with shady black hat SEO tactics.
Gambling SEO comes with a long list of challenges, including (but not limited to):
Differing marketing regulations worldwide
Link spam attacks
Dynamic content
Site speed issues
Crawlability
Difficulty getting good backlinks
International and multilingual SEO
'Nofollow' backlinks
Many of these challenges are very unique to the gambling industry, and it can therefore be tough to find good SEO advice online. This leaves plenty of space for SEOs who don't really know what they're talking about to swoop in and abuse their clients' trust.
Robust knowledge of both technical SEO and link building, in particular, are required for gambling and iGaming SEO.