Why Digital PR Should Be Part of Your Marketing Strategy
Like the anti-vaxxers and the corona hoaxers, there seems to be a new strain of SEOs who seem to be keen to downplay the effectiveness of Digital PR as an important tool in any SEO's arsenal.
It's worth mentioning that most of those people tend to be SEOs or SEO agencies that have yet to offer this service themselves or master its process properly. And like with any conspiracy theorists, it's near impossible to convince them otherwise no matter how much evidence you put in front of them...
Coupled with the fact that most clients are not happy with their Analytics data being splashed on social media, it means that Digital PR companies are easy targets as they normally have their hands tied behind their backs when defending Digital PR as they often can't show real-life data on a public forum such as LinkedIn or Twitter.
So, I decided to write this post as a short case study
My first task is to select a client that I know would not mind being featured, as well as one that is not too big so as to minimise other channels causing traffic increase claims or too small so as to subdue claims that the investment is not worth it for the traffic gained. So, I picked Savoy Stewart - an SME commercial estate agent.
So why did I pick Savoy?
Even small amounts of traffic increases result in large increases in leads.

Those leads are incredibly valuable and can often end up with multimillion-pound commercial deals.

They are a low spend client. Although not the smallest, they are near the bottom of the spend bracket. We carry out around one campaign a quarter. So, a realistic budget which most small/medium businesses can afford.
Another difficulty in any case study such as this is the like everything else SEO-related, you can easily mitigate and claims by retorting with "yeah, but what about XXXX..." where XXXX can be substituted with a million words such as UX, Updates, Speed, Content, Social media etc.
And there is some truth to that which is why I would point out that Digital PR is still only one component of SEO. It will never be and never should be the ONLY component. If you have a crappy site, with terrible UX, bland content, no lead generation and terrible technical SEO then there is no amount of Digital PR that will make your site rank.
So, to the case study:
Savoy approached us for Digital PR in 2019. They used a specific commercial estate agent SEO agency prior which never had any impact on their ROI. Endless meaningless reports claiming great gains but when you actually analysed the most important metric, conversion from traffic all those years of SEO work produced nothing.
This is quite a good example as the site was not terrible, the technical SEO was not bad and the content was also ok. The one big thing the other agency could not do is generate great quality organic, earned links. When we were selected to be in charge of Digital PR, we made our recommendations (as any responsible agency should) about all the other aspects but agreed to carry on with the Digital PR campaigns.
This was back in May 2019.
Our task was to create as many campaigns as we could with the allocated time allowed so on average, we created one campaign a quarter. Sometimes, if the campaign did not require too much data or research, we would be able to get two campaigns in that quarter. In addition, as we do for all of our clients, we always have our ears close to the ground listening for reactive opportunities that we can jump on and generate more coverage.
Here are some sample links achieved from those campaigns: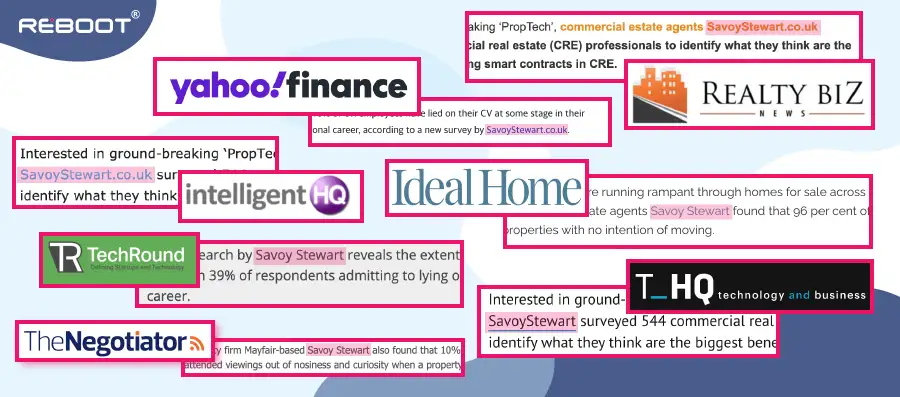 You can see a more general view of the increase in links after the initial drop which was caused by the previous SEO agency removing the paid PBN links when Savoy left them:
It's worth noting that this is not a huge increase in links. We are not claiming to have achieved hundreds of links with each campaign. In fact, the average link count for each campaign was about 10 – 15 links. But the important thing is quality.
Instead of the usual years that preceded it, where the link growth was made out from directories, spammy press releases, and the odd PBN link here and there, our links were high quality, earned, organic and very authoritative from nationals, regionals and most importantly niche-specific sites.
View the links we get for our clients on a daily basis via our placements page.
Here you can see some other high DR/DA referring domains from Ahrefs:
Ok so all this can be verified and please feel free to go through the link profile and have a look. The results from a links-gained perspective are good considering the minimal pace and budget. What is important is the fact that we achieved the client some amazingly high authority sites such as Independent, TechHQ, Ideal Homes, Yahoo, MSN and more. What is also quite important when considering the results of a Digital PR campaign is that the type of links is mixed.
High authority links from general newspapers are great for general authority, but lower DA but more "niche" sites are the real fuel of your ranking. Simply put, nothing beats a good authority link from a relevant site.
The results of that campaign?
A visibility increase from 700 to 5000:
And now for real organic traffic results for those who do not trust numbers from SEMrush or other sites that use visibility/rankings to predict traffic:
Now you just can't argue with this. A small/medium London commercial estate agency, dominating in the top3 for very important terms competing with huge companies such as Knight Frank and Savills.
Can they do more? Yes, of course they can.
There are always ways to further improve traffic and the potential in that industry is huge but its all about selecting your battles on the budget you have. If this budget increases and we start combining it with other aspects such as authoritative content hub creation, improved site functionality, lead generation, UX, case studies, FAQs and lots more, then we could really push further to get the most out of the link profile we are already creating.
To argue that the site would show gains as it did without Digital PR-generated links is just foolish in my opinion. Yes, there are other ways to produce great links for a site and Digital PR is not the only way, but if you need a continuous flow of links in an organic way that you can scale, then Digital PR should be high on your list.