Why a Digital Marketing Agency can be the Perfect Place to Launch a Career in Content Writing
As with many creative industries, the world of content writing is a competitive one.
With everyone from seasoned professionals to established freelancers and aspiring graduates vying for opportunities, it can often feel as though you're spending more time applying for work than honing your craft.
When faced with such competitiveness, it's only natural that many aspiring writers may feel compelled to accept the first full-time role that comes their way. While any opportunity to get your 'foot in the door' should be welcomed, it's important that your first job is one that allows you to learn the fundamental skills required for a successful career in content marketing.
Working for a digital marketing agency can be the perfect option for content writers seeking a more diverse working life than you'd expect to find in an industry-specific role. Offering the opportunity to write for a range of clients and work on a variety of projects, working for an agency combines the diversity of freelance life with the security of full-time employment.
WHAT IS A DIGITAL MARKETING
AGENCY?

A Digital Marketing Agency is a company that specialises in several marketing components under one umbrella. Whereas many companies employ their own in-house marketing, PR, and content teams, agencies offer businesses the opportunity to outsource these key practices to a company whose primary focus is to provide digital marketing expertise.
As such, digital marketing agencies tend to work not just for one company but multiple for businesses across a variety of different industries. If you are a content writer working for an agency, then you can expect to be working for numerous clients rather than one specific company.
THE BENEFITS OF WORKING FOR
A DIGITAL MARKETING AGENCY
AS A CONTENT WRITER
Despite the obvious problems facing many businesses since the emergence of COVID-19, digital marketing agencies are continuing to thrive. A report covered by YouGov found that 71% of agency owners have seen their demand for content rise significantly throughout the pandemic.
With the industry going from strength to strength, here are some of the key benefits of working for a digital marketing agency as a content writer.
NO TWO DAYS ARE THE SAME
While working in an industry-specific position comes with many benefits, writing about the same subject every day can become repetitive. Although this may not be a problem if you're working in your dream industry or for a company that requires a diverse range of content, the lack of variety can be stifling for a creative mind.
When working for a digital marketing agency, you'll have no such concerns. Life at an agency will see you working for a variety of brands and companies across many different industries.
With so many different topics, themes, and audience requirements to get to grips with, agency life will seldom be dull.
DIVERSIFY YOUR CV
Relevant experience plays a key part in many employers' hiring decisions. A survey referenced by UCAS showed that two-thirds of employers look for relevant work experience when hiring graduates.
With such a wealth of clients, writing for a digital marketing agency allows you to gain experience across multiple different industries.
While working in-house can be perfect for gaining expertise in a particular industry, it leaves little room for you to build content writing experience in other fields of interest. This is hardly a problem if you're deadest on pursuing a career in a specific sector, but it can be limiting for those who are either looking to change fields or unwilling to commit to a sole industry.
For writers who are undecided on their long-term career path, working for a digital marketing agency will give you ample opportunity to find out which subjects you enjoy writing about most. With demonstratable writing experience across numerous industries, you'll have many avenues open to further your career in whatever sector appeals to you most.
The cross-client exposure garnered at an agency can be just as valuable for pursuing freelance work too, with your diverse CV making you an in-demand freelancer across many different industries. With a portfolio of industry-specific work to show prospective employers, you'll put yourself way ahead of the curve!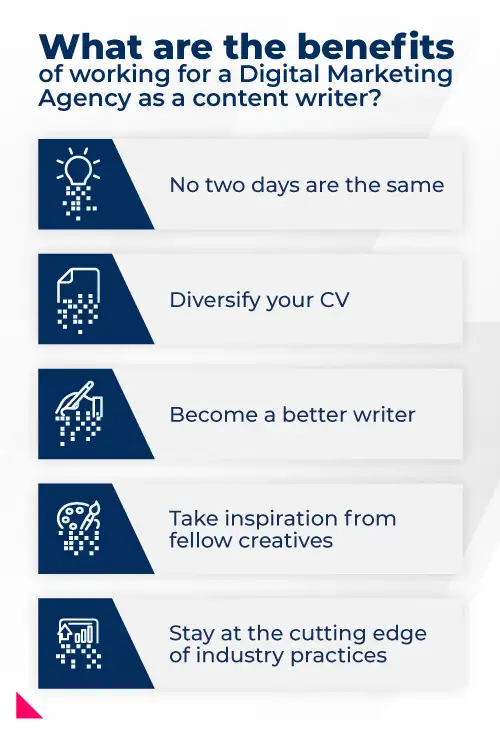 BECOME A BETTER WRITER
There are few things in life better for developing any skill than putting yourself out of your comfort zone. Writing is no exception, where the challenges posed by new styles, audiences, and subjects can force you to adapt and evolve as a writer.
Working in the multi-client world of a digital marketing agency will allow you to write for a variety of different audiences, often within the same day! With the required style, structure and, tone of voice likely to change with every brand, agency life can have a profound effect on your versatility as a writer.
These sentiments were echoed by Reboot's own content writer Sean Rainforth, who said:
"Working for a digital marketing agency has exposed me to a variety of clients, who all demand something slightly different. This challenges me as a content writer to make sure my writing is adaptable, creative, and innovative. It has helped me to become more analytical in my writing and dig deeper into the data behind the studies."
CREATIVITY BREEDS CREATIVITY
As well as the diversity of your work, marketing agencies provide a unique opportunity to work alongside numerous experts within your field.
Unlike in-house positions, where the digital marketing team will make up a small portion of the overall workforce, working for an agency will mean you're surrounded by colleagues who are either doing the same job or working in another role relevant to the digital marketing process.
The general quality of agency writers is backed up by evidence. A report carried out by Target Internet and the Chartered Institute of Marketing found that agency staff outperformed their inhouse contemporaries in numerous aspects of digital marketing, including content writing.
With such a diverse range of clients and so many talented writers collaborating in one place, marketing agencies can be the perfect place for your creativity to thrive.
STAY AT THE CUTTING EDGE OF THE INDUSTRY
For many companies, digital marketing can be seen as a necessary evil rather than a labour of love. If you're working for an in-house brand with a blasé approach to content marketing, then you could find your own skills being left behind by archaic practices.
For a digital marketing agency, providing quality, innovative content is intrinsic to their success as a business. Where some companies may treat digital marketing as a secondary concern behind product development, agencies have no such option.
After all, delivering excellent digital marketing is the agency's product and with such a single-minded approach, you can be sure that your employers will do everything in their power to keep you up to date with the most modern, effective content writing practices.
WORK WITH LIKE-MINDED PEOPLE
There is no doubt that your relationship with colleagues can have a huge impact on the enjoyment of your job. Whereas a strong, social bond with workmates can profoundly increase your job satisfaction, a lack of colleague rapport can sour even the most engaging occupation.
A study published by the Institute of Leadership and Management found that a huge 77% of workers considered their relationships with colleagues to be a key factor in determining job satisfaction. While finding like-minded colleagues can sometimes feel like pot luck, there are some working environments where the likelihood is increased considerably.
At a digital marketing agency, you'll be working primarily alongside people who are either doing the same job as you or working in a role that's directly relevant to yours. While nothing can guarantee colleague rapport, working in an office full of fellow writers and creatives will mean that you have one major thing in common right off the bat!
With so many like-minded people working towards a common goal, agency life offers an unrivaled office atmosphere that can be continued in your social life.
FINAL THOUGHTS
Beginning a career in content writing can seem like an overwhelming prospect. With so many different avenues to pursue, it's important to find a role that allows you to develop your skillset without compromising your passion for writing.
Writing for a digital marketing agency gives you the perfect platform to build a successful career in content writing. While some people eventually move onto in-house roles, many others are reluctant to leave behind the fast-paced excitement of multi-client writing.
If this sounds like you, then you're in luck! While agencies can be great for new starters, they can be equally perfect for taking your content career to the next level.
With such a unique focus on marketing and content writing, working for a digital marketing agency can be an amazing opportunity for writers at any stage of their career.