According to pewinternet.org, '72% of online adults use social networking sites' and businesses are increasing using social media platforms to 'interact with their customers.'
Connecting with the global market has never been easier. With numerous benefits such as, optimising your company's growth, expanding your clientele base and boosting your company's efficiency; social media has become an essential facet for most modern day businesses. Your social marketing team's performance can consequently have a significant impact upon the company's success. To optimise the effectiveness of your social media outlets, it is important to examine the relationship of SEO and Social Media.
Why Social Media?
Effective form of recruitment: Social media platforms such as LinkedIn allow employers to search for potential candidates for vacancies. The option to view skills, expertise and prior working history of applicants can aid in refining your search when multiple applicants apply for a position. Others, who have worked with the individual can 'endorse' a skill, giving their professional accreditation or can leave a comment about their experience working with that individual. According to LinkedIn 2015 Data, '94% of recruiters make use of LinkedIn' and '77% of candidates use the platform to research companies.'
Promotion of a product, service or company: With a large, instantly accessible database of potential clients; increasing brand or merchandise awareness has never been easier. Competitions encourage client interaction, and promotional offers can help to push a product and increase sales. Increasing exposure also has a ripple effect, in that shares, likes and even word-of-mouth can cause others to view your business and products also, encouraging more traffic to your website and the potential for more sales.
Honing in on your target market:Learning and developing your business is a constantly evolving skill. Market trends and consumer tastes may change, technological advances may occur and having analysed your personal customer buying trends, you may be able to hone in on a more specific target market to maximise potential sales. When companies identify the relevant target audience, it is easier to then provide relevant, useful and referable information. SEO content writers are then able to create material which will be of direct interest to clients and media profiles (businesses, press, blogs, journals etc.) and create high quality links, boosting your company's ranking in search engines such as Google.
Examples of good social media profiles
Helpful content – The retailer, Sainsbury's have included a reminder, 'Mother's Day Sunday 6th March' on their cover photo.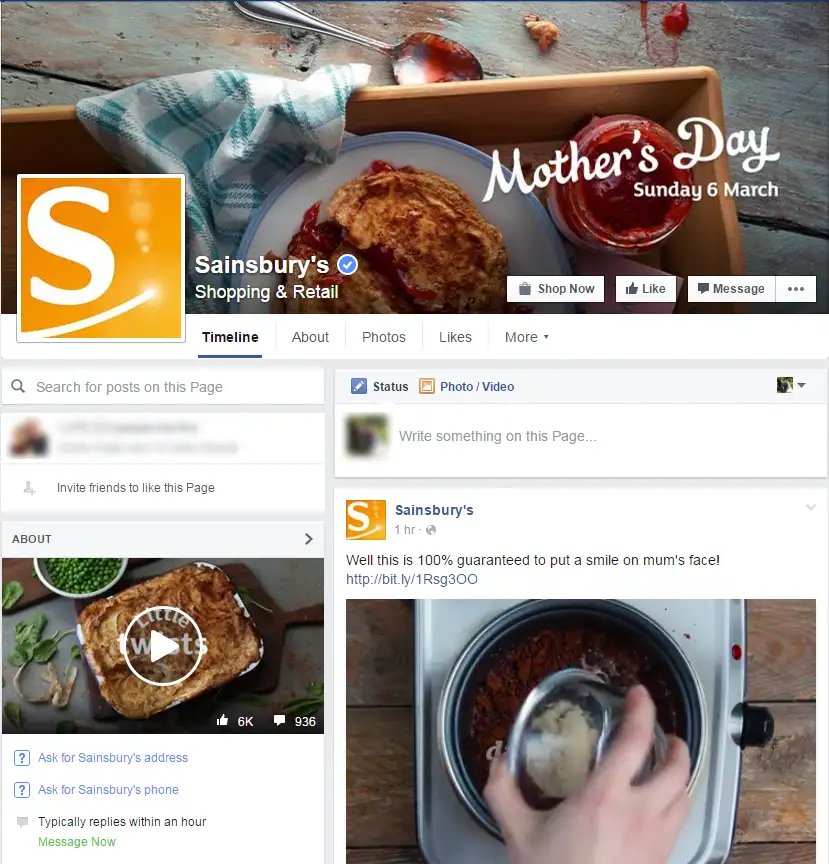 This information is beneficial for customers, who may have forgotten the event was approaching and to Sainsbury's as a retailer, who may benefit from last minute shoppers. It also promotes a sense of loyalty, as customers will likely return to the page for future updates and to the shop, to buy their mother's a gift. The fact that Mother's Day is being 'advertised' so to speak, gives the customer a good inclination that Sainsbury's will have gifts suitable for the event.
Providing your customers with good content – Sainsbury's marketing video, 'Super Indulgent Hot Chocolate' gives viewers a simple step-by-step guide as to how to make their mother's a delicous treat. The finished product is visually pleasing and lists products that are available in store.
Image Credit: facebook.com/sainsburys
Interaction with customers: Facebook's analysis of Cow and Gate's response time has merited a badge claiming that the company is 'very responsive' and 'typically replies within minutes.' Customers are more likely to trust a brand if they believe they are going to get a good service from the customer care team. Recent posts also show an active presence.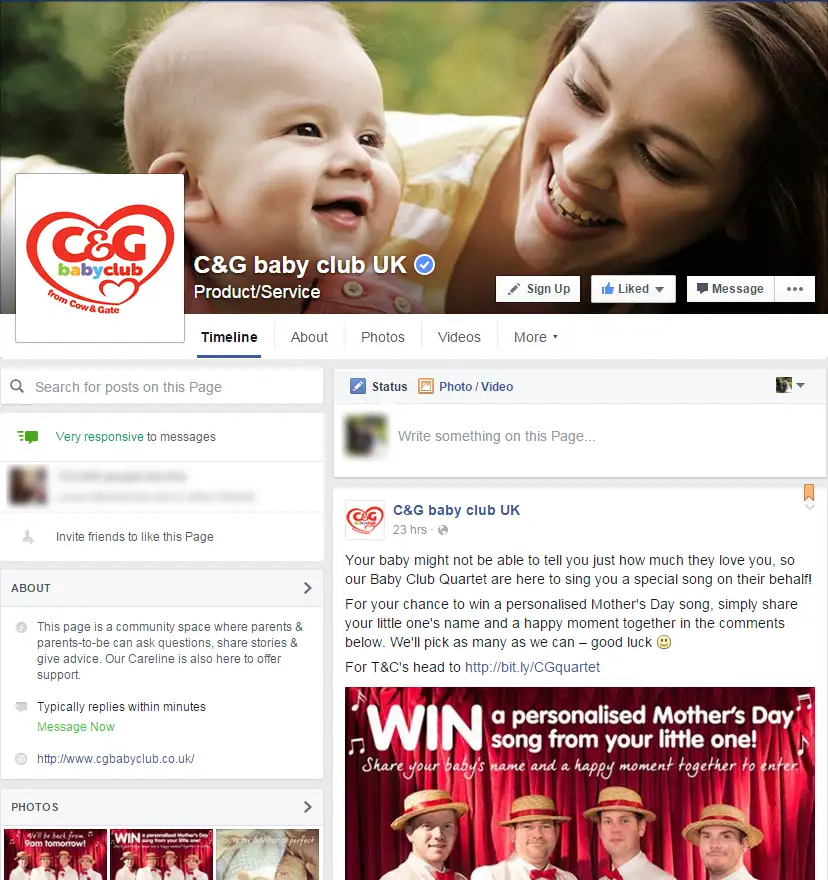 Their inclusion of a competition on the page encourages customer interaction, especially owing to the fact that they've chosen to have multiple winners. Most competitions encourage shares and likes, which increases the company's online exposure.
Image Credit: facebook.com/cgbabyclub/
Relevant Content: Keeping your company's content clean and professional makes for easy reading and gives the impression of reputability.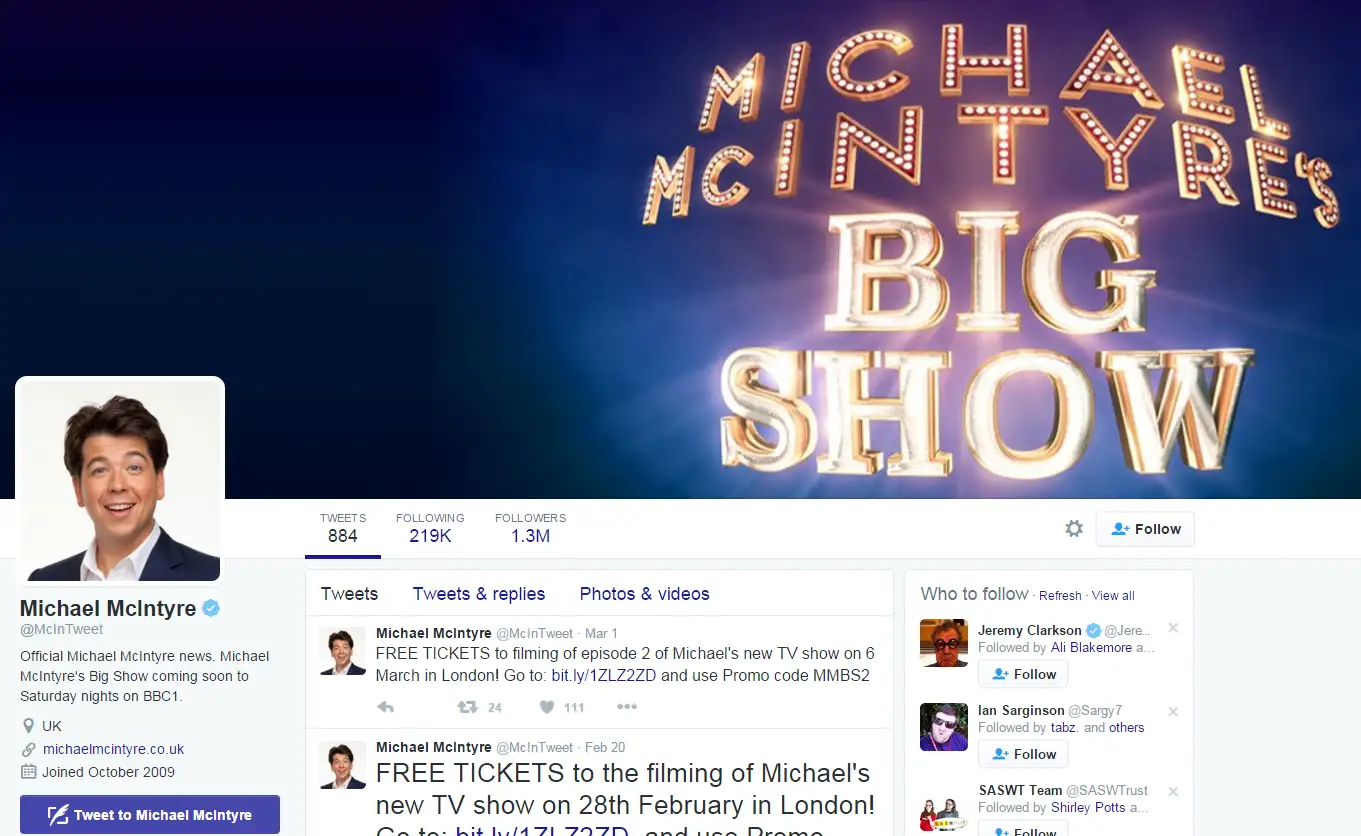 McIntyre's biography section is kept sucinct, informative and provides a link back to his official site. The cover photo is not overly distracting and his profile picture has is clean in appearance.
Image Credit: twitter.com/McInTweet
Which is the best social media platform for your business?
Choosing which social media platform is best for your business will depend on which sector your company is in. We've taken a look at the features of each platform and which business sectors they may be relevant to. Before choosing multiple platforms, employers should consider the capability of their marketing team. Would it be better to invest all of your effort into one that is specifically relevant to your company, or choose multiple?
Videos, photos, written files, updates and company events can all be publicised through Facebook. It is therefore relevant to all businesses and is an effective way of increasing exposure to your business and products / services, especially owing to the fact that it has the largest quantity of active online users. You should therefore attempt to offer high quality content frequently. The feature of comment boxes allows for customers to ask questions or voice their opinions. There is also the option for customers to send a private message, which others cannot view. It is therefore essential that any query or complaint is responded to efficiently, effectively and sensitively.
If your business deals in food, fashion or lifestyle; visual content is a sure avenue to pursue. The art of photography can aid in the creation of powerful marketing campaigns. For example, the slow-motion footage, used in M&S adverts, of their food and beverages encouraged the perception of their produce being of a high quality. Once a day, sharing either a short, high quality video or a photo can aid in the creation of product awareness. This is also prevalent for personalities.
The use of hashtags allows for people searching for a particular term to find your post more easily. Instagram also allows for the instant sharing of the same post on multiple social media platforms for increased exposure.
Whether an individual or a large business, Twitter can be beneficial to most online users if utilised correctly. The platform allows for content to be shared, networks to be built and the increase of product or brand awareness. Topical conversations that are relevant to your industry are also of interest. You should therefore attempt to maintain an active presence by tweeting regularly (ideally daily). With the option to schedule tweets in advance and to stockpile your content, a wider global audience, in different time zones, can be targeted.
LinkedIn is especially useful for recruiters, jobseekers and business to business providers.
As an individual, you can build a profile of your skills, experiences and previous job roles. An employer can then view your profile and see whether professional contacts have endorsed you for skills directly related to their person or job specification for a particular role. Whether a business or individual, you should keep your profile clean and professional. Genuine, professional contacts are sought after.
Why SEO?
SEO tools allows for the analysis of company profiles, so that the correct companies can be targeted and high quality links can be gained. Poor links can actually be detrimental to your company's profile Creating quality material is simply not enough in the modern day world of marketing. In order to rank in the top few search results of a search relating to your company, you must know how to optimise the effectiveness and relevancy of your content. Whether creating title tags for your post, making use of SEO meta descriptions or making use of keywords which may appear in a search engine's results page; those who are trained in SEO will be able to help optimise your company's ranking.
Why is this important?
Internet users in the modern world expect relevant content quickly and easily. Users rarely click on links beyond the first few positions in the search results. The more traffic and clicks your business receives, the more likely you are to boost your sales. The results are quantifiable and identify areas for improvement. Through the use of Google Analytics, SEOs can track which search terms are ranking well and which are not. Inexperienced in-house teams sometimes overuse anchor text and target companies which could be damaging to their site. Not only could this lead to a drop in your ranking, but duplicating content, buying links and other such mistakes can leave you open to a Google Penalty and a hefty fine.
By marrying the two disciplines together (social media and SEO), you not only optimise your company's ranking and your brand's awareness; you also do so in an efficient and steamlined manner. Competent SEOs are always aware of cutting edge innovations, programmes and Google updates, allowing them to be one step ahead of most in-house teams and recreational bloggers.