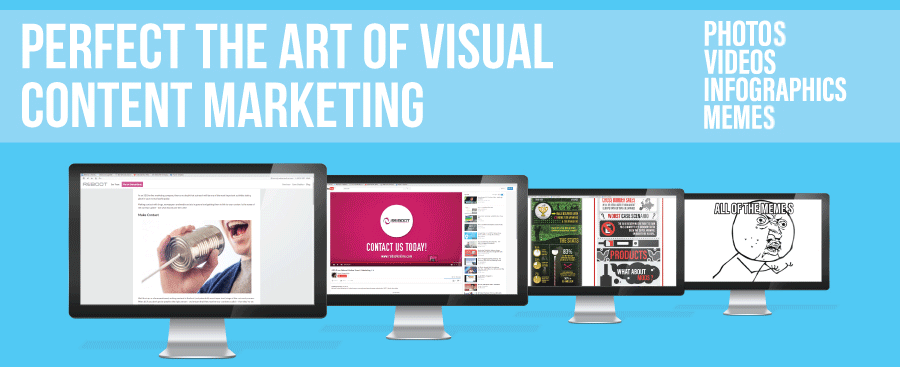 In today's day and age, embarking on an online content marketing campaign can be make or break to a business. If your business is hot on content, you will know there is a strong emphasis on the success a business can generate against its content. Whether you have a blog, produce articles for publications or produce your own data led projects, a content campaign can produce an unprecedented online growth and a positive engagement from your audience.
The strategy of using visual aids to communicate your brands story can be done in a number of ways. Considering 90% of information transmitted to the brain is visual, it's about time you went outside of the box when curating content, fit for an online audience. Infographics, videos, unique images and graphs are just some of the popular ways to market and brand your content. It will automatically make your content authoritative for its field as it's easier to read whilst on the go. Those who use infographics can sustain a growth in traffic of 12%, compared to those who don't use infographics. High quality infographics are read 30 times more than text only blog posts.
So in an era of digital technology, visual content is the way to go and it has become a pivotal role in landing brand success. Considering, 65% of people are visual learners the psychological resonance stands strong.
Here are some of the ways you can perfect the art of visual content marketing!
Images
Articles with images are the ones that receive the most amount of shares and traffic to a site. 94% of articles that contain images are the ones that notoriously do better, claims Marketer Jeff Bullas. Attention span has in recent years become shorter than ever and it makes it even more prevalent to have content that is split up with a decent amount of unique and relevant images. It is always advisable to either source your own images, or create images that represent your content. If you find it difficult producing your own images, you can find ones which are free to re-use or purchase an image bank account, such as iStock or Shutterstock.

Infographics
Infographics are an exciting way to amalgamate data into one medium. It is an easier way to represent complicated data in an informative and easily tangible way to understand. When designing an infographic, it is integral that you do not rely on the cheap online services to automate/create an infographic. If you can, hire a graphic designer; someone who has the ability to imagine what it is required. They understand how to combine colours, lay out the infographic in a user-friendly way and ensure it receives the positive feedback it deserves!
Infographics remain the easiest way to stand out against the crowd. Nowadays, embed codes make it easier for other publications, bloggers and journalists to share your infographic, with a direct credit to its source, in the form of a link. Not only will it increase traffic to a site, it will engage an audience outside of your immediate field.

Videos
According to recent statistics, 700 YouTube videos are shared every minute on Twitter and the power of video sharing has grown substantially. Research reveals that having a video embedded in an article increases conversions by 86%. Rand Fishkin from Moz, had also found that articles with videos receive nearly 30% more inbound links, than articles without videos.

Memes
Memes may have been coined by Richard Dawkins in 1976, but memes have become recently popular with humorous captions and jokes. It may be worthwhile creating your own set of memes for content that would fit the bill. Memes have a part to play in content marketing, as they are fantastic ways to gain traction online and can therefore be shared many times over; with direct link back to the article it came from. Memes are a quick and easy way to represent visual content in a funny way that will attract attention and engagement. Remember, if you use a meme, bear in mind your audience. If your brand or article type suits a younger demographic, memes may be a much more inviting way to read an article, rather than using graphs and data.

Finally…
Use social media to stream and optimise your online visual content! The rise of Instagram is undoubtedly benefiting businesses and how much their visual content is seen, shared and liked. Owned by Facebook, the photo sharing platform has quadrupled its monthly active users since 2013. By the end of 2015, Instagram announced it had reached 400million users globally and 14million are based in the UK alone. The data collected by Global Web Index identified that 200,000 brands were using the platform every month to advertise.