The Love Island Effect: How Contestants Grew their Instagram Overnight
Digital footprints are everything. Our obsession with having the most followers on Instagram is continually growing and the way we interact with social media is changing.
One area that has seen notable changes is the job market - the term "social media influencer" has on average 2,600 searches a month – a shocking and growing revelation that the demand to work within the social media realm is on the rise.
Over the past few months, most of the nation cleared their diaries from 9pm to enjoy yet another series of Love Island – breaking records for viewership figures and we have our winners.
But why were we so glued to the show? What is it about the Love Island effect that left us feeling hooked and compelled to watch? Is it the controversial recouplings, unexpected love triangles or the personalities of the Islanders who entertained us for eight weeks of the summer?
Arguably yes. But there is so much more to consider. Their potential social influence is mapped out for them from the very beginning. The cast and crew behind the ITV2 show know exactly the kind of person they're after – someone who will give back. Each Islander has their social media following trawled as well as their day-to-day job analysed for maximum effect. After all, Molly-Mae Hague was a classic example of this, as she described her job as a social media influencer and had 268,000 followers already when she entered the villa on day 4.
All in all, the show's 36 contestants rose to prominence in the British media, irrespective of how long they were in the villa for and for some Islanders like Molly-Mae, Tommy Fury, Lucie Donlan and Anna Vakili, their Instagram growth left them with millions of followers when they left – improving their prospects for permanent brand collaborations. For example, Tommy Fury secured 1 million followers first on day 16, and his now-girlfriend Molly-Mae thereafter on day 21.
Why were we interested in the Love Island effect?
As social media influencers grows, reality television shows such as Love Island continue to cash in on the potential return contestants could give back.
And it's this social media phenomenon that intrigued the

social media team at Reboot Online

to conduct an eight week long study into how each Islander grew their Instagram following overnight.
As part of our social media marketing strategy, we were particularly interested to identify the exact moments each Islander grew in followers – indicating potential future success.
The purpose of our research was to highlight their organic growth over time, and how this initial influence would pave the way for unprecedented reputational and monetary success, before they begin paid-for posts, and advertising gifts and discount codes.
Methodology
To exemplify the variety of long-term research projects we do as a digital marketing company, our digital PR and social media experts worked alongside each other for the duration of the series (eight weeks) to conduct a social media study, tracking Instagram followings for all 36 Islanders.
Upon hearing who was initially entering the villa, we noted down their Instagram following before the start of the show. As soon as the launch episode (3rd June) aired, we took readings again. Thereafter, we measured followers every Monday night episode, at every recoupling, dumping and significant events which took place, such as Casa Amor, and all new Islanders were included.
We noted down: their name, Instagram handle, day entered, social media following the first episode, day dumped/won and finally their social media followers once the show ended.
Our motive was to illustrate the Islander that had the highest percentage increase from beginning to end and how many followers they gained in total.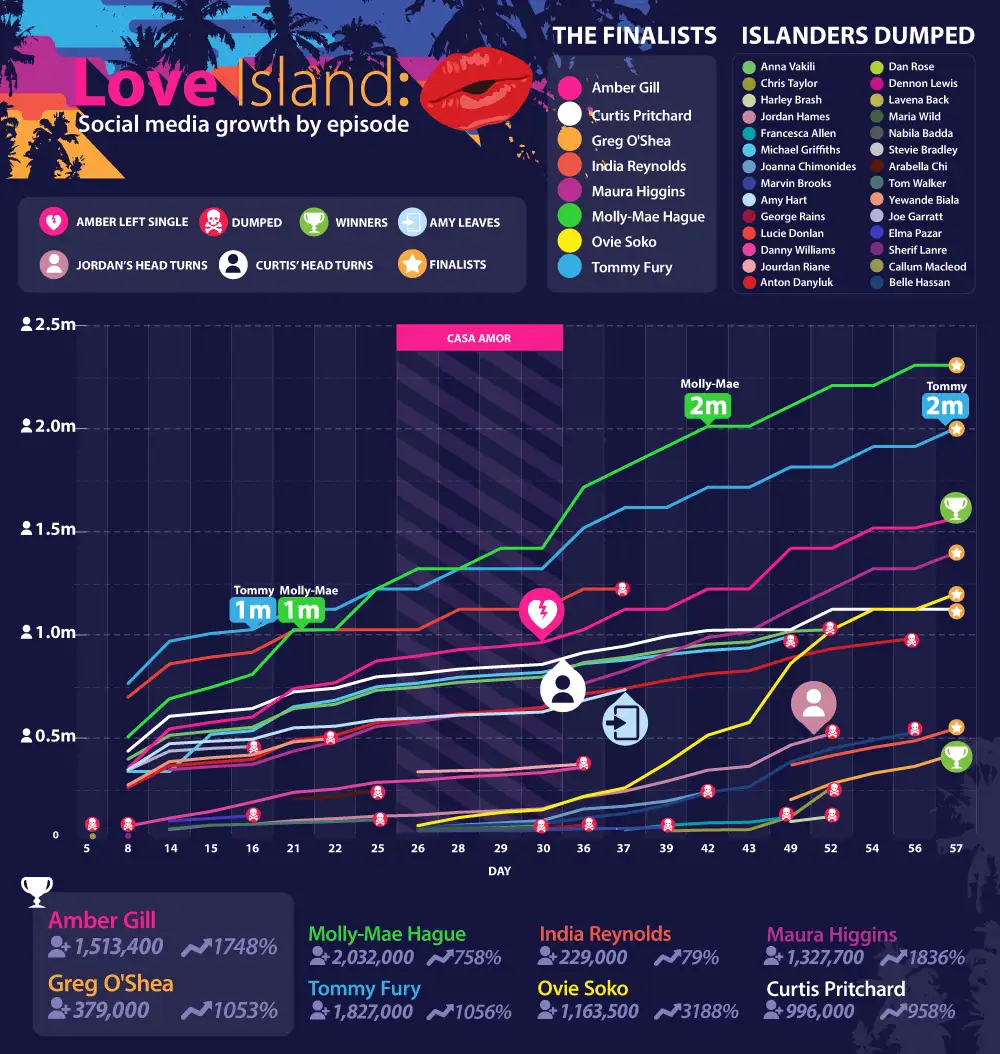 The Results
We found that winners Amber and Greg left the villa with 1,600,000 and 415,000 followers respectively. An impressive turnaround for newcomer Greg, considering he only entered on day 44 with just 36,000 followers –a 1053% increase.
Whereas, Amber who entered with 86,600 followers on Instagram, not only grew by 1748%, but had the third highest increase in the number of new followers – 1,513,400 and the third highest follower count upon winning.
Key Events
Curtis Pritchard's former flame Amy Hart voluntarily left the villa on day 37, after Curtis broke her heart following Casa Amor. When Amy left the villa, she had 705,000 followers on Instagram; an increase of 645,900 (1093%) from when she entered the villa.
We also saw significant movement after Anna Vakili and Jordan Hames got into a big fight after Jordan made smooth moves on new girl India. They were soon after dumped on day 52. Anna Vakili had 122,000 followers on day 1, leaving with 1 million – a 720% increase, and 878,000 new followers.
Whilst, Jordan, who came into the villa on day 14 with 17,500 Instagram followers, subsequently left with 490,000 – a 2700% increase; the third highest percentage growth.
Firefighter and Liverpudlian Michael Griffiths, one of the first contestants to join the villa caused controversy when he recoupled with Joanna Chimonides, ditching Amber Gill. His exit came on day 49, and his social following had increased to 968,000 from 71,400.
The Data:
The Islanders with the most followers when entering the villa:
Jourdan Riane (301,000), India Reynolds (290,000), Molly-Mae Hague (268,000), Tommy Fury (173,000) and Lucie Donlan with 157,000.
The Islanders with the most followers when leaving the villa:
Molly-Mae Hague (2,300,000), Tommy Fury (2,000,000), Amber Gill (1,600,000), Maura Higgins (1,400,000) and Ovie Soko and Lucie Donlan with 1,200,000.
The Islanders with the highest percentage increase were as follows:
Chis Taylor (4461%), Ovie Soko (3188%), Jordan Hames (2700%), Belle Hassan (1864%) and Maura Higgins (1836%).
The Islanders with the highest number of new followers were as follows:
Runners up Molly-Mae Hague (2,032,000) and Tommy Fury (1,827,000), Amber Gill (1,513,000), Maura Higgins (1,327,700) and Ovie Soko (1,163,500).