How Twitter can contribute to Digital PR success
At first glance, Twitter was created for like-minded people to go to express their thoughts and opinions. And although this aspect of the platform hasn't changed, it's evolved into far more than that – but for all the right reasons.
Twitter is flooded with a wealth of opportunities for marketers and brands to capitalise on trending topics and create shareable content, as well as engage with consumers, users, and other content creators.
So, on a platform of more than 192 million daily active users, how can digital PR experts utilise its full potential to help with campaign success?
Twitter can help inspire ideation
The digital PR team know a thing or two about Twitter – considering we're made up of young, budding tweeting enthusiasts, we're able to quickly scan Twitter for the latest trends and news events circulating. Digesting the news is what drives campaign successes and we're good at it (plus we really enjoy it).
How to use Twitter to ideate?
1. Follow big brands – sounds simple, and it is. You should be in their sphere of influence, soaking up what's going on in their industry. A lot of data sources are sometimes staring at you in the face, but to find them, you need to be on the right platforms. We've put together our favourite go-to data sources for campaigns, across a range of topics and clients – many of which easy to find and follow on Twitter.
2. Follow individual journalists that embody your client's field of expertise e.g., if you have a client in the tech world, you should follow active journalists writing for the likes of Tech Crunch, Computer World and Wired.
3. Create lists – a quick, easy way of filtering your feed to keep it pumped with appropriate content from influencers, brands, journalists, and celebrities which will help shape your ideation process.
Twitter can help accelerate your mention to link ratio
It's time to consider Twitter as that rope bridge between your campaign idea and your outreach strategy. After all, it's a giant search engine and therefore packed full of juicy resources and journalists to stalk (in the politest way possible – of course!)
PR experts will sympathise with how tricky it can be converting those pesky link-less placements, so Twitter really should be part of your conversion process.
Tips for sourcing contacts through Twitter:
1. Start by searching for a specific publication.
For example, if you want to reach out to journalists at The Metro UK, type 'MetroUK' into the search bar!
Tip: You'll want to filter this list by 'people', so it'll scrape for journalists who tag MetroUK as their profession.
What's great about Twitter is that it acts as a digital CV for a journalist and or publication, so you'll invariably find a lot more journalists who aren't on databases such as Gorkana, Vuelio and Roxhill.
2. Be intuitive, if a journalist's contact details aren't listed, send them a private message asking for a suitable email address.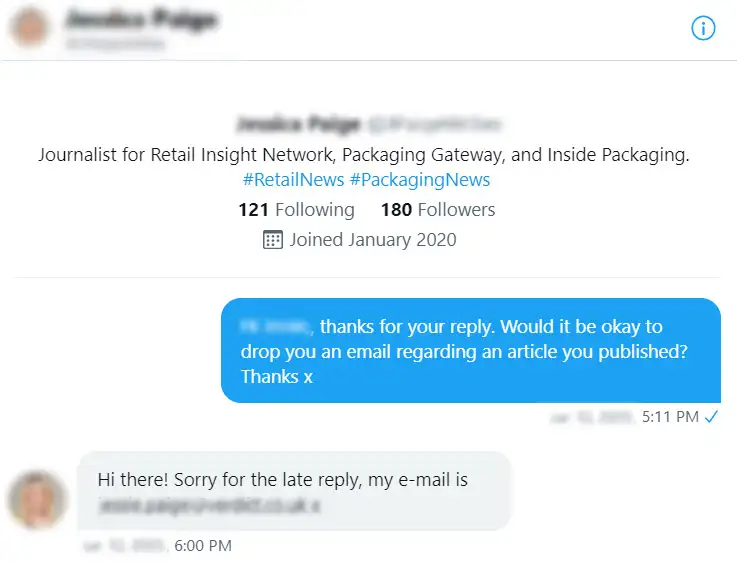 3. Pitch away! DMs might seem impersonal to some journalists, but overall, journalists want PR pros to make their lives easier. Why not drop them a quick message with a punchy summary of what it is you're offering: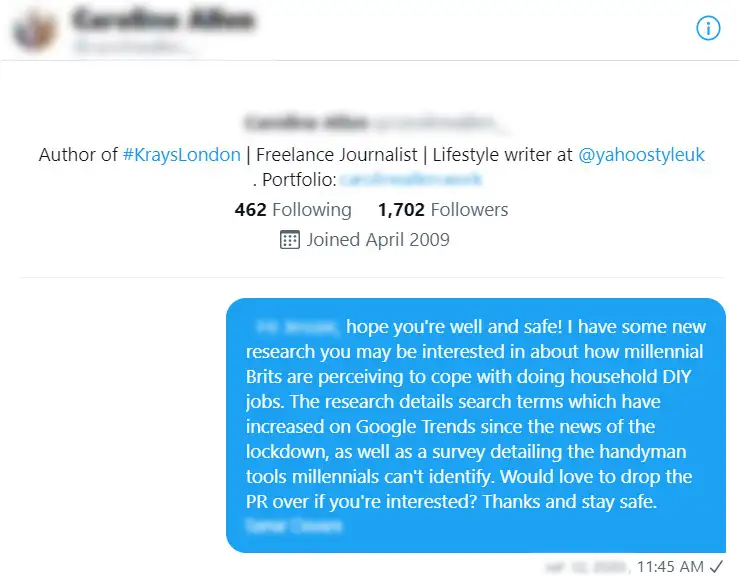 Monitoring trends/hashtags can help ideation
Twitter is the home to trends as we know it, having birthed the use hashtags back in 2007. Figures highlight a potential increase in engagement by almost 100% for an individual, and 50% for brands when hashtags are used.
You should be visiting your 'explore' tab daily, which is a personalised grouping of trends and hashtags for events or news stories.
The same way the news refreshes every five minutes; we recommend taking some time out each morning and afternoon to explore what's going on. It could be your one-way ticket to discovering a quick reactive opportunity before others latch on, resulting in coverage.
Hashtags can propel a PR idea
There's a hashtag for everything, but that doesn't mean it'll appear in your 'trending' search. Try and identify core themes to single out opportunities.
For example, use an event calendar tailored to your client's needs to spot awareness and national days, as well as large-scale events to navigate how popular something is. If it's not, it might not be the best use of your time.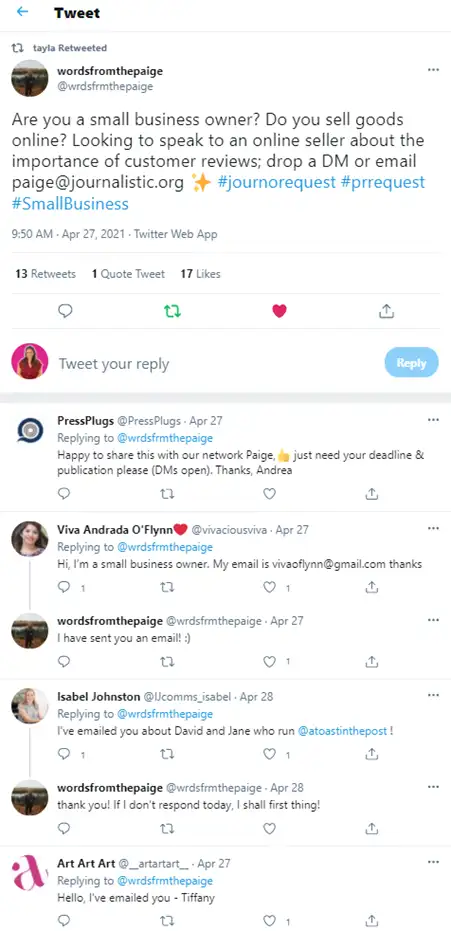 Twitter can elevate your client's expertise
Media requests are powerful ways of gaining quick coverage. Whether you're responding to a journalist's media request for information or needing expertise from someone else to elevate your campaign idea, Twitter is the best platform for this.
Some handy hashtags:
#journorequest
#HARO
#mediarequest
#prrequest
#expertcomments
#expertswanted
#journoswanted
Your goal is to place your client at the forefront of their industry. Get their name in front of journalists who have the power to influence the news we read.
The best part? They generally include a link credit as you're doing each other a favour.
Twitter can help you connect and create conversations
Twitter has very quickly become a database of insights – from campaigns, marketing stunts, opinion-based articles, and general trends. But at its core, it's there to help create and nurture conversations with journalists, brands, and influencers.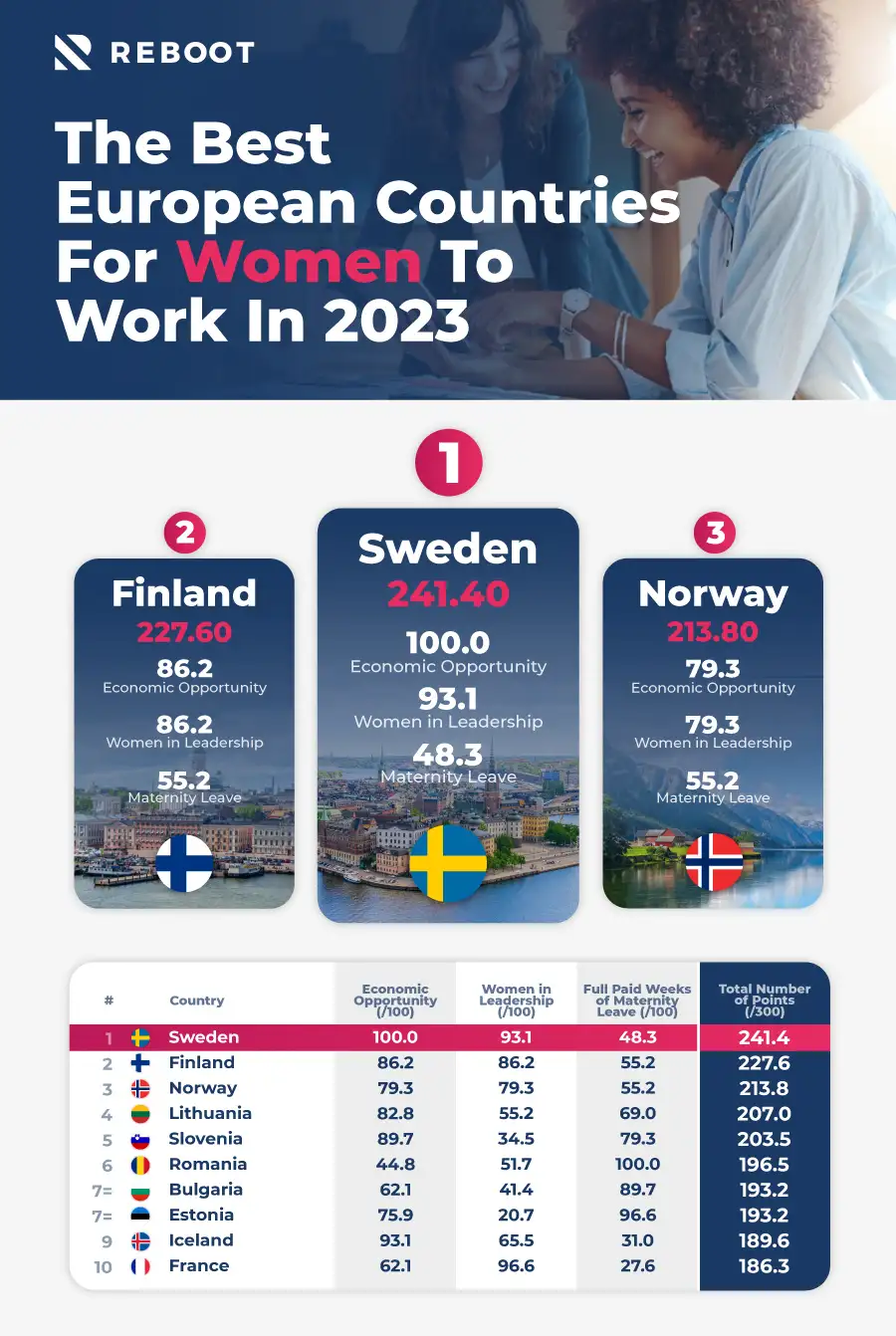 According to Cision's 2021 Global State of the Media report, 59% of journalists agree that audience metrics, such as views, engagements etc has changed their perception of stories they publish.
How does this apply to PR experts? Well, to put it plainly, you should anticipate whether your pitch has the potential to encourage social shares? Is it fuelled by gossip or contain a cool, unique data set that'll amplify its potential success? If so, then it'll most likely be used and shared on social media by journalists. Not to mention, social shares are beginning to matter in the SEO world when Google struck a deal with Twitter proving its importance for potential ranking signals.
One notable example of this was our very own personal asset titled: The best European countries for women to work.
The campaign was specifically directed at International Women's Day, having evaluated a variety of factors that can contribute to a woman's success in the workplace.
The campaign gained more than 50 campaign placements, of which nearly 40 were links! But what really drove the success of this campaign was the attention on social media, specifically LinkedIn.
The more citations, shares and engagements, the greater opportunity for organic links, and this is exactly what happened.
Here's how Twitter has helped Reboot's campaigns over the years
Digital PRs praise our campaign efforts!
Digital PR accounts have published our campaigns, which often drives social referrals to our clients' on-site data assets or coverage achieved: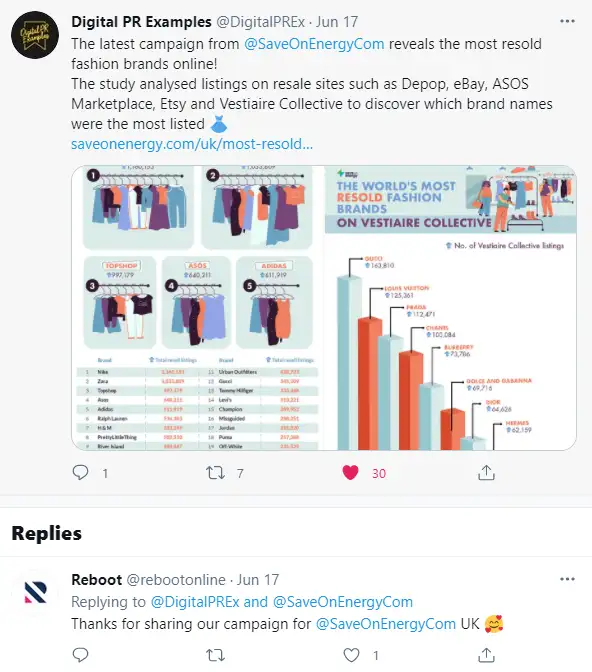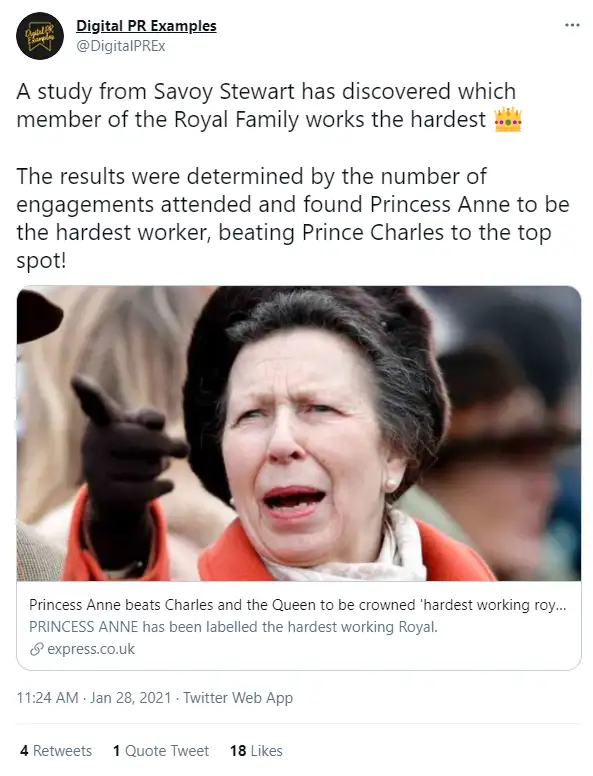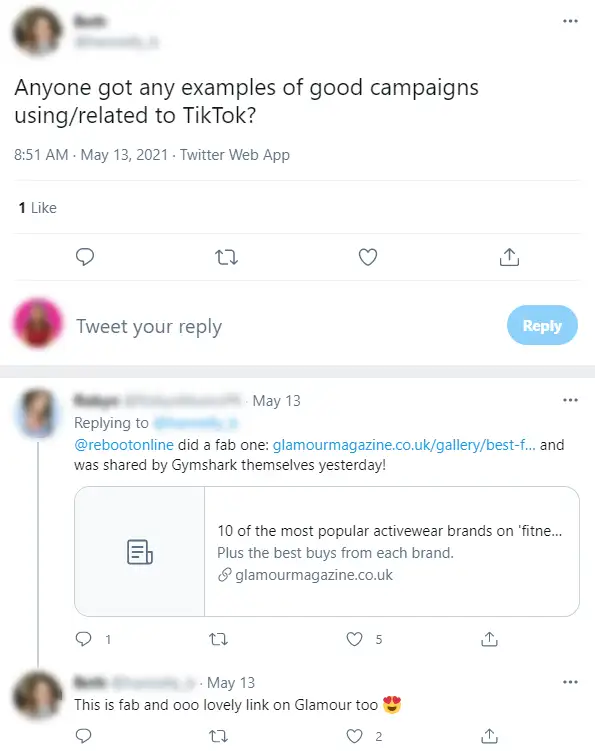 Authoritative and sector relevant publications shout about our campaigns
Example: We partnered with search analytics tool SEMrush to determine the most trolled NBA players. Its success was off the scale, securing coverage across multiple top-tier publications worldwide, such as NBC Sports, Hype Beast, and The Score.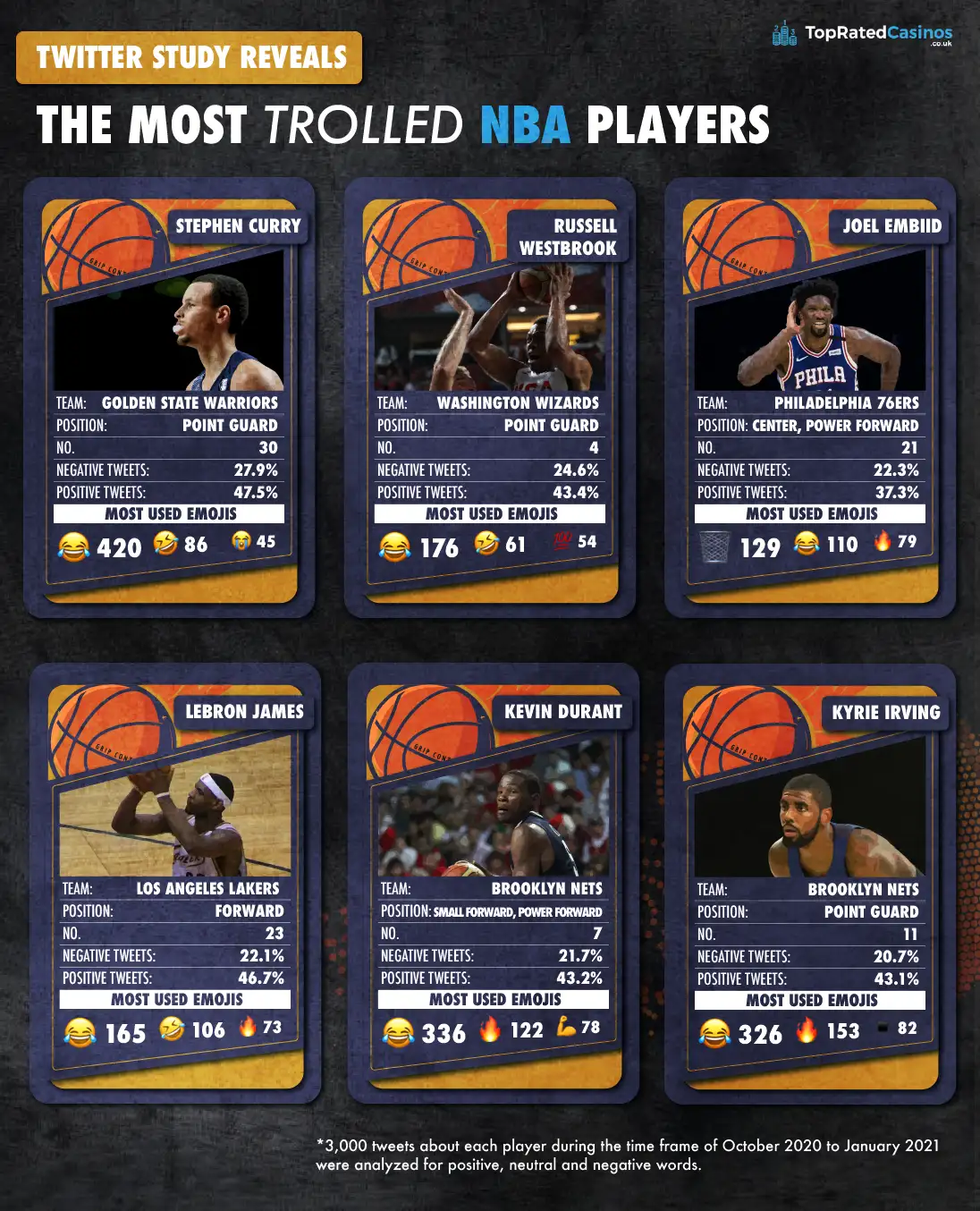 And it's not just the backlinks we secured, but the noise on Twitter was exhilarating!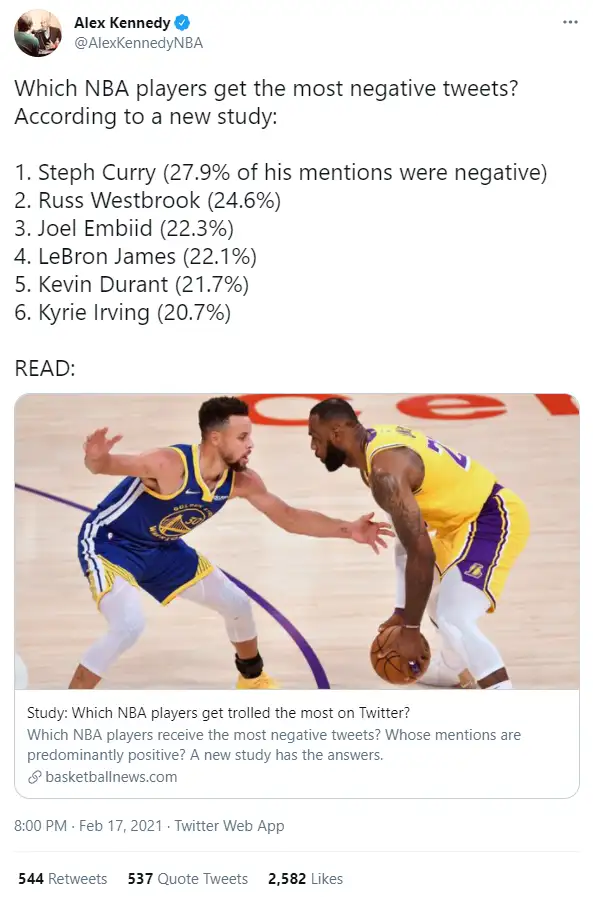 Alex Kennedy, the journalist who published our client's research on Basketball News which has a DA of 59, took to his 176,100 followers to discuss the results - earning 544 retweets, 537 quote tweets and 2,586 likes.
And, if that wasn't enough, some high-profile NBA players, such as Jamal Crawford and Isaiah Thomas also saw the tweet, adding to the likes generated!
Celebrities, brands, and influencers took notice of our pr campaigns
Sometimes the greatest incentive earned from digital PR is when celebrities, brands, and influencers talk about research we've conducted. Now that's cool. And the busy PR team are no strangers to this.
Here are just some of the ways Twitter has elevated our campaigns to new heights!
Our client's campaign appeared on the nation's favourite breakfast show – Good Morning Britain and it certainly caused a few raised eyebrows!
https://twitter.com/GMB/status/1362293893639905282
For another campaign, we cleverly calculated the funniest British comedians, and according to Jimmy Carr it was no laughing matter, as he made it to the top of our list, and he was chuffed about it.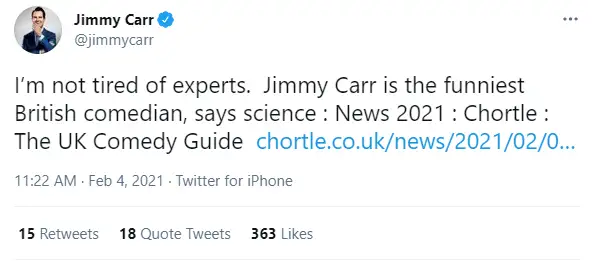 One of our most recent campaigns detailing the world's sexiest bald men certainly caused a stir, gaining recognition from high profile celebrities, with large followings on Twitter:
The Rock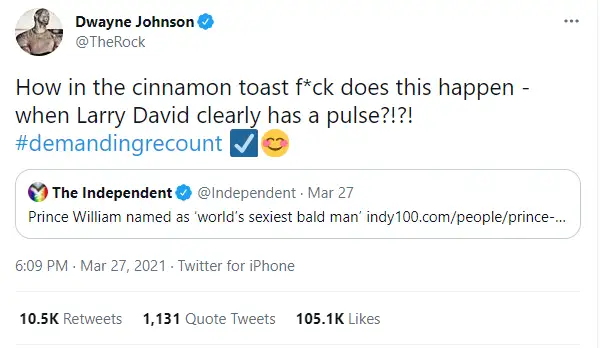 10,600 retweets, 105,200 likes and 1,131 quote tweets.
Matt Lucas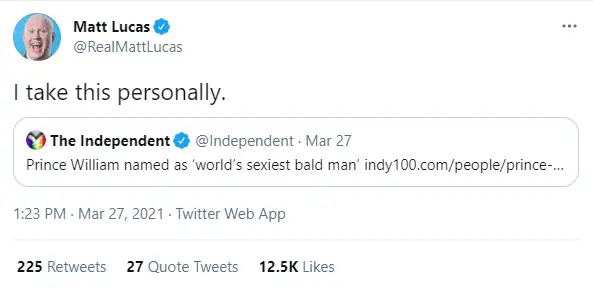 12,500 likes
And then there are the brands we dream of working with. Ben Francis is the face of Gymshark, the newest sportswear brand born out of his Birmingham garage.
We were keen to uncover the most popular activewear brands on TikTok. This fairly simple but impactful methodology made its way from Twitter onto LinkedIn, as employees of Gymshark discovered various news citations of the brand on sites such as Glamour.
Not too long after the man himself, Ben Francis, wanted to celebrate his company's accolade, having secured second place as the most popular brand on the platform.
With more than 6,000 likes and hundreds of comments, our campaign had made its way naturally in front of a potential future client and other big brands.
Conclusion
We might have only scratched the surface of Twitter's capabilities to drive digital PR success, but there's quite evidently some clear lessons to take on board.
The first of which, make sure you're on Twitter! That sounds obvious, right? But without Twitter, you'd be lost. You need that close-knit community for support and encouragement, as well as a portal to knowledge share and learn from others. Not to mention, it should be your first point of call for discovering trending topics and hashtags.
We've had some impressive and measurable successes over the last few years, with our most exciting links earned and it's safe to say, a lot of new business has been driven through social referrals. There's no stopping us!
And as a final food for thought, I found this quote from Charlene Li, best selling author and social media expert, and I think it sums up the power of Twitter well:
"Twitter is not a technology, it's a conversation – and it's happening with or without you."