How to create ideas from (almost) anywhere
The idea for a great digital PR campaign can strike at any time – in a dream, while scrolling through social media, even while musing over your pet. But when inspiration is hard to come by, how can we give ourselves a helping-hand in the ideation process?
I believe that a good idea can come from anywhere and everywhere if you know how to interpret it. Turn your five-minute social media break into the basis for an ideation session so you can always be on the job, even when it doesn't feel like it.
Social media scrolling
While it might feel like the term doomscrolling was invented to describe the past two years of social media content (and actually, you wouldn't be far off as it was named the Oxford English Dictionary's word of the year in 2020 and was officially added to the dictionary), nonetheless there are plenty of useful and interesting stories out there if you know where to look.
If you're not getting enough inspiration from your own social media account, try setting up a work account. Follow major news sources, such as the BBC, lifestyle and gossip publications such as LadBible, and accounts to do with your clients' niches. It can also be really useful to follow some other digital PR accounts which share successful campaigns and methodologies.
Once you're following all of the relevant sources, potential ideas are just a scroll away.
Ideating from news sources
Using news sources as a basis for ideation is useful for multiple reasons, as it may help for bigger campaign ideas; to identify trending topics, and highlight the kinds of campaigns that do well on each news site.
If you're looking to target a large news site, such as the BBC, identifying the types of posts and content they share on social media will put you at a great advantage when pitching your own campaigns to them.
News sites are generally more helpful for serious clients and ideas, including finance, the environment, governmental spending, etc.
Ideating from gossip and lifestyle sources
Gossip and lifestyle publications cover thousands of potential niches, so making sure you hone into the right ones for your clients is important. If you're open to a wide variety of ideas, sites such as LadBible, People.com, and Yahoo! Lifestyle are a great place to start as they cover a plethora of topics.
Searching for relevant terms on their sites will then bring up relevant articles as a basis for new ideas. For example, let's say I'm interested in writing a PR on toys and I want to see what's been published recently on Yahoo. I can search on their social media page, or using Google I can enter the search command site:Yahoo.com "toys", this way I can easily start to see which topics are of interest to that site and which journalists might be interested in publishing new research.
Ideating from memes and images
There are a few different ways of creating new ideas for campaigns from memes, but ultimately memes and images shared on social media can help identify what topics are trending and how they're being spoken about.
When done properly, creating new memes or images for your clients can be a quick and easy way of creating some buzz for their name, possibly even making them go viral. However, it's not always likely that your image will be shared along with a link, but by creating a meme or image that is very shareable and complements your campaign, it becomes more likely that the image will be shared alongside a tag for the brand or a link to an article which links to the campaign.
For example, Aldi's ongoing gin battle with M&S has proved as yet another successful marketing campaign for the company after sharing memes that have gained traction on social media: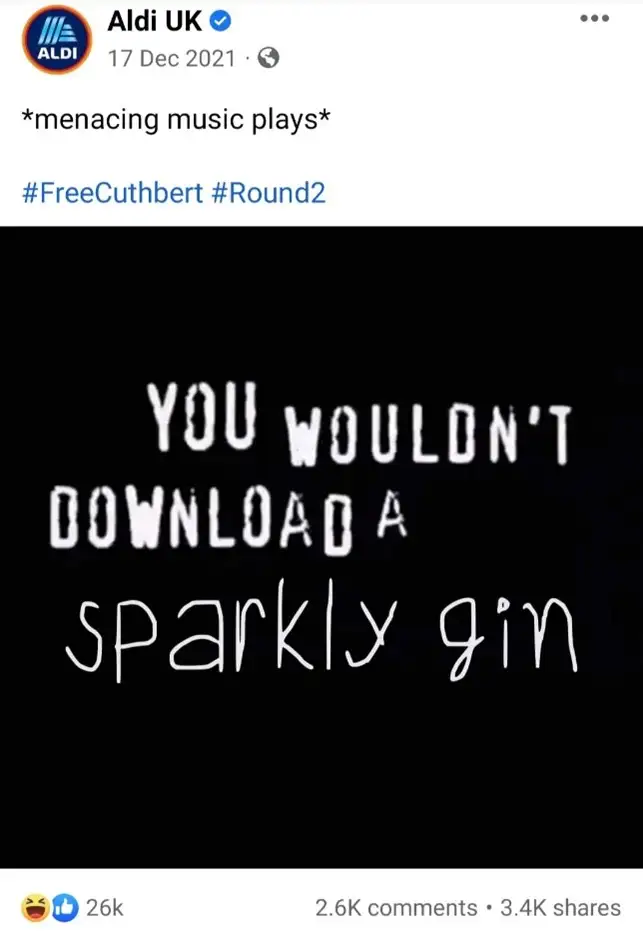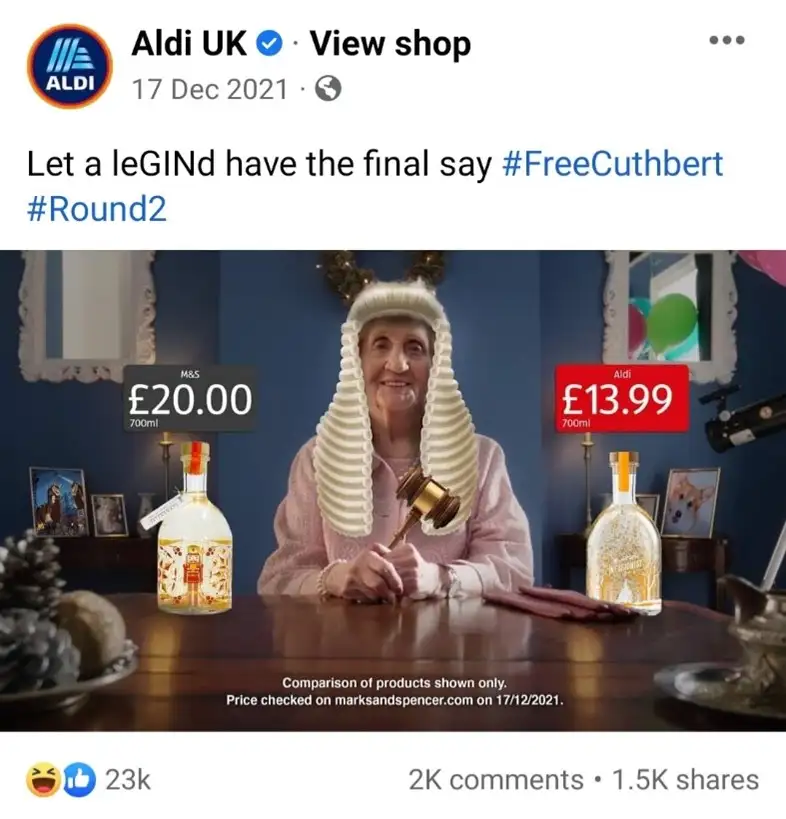 How to interpret an idea
Now you've gathered a few sources of inspiration, it's time to interpret them and turn them into new and interesting campaigns. There are a few things you need to consider when forming a campaign idea:
What makes your source of inspiration interesting?
Simply put, what drew you to be interested in this article or image? Does it reveal something new? Is it a hot-button issue at the moment? Will it still be relevant in 6 months?
Understanding why you were drawn to the content in the first place will help you create a better hook for your own campaign. Some of the best campaigns feed off controversy, rivalry, or current trends.
For example, take Longevita's controversial campaign which crowned the sexiest bald men. You might be drawn to this as a source of inspiration as it is very clickable – it appeals to rivalry between celebrities, readers' own opinions, general interest, light-hearted news, and debatable results. This particular campaign boasts well over 150 placements on some high domain sites, so in this instance the controversial angle paid off.
What is the crux of the idea?
Identifying exactly which topics your chosen content covers will help you see correlations to your own clients' niches, even if they're topics you hadn't considered before.

Take the example of Uswitch's cities with the most unpredictable weather campaign. On the surface, this seems to be a campaign purely about the average weather in each country, but it also considers individual aspects of weather such as wind, rain and sunshine, as well as environmental factors. The campaign even has implications for travel, purchasing a home, and plays on the rivalry between different countries and cities.
How can new ideas be formed from your source of inspiration?
Now you have established what made your source of information's idea so interesting and which topics are at its heart, you can start brainstorming new ideas. You might consider changing the angle; changing the criteria; applying the same methodology or concept to a new niche, or doing a more in-depth study into one of the criteria analysed, the list goes on.

Alternatively, a previous study might not give you an idea directly, but rather lead onto a new path for research. For example, Uswitch's unpredictable weather campaign might not inspire a new idea, but rather make you start considering other aspects of rivalry between countries, cities, events or people which could bring about an entirely different campaign idea.
How could it relate to your client's niche?
One of the hardest parts of the ideation process can be having an idea that you love which simply doesn't seem to work for your client. However, a bit of creative thinking such as adding in extra criteria or relevant tips from experts can help bring in a link between your client and a new niche.
This is particularly helpful in the world of digital PR as it helps your client start getting more varied and specialised links, showing search engines that your client's site is a trusted and valuable source of information.
A good example would be money.co.uk's campaign on the world's most beautiful palaces, according to the golden ratio. As this campaign targeted money.co.uk's home insurance page, the data was paired with tips on making sure your home is insured and secure when travelling abroad.
Despite being outreached during lockdown in some countries, the campaign got over 130 placements as it played on the rivalry between countries, so it had general interest as well as niche travel and home interest.
How to overcome writer's block
Coming up with new ideas isn't always easy, and even those who have been doing it for years can sometimes feel like they lack inspiration and can't find any new ideas. But the answer isn't to give up. Try these writer's block cures and think of some new and unique campaign ideas:
Expose yourself to as much inspiration as possible
Whilst switching off and scrolling through social media for 30 minutes might seem like a fast way to give up, it isn't as bad as you'd think. Grab a cup of tea and relax with some scrolling, just make sure to screenshot or save anything you find interesting. After your time is up, take a look back through everything you've saved with a fresh pair of eyes.
The time you spent relaxing won't feel like time wasted and you'll have a whole bank of inspiration saved up in no time.
Look through banks of previous ideas
Just like an author reading similar books to assuage their writer's block, looking through previous campaigns can provide endless inspiration for digital PRs – be it your own campaigns, your colleagues' campaigns, or an online lists of successful campaigns.
Some useful resources include Reboot's placement tracker which provides a live feed on campaign titles and the links they have received, @DigitalPREx on Twitter who share some of the most unique and creative campaigns throughout the year, and the content curated newsletter which sends a monthly round-up of some of the best campaigns each month and why they were so successful.
Start writing
Putting pen to paper can help kickstart your brain into the right frame of mind. Use mind maps to write down all of your clients' niches, then write associated topics for each original niche until you have a huge list of subjects to choose from. This will stop you feeling so hemmed in by the obvious niches and allow you to get more creative, even with clients in the hardest field.
Express your ideas out loud
Maybe it's just me, but I always do my best thinking out loud. Something about the nature of having a conversation gives your ideas space to breathe and develop as well as getting some direct feedback.
If you don't have someone to talk to, it can still help to say ideas out loud – or if you feel uncomfortable, to write them down – as you're more likely to spend more time thinking about each idea or theme, allowing you to develop the idea rather than move on and feel like you haven't had any good ideas.