Often people in our profession get asked 'what is a content writer?' or 'what does a content writer do?' The questions about our job are endless and there is not just one simple, concise answer. Being a content writer is a multifaceted job role. There are many tasks we are responsible for as content writers, which means that no day is ever the same. This post will cover the main features of the content writer job description, specifically in a digital marketing agency.
What does a day in the life of a content marketer look like?
The time it takes to complete tasks will vary, depending on the type of blog post or web copy (for a website's main landing page, usually more formal and objective than a blog post) that is to be written. This is what a full day would look like for a content writer, working in a marketing agency, if all the aspects from above are included.
08:30 – Good Morning and Welcome to a Content Writer's Typical Day
Everyone has arrived at work by this time, and after a making the vital hot cup of coffee to wake us up – the day begins. Checking emails, finishing off work from the previous day and reading news articles for inspiration for future blog posts.
Photo credit: Yarkeen / Shutterstock
09:00 – Prioritising Tasks and Getting Organised
A content marketer at this time begins to plan their day based around the tasks that must be completed first to last. This usually includes planning to write a blog post for a client. Researching the topic, finding relevant keywords and preparing the structure of the post. This can take an hour or two, depending on the length and complexity of the post.
After all the research has been completed, a content writer begins to write their blog post, keeping their target audience and the type of user intent in mind, whether it's informative, navigational, commercial or transactional (these terms are explained in more detail here).
Time for an hour break for lunch. This often includes eating, playing table tennis in the office, going for a quick walk outside or popping down to Starbucks for a coffee or treat.
13:30 – More Writing…and Adding Images
After a good rest, content writers continue their tasks at hand. In this case - the writing of the post continues. In order for blog posts to look more appealing to their audience, images are essential – picking the right images for different topics and niches is a skill that content marketers must adopt in order to improve user experience and avoid a high bounce rate. This means we liaise with our in-house graphic designer, Scott, to create completely unique graphics to help visualise any data we have discussed in a post.
Photo credit: Vector Iconn / Shutterstock
15:00 – Bringing Our Ideas Together as a Team
What does a content writer do apart from writing? It's time for our monthly team brainstorming session. The content marketers have gathered all their ideas and are ready to share.
16:00 – Proofreading & Perfecting
The brainstorming meeting is over, and everyone is clear on what is happening and what needs to be completed the following month. The content marketing team finish off their blogs and after checking through it, multiple times for any errors, it is sent to be proofread. Not long after this, it's ready to upload onto the client's website.
Photo credit: BeeBright / Shutterstock
16:30 – Sharing Content via Social Media
There is some time left in this working day to do some outreach, so a content marketer makes sure to share their post on social media by Tweeting the post's link with a short description and a few relevant and trending hashtags.
17:00 – The Content Marketer's Day has Finished
And before you know it, a content marketer's #WorkingDayIsOver.
What does a content writer do?
This section explores, into more depth and detail, what content writer's tasks are in a typical day.
Brainstorming
Working in a digital content marketing agency as a content writer requires teamwork and frequently bouncing ideas off each other. Brainstorming is a crucial part of content writers' monthly schedule and enables colleagues to work together and explore their blog ideas – by sharing ideas with each other, they can gain insight and be inspired by others' suggestions for their own work. After a brainstorming meeting (which you can make effective by adopting some of these meeting methods) a timetable is created, indicating what needs to be written or completed each day of the month by each content writer.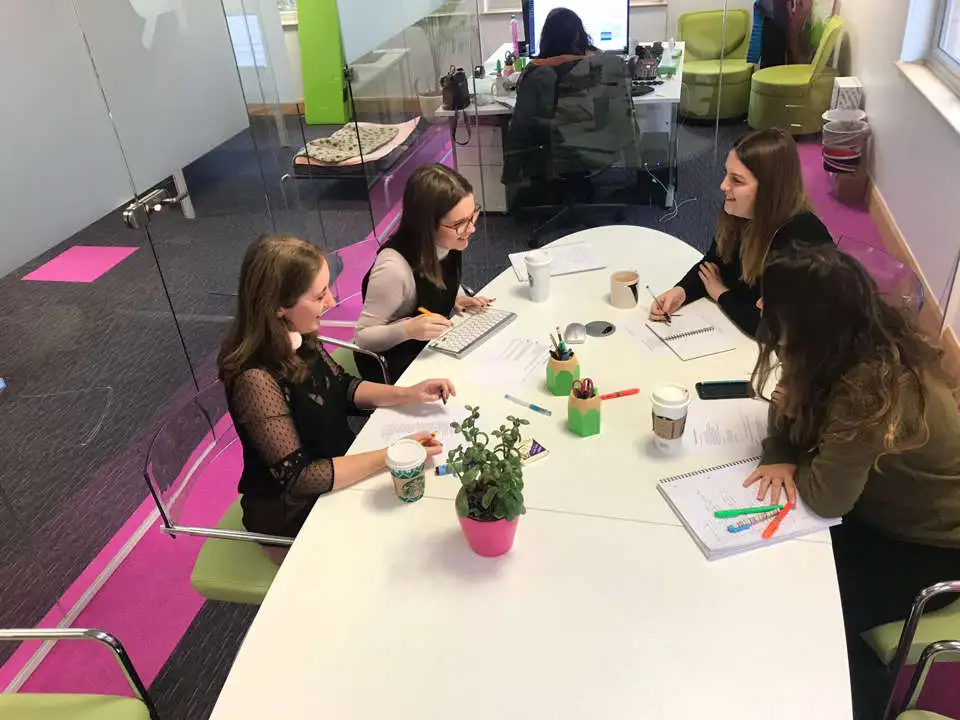 Reboot Content Marketing Team's Brainstorming Meeting
Keywords
Web content writers are also responsible for finding keywords to include in their writing, relating to the topic they are writing about, which will make their posts rank highly on various search engines such as Google and Bing. It's important that the keywords used have the correct user intent in mind and are specific, niche and relate well to the topic of the blog post. Keywords are an essential part of SEO (Search Engine Optimisation), so anyone working at an SEO company needs to be quite knowledgeable in this aspect.
Research
What does a web content writer do a lot of? Research, research and more research. As content writers, we need to study topics we are writing about thoroughly, to make our posts accurate and informative, enabling readers to understand them with ease. Research on very niche topics can often take up a large portion of a content writer's day.
Writing
I think it goes without saying that content writers spend most of their time writing. Whether it's when planning the structure and content of their product descriptions, website landing pages or blog posts – writing is always the main part of a content marketer's day. When writing a blog post, content writers aim to make their content interesting, professional, of high-quality and reliable, so they spend a lot of time carefully checking through their work and perfecting it. These are some methods that content marketers use in order to create viral content.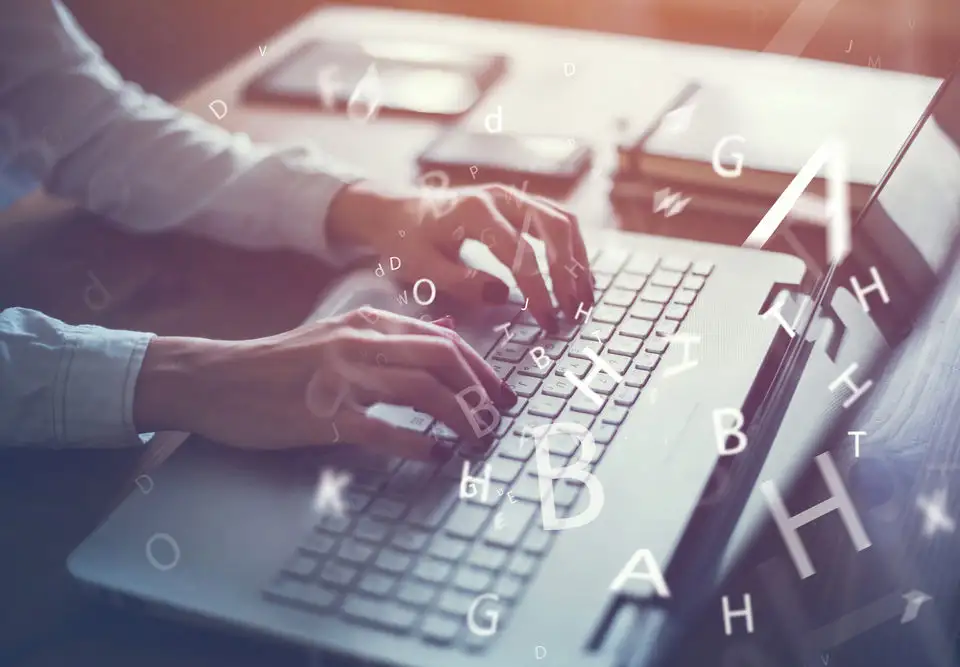 Photo credit: Undrey / Shutterstock
Outreach
After uploading a blog post, content writers are required to outreach their content on various social media platforms, for example, Twitter and Facebook. Furthermore, content marketers often get in touch with people who may be interested in reading and sharing their content, this in-turn helps the ranking of the post, the more readers it attains - the better. So, outreach can be an essential part of a content writer's job role.
This is what a day in the life of a content marketer usually involves, however, no day is ever the same and there are always many tasks at hand, for content marketers, that must be completed before a given deadline. This post should have given you an understanding of a content writer's job description and what they can do for you if you choose them to improve your ranking and create impressive content relating specifically to your business.
Note: Every digital marketing agency works differently, and their content writing methods vary. Here's a guide on how to pick the best SEO company for you.
Feature image credit: Absent / Shutterstock