How to Utilise Current Events to Create Reactive Digital PR Campaigns
There are many ways to ideate and create digital PR campaigns, as all are unique. Whether your expertise lies in data-heavy travel-based PRs, or you prefer to craft expert comment-led pieces on life advice, a reactive angle can make your PR super relevant and timely.
Here at Reboot, our agile and creative team make us experts in crafting reactive campaigns. Join us as we walk through the best ways to use current events when you're creating reactive digital PR campaigns.
What is a Reactive Strategy in Digital PR?
Reactive PR campaigns are as they sound—digital PR campaigns created as a reaction to something happening. They are a strategy in public relations, designed to engage with audiences and capitalise on trending topics or breaking news.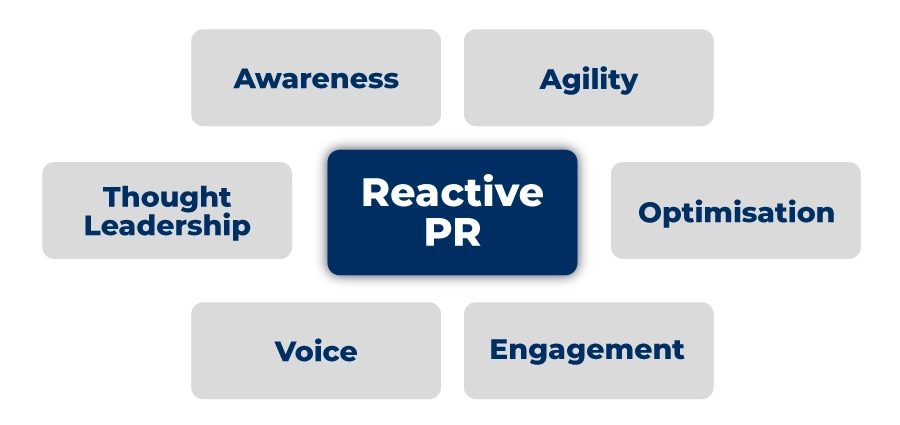 What Do Reactive PR Campaigns Need?
Every reactive digital PR campaign is different, and not all brands are able to pull them off successfully. To master crafting amazing reactive campaigns, your team must have the following:
Awareness
Reactive PR campaigns can only come from teams that dedicate time to staying up-to-date on current events. This includes watching the news, staying informed on celebrities, watching trendy television and films, and being on social media.
Agility
It's all well and good for the team to be aware of current events, but to make the most of them, your team needs to be agile. There needs to be a quick turnaround between the first steps of noticing a growing trend, creating a campaign for it, and then pushing it to publications.
Optimisation
The PR campaign doesn't just need to be SEO optimised—while vital, that isn't enough in the modern age of social media. Trending hashtags and topics also need to be included when sharing the campaign, but do so sensitively.
Voice
As an SEO agency, we know how important it is to align what we do with the style of the brands we work with. The best reactive PR campaigns only jump on trends and breaking news that are relevant to their brand. Not only does this inform whoever is reading, the public or Google, that your brand is an expert in their field, it can lend itself to marking you as thought leaders.
What are the Benefits of Reactive PR Campaigns?
Reactive PR campaigns, with their nimble responsiveness to real-time events and trends, offer a litany of benefits if done correctly. We'll delve into the numerous benefits these campaigns bring:
Engagement
A great reactive PR campaign is just begging to be spoken about. Journalists will want to pick it up and share it, and it should garner comments, shares, retweets, and every other kind of social media engagement. As well as earning links back to the company website through PR, a reactive campaign can also gain links organically as people talk about the campaign.
Thought Leadership
Reactive PR campaigns are a golden opportunity for a brand to cement themselves as thought leaders within their niche. That's why the previous point is so important. Why should anyone listen to a cleaning company offering their opinion on the latest trending hairstyle? But when it comes to a seasonal trending topic, such as spring clearouts, a cleaning company will be able to offer completely justified expertise.
Where to Find Reactive Digital PR Opportunities
Reactive PR opportunities can come from anywhere, but there are some safe starting points. Each of these comes with its own benefits, so it's definitely worth adding them all to the roster.
News and Sports
While it is important to stay abreast of the world's events anyway, it is especially important if you want to create reactive digital PR pieces. The crucial part of jumping on trending news is timing. The news truly is a cycle and once the wheel has spun, it's too late to jump on.
TV/Film/Game Release Dates
Release dates are easier to plan for, as they are announced so far in advance. An example of this would be when the Barbie movie came out, Reboot timed a release about the most expensive Barbie dolls. We knew it would be a topic journalists wanted to cover and audiences wanted to read about and with the rising popularity of Barbie among adult audiences, it was the perfect time to release the data.
You can find release dates by following TV and film studios, entertainment news sites, gaming sites, and relevant personalities on social media and on company websites.
Trending Topics
The trending pages on social media are goldmines for reactive topics. Whichever social media you prefer, a scroll through the trending page can reveal what people are talking about and interested in currently, and lead to some great ideas for PR releases.
National and Awareness Days
These are also ones that require a more proactive approach. National days, such as National Dog Day, and awareness events, such as Vascular Disease Awareness Month. There are countless calendars available online that list all of these days and events, often for different regions. By highlighting days that are relevant to your brand or client, you can plan well in advance for PR releases relevant to them.
Sports
Similarly to national days, sports events are announced well in advance. This means you can plan releases around them easily. For example, the World Cup is a great time to offer releases about anything to do with football—whether it's the most popular football boot, the best-looking players, or the most reasonably priced season ticket.
Examples of Reactive Strategy in Digital PR and How to Pull Them Off
There are different approaches to take when creating a reactive digital PR campaign. They target different audiences and call on different resources.
Trend Riding and Newsjacking
Trend riding and newsjacking are similar in practice, but different enough to warrant individual explanations.
Trend riding is when brands produce information or content related to a trend as the trend is happening. This could align with a popular new TV show or film, or one of the many, totally random trends produced by social media.
It's important to stay abreast of everything happening because the key part of taking part in trend riding is jumping in before it reaches its peak. No one wants to be the brand jumping on a trend when it has already passed. It's a crucial skill in digital PR to be able to identify a trend while it's still growing.
Similarly, newsjacking is when brands produce information or content related to current news and events. This could be, for example, a veterinary service offering advice on keeping pets cool during a heatwave. As with trend riding, timing is everything. No audience will care about that vet's advice once the heatwave has passed and it's pouring with rain.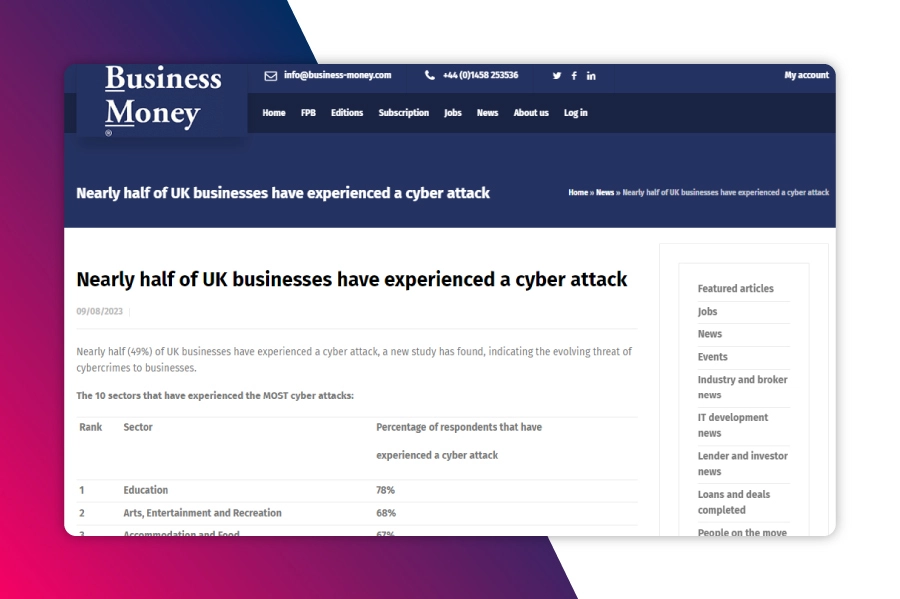 When there was an incident of many UK businesses experiencing cyber-attacks, Reboot was quick to compile and release data relating to these incidents. Due to our fast action, we gained some wonderful links in a short space of time.
Proactive Digital PR
Proactive digital PR is the practice of planning topical PR releases ahead of time for events you know are coming up. Good examples of this would be Christmas, Valentine's Day, big sporting events, and various release dates.
It's vital to create a calendar for events such as this, so campaigns can be planned well in advance. Finding topical awareness and national days that are relevant for the brand is also helpful as these always garner coverage.
Expert Commentary in Reactive Digital PR
Expert commentary is when individuals who are knowledgeable in a certain niche offer their insights, opinions, and analysis on the topic at hand. It is a great way to secure a brand's place as an expert in their industry—something the customers respond well to, as well as Google and other search engines.
Expert commentary can be presented in two ways; reactive and proactive expert commentary.
Reactive Expert Commentary
Reactive expert commentary is insights, opinions, or analysis given by experts in a niche about current events related to that niche. An example of this would be a campaign Reboot did for vape retailer in response to a news trend surrounding vape spiking. The experts at the brand provided commentary on staying safe and avoiding being targeted by vape spikers.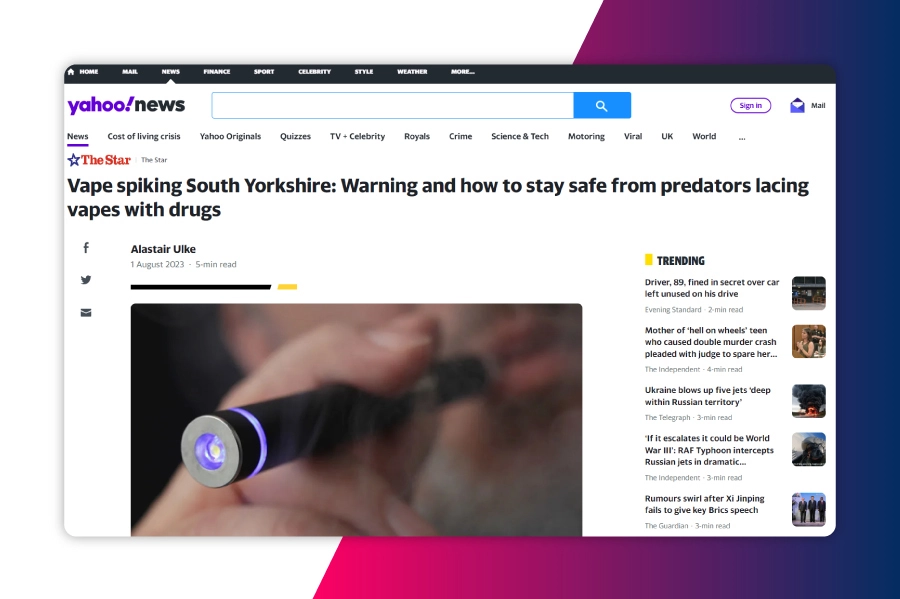 PRs can also put out requests for reactive expert comments using social media, using hashtags like #journorequest. There are also resources such as press plugs, Cision, Response Source, and Qwoted.
Proactive Expert Commentary
The strategy behind proactive expert commentary involves introducing a brand or client, usually via email, to journalists as an expert on certain topics. This ensures the client is available for future commentary should certain events arise, such as trending news stories or sports events.
By pushing your client's expertise to journalists, especially journalists who also exist within your client's niche, you're bumping your client to the top of their lists when they need a comment for an article.
It's also worth saving expert comments on a range of topics, either gathering them in advance or saving ones that weren't used, so you can send them to journalists at the drop of a hat!
How to Put Expert Comments Reactive PR into Practice
Talk to Clients
It's vital your clients understand what reactive digital PR is, so that if a sudden trend arises that will be perfect for them to react to, the reaction can happen quickly and seamlessly. Find out what expertise your client has in-house and who to go to about expert commentary. Ask if they are willing to have their name out there as an expert in various news articles.
By doing that legwork in advance, you save precious time when it comes to jumping on those fast-moving trends and news items.
Team Meetings
Have regular catch-ups as a team to go over the latest news and trends and see if anything can be used for your client. It could be that one team member highlights a news item that is perfect for a client in another team, so it's a great idea to have company-wide connections.
Assign Niches
Everyone has topics of interest that they are naturally drawn to, as well as understanding that comes easily to them. Within a single team, there can be a variety of hobbies, interests, and backgrounds. This can be used to reactive PR's advantage.
In assigning particular topics or niches to team members, they can easily keep an eye on the state of trends and news. Rather than everyone trying to monitor everything, this encourages people to bring their own interests to the fore. This can help to target trends and news items that may have slipped under the radar otherwise.
When Reactive Digital PR Campaigns Go Wrong
There are many cases out there of brands jumping on the wrong hashtag, but as the saying goes, there's no such thing as bad press. The worst outcome of reactive digital PR campaigns going wrong is no reaction at all.
Reactive campaigns are designed to grab attention and inform on a topic that the masses are interested in. But given how quickly the tides turn and interests change, an ill-planned reactive campaign simply results in no benefits whatsoever. What's worse, it results in wasted time, effort, money, and resources.
But with the right team, who possess the right work ethic and skill set, reactive digital PR campaigns can be a great asset for your brand. They offer attention, can gain links, and tell the world that your brand isn't one to be reckoned with.
Let an expert digital PR agency show you just how useful reactive campaigns can be. Get in touch with Reboot today.