The Benefits of Digital PR Campaign Assets
As a digital PR agency, it is our goal to build links to our client's sites. Now that may sound simple, but anyone in the industry will know that any old link will not do! Gaining consistent, relevant, and high-quality backlinks for each campaign is our goal, but it's never a given. Therefore, as digital marketers, we must find other ways to increase the chances of linking to our client's websites.
One way our digital PR team does this is by creating additional content to send with our outreach pitches and press releases, whether it be in the form of infographics, interactive maps, detailed research pieces, or indexes, to name a few examples.
But what are the benefits of writing campaign assets vs on-site campaign assets?
Targeting the homepage Vs. On-site campaign assets
Those in the digital PR industry will know that there's always some debate on social media over whether a dedicated campaign page is necessary, or whether you should just target the homepage instead. Of course, there are benefits to both and we often do a bit of both at Reboot, to target different areas of a website to increase rankings site-wide.
As a general rule of thumb, from a content marketing point of view, if there is enough time and budget to create an on-site page, it's best to create one - especially when targeting category pages! However, if you are trying to build site-wide authority, homepage links work best.
But why, I hear you ask? Let's find out more about the benefits of writing an on-site campaign asset...
The main benefits of creating campaign asset pages
1. More often than not, journalists link to campaign pages (more than a homepage) - they act as a 'source' for a journalist to link to, for people to find out more information.
2. You can control internal linking.
3. They still gain links over time due to cleverly curated content that ranks for long-tail keywords.
4. They are shareable, particularly when they are highly visual and interactive.
5. They help to establish you/your client as a thought-leader - especially when the research is data-heavy and unique.
What are the different types of campaign assets?
In short, PR assets are pieces of content that can help to elevate your digital PR campaign, resulting in more campaign coverage. Whatever type of campaign asset you run with, the key is to make it worth linking to. Ultimately, if a journalist has a valuable asset to use, which offers something interesting to their readers, they're more likely to link back to it - a win-win situation for all!
Typically, PR assets come in three main forms:
1. Blog posts
It's not always about creating big shiny content pieces that cost a fortune, as a simple blog post showcasing visuals can do the trick! In fact, sometimes the most complex data needs to be presented in a simple way to make it easily digestible and understood.
Blogs are the perfect way to showcase any interesting figures, statistics, or datasets from your research, which you may not be able to include in your full campaign pitch to a journalist or press release. Essentially, you can refer them to the blog "for more information", to which they often provide credit to as it is valuable to the reader - more so than a homepage link, for example.
Blogs are a great way to show off visuals for your campaign which are both shareable in news articles by journalists, but also on social media too - a platform everyone should be using for marketing and PR.
2. Interactive assets
Often hosted on a standalone page, assets like quizzes and tools that are interactive are highly shareable and great for link building. They are also highly shareable on social media platforms too, helping to heighten brand awareness, drive traffic and, in turn, boost visibility on the SERP.
3. Videos
Most people have a short attention span nowadays, so grab their attention by creating a video to showcase a campaign. Lots of journalists love video content because not only is it engaging, but it makes people stay on a page for longer which benefits them, and you/your client. But, the video content must be short and sweet and get to the point quickly.
How do we create on-site campaign assets?
We don't create content for the sake of creating content. We offer value to our clients and their respective industry by running our own studies and experiments, scraping and sourcing primary data that no one has used, and finding unique angles that no one else has covered before.
Put simply, our content pieces aim to:
Help you to rank higher in search engines for long-tail keywords through skilful keyword research that helps readers and journalists alike come across the research.

Promoting shares with data visualisation, custom-made by our in-house graphic design team.

Encouraging backlinks and print coverage with heavily researched studies, surveys and experiments, from using heart rate monitors or the BMIS scale to measure people's mood.
Once these PR assets have been created by our content marketing team, our PR team gets to work outreaching the campaign to our media contacts to make the content get links.
Don't forget, you can see a selection of our current campaign links over on our placements page.
Things to consider when creating a campaign asset
First things first, your digital PR campaign pitch to a journalist should show highlights of the data - the main headlines and points of interest. A PR asset should include all data and information to give journalists a reason to link to the blog post in their article "for more information" and add value to their readers. Here are some of the main things to consider when creating an on-site campaign asset:
1. Linking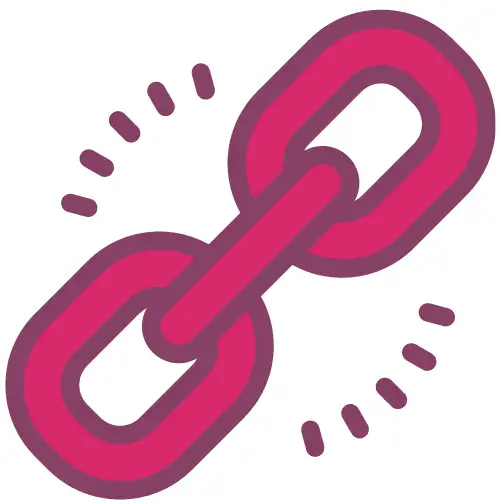 As most people will know, there are two different types of links: internal and external.
An internal link is a link that directs you to another page on the same site, whereas an external link links out to a different website with a different URL to the one you are on.
Why are internal links important?
They help pass on the "link juice" - Once your blog post gets a link, it will help to spread authority from that post to the rest of the website.

They can be genuinely useful to the reader - inking to a guide about how to cut down on energy bills when talking about energy bill prices around Europe is helpful for the reader, and helps to portray your client as a thought-leader.

Call-to-action (CTA) buttons can help to increase leads.
Ways of adding internal links into your content:
Blogs - link to relevant blog posts similar to your campaign's topic that readers might be interested in, but also other campaigns that may pique a journo's interest.

Category pages on eCommerce sites
Linking to a page with commercial intent helps to nudge potential customers along the marketing funnel and convert them into a customer.
Like with any kind of content, when it comes to adding internal links, make sure it sounds natural. Don't force it too much, otherwise, it will show. Sometimes you will have to force it, but always ensure it sounds natural in the sentence and it flows.
For example: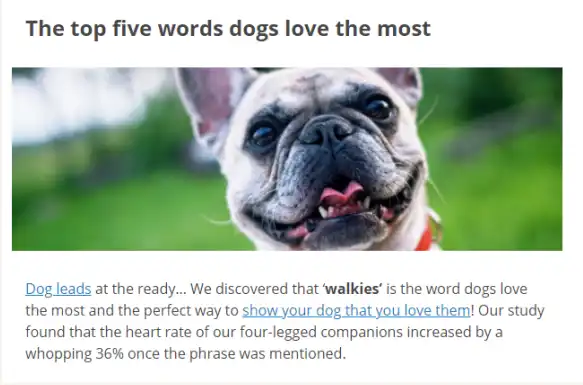 Why are external links important?
Adding links to authoritative websites to back up any claims/stats is useful, as it shows the reader/journo that your piece is well-researched and trustworthy.

Our very own experiment found that linking out to other websites can actually help with rankings. (If you want to read more, click here).
When adding external links, ensure you are linking to reputable sources.
Think: BBC, Gov.uk, ONS, Statista etc.
2. Add in keywords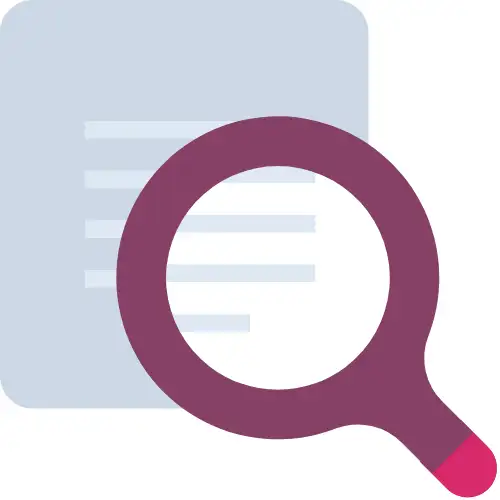 Before you begin writing your blog, you should consider keywords and pinpoint search terms that you want your post to rank for in the search results.
Spending some time to figure out the focus keyword for your blog post will help your post to rank. It's keywords that help your research to be picked up months after the campaign has been sent out… and who doesn't want more links?
You can conduct keyword research using holy-grail websites like Ahrefs or SEMrush, however, depending on your PR topic, you may notice there may not be many (if any) suitable keywords with decent volume for your post. Often this is the case nine times out of 10.
As a result, put yourself in the shoes of the reader/journalist and ask yourself:
"If I wanted to find this information, what would I type into Google?"
This should help you come up with a search term that will be your 'focus keyword' to use throughout your post. Once you've identified your keyword, be sure to use variations of it throughout (synonyms). This helps reflect the variety of language that searchers might use when searching for the topic on Google, thus bringing more traffic to the website and your PR asset.
How to optimise your post for your keyword:
Add the keyword into your:
Title / meta title

Your first paragraph

A subheading (H2 ideally)

A few times throughout the post (including synonyms)
⚠ Don't keyword stuff though - Google is clever and will know, and it can have a detrimental effect on rankings!
3. Keep the content evergreen
Try to avoid using language that will date your content. Instead, try to keep the PR asset evergreen, which means that the content shouldn't go "out-of-date".
This helps your content to stay relevant and, if clicked on by a journalist months after publishing, they will be more inclined to still use the research or data than if it uses words that immediately date the content.
Our tips:
Avoid mentioning anything that is time-sensitive and means the content will age quickly, such as "lockdown", seasons, events, years (e.g. "This year" / "In 2020") etc. Of course, some PR campaigns will be focused on datasets for specific years, so there's not much you can do about mentioning dates or specific events surrounding the topic, but just be wary of the language you are choosing and whether it may impact the success of your campaign by making it sound "old" even when it's a few weeks or months since you created it.
4. Pay attention to structure and UX
By having a clear structure, it helps Google to better understand your blog post when it crawls the page and also helps make the content easy to digest for readers too. (This is especially important for journos - it's best to give them everything handed on a plate).
Our tips:
Use subheadings to break up text and highlight key pieces of information or angles (H2, H3, H4 etc)

Use visuals (like graphics) where possible to make the post interesting. It also helps make the campaign more shareable, especially on social media.
The idea is to make people stay on the page for as long as possible and reduce bounce rates - this can help Google to understand that the page is trustworthy and worthy of being ranked on page one on the SERP. If the page is visually appealing, structured nicely, and easy to digest, readers will.
5. Avoid being too wordy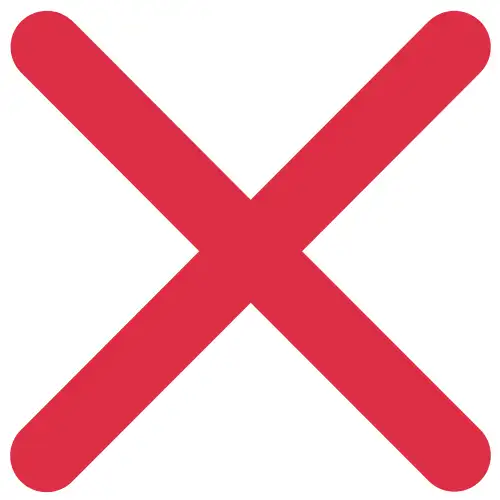 Contrary to popular belief, PR blogs don't need to be really long. On-site campaign assets should focus on visuals instead, showcasing the results in a fun and engaging way, whilst also showcasing the data in full too - a must for journalists.
Accompany these visuals by commentary on the main findings and comparisons, highlighting various headlines and angles that journalists could potentially use.
Our tips:
Make interesting comparisons - For example, UK vs the US, neighbouring countries/cities/regions, sporting rivals (Spurs vs Arsenal, Man City vs Utd, Liverpool vs Everton) etc.

Contexualise any "big" numbers to make them easy to understand to average people.