9 Month Case Study: Visibility Increases From Links To Inner Pages
This 9 month case study examines the effect inner page digital PR links had on the organic performance and revenue of a large ecommerce store.
You will learn how we earned hundreds of pieces of coverage and links from top-tier sites to inner category pages, and exactly what effect they had on the site's SEO performance.
First a quick introduction to the client and the work we've done for them over the years.
Introducing The Client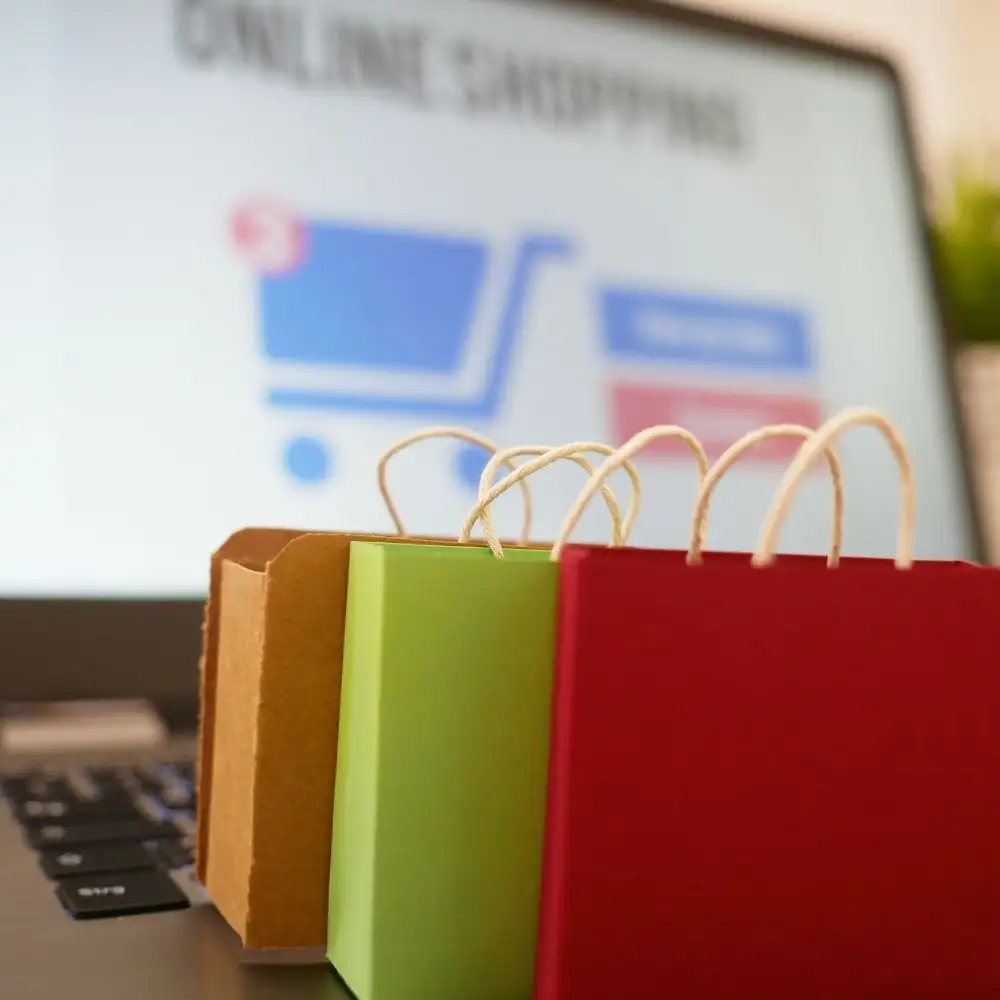 The client is a large ecommerce site stocking products in virtually every industry or product group you can think of. They first came to us in 2016 and we have worked actively alongside their expert in-house teams to increase organic traffic to the site.
We have helped with everything from the technical setup and on-site SEO to the writing of key landing page content and developing the site's link profile and online coverage via digital PR and content marketing.
All of these activities combined has helped the site see a great consistent increase in organic traffic and revenue over the years.
As of May 2021, Semrush estimates that the site receives approximately 196,070 organic visits per month (in reality the site receives significantly more as we see below), up from an estimated 35 organic visitors per month when we first started working with them.

Countless digital PR campaigns, which have earned thousands of links, have helped the site see such amazing growth. This has also dramatically increased the overall domain authority reported by third-party tools like Ahrefs and Majestic*.

Around July 2020 the client approached us and asked to try some extra PR for a number of high priority category and subcategory pages. We jumped at the chance and got to work.
At this time, earning links to inner pages was not common practise in the digital PR industry. Most campaigns would earn links to either blog/asset pages or the homepage. We adjusted our processes and tested to find the most effective outreach and idea generation strategies to earn links to inner pages.
*Domain metrics provided by third-party SEO tools are not representative of how Google views any given website and should not be taken as such. They are simply useful tools to track, roughly measure and gauge the quality and quantity of links pointing to a given domain or URL.
Inner Link Campaigns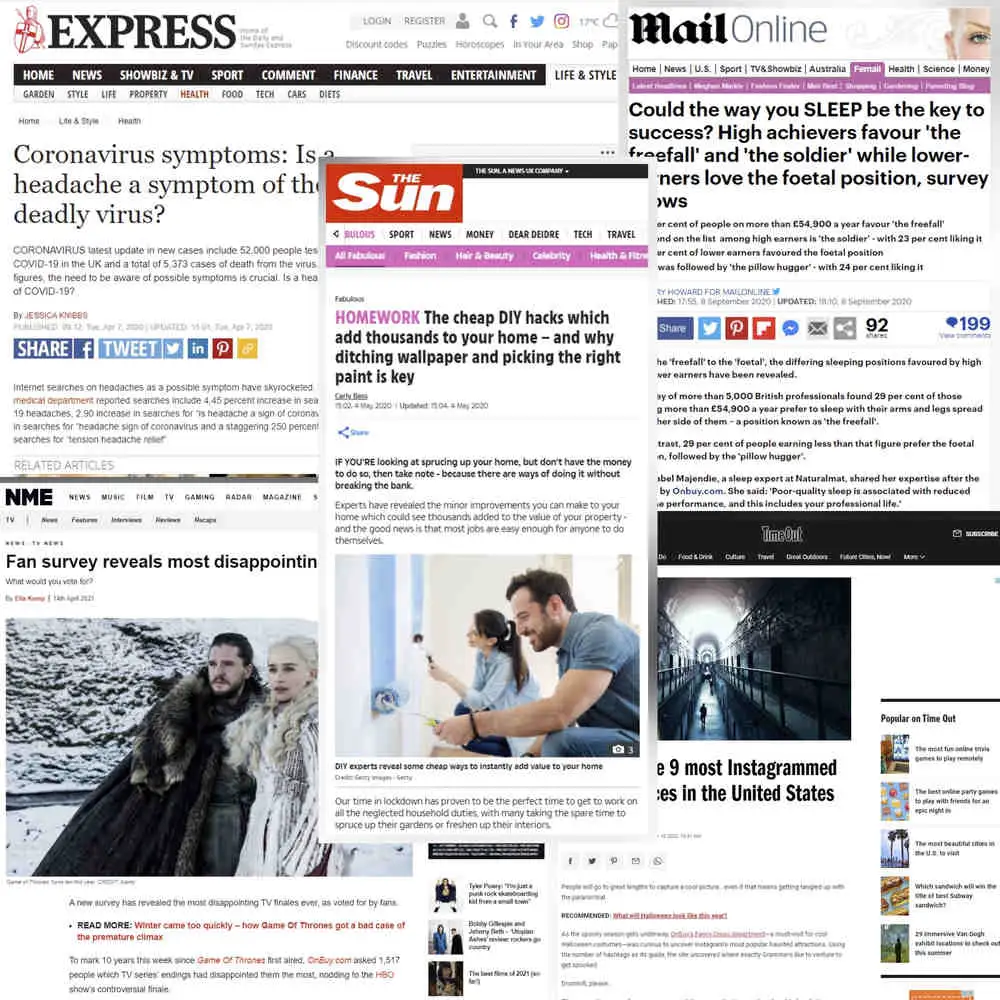 The Reboot team set about brainstorming relevant, unique and newsworthy ideas for the high priority categories.
After extensive research and data collection, the content was created, data visualised and the pieces sent out to journalists who were known to cover similar stories and topics.
The first campaign was launched on the 9th of July 2020 and within days we started acquiring links and coverage from some of the world's most widely read and trusted websites.
These campaigns would go on to earn links and coverage from top-tier publications like:
- Yahoo
- Mashable
- Daily Mail
- Time Out
- The Sun
- Express
- Metro
- Esquire
- Country Living
- Hello!
- Marie Claire
- Lad Bible
- And hundreds more!
Example Campaign #1
Campaign Title: REVEALED: How Often Do We Really Clean Our Underwear?
Linking To: Mens Underwear category page
Links Earned: 35
Coverage in: Metro, LADbible, Perth Now, 7News, GeorgeFM
Example Campaign #2
Campaign Title: Investing in THESE Toys Will Make You a Millionaire
Linking To: Toys and Games category page
Links Earned: 14
Coverage in: MSN, Heart, Wales247, The Sun, Grazia Daily
Example Campaign #3
Campaign Title: Study Reveals: The Funniest Comedy Films of All Time!
Linking To: Movies, Video Games and Music category page
Links Earned: 5
Coverage in: Beyond The Joke, Joe, Chortle, Boss Hunting
Through our own in-house experimentation and testing, we developed our custom formula for crafting, creating and outreaching pieces which earn links to inner pages and deliver on coverage and link quality, and quantity.
Inner Link Campaign Results
Please note that in the below section when we refer to "inner link pages" we mean the categories which received the inner links as well as the subcategories and products listed under them.
"Non-inner link pages" means the categories and subcategories/products under them that we tracked/analysed which did not receive any inner page digital PR links.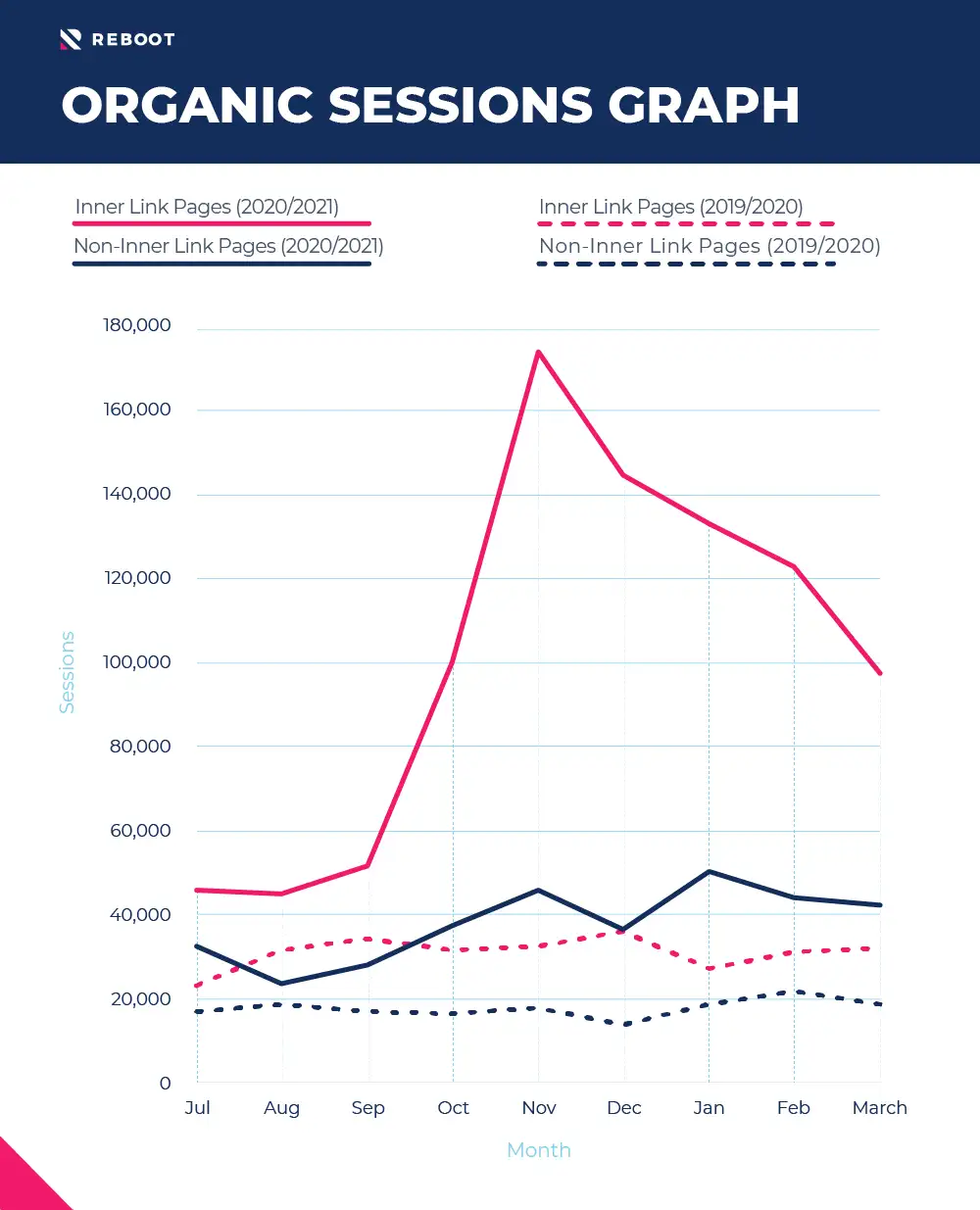 Above is a graph from Google Analytics showing a year-on-year organic session comparison between categories (and URLs associated with those categories) that received inner links versus those which did not.
We used a year-on-year comparison not only to show the increase in performance but also to show that prior to the inner link campaigns, all of the URLs were growing at roughly the same rate.
After a few months of running the inner link campaigns, throughout which we were still running standard digital PR campaigns and earning new links to the homepage and/or relevant blog posts, we analysed the data.
There was a clear difference in the percentage increase of organic sessions for those categories (and subcategories/products assigned under them) which received inner links versus those which didn't.
In fact, inner link pages saw a year-on-year increase in organic traffic of 234.52% over a 9 month period, compared to a 118.77% increase for those that didn't.
- Inner link pages received 269,050 organic sessions between the 1st of July 2019 and the 31st of March 2020, and 900,016 organic sessions in the same period the following year (when inner link campaigns were being run).
- Non-inner link pages received 151,272 organic sessions between the 1st of July 2019 and the 31st of March 2020, and 330,933 organic sessions in the same period the following year.
Over the 9 month period, the inner link pages saw significantly more growth than the non-inner link pages.
The next question was, did these increases also result in organic revenue growth?
Did we see the same trend in organic revenue?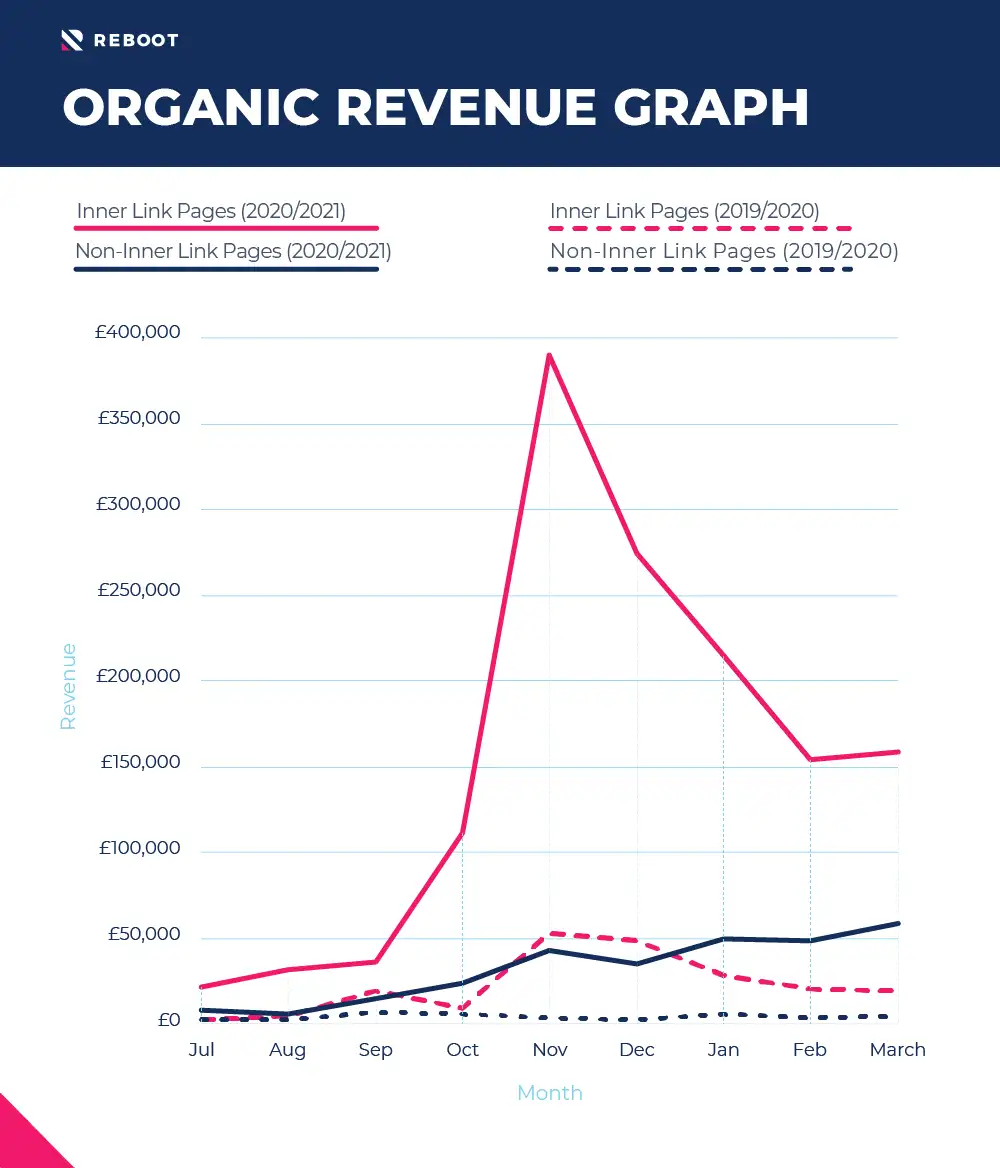 The increase in organic sessions observed also translated to a similar increase in organic revenue.
- Inner link pages did £131,194.91 in organic revenue between the 1st of July 2019 and the 31st of March 2020, and £2,020,208.97 in the same period the following year.
- Non-inner link pages did £12,905.60 in organic revenue between the 1st of July 2019 and the 31st of March 2020, and £250,704.74 in the same period the following year.
Please note that this was a busy shopping time with Black Friday/Cyber Monday in November and Christmas in December.
Disclaimer
It is important to note that, as is always the case with SEO, there could have been outside factors which influenced these results.
After all, we did pick the categories that we were going to run the inner link campaigns to based on order of priority from the client (which was no doubt based on internal data and metrics, some of which could tie in to the organic performance of those categories).
We were also continuing to acquire new high-quality coverage and links to the site's homepage and blog throughout the testing period.
However, we do know that no large scale SEO changes/improvements (on-site or off-site) were made to inner link categories that weren't also made to the non-inner link categories.
Conclusion
From this case study, it would appear that earning links to inner pages can result in significantly more growth than simply acquiring new links to a domain's homepage and/or blog pages.
One hugely important thing to note though is that such campaigns should be relevant to the page being linked to.
We didn't test running off-topic or irrelevant campaigns to any category pages and, even if such a test showed promising results, this isn't something we would suggest testing on any client's site.