As the internet continues to evolve and explode at an astonishing rate, we take a look at what the World Wide Web means to generations of Britons.
General internet usage
Figures from the 2015 Opinions and Lifestyle Survey (OPN) reveal that 78% of adults in Great Britain use the internet every day or almost every day – this equates to 39.3 million people. This figure was as low as 35% in 2006 when directly comparable figures were released.
Moreover, 74% often accessed the internet on the go (using mobiles, tablets etc.) and away from home or work. 96% of young adults, (pretty much the whole generation) aged 16-24 used on-the-go internet access, compared with only 29% of people over the age of 65.
Share this Image On Your Site
E-commerce
As recently highlighted by the BBC, high street shopping is on the decline as internet shopping becomes the new way to shop; our urge for convenience and increasingly busy lifestyles has meant internet shopping has shown huge growth in recent years. In 2015, 76% of adults bought goods or services online, up from 53% in 2008.
Young adults show the highest penchant for shopping online, with 65% of those aged 16 to 24 purchasing over the internet in 2008, rising to 90% in 2015. The 65+ age group are not to be left out, though; although only 42 percent of them bought online in 2015, this rose significantly from 2008 when the figure sat at 16%.
The most popular online purchase was "Clothes or sports goods", unsurprisingly, purchased by 55% of adults. Household goods such as toys or furniture was next in line, purchased by 44% and finally travel arrangements and holiday accommodation, the purchase of choice for 37% of adults.
In the last 3 months, 22% of adults purchased online once or twice, while 28% of adults purchased 11 or more times. Online purchases totaling £100 to £499 were made by 42% of adults who had bought online in the last 3 months.
Of those adults who had purchased online in the last 3 months, 42% made purchases totaling £100 to £499, 12% made purchases of less than £50, and 9% made purchases of £2,000 or more. Age of consumer made little difference in this comparison - purchases between £100 and £499 were clearly the most common across all age groups, but in equal measures; of those aged 16 to 24, 49% spent on purchases in this range, compared with 42% of those aged 65 and over.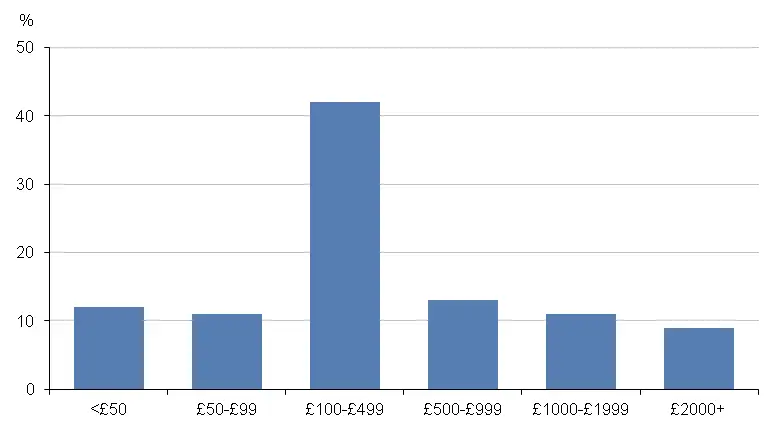 As for problems encountered and complaints, information confirms the younger generations 'need for speed' so to speak, revealing 33% of 16-24 year olds had issues with the slow delivery of goods, compared with only 13% from the age group 65+.
Internet Activities by age group
Different age groups were surveyed across 17 different categories of internet use; adults aged 25 to 34 had the highest (or joint highest) use across 7 of the 17 categories surveyed. Those aged 16 to 24 reported the highest (or joint highest) use in6of the 17 categories.
Unsurprisingly, age group 16-24 ranked highly in recreational internet activities, such as social media (92%), and also education and training (59%) whilst adults 25-34 tended to use the internet for more 'day to day' activities like sending and receiving E-mail (88%) and reading online news, newspapers and magazines (77%).
Uploading original content to be shared to a website and blogging was most popular amongst 25-34 year olds (56%), closely followed by 16-24 year olds (55%).
With regard to sex, there was little difference between men and women carrying out the said activities, with the exception of downloading software – carried out by 37% of men and only 19% of women.