A lot of people think that SEO revolves entirely around building links. "If only I could buy a couple of links on Forbes.com or maybe even one in The Financial Times" business owners and webmasters all around the globe think to themselves (and often say to us). They are quite right to think this too. If you spend any amount of time in the SEO forums, or browsing the SEO blogs, you will see endless mentions of domain authority, trust flow and/or the newest backlink building strategy. Sure, "content is king" has been used as a mantra across these same forums and blogs a few times but rarely will you read in any detail about what this means from a technical SEO perspective.
People online usually end up laughing when you point out that they could dramatically increase their rankings by taking a good, honest and unbiased look at the content that they are publishing on their website and improving it. We don't mind though, overall this just means the results for those that do can be even greater!
The truth is, no matter how much you love your industry, content can be boring. A couple of articles here and there, no problem! Revamping tens of thousands of words across a whole site on the other hand, maybe we should talk about our competitors backlinks instead? Before you rule out this idea though, you should know that for the business owners and webmasters who take the leap and seriously commit to improving the content on their website, the results can be spectacular.
So, in this case study we are going to talk about:
- How we increased organic traffic by 12,311 visitors/a month without building a single additional link.
- What "a good, honest and unbiased look at your content" means (and what most people think it means).
- How re-writing content can present an opportunity.
An Introduction to The Client – Golfsupport.com

Golfsupport.com is a client who has been working with us for several years now. They are a large e-commerce store who specialise in selling (yep, you guessed it!), golf equipment. They first came to us after experiencing a nasty penalty that near enough wiped out all their organic traffic.
Consistent hard work and investment (from both us as an agency and more importantly, the golfsupport.com team as website and business owners) has meant that the site is back performing strongly in the search engines. They are close to pre-penalty highs and are following a clear, consistent and value-creating SEO strategy to continue pushing their rankings higher and higher.
We believe in transparency (anyone who has read about our SEO experiments will know that), so it is important to note that there has also been an extensive digital PR campaign in place for some time now for this site. This of course has seen the website experience consistent growth in rankings and organic traffic. However, the examples given here of increased traffic were experienced with no additional link building activities (meaning we were not securing any more or higher quality links than those we have been earning for the past 6 months – 1 year). For this reason, we are confident attributing this increase in organic performance to a newly implemented content strategy that was put in place over the time observed.
As mentioned above, this is a large website which generates a decent amount of organic traffic already. The 3% increase in visibility shown in the screenshot above resulted in approximately 12,311 extra visitors a month! These visitors are arriving almost exclusively on category and product pages from high buyer intent searches (which any website owner should know is the best kind of organic traffic to be generating).
The Ground Breaking, Innovative, Unbelievable (Not So Complicated) Content Strategy
So, now that we have got the big build up out the way we can get into what we did to the sites content to generate these results. First, we took a good, honest and unbiased look at the site's content.
Step 1: Take a Real Look at Your Site's Content
This e-commerce store has hundreds of category pages and thousands of product pages so there was a lot of content to review. A quick check for duplicate content confirmed that most of the category descriptions and pretty much all the product descriptions contained some duplicate content.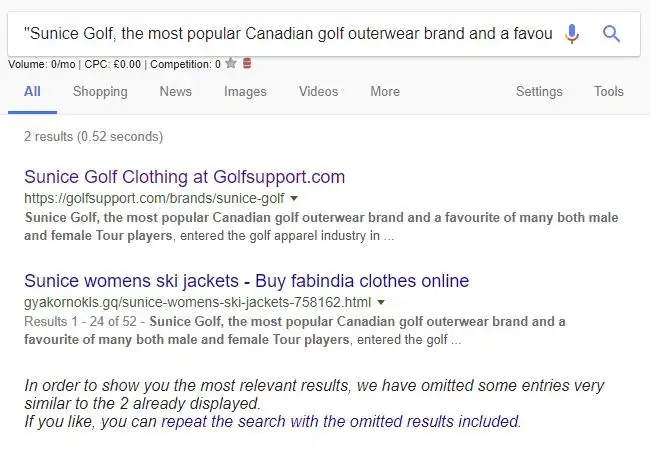 *Reboot tip: When trying to find out if your site contains too much duplicate content, visit several different pages on your website and grab some random sentences, strings and/or phrases. Copy them then head over to Google. Now search for those sentences, strings and/or phrases but wrap them in quotation marks. If you see other websites (or multiple pages from your website) showing up with the words being searched in bold (like in the screenshot above), that page has a duplicate content issue. Check more strings from that page and you will likely find that more content than not has been published elsewhere online and is no longer unique to your website.
This is one of the benefits of working with an agency, we can take a step back and look at your content in an honest and unbiased way that when you live and breathe your business, you just might not be able to do.
We recommended to the Golfsupport team that they re-write all the content to ensure that it was all unique to the Golfsupport site (more on why this is so important later). It turned out that they did not currently have the time or resources to re-write so much content so opted to have our in-house content writers get all the category descriptions up to scratch.
Over 300 category descriptions and 12,311 extra organic visitors a month later and we think that we can say, the team made the right call addressing these content issues.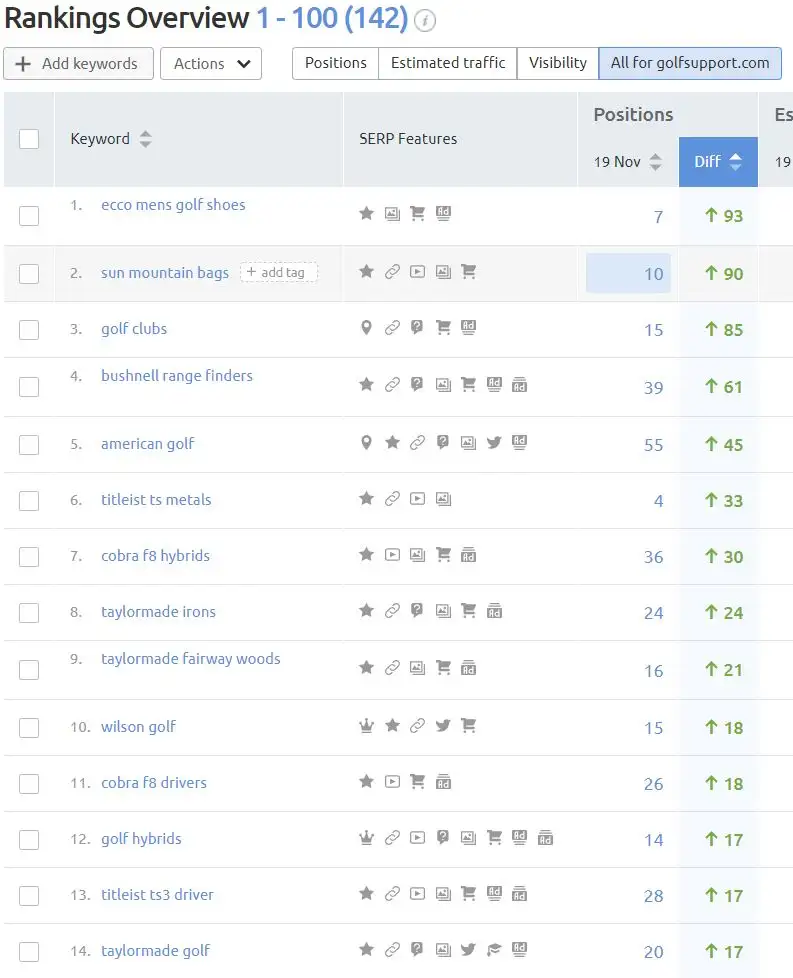 The crazy thing is that we have yet to even start updating the product pages which are usually the worst culprits on e-commerce websites. Product information and data is normally pulled directly into the site and its product pages from manufacturer websites to save time and so businesses can get up and running sooner. This approach causes huge issues when it comes to duplicate and thin content. Every other e-commerce store in your niche probably had the same idea 4 years ago so not only is your content an exact copy, it was published years before your page even gets indexed and by multiple other people.
What most website owners think "a good, honest and unbiased look at your content" means.
"I just checked and all websites ranking on the first page for my keywords contain copied, useless information and content. My site is way better because I have paid a lot of money to have someone write unique content for my pages, yet I still don't rank. SEO is a scam/dead/insert melodramatic adjective" – very angry website owner.
This is what we find on almost every thread in the top SEO forums when a site experiences a drop, or a new update is released. The comments come flooding in and the issue is almost always that from the get-go, they were not honest and unbiased when reviewing their content.
Webmasters immediately compare their content with that of their top competitors and whilst there is a time and a place for this, it is not when you are trying to impartially critique your own content.
Many sites generate millions of visits through Google whilst flooding their pages with poor user experience advertisements, that doesn't mean I would put the same on my site. Others have great rankings whilst having tens of thousands of spam blog comment links pointing to their site, this doesn't mean that I am going to create them for my client's sites.
The point that I am trying to make is that just because your competitors' content is sub-par, that does not mean you can get away with publishing equally sub-par content (or even only slightly better content). With the constant evolution of the algorithms Google uses to decide ranking order, it does you no favours to focus on the areas where your main competitors do not achieve. Focus on where they thrive and then try to do one better whilst outperforming them in every other area, now you have a real SEO strategy!
Whenever someone posting these types of comments gets back to our private message with their URL, we find the same old story. Content copied across multiple spam websites, pages with only 20 words on them and/or pages that do not consider the searcher's intent at all.
Maybe your content was unique and handwritten at some point but what does that matter? It sure isn't anymore! The sooner website owners accept that they need to provide value and quality to their users, the sooner their rankings can start moving in the right direction.
Step 2: Create a List of Content That Needs Updating
Depending on the size of your site, this list will quickly grow. Try not to let this scare you off, you will start gradually and should see results as you consistently update the content.
As mentioned above, on Golfsupport.com we ended up with a list of over 300 category descriptions that needed re-writing. Over the next 3 months we re-wrote, amended, updated and edited all of them and slowly but surely the sites visibility for key, buyer intent keywords increased.
Users now benefit from better and more detailed information about the brand or product range that they are interested in, and to the Google bot this could only be a clear and consistent effort to improve the quality of the website.
Step 3: Suffer Through the Content
Writing or updating hundreds of articles/pages about anything will take its toll. That is why it is best to update the content gradually (depending on how much needs updating of course). Doing so ensures that the content you are re-publishing remains of a high quality and is an improvement on the existing content. The main thing to ensure is that all content published is unique.
Unique content is king.
What is most often missed when SEO gurus throw out the mantra "content is king" is that the content must always be unique and high quality.
Having unique content on your website ensures that Google knows that there is information online that can only be found on your website. No matter how many other sites sell the same products or services as you, there should be details, information, ways of looking at things etc. that is exclusive to people reading the content found on your domain.
Re-Writing Content Can Present an Opportunity
As you are re-writing your content anyway, you may as well look at all the ways that you can improve your on-site SEO. Use this as an opportunity to finally update all those meta titles and descriptions or to check that your canonical tags are set up correctly. Some ideas of things to update alongside your content:
- Re-write meta titles and descriptions with click through rates (CTR) in mind.
- Add internal links where relevant and necessary.
- Add multimedia (helpful graphics, videos, animations etc.) where it will offer value to readers.
- Use external links where beneficial to the users. We did a study that found doing so can have a positive effect on your rankings.
- Make sure that your pages match and cater to the intent of those searching for your target keywords.
- Ensure that your technical SEO is on point. Check pagination canonicals on category pages, variant parameters on product pages and loading times on all pages to name just a few.
We used this duplicate content issue as an opportunity to implement a new and more effective internal linking strategy for the Golfsupport site.
Internal Linking
Seeing as we were re-writing the content anyway, we took it upon ourselves to ensure that the internal linking structure of the category pages was water tight. This is a small thing that can offer a huge benefit to both users and search engine spiders. Effective internal linking makes it easier for search engine spiders to crawl, understand and rank your site whilst also ensuring that users/readers know exactly what the page they are on is about and where they can go should they want more information on a different topic mentioned on the page.
In the Golfsupport category descriptions we kept seeing other similar categories, sub categories and brand pages being mentioned in the descriptions themselves. Sometimes these mentions would be in the titles, other times in the content itself. This was making it difficult to decide exactly what each page was about. We kept finding ourselves asking questions like "is this category about golf clubs in general or Wilson branded golf clubs in particular?".
By looking at some of our target keywords and the search results, it was clear that Google was also having this issue when trying to rank the website. For example, when looking at keywords being targeted by the golf balls category, we noticed that a golf ball clearance sale sub category was ranking higher than the main parent golf ball category. This demonstrated that Google was confused as to which page should be ranking for the broader golf ball keywords and perhaps that the parent category was over or under optimised also.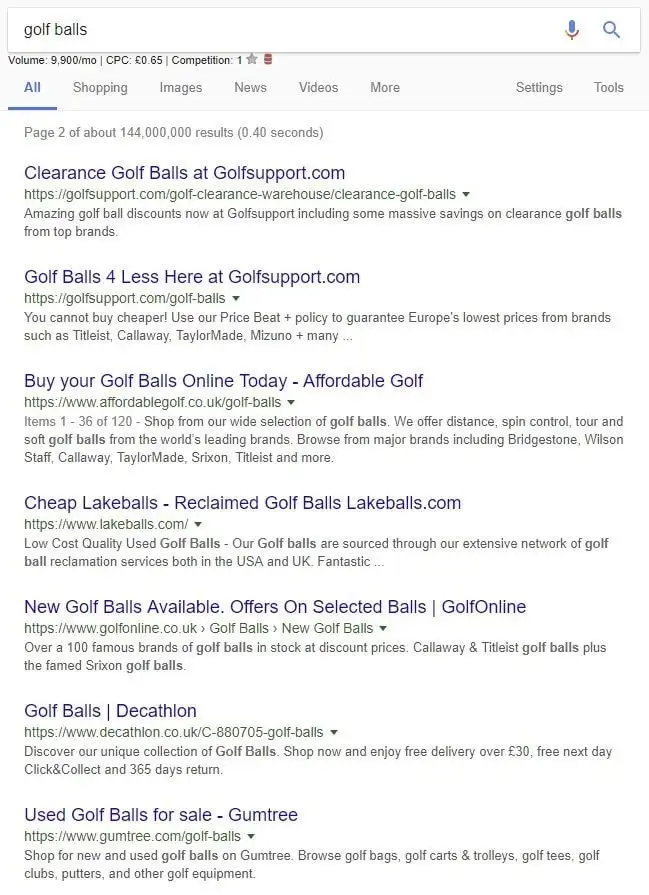 Clearance golf ball sub category ranking on the second page, #11 above the parent category/main golf ball category.
To address this issue, we re-wrote both category descriptions and added an internal link from the clearance category pointing to the parent golf ball category. This helped Google better understand both pages and their topics and the main category now ranks higher for the broader golf ball keywords as a result (and probably ranks higher than the clearance sub category could have ever ranked).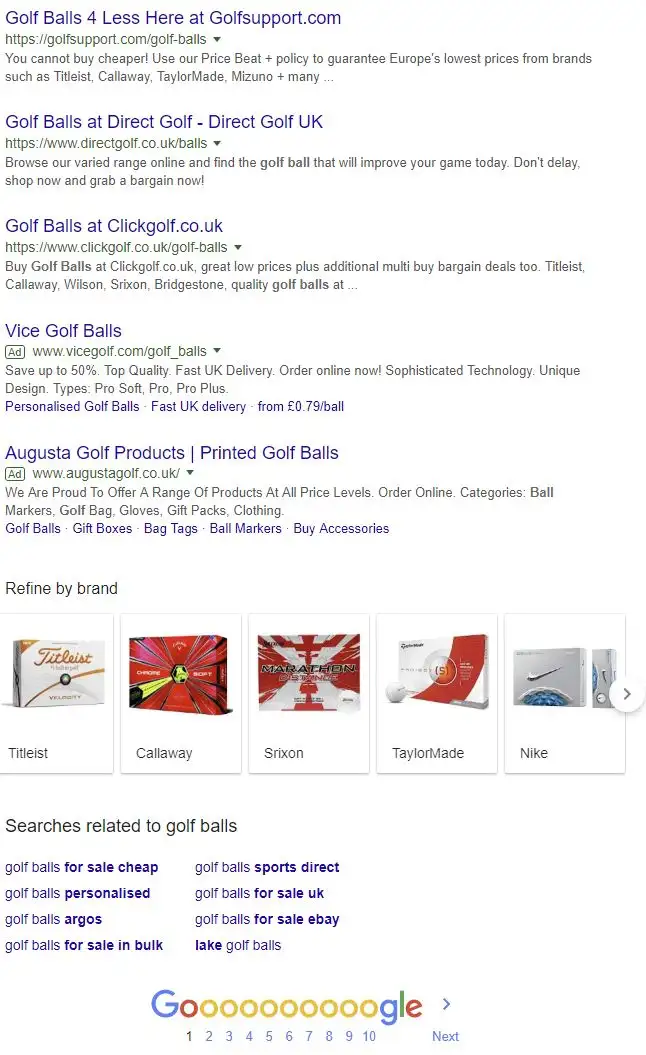 Main/parent golf ball category now ranking on the first page, #8 with no internal competition from the clearance sub category.
What internal linking did we do?
We set about adding internal links whenever a brand, product range or topic was mentioned in a category description that was not best fit to offer information on that brand, product range or topic. The internal links directed users to the best page on the website (be that a product page, brand page, category, sub category or blog post) to learn more about that specific subject.
Step 4: Monitor Results
Now that you have got the content writing out of the way, you can monitor results.
It is important to note that you should also monitor your new content to ensure that no other sites are copying it. Unfortunately, it does not always take long for someone else to steal your content and the results are the same. It doesn't matter if your content is 10 years old or hot off the press, duplicated content is duplicated content and neither the user or Google will care how recently you published it if it can be found on every spam site in your niche.
Keeping an eye on your new content ensures that you do not come back a year from now and find yourself having to re-write all the same content at once all over again.
Sometimes Effective SEO Can Be Easier Said Than Done
So, there you have it. This is the exact approach we took with Golfsupport.com that resulted in great increases in rankings and organic traffic.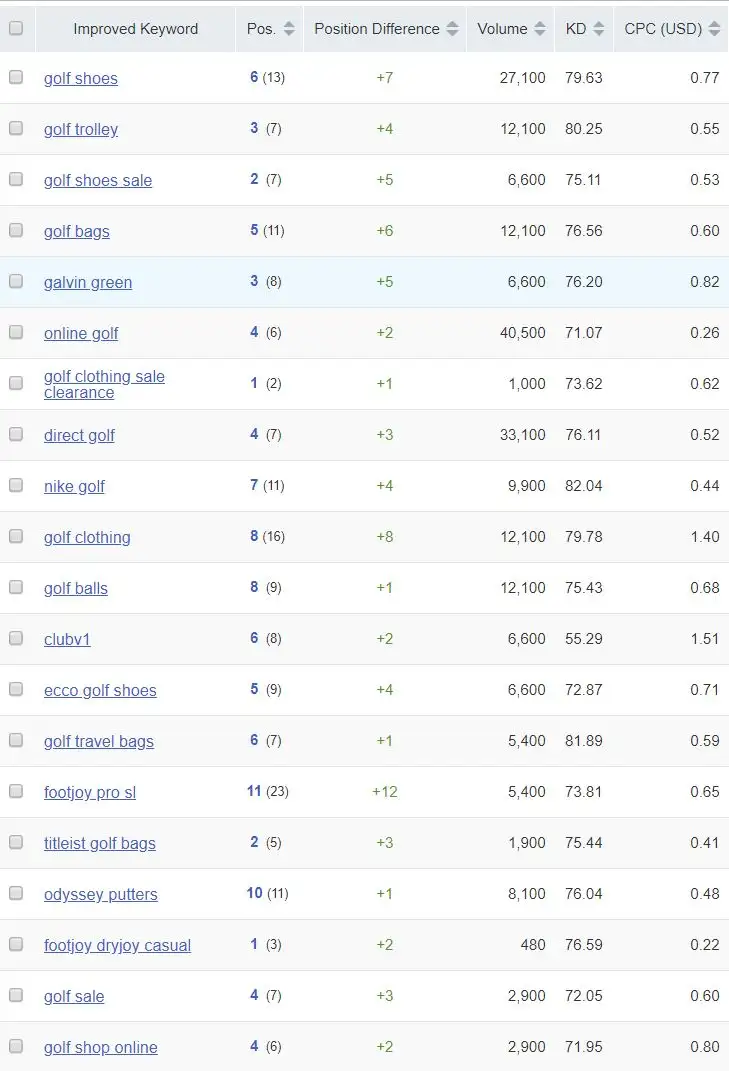 The concept is incredibly simple (improving the content found on your website) but the application can be tricky. You need to be persistent and dedicated in improving all your content consistently for maximum effect. Also, make sure to use this as an opportunity to address other key on-page issues such as internal link structures, poorly performing meta titles and pages that do not match the searcher intent of the target keywords.
As seen with this client and many before them, ensuring that your website deserves to rank in the top 10 is by far the most effective way to increase your rankings and organic traffic. An effective content strategy not only means your site is of a higher quality, it can also mean that any link building activities are that much more effective. All of this adds up to a much greater return on investment (ROI) from your SEO campaign.
We encourage all SEOs, business owners and webmasters to look at their content objectively and find where they can really improve and offer more value to both users and search engine spiders. The results of doing so will not disappoint!