10 Top Tips for Reangling Press Releases
When it comes to reangling press releases, it is vital to come up with a new slant in order to catch journalists' attention. With the average person spending only 10 seconds reading an email, you must ensure your reangled press release is clear and gives the journalist no option but to publish your content. If your content is too "boring", you will fail to secure those all-important links for your client. That's why it's so important to use the best digital PR tools to target every possible angle.
Understanding the importance of reangling press releases as an experienced digital PR and SEO agency, Reboot has created this handy guide to help digital PRs follow up their campaigns in the most effective way.
What Is Reangling a Press Release?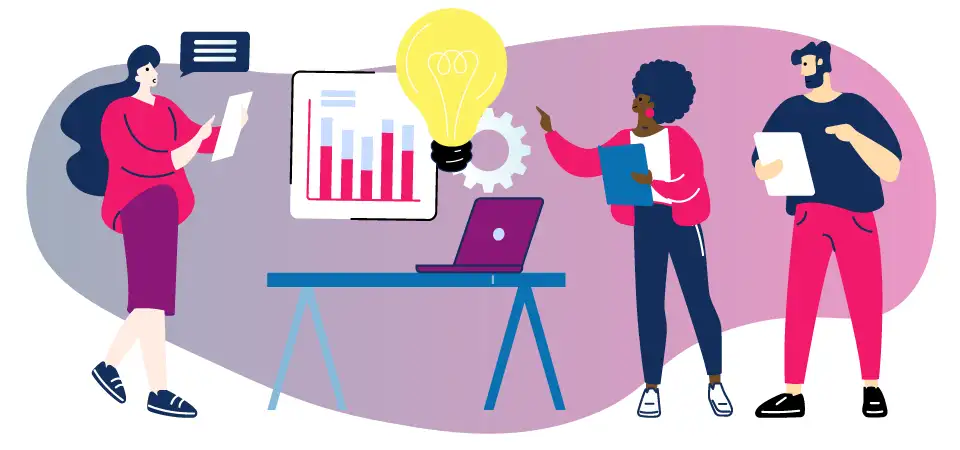 Reangling a press release is essentially going back to the drawing board to rethink additional creative ways of interpreting your data so it points towards a different meaning—whether that differs only slightly from your original release or reveals something entirely new. It is important to reangle press releases differently after every send-out to provide a different slant to the journalist, and overall be more of interest to the readers.
Why Is Reangling a Press Release Important?
Re-orientating a campaign towards a different angle makes it more likely to get picked up by journalists compared to just resending the original angle. It's also a simple way to target different outlets and sectors that weren't considered beforehand, by tailoring the press release to them. Even if you're lucky enough to receive good coverage from your first wave of outreach, it's still important to change elements of your press release for the second wave to ensure all suitable sites are targeted.
Read more: How to Improve Outreach in 4 Steps
How to Reangle a Press Release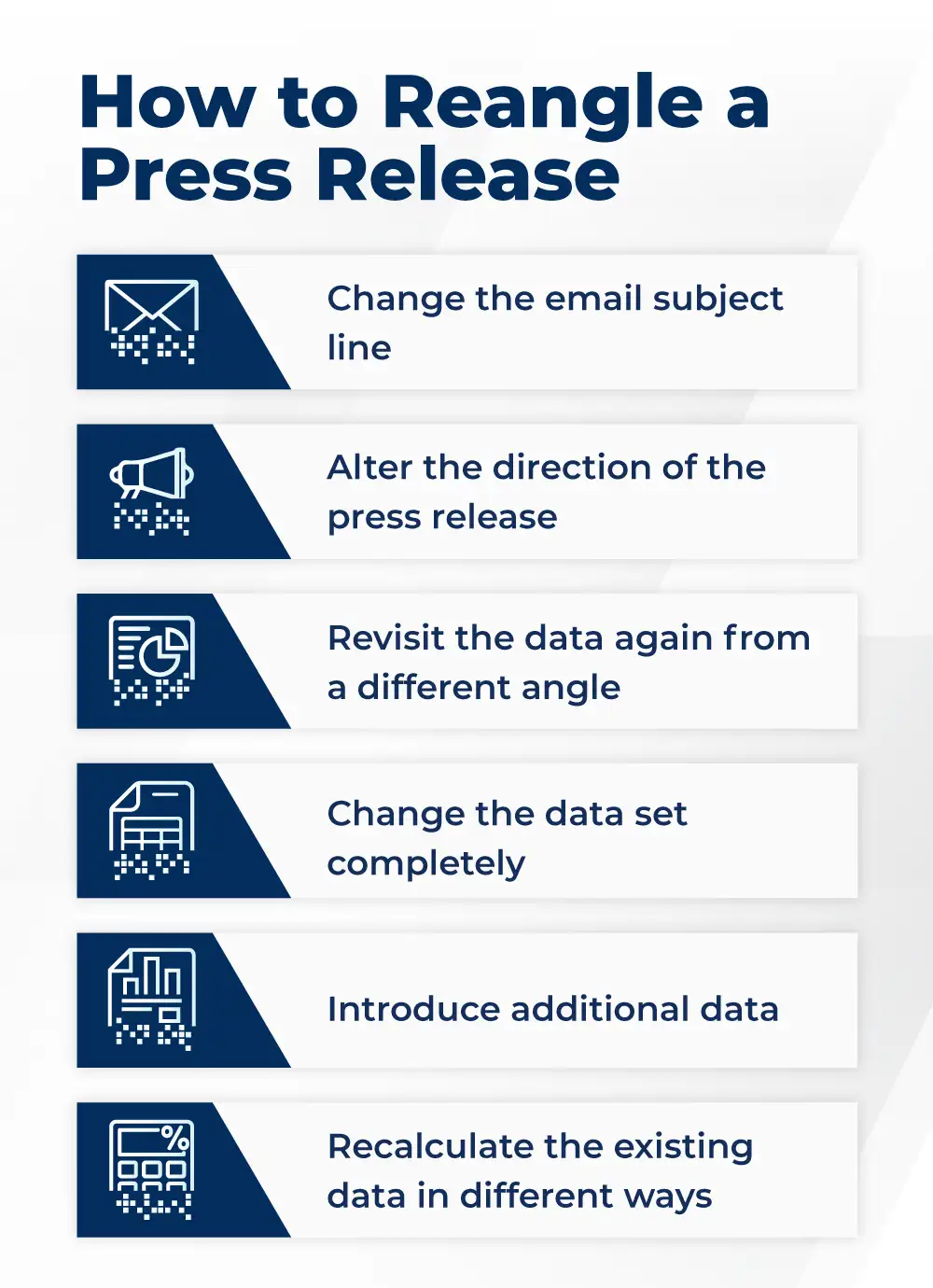 There are many different ways to reangle a press release, including:
Changing the subject line. You could look at alternative ways of rephrasing it or use different keywords to grab journalists' attention.

Altering the direction of the piece. You could reangle the press release to focus more heavily on international outreach. Searching to see which countries your topic is currently trending in can help to identify those that are most likely to publish your press release.

Revisiting the data again from a different angle. Instead of angling the press release towards the obvious (e.g. "the most popular"), try flipping the angle to something more unusual ("the most hidden/unheard of") to give a more interesting take for journalists and their readers.

Changing the data set completely. If the topic of your press release is current and trending news, this means the data can fluctuate, providing you with the opportunity to recollect and repurpose the data.

Introduce additional data. Including percentages or statistics in your press release is a brilliant way to add credit to your campaign, or even including data comparisons between each of your factors can add more context.

Recalculating the existing data in different ways. If an index score rating was initially used, is there a simpler way to display the data which may be more relatable or easier to understand?
Different Types of Campaigns
The approach taken in reangling press releases can depend on the type of campaign. If the campaign is data heavy, this may require a slightly different approach than if the campaign has low data classification.
Data Heavy Campaigns
If your press release is data heavy, then this usually means that you have multiple factors to work with. If your first send-out focused more on a certain element of the data, ensure your second attempt highlights a different aspect.
These campaigns tend to be quite complex, so when following up it might be a good idea to simplify the press release slightly. Data-heavy campaigns are usually core projects and therefore more time is allocated to complete these campaigns (especially when data visualisation is involved).
Low Data Classification
If your press release is not so data-heavy and is more of a light-hearted piece, then keeping up to date with current news stories and trends will help you tailor your press release towards a more creative angle. Look out for national days which could be used as planned reactive ideas, or research the type of content your target sectors are currently talking about and gear it towards this.
Related: How to Relaunch a Failing Digital Marketing Campaign
10 Top Tips For Reangling a Press Release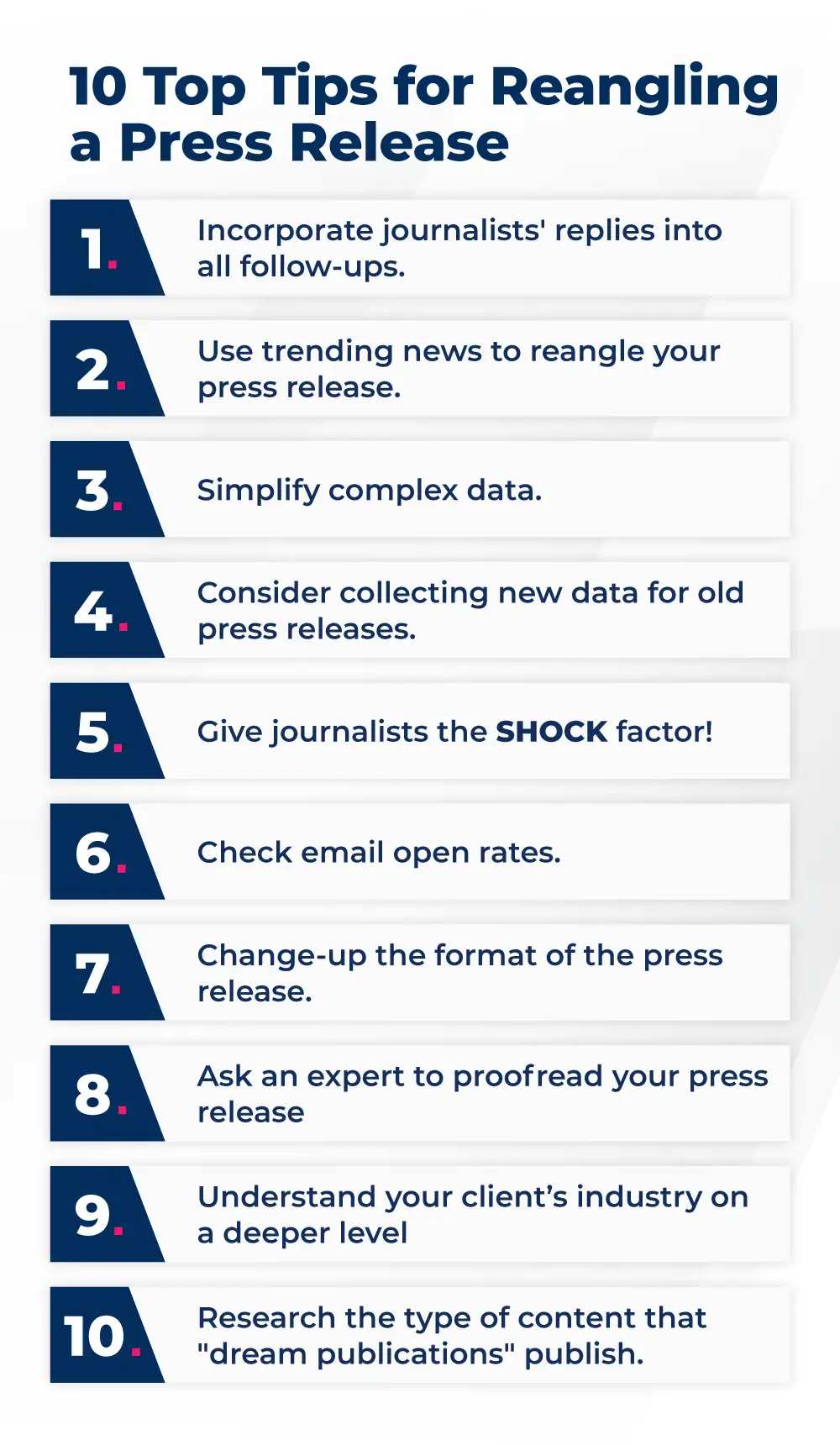 1. Pay close attention to journalists' replies and incorporate them into follow-ups. For example: if a journalist requests an expert comment or asks for pictures, make sure you incorporate this into follow-ups to all journalists.
2. Get inspired! Is there any trending news you could use to reangle your press release?
3. If the data is quite complex, find a way to simplify it—i.e. removing columns that aren't as necessary to your press release's angle.
4. If you're reangling an outdated piece, consider collecting the data again. This not only gives you more current data but increases the chances of more placements, as journalists prefer up-to-date news.
5. Give journalists the SHOCK factor! Include a bold percentage or statistic that not only gives credibility to your press release but also allows it to flow more naturally.
6. If you're able to, always check email open rates to see if your reangled piece has been opened more than the original send out. This will give you an indication of whether your new approach has interested the reader or not.
7. A simple change-up of the format of the press release (such as the colour, font, subheadings, etc), could make a huge difference. It's also an easy way to indicate to journalists that the press release is completely new.
8. Send your press release to multiple people within your company. For example, if you're writing a press release for the sports sector, don't be afraid to reach out to someone familiar with the subject. They might be able to suggest improvements from their own knowledge on the topic.
9. Understanding your client's industry on a deeper level. For example, if you have interior design clients, take a trip to IKEA or B&Q to familiarise yourself with bathroom interior and equipment.
10. Research the type of content that "dream publications" are posting to see if there's a way in which you can tailor your press release to increase your likelihood of being featured.
Mini Case Study: Showers to You and Livefootballtickets
Here are two examples of successful case studies that have been picked up after we have reangled the original press releases.
Case Study: Showers to You

When working on a recent campaign regarding "popular bathroom trends of 2022", we realised the first wave of outreach was a very general approach to the data. As a result, the press release only picked up a couple of placements.
After reviewing our outreach strategy, we decided to lead with the most popular trend of "bathroom fireplaces", which is quite an unusual trend. Providing the shock factor meant that the journalist was presented with an angle that they likely hadn't seen before.
Original headline: "Bathroom interiors trending the most for summer 2022, according to Pinterest"
New headline: "Bathroom fireplaces are the most popular bathroom accessory in 2022"
Case Study: Livefootballtickets

This campaign consisted of calculating the number of fouls, yellows, and red cards that Champions League teams had made during the season leading up to the 2022 final. The first wave of outreach focused on a fairness angle, including all Champions League players that had been booked throughout the competition. However, for the second angle we focused heavily on the Champions League finalists to see whether the team that plays the dirtiest wins more.
In the end, Real Madrid won the Champions League, which made a perfect talking subject as the results showed that Real Madrid obtained more yellow and red cards compared to the losing finalists, Liverpool.
Original headline: "Liverpool deserves to "win" the Champions League based on fairness study"
New headline: "Real Madrid players have been booked DOUBLE the amount of Liverpool"
Reangling Press Releases to See Results
To conclude, reangling press releases with new angles is a very effective way to ensure you achieve links for your client.
Whether your campaign is data heavy or not, reangling an old campaign can be more effective than starting a new campaign from scratch. At Reboot, we recognise the importance of making sure every angle and outlet is catered for, that way a variety of regional, national, and international links are gained for our clients.